Abstract
Background: Since targeted biologic treatments have been introduced for the treatment of plaque-type psoriasis and psoriatic arthritis, switching between different medications has become necessary in selected patients, particularly after treatment failures.
Objective: To evaluate the efficacy and safety of etanercept treatment in adult patients with psoriasis after failure to respond to other previous therapies. In particular, the differences in efficacy profiles after switching from traditional (cyclosporine [ciclosporin], methotrexate, retinoids, fumaric acid esters, psoralen plus UVA therapy, corticosteroids) or biologic (infliximab, efalizumab) treatments were analyzed.
Methods: The study included 124 patients affected by plaque-type psoriasis who received etanercept administered subcutaneously at a dosage of 50 mg twice weekly for 12 weeks, followed by 25 mg twice weekly for an additional 12 weeks, and 110 patients affected by psoriatic arthritis who were treated with etanercept 25 mg twice weekly in a continuous regimen, after a 12-week period of treatment with etanercept 50 mg twice weekly.
Results: Efficacy results were consistent in both groups of patients (plaque-type psoriasis and psoriatic arthritis), as expressed by the percentage of patients who achieved Psoriasis Area and Severity Index (PASI) 50 and PASI 75 scores. Among psoriatic arthritis patients, the mean pain Visual Analog Scale (VAS) score showed a substantial reduction during the treatment course, from 67.2 at week 0 to 15.8 at week 24. After 24 weeks, among patients with plaque-type psoriasis who had not previously received biologic therapies, 89.9% of patients achieved PASI 50 and 75.3% achieved PASI 75, while among patients who had received biologic therapies, 69.6% of patients achieved PASI 50 and 65.2% achieved PASI 75. In addition, 92.3% of patients with psoriatic arthritis who had not previously received biologic therapies achieved PASI 50 and 73.8% achieved PASI 75, while among patients who had received biologic therapies, 45.8% of patients achieved PASI 50 and 29.2% achieved PASI 75.
Conclusions: Our study demonstrated that etanercept was more effective in those patients who had not previously received other biologic therapies than in those who had. The results of the present study indicate that etanercept may represent a valid, effective, and well tolerated therapeutic alternative even after failure to respond to traditional and other biologic therapies.
Access options
Buy single article
Instant access to the full article PDF.
USD 49.95
Price excludes VAT (USA)
Tax calculation will be finalised during checkout.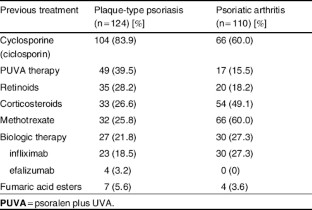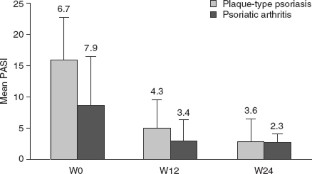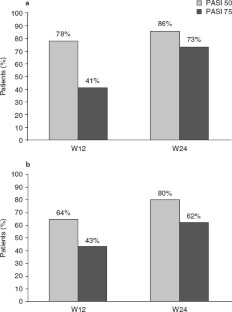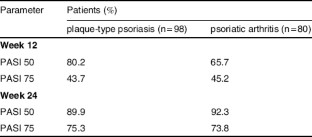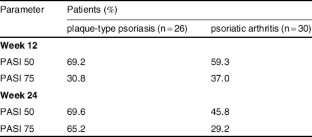 References
De Rie MA, Goedkoop AY, Bos JD. Overview of psoriasis. Dermatol Ther 2004; 17: 341–9

Terajima S, Higaji M, Higarashi Y, et al. An important role of tumor necrosis factor-alpha in the induction of adhesion molecules in psoriasis. Arch Dermatol Res 1998; 290: 246–52

Leonardi CL, Powers JL, Matheson RT, et al. Etanercept as monotherapy in patients with psoriasis. N Engl J Med 2003; 349: 2014–22

Smith CH, Anstey AV, Barker JNWN, et al. British Association of Dermatologists guidelines for use of biological interventions in psoriasis. Br J Dermatol 2005; 153 (3): 486–97

Fredricksson T, Petersson U. Severe psoriasis-oral therapy with a new retinoid. Dermatologica 1978; 157: 238–44

Gottlieb AB, Matheson RT, Lowe N, et al. A randomized trial of etanercept as monotherapy for psoriasis. Arch Dermatol 2003; 139: 1627–32

Papp KA, Tyring S, Lahfa M, et al. Etanercept Psoriasis Study Group: a global phase III randomized controlled trial of etanercept in psoriasis: safety, efficacy, and effect of dose reduction. Br J Dermatol 2005; 152: 1304–12

Costanzo A, Mazzotta A, Papoutsaki M, et al. Safety and efficacy study on etanercept in patients with plaque psoriasis. Br J Dermatol 2005; 152: 176–98

van Vollenhoven R, Harju A, Brannemark S, et al. Treatment with infliximab (Remicade) when etanercept (Enbrel) has failed has failed or vice versa: data from the STURE registry showing the switching tumor necrosis factor alpha blockers can make sense. Ann Rheum Dis 2003; 62: 1195–8

Brocq O, Plubel Y, Breuil V, et al. Etanercept-infliximab switch in rheumatoid arthritis 14 out of 131 patients treated with anti-TNF alpha. Presse Med 2002; 31: 1836–9

Hansen KE, Hildebrand JP, Genovese MC, et al. The efficacy of switching from etanercept to infliximab in patients with rheumatoid arthritis. J Rheumatol 2004; 31: 1098–102

Gomez-Reino JJ, Carmona L, BIOBADASER Group. Switching TNF antagonists in patients with chronic arthritis: an observational study of 488 patients over a four-year period. Arthritis Res Ther 2006; 8: R29

Delaunay C, Farrenq V, Marini-Portugal A, et al. Infliximab to etanercept switch in patients with spondyloarthropathies and psoriatic arthritis: preliminary data. J Rheum 2005; 32: 2183–4

Pitarch G, Sánchez-Carazo JL, Mahiques L, et al. Efficacy of etanercept in psoriatic patients previously treated with infliximab. Dermatology 2008; 216: 312–6

Haraoui B. Is there a rationale for switching from one anti-tumor necrosis factor agent to another? J Rheumatol 2004; 31: 1021–2
Acknowledgments
We wish to acknowledge Angela Capponi, M D (Wyeth) for assistance with statistical content. No sources of funding were used to assist in the preparation of this study. A. Costanzo has received honoraria from Merck-Serono. S. Chimenti serves as consultant to Centocor, Schering-Plough, Serono, and Wyeth. A. Mazzotta and M. Esposito have no conflicts of interest that are directly relevant to the content of this study.
About this article
Cite this article
Mazzotta, A., Esposito, M., Costanzo, A. et al. Efficacy and Safety of Etanercept in Psoriasis after Switching from Other Treatments. AM J Clin Dermatol 10, 319–324 (2009). https://doi.org/10.2165/11310770-000000000-00000
Published:

Issue Date:

DOI: https://doi.org/10.2165/11310770-000000000-00000
Keywords
Psoriasis

Infliximab

Etanercept

Psoriatic Arthritis

Biologic Therapy