Abstract
Frovatriptan (Migard®; Frova®) is an orally administered triptan approved for the acute treatment of adults with migraine, with or without aura. This article reviews the pharmacology of frovatriptan, focusing on its efficacy and tolerability.
The precise mechanism of action of frovatriptan is unknown, but is thought to stem from agonism at serotonin 5-HT1B and 5-HT1D receptors, resulting in inhibition of intracranial and extracerebral artery vasodilation, along with possible anti-inflammatory and pain inhibiting effects. Frovatriptan appears to be functionally selective for 5-HT receptors in human basilar arteries over coronary arteries, which could translate into a low cardiovascular risk. In contrast to other triptans, frovatriptan has a long terminal elimination half-life in blood of ≈26 hours, which can be expected to be associated with a sustained treatment effect.
Oral frovatriptan 2.5 mg was efficacious in patients with moderate to severe migraine attacks; in randomized, double-blind trials the proportion of patients with headache response at 2 hours (primary endpoint) was consistently significantly higher in frovatriptan than placebo groups. Frovatriptan was generally well tolerated in short-term clinical trials and when used over the longer term. The most frequent treatment-emergent adverse events occurring at a frequency ≥1% higher in frovatriptan than placebo recipients were dizziness, fatigue, headache, paraesthesia, flushing, skeletal pain, hot or cold sensation, dry mouth, chest pain and dyspepsia. In a study in patients with coronary artery disease, or who were at high risk of coronary artery disease, there was no increase over placebo in the occurrence of clinically significant ECG changes or in cardiac rhythm disturbances. In a further trial, frovatriptan administered early in a migraine attack was more efficacious than placebo followed by later administration of frovatriptan as pain progressed.
Three crossover trials compared early administration of frovatriptan 2.5 mg with almotriptan 12.5 mg, rizatriptan 10 mg and zolmitriptan 2.5 mg in patients with migraine. There were no significant between-group differences in patient drug preference scores (primary endpoint) or in other endpoints, except for headache recurrence, which favoured frovatriptan in two of the trials. The trials did not test noninferiority of frovatriptan to the comparator. In a placebo-controlled trial that included a sumatriptan active treatment arm, sumatriptan 100 mg was significantly more efficacious than frovatriptan 2.5 mg for this primary endpoint. Frovatriptan was generally better tolerated than all four triptan comparators.
In summary, frovatriptan was an efficacious acute treatment for moderate to severe migraine attacks and had a favourable tolerability profile, although in a single trial, it was not as efficacious as sumatriptan. Administration of frovatriptan early in an attack while the attack was at a mild level of intensity was more efficacious than late administration. Furthermore, in clinical trials adopting this early administration strategy, frovatriptan was not significantly less efficacious than almotriptan, rizatriptan and zolmitriptan, appeared to have a more sustained treatment effect, and was better tolerated than the comparators. Frovatriptan provides an alternative treatment for migraine, especially in patients who have had adverse events or frequent headache recurrences with triptans or other anti-migraine drugs, and who are amenable to adopting an early administration strategy.
This is a preview of subscription content,
to check access.
Access this article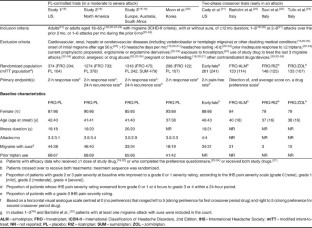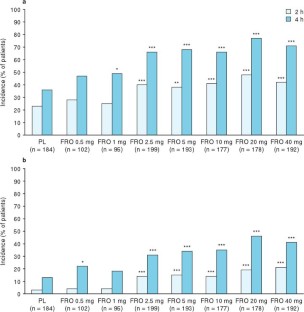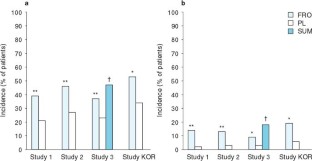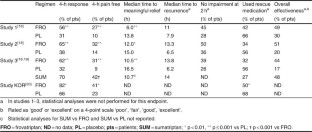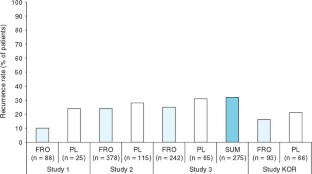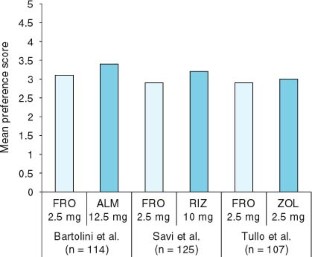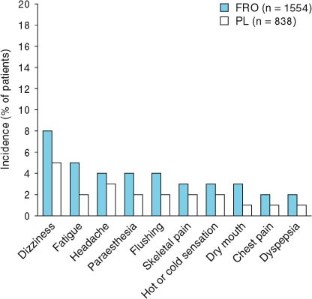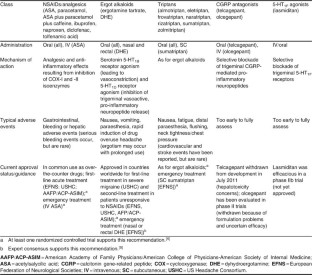 Similar content being viewed by others
References
Johnston MM, Rapoport AM. Triptans for the management of migraine. Drugs 2010; 70(12): 1505–18

Lipton RB, Bigal ME, Diamond M, et al. Migraine prevalence, disease burden and the need for preventive therapy. American Migraine Prevalence and Prevention study. Neurology 2007 Jan 30; 68(5): 343–9

International Headache Society. IHS Classification ICHD-II [online]. Available from URL: http://ihs-classification.org/en/02_klassifikation/02_teil1/01.02.01_migraine.html [Accessed 2012 Aug 1]

WHO. WHO Media Centre Factsheets. Headache disorder [online]. Available from URL: http://www.who.in/mediacentre/factsheets/fs277/en/ [Accessed 2012 Aug 1]

Evers S, Äfra J, Frese A, et al. EFNS guideline on the drug treatment of migraine: revised report of an EFNS task force. Eur J Neurol 2009 Sep; 16(9): 968–81

Tfelt-Hansen P. Ergotamine, dihydroergotamine: current uses and problems. Curr Med Res Opin 2001; 17 Suppl. 1: 30–4

Loder E. Triptan therapy in migraine. N Engl J Med 2010 Jul 1; 363(1): 63–70

Easthope SE, Goa KL. Frovatriptan. CNS Drugs 2001; 15(12): 969–76

The electronic Medicines Compendium. Migard (frovatriptan succinate monohydrate): summary of product characteristics [online]. Available from URL: http://www.medicines.org.uk/emc/medicine/15216/SPC/migard/ [Accessed 2012 Aug 1]

FROVA® (frovatriptan succinate tablets): US prescribing information [online]. Available from URL: http://www.accessdata.fda.gov/drugsatfda_docs/label/2009/021006s009s0l0lbl.pdf [Accessed 2012 Aug 1]

Dodick DW. Examining the essence of migraine: is it the blood vessel or the brain?. A debate. Headache 2008 Apr; 48(4): 661–7

Comer MB. Pharmacology of the selective 5-HT(1B/1D) agonist frovatriptan. Headache 2002 Apr; 42 Suppl. 2: S47–53

Parsons AA, Raval P, Smith S, et al. Effects of the novel high-affinity 5-HT(1B/1D)-receptor ligand frovatriptan in human isolated basilar and coronary arteries. J Cardiovasc Pharmacol 1998; 32(2): 220–4

Buchan P, Keywood C, Wade A, et al. Clinical pharmacokinetics of frovatriptan. Headache 2002; 42 Suppl. 2: S54–62

Elkind AH, Wade A, Ishkanian G. Pharmacokinetics of frovatriptan in adolescent migraineurs. J Clin Pharmacol 2004; 44(10): 1158–65

Buchan P, Wade A, Ward C, et al. Frovatriptan: A review of drug-drug interactions. Headache 2002; 42 Suppl. 2: S63–73

Rapoport A, Ryan R, Goldstein J, et al. Dose range-finding studies with frovatriptan in the acute treatment of migraine. Headache 2002; 42 Suppl. 2: S74–83

Ryan R, Geraud G, Goldstein J, et al. Clinical efficacy of frovatriptan: placebo-controlled studies. Headache 2002; 42 Suppl. 2: S84–92

US FDA Centre for Drug Evaluation and Research. Frovatriptan clinical review [online]. Available from URL: http://www.accessdata.fda.gov/drugsatfda_docs/nda/2001/21-006_Frova_medr_P1.pdf [Accessed 2012 Aug 1]

Moon HS, Chu MK, Park JW, et al. Frovatriptan is effective and well tolerated in Korean migraineurs: a double-blind, randomized, placebo-controlled trial. J Clin Neurol 2010 Mar; 6(1): 27–32

Cady R, Elkind A, Goldstein J, et al. Randomized, placebo-controlled comparison of early use of frovatriptan in a migraine attack versus dosing after the headache has become moderate or severe. Curr Med Res Opin 2004; 20(9): 1465–72

Bartolini M, Giamberardino MA, Lisotto C, et al. A double-blind, randomized, multicenter, Italian study of frovatriptan versus almotriptan for the acute treatment of migraine. J Headache Pain 2011; 12(3): 361–8

Savi L, Omboni S, Lisotto C, et al. A double-blind, randomized, multicenter, Italian study of frovatriptan versus rizatriptan for the acute treatment of migraine. J Headache Pain 2011; 12(2): 219–26

Tullo V, Allais G, Ferrari MD, et al. Frovatriptan versus zolmitriptan for the acute treatment of migraine: a double-blind, randomized, multicenter, Italian study. Neurol Sci 2010; 31 Suppl. 1: S51–4

Cortelli P, Allais G, Tullo V, et al. Frovatriptan versus other triptans in the acute treatment of migraine: pooled analysis of three double-blind, randomized, cross-over, multicenter, Italian studies. Neurol Sci 2011; 32 Suppl. 1: S95–8

Bartolini M, Giamberardino MA, Lisotto C, et al. Frovatriptan versus almotriptan for acute treatment of menstrual migraine: analysis of a double-blind, randomized, crossover, multicentre, Italian, comparative study. J Headache Pain 2012; 13(5): 401–6

Savi L, Omboni S, Lisotto C, et al. Efficacy of frovatriptan in the acute treatment of menstrually related migraine: analysis of a double-blind, randomized, cross-over, multi-center, Italian, comparative study versus rizatriptan. J Headache Pain 2011; 12(6): 609–15

Allais G, Tullo V, Benedetto C, et al. Efficacy of frovatriptan in the acute treatment of menstrually related migraine: analysis of a double-blind, randomized, multicenter, Italian, comparative study versus zolmitriptan. Neurol Sci 2011; 32 Suppl. 1: S99–104

Geraud G, Spierings ELH, Keywood C. Tolerability and safety of frovatriptan with short- and long-term use for treatment of migraine and in comparison with sumatriptan. Headache 2002; 42 Suppl. 2: S93–9

Elkind AH, Satin LZ, Nila A, et al. Frovatriptan use in migraineurs with or at high risk of coronary artery disease. Headache 2004; 44(5): 403–10

Wammes-van der Heijden EA, Tijssen CC, Egberts ACG. Treatment choices and patterns in migraine patients with and without a cardiovascular risk profile. Cephalalgia 2009 Mar 1; 29(3): 322–30

Snow V, Weiss K, Wall EM, et al. Pharmacologic management of acute attacks of migraine and prevention of migraine headache. American Academy of Family Physicians and the American College of Physicians — American Society of Internal Medicine. Ann Intern Med 2002 Nov 19; 137(10): 840–9

Magis D, Schoenen J. Treatment of migraine: update on new therapies. Curr Opin Neurol 2011; 24: 203–10

Ferrari M, Goadsby P, Roon K. Triptans (serotonin, 5-HT1B/1D agonists) in migraine: detailed results and methods of a meta-analysis of 53 trials. Cephalgia 2002; 22: 633–58

Nelson DL, Phebus LA, Johnson KW, et al. Preclinical pharmacological profile of lasmiditan. Cephalgia 2010 Oct; 30(10): 1159–69

Lantéri-Minet M, Mick G, Allaf B. Early dosing and efficacy of triptans in acute migraine treatment: the TEMPO study. Cephalgia 2012; 32(3): 226–35

Brandes JL, Poole AC, Kallela M, et al. Short-term frovatriptan for the prevention of difficult-to-treat menstrual migraine attacks. Cephalalgia 2009; 29(11): 1133–48

Guidotti M, Ravasio R. Clinical and economic comparison of frovatriptan versus other oral triptans in the treatment of acute migraine in the real-world setting. Clin Drug Invest 2009; 29(11): 693–702

Coloprisco G, De Filippis S, D'Alonzo L, et al. A study on indirect costs in acute migraine treatment with aspirin and/or frovatriptan [abstract]. 14th Congress of the International Headache Society; 2009 Sep 10–13; Philadelphia (PA)
About this article
Cite this article
Sanford, M. Frovatriptan. CNS Drugs 26, 791–811 (2012). https://doi.org/10.2165/11209380-000000000-00000
Published:

Issue Date:

DOI: https://doi.org/10.2165/11209380-000000000-00000
Keywords