Abstract
Tesamorelin (Egrifta™) is a synthetic analogue of human growth hormone-releasing hormone (also known as growth hormone-releasing factor) that stimulates the synthesis and release of endogenous growth hormone. It is the first and, so far, only treatment indicated for the reduction of excess abdominal fat in patients with HIV-associated lipodystrophy. This article reviews the pharmacological properties, clinical efficacy and tolerability of tesamorelin in patients with HIV-associated central fat accumulation.
Subcutaneous tesamorelin was effective in reducing visceral adipose tissue (VAT), but did not affect subcutaneous adipose tissue to a clinically significant extent in two 26-week, well designed, clinical trials in patients with HIV-associated central fat accumulation. This reduction in VAT was maintained in the longer term in patients who continued to receive tesamorelin until week 52 in the extension phases of the two trials. However, discontinuation of therapy during this period resulted in the reaccumulation of VAT. Tesamorelin therapy was also associated with significant improvements in other body composition measures (e.g. trunk fat and waist circumference) and improvements were generally seen in some body image parameters (e.g. belly image distress). Tesamorelin was generally well tolerated, with treatment-emergent serious adverse events occurring in <4% of patients during 26 weeks of therapy. Most of these events were injection-site reactions or events known to be associated with growth hormone therapy (e.g. arthralgia, headache and peripheral oedema). Although long-term clinical experience is needed to further assess the benefits and risks of therapy, current evidence suggests that tesamorelin may be useful for reducing visceral adiposity in patients with HIV-associated lipodystrophy, thereby potentially improving self image.
This is a preview of subscription content, log in to check access.
Access options
Buy single article
Instant access to the full article PDF.
US$ 49.95
Price includes VAT for USA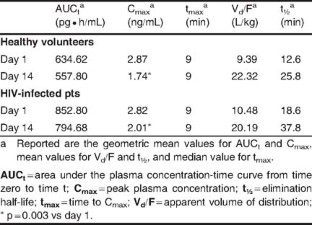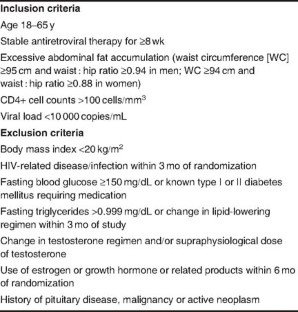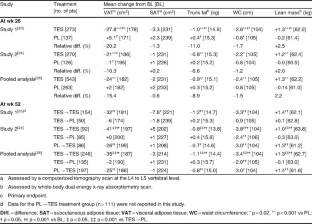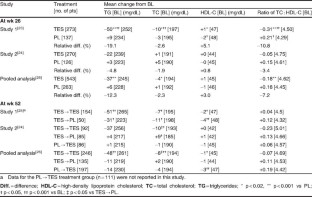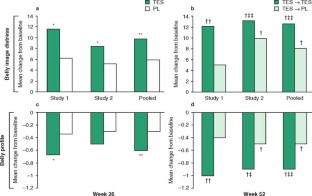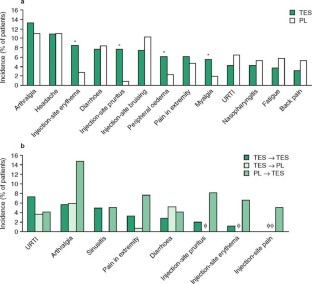 References
1.

Wierzbicki AS, Purdon SD, Hardman TC, et al. HIV lipodystrophy and its metabolic consequences: implications for clinical practice. Curr Med Res & Opin 2008; 24(3): 609–24

2.

Lohse N, Hansen AB, Gerstoft J, et al. Improved survival in HIV-infected persons: consequences and perspectives. J Antimicrob Chemother 2007 Sep; 60(3): 461–3

3.

Benedini S, Terruzzi I, Lazzarin A, et al. Recombinant human growth hormone: rationale for use in the treatment of HIV-associated lipodystrophy. Biodrugs 2008; 22(2): 101–12

4.

Gazzard BG, Anderson J, Babiker A, et al. on behalf of the BHIVA Treatment Guidelines Writing Group. British HIV Association guidelines for the treatment of HIV-1-infected adults with antiretroviral therapy 2008. HIV Med 2008 Oct; 9(8): 563–608

5.

Gervasoni C, Ridolfo AL, Trifirò G, et al. Redistribution of body fat in HIV-infected women undergoing combined antiretroviral therapy. AIDS 1999 Mar 11; 13(4): 465–71

6.

Carr A, Samaras K, Thorisdottir A, et al. Diagnosis, prediction, and natural course of HIV-1 protease-inhibitor-associated lipodystrophy, hyperlipidaemia, and diabetes mellitus: a cohort study. Lancet 1999 Jun 19; 353(9170): 2093–9

7.

van der Valk M, Gisolf EH, Reiss P, et al. Increased risk of lipodystrophy when nucleoside analogue reverse transcriptase inhibitors are included with protease inhibitors in the treatment of HIV-1 infection. AIDS 2001 May 4; 15(7): 847–55

8.

Leung VL, Glesby MJ. Pathogenesis and treatment of HIV lipohypertrophy. Curr Opin Infect Dis 2011 Feb; 24(1): 43–9

9.

Rietschel P, Hadigan C, Corcoran C, et al. Assessment of growth hormone dynamics in human immunodeficiency virus-related lipodystrophy. J Clin Endocrinol Metab 2001 Feb; 86(2): 504–10

10.

Grunfeld C, Thompson M, Brown SJ, et al. Recombinant human growth hormone to treat HIV-associated adipose redistribution syndrome: 12-week induction and 24-week maintenance therapy. J Acquir Immune Defic Syndr 2007 Jul 1; 45(3): 286–97

11.

Lo J, You SM, Canavan B, et al. Low-dose physiological growth hormone in patients with HIV and abdominal fat accumulation: a randomized controlled trial. JAMA 2008 Aug 6; 300(5): 509–19

12.

Koutkia P, Canavan B, Breu J, et al. Growth hormone-releasing hormone in HIV-infected men with lipodystrophy: a randomized controlled trial. JAMA 2004 Jul 14; 292(2): 210–8

13.

Theratechnologies Inc. Egrifta™ (tesamorelin for injection): US prescribing information [online]. Available from URL: http://www.accessdata.fda.gov [Accessed 2011 Feb 8]

14.

Theratechnologies. FDA approves Egrifta™ (tesamorelin for injection): the first and only treatment for the reduction of excess abdominal fat in HIV-infected patients with lipodystrophy [media release]. 2010 Nov 11 [online]. Available from URL: http://www.theratech.com

15.

Michaud SE, Abolfathi Z, Potvin D, et al. Pharmacokinetic/pharmacodynamic evaluation of tesamorelin (TH9507), a growth hormone-releasing factor analog, administered subcutaneously once daily for 14 consecutive days in healthy and HIV positive populations [poster no. P3-641]. 91st Annual Meeting of the Endocrine Society; 2009 Jun 10–13; Washington, DC

16.

Mamputu JC, Soulban G, Falutz J. Effects of tesamorelin, a growth hormone-releasing factor (GRF) analogue, on bone turnover markers in HIV-infected patients with excess abdominal fat [abstract no. 834 plus poster presentation]. 18th Conference on Retroviruses and Opportunistic Infections; 2011 Feb 27–Mar 2; Boston (MA)

17.

Center for Drug Evaluation and Research. Clinical pharmacology and biopharmaceutics review(s) [online]. Available from URL: http://www.accessdata.fda.gov [Accessed 2011 Feb 9]

18.

Center for Drug Evaluation and Research. Pharmacology review(s) [online]. Available from URL: http://www.accessdata.fda.gov [Accessed 2011 Feb 9]

19.

Møller N, Jørgensen JO. Effects of growth hormone on glucose, lipid, and protein metabolism in human subjects. Endocr Rev 2009 Apr; 30(2): 152–77

20.

Ferdinandi ES, Brazeau P, High K, et al. Non-clinical pharmacology and safety evaluation of TH9507, a human growth hormone-releasing factor analogue. Basic Clin Pharmacol Toxicol 2007 Jan; 100(1): 49–58

21.

Falutz J, Allas S, Kotler D, et al. A placebo-controlled, dose-ranging study of a growth hormone releasing factor in HIV-infected patients with abdominal fat accumulation. AIDS 2005 Aug 12; 19(12): 1279–87

22.

Stanley TL, Chen CY, Branch KL, et al. Effects of a growth hormone-releasing hormone analog on endogenous GH pulsatility and insulin sensitivity in healthy men. J Clin Endocrinol Metab 2011 Jan; 96(1): 150–8

23.

Falutz J, Allas S, Blot K, et al. Metabolic effects of a growth hormone-releasing factor in patients with HIV. N Engl J Med 2007 Dec 6; 357(23): 2359–70

24.

Falutz J, Potvin D, Mamputu JC, et al. Effects of tesamorelin, a growth hormone-releasing factor, in HIV-infected patients with abdominal fat accumulation: a randomized placebo-controlled trial with a safety extension. J Acquir Immune Defic Syndr 2010 Mar 1; 53(3): 311–22

25.

Falutz J, Allas S, Mamputu JC, et al. Long-term safety and effects of tesamorelin, a growth hormone-releasing factor analogue, in HIV patients with abdominal fat accumulation. AIDS 2008 Sep 12; 22(14): 1719–28

26.

Falutz J, Mamputu JC, Potvin D, et al. Effects of tesamorelin (TH9507), a growth hormone-releasing factor analog, in human immunodeficiency virus-infected patients with excess abdominal fat: a pooled analysis of two multicenter, double-blind placebo-controlled phase 3 trials with safety extension data. J Clin Endocrinol Metab 2010 Sep; 95(9): 4291–304

27.

Center for Drug Evaluation and Research. Medical review(s) [online]. Available from URL: http://www.accessdata.fda.gov [Accessed 2011 Feb 15]

28.

IDF Clinical Guidelines Task Force. Global guideline for type 2 diabetes: recommendations for standard, comprehensive, and minimal care. Diabet Med 2006 Jun; 23(6): 579–93

29.

Nathan DM, Buse JB, Davidson MB, et al. Medical management of hyperglycemia in type 2 diabetes: a consensus algorithm for the initiation and adjustment of therapy: a consensus statement of the American Diabetes Association and the European Association for the Study of Diabetes. Diabetes Care 2009 Jan; 32(1): 193–203

30.

Stanley TL, Falutz J, Mamputu JC, et al. Effects of tesamorelin on inflammatory markers in HIV Patients with excess abdominal fat: relationship with visceral adipose reduction. AIDS. Epub 2011 Apr 21

31.

Vincent G, Teng S, Ducharme MP, et al. Impact of tesamorelin (TH9507), a stabilized growth hormone-releasing factor (GRF) analogue, on the pharmacokinetics of simvastatin and ritonavir in healthy volunteers [poster no. P178]. 18th Annual Canadian Conference on HIV/AIDS Research; 2009 Apr 23–26; Vancouver (BC)

32.

Zoltowska M, Morin J, Glyman S, et al. Efficacy and long-term safety of tesamorelin (TH9507), a growth hormone-releasing factor (GRF) analogue, in sub-populations of HIV-infected patients with excess abdominal fat [poster no. H-228]. 50th International Conference on Antimicrobial Agents and Chemotherapy; 2010 Sep 12–15; Boston (MA)

33.

Falutz J, Mamputu JC, Marsolais C, et al. Atherogenic lipid profile in treated HIV patients with increased visceral adiposity: association with more severe CVD risk parameters and response to tesamorelin (TH9507), a growth hormone-releasing factor (GRF) analogue [poster no. 713]. 16th Conference on Retroviruses and Opportunistic Infections; 2009 Feb 8–11; Montreal (QC)

34.

Klein S, Allison DB, Heymsfield SB, et al. Waist circumference and cardiometabolic risk: a consensus statement from Shaping America's Health: association for Weight Management and Obesity Prevention; NAASO, The Obesity Society; the American Society for Nutrition; and the American Diabetes Association. Am J Clin Nutr 2007 May; 85(5): 1197–202

35.

Pouliot MC, Després JP, Lemieux S, et al. Waist circumference and abdominal sagittal diameter: best simple anthropometric indexes of abdominal visceral adipose tissue accumulation and related cardiovascular risk in men and women. Am J Cardiol 1994 Mar 1; 73(7): 460–8

36.

Savgan-Gurol E, Bredella M, Russell M, et al. Waist to hip ratio and trunk to extremity fat (DXA) are better surrogates for IMCL and for visceral fat respectively than for subcutaneous fat in adolescent girls. Nutr Metab (Lond) 2010; 7: 86

37.

Center for Drug Evaluation and Research. Summary review [online]. Available from URL: http://www.accessdata.fda.gov [Accessed 2011 Feb 22]

38.

Guaraldi G, Murri R, Orlando G, et al. Lipodystrophy and quality of life of HIV-infected persons. AIDS Rev 2008 Jul 30; 10(3): 152–61

39.

Guaraldi G, Murri R, Orlando G, et al. Severity of lipodystrophy is associated with decreased health-related quality of life. AIDS Patient Care STDS 2008 Jul; 22(7): 577–85

40.

Mahabadi AA, Massaro JM, Rosito GA, et al. Association of pericardial fat, intrathoracic fat, and visceral abdominal fat with cardiovascular disease burden: the Framingham Heart Study. Eur Heart J 2009 Apr; 30(7): 850–6

41.

Wohl D, Scherzer R, Heymsfield S, et al. The associations of regional adipose tissue with lipid and lipoprotein levels in HIV-infected men. J Acquir Immune Defic Syndr 2008 May 1; 48(1): 44–52

42.

Moyle G, Moutschen M, Martinez E, et al. Epidemiology, assessment, and management of excess abdominal fat in persons with HIV infection. AIDS Rev 2010; 12(1): 3–14

43.

Lundgren JD, Battegay M, Behrens G, et al. European AIDS Clinical Society (EACS) guidelines on the prevention and management of metabolic diseases in HIV. HIV Med 2008 Feb; 9(2): 72–81

44.

European AIDS Clinical Society. Guidelines (version 5–2) [online]. Available from URL: http://www.europeanaidsclinicalsociety.org [Accessed 2011 Feb 17]

45.

US Department of Health and Human Services. Lipodystrophy [online]. Available from URL: http://www.aidsinfo.nih.gov [Accessed 2011 Feb 17]

46.

Porter SA, Massaro JM, Hoffmann U, et al. Abdominal subcutaneous adipose tissue: a protective fat depot? Diabetes Care 2009 Jun; 32(6): 1068–75

47.

Brown TT, Ruppe MD, Kassner R, et al. Reduced bone mineral density in human immunodeficiency virus-infected patients and its association with increased central adiposity and postload hyperglycemia. J Clin Endocrinol Metab 2004 Mar; 89(3): 1200–6

48.

Masiá M, Padilla S, Garcia N, et al. Endothelial function is impaired in HIV-infected patients with lipodystrophy. Antivir Ther 2010; 15(1): 101–10

49.

Werns SW, Walton JA, Hsia HH, et al. Evidence of endothelial dysfunction in angiographically normal coronary arteries of patients with coronary artery disease. Circulation 1989 Feb; 79(2): 287–91

50.

Dolan SE, Hadigan C, Killilea KM, et al. Increased cardiovascular disease risk indices in HIV-infected women. J Acquir Immune Defic Syndr 2005 May 1; 39(1): 44–54

51.

Lekakis J, Tsiodras S, Ikonomidis I, et al. HIV-positive patients treated with protease inhibitors have vascular changes resembling those observed in atherosclerotic cardiovascular disease. Clin Sci (Lond) 2008 Sep; 115(6): 189–96

52.

Lekakis J, Ikonomidis I. Cardiovascular complications of AIDS. Curr Opin Crit Care 2010 Oct; 16(5): 408–12

53.

Deeks SG. Perspective: immune dysfunction, inflammation, and accelerated aging in patients on antiretroviral therapy. Top HIV Med. 2009; 17(4): 118–23

54.

Maki RG. Small is beautiful: insulin-like growth factors and their role in growth, development, and cancer. J Clin Oncol 2010 Nov 20; 28(33): 4985–95

55.

Mateo MG, Gutiérrez MDM, Domingo P, et al. Tesamorelin for the treatment of excess abdominal fat in HIV-1 patients with lipodystrophy. Expert Rev Endocrinol Metab 2011; 6(1): 21–30

56.

Henricsson M, Berntorp K, Fernlund P, et al. Progression of retinopathy in insulin-treated type 2 diabetic patients. Diabetes Care 2002 Feb; 25(2): 381–5

57.

Falutz J. HIV infection, body composition changes and related metabolic complications: contributing factors and evolving management strategies. Curr Opin Clin Nutr Metab Care 2011 May; 14(3): 255–60
About this article
Cite this article
Dhillon, S. Tesamorelin. Drugs 71, 1071–1091 (2011). https://doi.org/10.2165/11202240-000000000-00000
Keywords
Growth Hormone

Placebo Recipient

Visceral Adipose Tissue

Growth Hormone Secretion

Extension Phase