Abstract
Passion fruit (Passiflora edulis) is an exotic climbing vine. Originating in South America, passion fruit is now grown worldwide as an edible fruit for the food industry. It has been used widely in folk medicine in South America to treat anxiety, insomnia, asthma, bronchitis and urinary infection. The constituents of different extracts include flavonoids, alkaloids, cyanogenic compounds, glycosides, vitamins, minerals and terpenoid compounds. The in vitro inhibitory effect of fruit aqueous extract on matrix-metalloprotease 2 and 9 has been shown. While some animal studies have described anxiolytic effect of leaf extract, one provided contradictory evidence. However, objective scientific validation of the putative health benefits of P. edulis in humans is still lacking. Although short-term adverse effects of crude leaf extract in human have been described, there is not any large-scale case-control study. This situation has led to questionable conclusions concerning specific health benefits or risks of P. edulis. Further studies are warranted to explore the efficacy and safety of P. edulis extracts.
This is a preview of subscription content, log in to check access.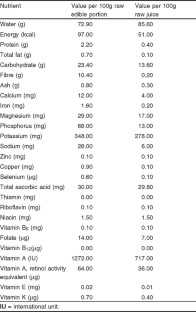 References
1.

Vanderplank J. Passion flowers. 2nd ed. Cambridge (MA): MIT Press, 1996

2.

Petry RD, Reginatto F, de-Paris F, et al. Comparative pharmacological study of hydroethanol extracts of Passiflora alata and Passiflora edulis leaves. PhytotherRes 2001; 15: 162–4

3.

Morton JF. Passion fruit. In: Morton JF, editor. Fruits of warm climates. Winterville: Creative Resource Systems Inc., 1987: 320–8

4.

Liogier HA. Descriptive flora of Puerto Rico and adjacent islands. Rio Piedras: Editorial de la Universidad de Puerto Rico, 1994: 461

5.

USDA National Nutrient Database for Standard Reference. 468–472 [online; released 2004 Jan 16]. Available from URL: http://www.nal.usda.gov/fnic/foodcomp/Data/SR16-1/reports/s16-1f09.pdf [Accessed 2004 May 20]

6.

Benigni R, Capra C, Cattorini PE, editors. Plante medicinale; chimica, farmacologia, e terapia. Vol. 2. Milan: Inverni della Beffa, 1964: 1080–5

7.

Hoene FC. Plantas e substancias vegetais toxicas e medicinais. Sao Paulo: Graphicars, 1939

8.

Taylor L. Raintree nutrition tropical plant database. Passion fruit [online]. Available from URL: http://www.rain-tree.com/passionf.htm [Accessed 2004 Jun 15]

9.

Mareck U, Herrmann K, Galensa R, et al. The 6-C-chinovoside and 6-C-fucoside of luteolin from Passiflora edulis. Phytochemistry 1991; 30: 3486–7

10.

Lutomski J, Malek B, Rybacka L. Pharmacochemical investigations of the raw materials from Passiflora genus: 2. The pharmacochemical estimation of juices from the fruits of Passiflora edulis and Passiflora edulis forma flavicarpa. Planta Med 1975; 27: 112–21

11.

Moraes MLL, Vilegas JHY, Lanças FM. Supercritical fluid extraction of glycosylated flavonoids from Passiflora leaves. Phytochem Anal 1997; 8: 257–60

12.

Kidoy L, Nygard AM, Andersen OM, et al. Anthocyanins in fruits of Passiflora edulis and P. suberosa. J Food Compost Anal 1997; 10: 49–54

13.

Pruthi JS, Susheela R, Lal G. Anthocyanin pigment in passion fruit rind. J Food Sci 1961; 26: 385–8

14.

Harborne JB. Comparative biochemistry of the flavonoids. London: Academic Press, 1967: 132

15.

Slaytor M, McFarlane IJ. The biosynthesis and metabolism of harman in Passiflora edulis: I. The biosynthesis of harman. Phytochemistry 1968; 7: 605–11

16.

Chassagne D, Crouzet J, Bayonove CL, et al. Identification and quantification of passion fruit cyanogenic glycosides. J Agric Food Chem 1996; 44: 3817–20

17.

Seigler DS, Pauli GF, Nahrstedt A, et al. Cyanogenic allosides and glucosides from Passiflora edulis and Carica papaya. Phytochemistry 2002; 60: 873–82

18.

Chassagne D, Crouzet J. A cyanogenic glycoside from Passiflora edulis fruits. Phytochemistry 1998; 49: 757–9

19.

Bombardelli E, Bonati A, Gabetta B, et al. Passiflorine, a new glycoside from Passiflora edulis. Phytochemistry 1975; 14: 2661–5

20.

Chassagne D, Crouzet J, Bayonove CL, et al. Glycosidically bound eugenol and methyl salicylate in the fruit of edible Passiflora species. J Agric Food Chem 1997; 45: 2685–9

21.

Chassagne D, Boulanger R, Crouzet J. Enzymatic hydrolysis of edible Passiflora fruit glycosides. Food Chem 1999; 66: 281–8

22.

Yoshikawa K, Katsuta S, Mizumori J, et al. Four cycloartane triterpenoids and six related saponins from Passiflora edulis. J Nat Prod 2000; 63: 1229–34

23.

Tominaga T, Dubourdieu D. Identification of cysteinylated aroma precursors of certain volatile thiols in passion fruit juice. J Agric Food Chem 2000; 48: 2874–6

24.

Mercadante AZ, Britton G, Rodriguez-Amaya DB. Carotenoids from yellow passion fruit (Passiflora edulis). J Agric Food Chem 1998; 46: 4102–6

25.

Chau CF, Huang YL. Characterization of passion fruit seed fibres: a potential fibre source. Food Chem 2004; 85: 189–94

26.

Puricelli L, Dell'Aica I, Sartor L, et al. Preliminary evaluation of inhibition of matrix-metalloprotease MMP-2 and MMP-9 by Passiflora edulis and P. foetida aqueous extracts. Fitoterapia 2003; 74: 302–4

27.

Garbisa S, Sartor L, Biggin S, et al. Tumor gelatinases and invasion inhibited by the green tea flavanol epigallocatechin-3-gallate. Cancer 2001; 91: 822–32

28.

Cotrim MD, Martins MA, Figueiredo IV, et al. Effects of Passiflora edulis aqueous extracts on 5-HT3 receptors in guinea-pig ileum and rat brain [abstract]. Pharmacol Res 1995; 31: 266

29.

Pellow S, File S. Anxiolytic and anxiogenic drug effects on exploratory activity in an elevated plus-maze: a novel test of anxiety in the rat. Pharmacol Biochem Behav 1986; 24: 525–9

30.

Dhawan K, Kumar S, Sharma A. Comparative biological activity study on Passiflora incarnata and P. edulis. Fitoterapia 2001; 72: 698–702

31.

Maluf E, Barros HMT, Frochtengarten ML, et al. Assessment of the hypnotic/sedative effects and toxicity of Passiflora edulis aqueous extract in rodents and humans. Phytother Res 1991; 5: 262–6

32.

Toskes PP, Greenberger NJ. Harrison's principles of internal medicine. 15th ed. Chap 303. p 3. 2001 [online]. Available from URL: http://harrisons.accessmedicine.com [Accessed 2004 Jun 20]
Acknowledgements
Review stimulated by research on alternative medicine funded by Wallace Research Foundation and Yerbas Medicinales (SWSEC) to RRW. The authors have no conflicts of interest directly relevant to the contents of this review.
About this article
Cite this article
Zibadi, S., Watson, R.R. Passion Fruit (Passiflora edulis). Evid-Based-Integrative-Med 1, 183–187 (2004). https://doi.org/10.2165/01197065-200401030-00005
Keywords
Anxiolytic Effect

Passion Fruit

Crude Leaf Extract

Yellow Passion Fruit

Cyanogenic Compound