Abstract
Understanding the composition of gene lists that result from high-throughput experiments requires elaborate processing of gene annotation lists. In this article we present GOAT (Gene Ontology Analysis Tool), a tool based on the statistical software 'R' for analysing Gene Ontology™ (GO) term enrichment in gene lists. Given a gene list, GOAT calculates the enrichment and statistical significance of every GO term and generates graphical presentations of significantly enriched terms. GOAT works for any organism with a genome-scale GO annotation and allows easy updates of ontologies and annotations.
This is a preview of subscription content, log in to check access.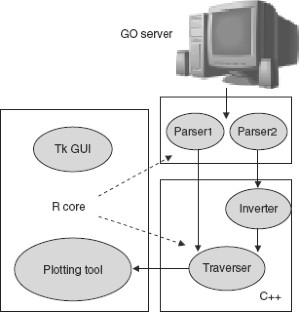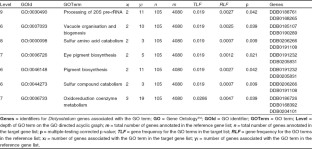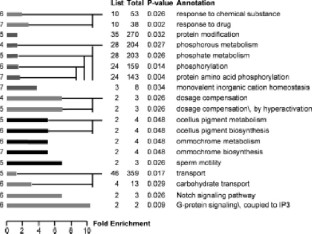 References
1.

Berriz GF, King OD, Bryant B, et al. Characterizing gene sets with FuncAssociate. Bioinformatics 2003; 19(18): 2502–4

2.

Feng W, Wang G, Zeeberg BR, et al. Development of gene ontology tool for biological interpretation of genomic and proteomic data. AMIA Annu Symp Proc 2003, 839

3.

Al-Shahrour F, Diaz-Uriarte R, Dopazo J. FatiGO: a web tool for finding significant associations of Gene Ontology terms with groups of genes. Bioinformatics 2004; 20(4): 578–80

4.

Beissbarth T, Speed TP. GOstat: find statistically overrepresented Gene Ontologies within a group of genes. Bioinformatics 2004; 20(9): 1464–5

5.

Zhang B, Schmoyer D, Kirov S, et al. GOTree Machine (GOTM): a web-based platform for interpreting sets of interesting genes using Gene Ontology hierarchies. BMC Bioinformatics 2004; 5(1): 16

6.

Gentleman RC, Carey VJ, Bates DM, et al. Bioconductor: open software development for computational biology and bioinformatics. Genome Biol 2004; 5(10): R80

7.

Benjamini Y, Hochberg Y. Controlling the false discovery rate: a practical and powerful approach to multiple testing. J R Stat Soc Ser B 1995; 57: 289–300

8.

Katoh M, Shaw C, Xu Q, et al. An orderly retreat: dedifferentiation is a regulated process. Proc Natl Acad Sci U S A 2004; 101(18): 7005–10

9.

Xu Q, Ibarra M, Mahadeo D, et al. Transcriptional transitions during Dictyostelium spore germination. Eukaryot Cell 2004; 3(5): 1101–10
Acknowledgements
This work was supported by grant no. P01 HD39691 from the National Institute of Health, National Institute of Child Health and Human Development (NIH-NICHD).
The authors have no conflicts of interest that are directly relevant to the content of this article.
Additional information
Availability: GOAT is freely available from http://dictygenome.org/software/GOAT/
About this article
Cite this article
Xu, Q., Shaulsky, G. GOAT. Appl-Bioinformatics 4, 281–283 (2005). https://doi.org/10.2165/00822942-200504040-00008
Keywords
Gene Ontology

Gene List

Annotation Data

Term Enrichment

Annotation File