Abstract
Idiopathic environmental intolerance (IEI) is a descriptor for a phenomenon that has many names including environmental illness, multiple chemical sensitivity and chemical intolerance. Toxicogenic and psychogenic theories have been proposed to explain IEI. This paper presents a causality analysis of the toxicogenic theory using Bradford Hill's nine criteria (strength, consistency, specificity, temporality, biological gradient, biological plausibility, coherence, experimental intervention and analogy) and an additional criteria (reversibility) and reviews critically the scientific literature on the topic. The results of this analysis indicate that the toxicogenic theory fails all of these criteria. There is no convincing evidence to support the fundamental postulate that IEI has a toxic aetiology; the hypothesised biological processes and mechanisms are implausible.
Access options
Buy single article
Instant access to the full article PDF.
USD 49.95
Price excludes VAT (USA)
Tax calculation will be finalised during checkout.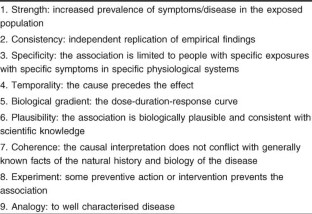 References
International Programme on Chemical Safety/World Health Organization (IPCS/WHO). Conclusions and recommendations of a workshop on multiple chemical sensitivities (MCS). Regul Toxicol Pharmacol 1996; 24: S188

Cullen MR. The worker with multiple chemical sensitivities: an overview. Occup Med 1987; 2: 655–62

Popper KR. Conjectures and refutations: the growth of scientific knowledge. New York: Harper and Row/Torchbooks, 1968

Lakatos I. Falsification and the methodology of scientific research programmes. In: Lakatos I, Musgrave A, editors. Criticism and the growth of knowledge. Proceedings of the International Colloquium on the Philosophy of Science; 1965; London. Cambridge: Cambridge University Press, 1970: 91–195

Randolph TG. Human ecology and susceptibility to the chemical environment. Springfield (IL): Charles C. Thomas, 1962

Rea WJ. Chemical sensitivity, vol. 1: principles and mechanisms. Boca Raton (FL): Lewis Publishers/CRC Press, 1992

Rea WJ. Chemical Sensitivity, vol. 2: sources of total body load. Boca Raton (FL): Lewis Publishers/CRC Press, 1994

Rea WJ. Chemical Sensitivity, vol. 3: clinical manifestations of pollutant overload. Boca Raton (FL): Lewis Publishers/CRC Press, 1995

Rea WJ. Chemical Sensitivity, vol. 4: tools of diagnosis and methods of treatment. Boca Raton (FL): Lewis Publishers/CRC Press, 1996

Ashford NA, Miller CS. Chemical exposures: low levels and high stakes. 2nd ed. New York: Van Nostrand Reinhold, 1998

Bell IR, Baldwin CM, Fernandez M, et al. Neural sensitization model for multiple markers in multiple chemical sensitivity. Regul Toxicol Pharmacol 1996; 24: S39

Meggs WJ. Neurogenic inflammation and sensitivity to environmental chemicals. Environ Health Perspect 1993; 101: 234–8

American Academy of Allergy Asthma and Immunology. Board of Directors position statement: idiopathic environmental intolerances. J Allergy Clin Immunol 1999; 103: 36–40

American College of Occupational and Environmental Medicine. Multiple chemical sensitivities: idiopathic environmental intolerance. Position statement. ACOEM Report 1999 Jun: 1–3

American Medical Association. Council on Scientific Affairs Report: clinical ecology. JAMA 1992; 268(24): 3465–7

American College of Physicians. Position paper: clinical ecology. Ann Intern Med 1989; 111: 168–78

Royal College of Physicians. Allergy, conventional and alternative concepts. Report by the Committee on Clinical Immunology and Allergy. London: Royal College of Physicians, 1992

International Society of Regulatory Toxicology and Pharmacology (ISRTP). Report of the Board. Regul Toxicol Pharmacol 1993; 18: 79

American Academy of Clinical Toxicology. Board of Trustees minutes, 2000 Mar 29

Staudenmayer H, Binkley KE, Leznoff A, et al. Idiopathic environmental intolerance: part 2 — a causation analysis applying Bradford Hill's criteria to the psychogenic theory. Toxicol Rev 2003; 22(3): 247–61

Hill AB. The environment and disease: association or causation. Proc R Soc Med 1965; 58: 295–300

Agency for Toxic Substances and Disease Registry (ATSDR). A quick guide to evaluating environmental exposures. Centers for Disease Control and Prevention. DKH 01-0391. Atlanta (GA): ATSDR, 2001 Oct, 65

Hausteiner C, Bornschein S, Bickel H, et al. Psychiatric morbidity and low selfattentiveness in patients with environmental illness. J Nerv Ment Dis 2003; 191: 50–5

Waddell WJ. The science of toxicology and its relevance to MCS. Regul Toxicol Pharmacol 1993; 18: 13–22

National Research Council. Board of Environmental Studies and Toxicology. Workshop on Health Risks from Exposure to Common Indoor Household Products in Allergic or Chemically Diseased Persons; 1987 Jul 1; Washington, DC

Bell IR, Hardin EE, Baldwin CM, et al. Increased limbic system symptomatology and sensitizability of young adults with chemical and noise sensitivities. Environ Res 1995; 70: 84–97

Bell IR. Clinically relevant EEG studies and psychophysiological findings: possible neural mechanisms for multiple chemical sensitivity. Toxicology 1996; 111: 101–17

Meggs WJ, Dunn KA, Bloch RM, et al. Prevalence and nature of allergy and chemical sensitivity in a general population. Arch Environ Health 1996; 51: 275–82

Ross PM, Whysner J, Covello VT, et al. Olfaction and symptoms in multiple chemical sensitivities syndrome. Prev Med 1999; 28: 467–80

Kreutzer R, Neutra RR, Lashuay N. Prevalence of people reporting sensitivities to chemicals in a population based survey. Am J Epidemiol 1999; 150: 1–12

Young E, Stoneham MD, Petruckevitch A, et al. A population study of food intolerance. Lancet 1994; 343: 1127–30

Young E, Patel S, Stoneham M, et al. The prevalence of reaction to food additives in a survey population. J R Coll Physicians Lond 1987; 21: 241–7

Niestijl-Jansen JJ, Kardinaal AFM, Huijbers G, et al. Prevalence of food allergy and intolerance in the adult Dutch population. J Allergy Clin Immunol 1994; 93: 446–56

Selner JC. Chamber challenges: the necessity of objective observation. Reg Toxicol Pharmacol 1996; 24: S87

McCourtie D. An overview. In: Chronic diseases in Canada: Environmental Sensitivities Workshop. Ottawa: Health Protection Branch, Health and Welfare Canada, 1990 May 24

Rea WJ, Ross GH, Johnson AR, et al. Confirmation of chemical sensitivity by means of double-blind inhalant challenge of toxic volatile chemicals. Clin Ecology 1990; 6: 113–8

Jewett DL. Research strategies for investigating multiple chemical sensitivity. Toxicol Ind Health 1992; 8: 175–9

Kilburn KH. Chemical brain injury. New York: Van Norstrand Reinhold, 1998

Sullivan Jr JB, Krieger GR. Hazardous materials toxicology: clinical principles of environmental health. Baltimore (MD): Williams & Wilkins, 1992

Schaumburg HH, Spencer PS, Ludolph AC, editors. Experimental and clinical neurotoxicology. 2nd ed. New York: Oxford University Press, 2000

Simon GE, Daniell W, Stockbridge H, et al. Immunologic, psychological and neuropsychological factors in multiple chemical sensitivity. Ann Intern Med 1993; 19: 97–103

Bolla KI. Neurobehavioral performance in multiple chemical sensitivities. Reg Toxicol Pharmacol 1996; 24: S52

Fiedler N, Kipen HM, Deluca J, et al. A controlled comparison of multiple chemical sensitivities and chronic fatigue syndrome. Psychosom Med 1996; 58: 38–49

Brown-DeGagne AM, McGlone J. Multiple chemical sensitivity: a test of the olfactory-limbic model. J Occup Environ Med 1999; 41: 366–77

Bolla KI. Use of neuropsychological testing in idiopathic environmental testing. Occup Med 2000; 15: 617–25

American Academy of Neurology. Report of the Therapeutics and Technology Assessment Subcommittee. Assessment: neuropsychological testing in adults. Neurology 1996; 47: 592–9

Benton AL. Neuropsychological assessment. Annu Rev Psychol 1994; 45: 1–23

Matarazzo JD. Psychological assessment versus psychological testing: validation from the Binet to the school, clinic and courtroom. Am Psychol 1990; 45: 999–1017

White RF, Proctor SP. Research and clinical criteria for development of neurobehavioral test batteries. J Occup Med 1991; 34: 140–8

Mayberg H. Critique: SPECT studies of multiple chemical sensitivity. Toxicol Ind Health 1994; 10: 661–6

Moser F, Schaeffer J, Waxman AD, et al. New modalities of brain imaging and neurocognitive assessment: emerging areas of interest and controversy related to applications in head injury, neurotoxicology and environmental medicine. Disability 1995; 4: 1–12

Society of Nuclear Brain Imaging Council. Ethical clinical practice of functional brain imaging. J Nucl Med 1996; 37: 1256–9

Callender TJ, Morrow L, Subramanian K, et al. Three-dimensional brain metabolic imaging in patients with toxic encephalopathy. Environ Res 1993; 60: 296–319

Heuser G, Mena I, Goldstein J, et al. Neurospect findings in patients exposed to neurotoxic chemicals [abstract]. Clin Nucl Med 1993; 18: 923

Fincher CE, Chang T, Harrell EH, et al. Comparison of single photon emission computed tomography findings in cases of healthy adults and solvent-exposed adults. Am J Ind Med 1997; 31: 4–14

Frazblau A, Minoshima S, Robins TG, et al. Letter to the Editor. Am J Ind Med 1997; 32: 695–7

Fincher CE, Chang T, Harrell EH, et al. Letter to the Editor. Am J Ind Med 1997; 32: 698–701

Wolfe J, Charney DS. Use of neuropsychological assessment in posttraumatic stress disorder. Psychol Assess 1991; 3: 573–80

Golier JA, Yehuda R, Lupien SJ. Memory performance in holocaust survivors with posttraumatic stress disorder. Am J Psychiatry 2002; 159: 1682–8

Cohen RA, O'Donnell BF. Attentional dysfunction associated with psychiatric illness. In: Cohen RA, editor. The neuropsychology of attention. New York: Plenum, 1993: 275–306

Bemelmans KJ, Goekoop JG, van Kempen GM. Recall performance in acutely depressed patients and plasma cortisol. Biol Psychiatry 1996; 39: 750–2

Rubinow DR, Post RM, Savard R, et al. Cortisol hypersecretion and cognitive impairment in depression. Arch Gen Psychiatry 1984; 41: 279–83

Leznoff A. Provocative challenges in patients with multiple chemical sensitivity. J Allergy Clin Immunol 1997; 99: 438–42

Bell IR. Clinical ecology: a new medical approach to environmental illness. Bolinas (CA): Common Knowledge Press, 1982

Terr AI. Unconventional theories and unproven methods in allergy. In: Middleton Jr E, Reed CE, Ellis EF, et al., editors. Allergy: principles and practice. 4th ed. St Louis (MO): Mosby,. 1993; 2: 1767–93

Miller CS. Toxicant-induced loss of tolerance: an emerging theory of disease? Environ Health Perspect 1997; 105Suppl. 2: 445–53

Bell IR, Schwartz GE, Amend D, et al. Sensitization to early life stress and responses to chemical odors in older adults. Biol Psychiatry 1994; 35: 857–63

Kagan J, Reznick JS, Snidman N. Biological bases of childhood shyness. Science 1988; 240: 167–71

Bell IR. Neuropsychiatric aspects of sensitivity to low-level chemicals: a neural sensitization model. Toxicol Ind Health 1994; 10: 277–312

Young EA, Carlson NE, Brown MB. Twenty-four hour ACTH and cortisol pulsatility in depressed women. Neuropsychopharmacology 2001; 25: 267–76

Heim C, Newport DH, Heit S, et al. Pituitary-adrenal and autonomic responses to stress in women after sexual and physical abuse in childhood. JAMA 2000; 284: 592–7

Staudenmayer H, Selner ME, Selner JC. Adult sequelae of childhood abuse presenting as environmental illness. Ann Allergy 1993; 71: 538–46

Brodsky CM. 'Allergic to everything': a medical subculture. Psychosomatics 1983; 24: 731–42

Selner JC, Staudenmayer H. The relationship of the environment and food to allergic and psychiatric illness. In: Young SH, Rubin JM, Daman HR, editors. Psychophysiological aspects of allergic disorders. New York: Praeger, 1986: 102–46

Black DW. Iatrogenic (physician-induced) hypochondriasis: four patient examples of 'chemical sensitivity.' Psychosomatics 1996; 37: 390–3

Hodgson MJ, Frohliger J, Permar E, et al. Symptoms and microenvironmental measures in non-problem buildings. J Occup Med 1991; 33: 527–33

Hodgson MJ. Indoor environmental exposures and symptoms. Environ Health Perspect 2002; 110Suppl. 4: 663–7

Staudenmayer H. Environmental illness: myth and reality. Boca Raton: CRC/Lewis Publishers, 1999

Selner JC. Book review of chemical exposures, low levels and high stakes by Ashford N and Miller CS. Ann Allergy 1991; 67: 456

Viaene MK, Masschelein R, Leenders J, et al. Neurobehavioral effects of occupational exposure to cadmium: a cross sectional epidemiological study. Occup Environ Health 2000; 57: 19–27

Rea WJ, Bell IR, Suits CW, et al. Food and chemical susceptibility after environmental chemical overexposure: case histories. Ann Allergy 1978; 41: 101–10

Levin AS, Byers VS. Environmental illness: a disorder of immune regulation. Occup Med 1987; 2: 669–81

Bascom R. Multiple chemical sensitivity: a respiratory disorder? Toxicol Ind Health 1992; 8: 221–8

Rosenberg NL, editor. Occupational and environmental neurology. Newton (MA): Butterworth-Heineman, 1995

Altenkirch H, Hopmann D, Brockmeier B, et al. Neurological investigations in 23 cases of pyrethroid intoxication reported to the German Federal Health Office. Neurotoxicology 1996; 17: 645–52

Waxman AD. Functional brain imaging in the assessment of multiple chemical sensitivity. Occup Med 2000; 15: 611–6

Staudenmayer H, Kramer RE. Psychogenic chemical sensitivity: psychogenic pseudoseizures elicited by provocation challenges with fragrances. J Psychosom Res 1999; 47: 185–90

Dager SR, Marro KI, Richards TL, et al. Preliminary application of magnetic resonance spectroscopy to investigate lactate-induced panic. Am J Psychiatry 1994; 151: 57–63

Dager SR, Strauss WL, Marro KI, et al. Proton magnetic resonance spectroscopy investigation of hyperventilation in subjects with panic disorder and comparison subjects. Am J Psychiatry 1995; 152: 666–72

Binkley KE, Kutcher S. Panic response to sodium lactate infusion in patients with multiple chemical sensitivity syndrome. J Allergy Clin Immunol 1997; 99: 570–4

Poonai N, Anthony MM, Binkley KE, et al. Carbon dioxide inhalation challenges in idiopathic environmental intolerance. J Allergy Clin Immunol 2000; 105: 358–63

Binkley K, King N, Poonai N, et al. Idiopathic environmental intolerance: increased prevalence of panic disorder-associated cholecystokinin B receptor allele 7. J Allergy Clin Immunol 2001; 107: 887–90

Bell IR, Miller CS, Schwartz GE. An olfactory-limbic model of multiple chemical sensitivity syndrome: possible relationships to kindling and affective spectrum disorders. Biol Psychiatry 1992; 32: 218–42

Goddard GV, McIntyre DC, Leech CK. A permanent change in brain function resulting from daily electrical stimulation. Exp Neurol 1969; 25: 295–330

Racine R. Kindling: the first decade. Neurosurgery 1978; 3: 234–52

Wada JA. Kindling 4. New York: Plenum, 1990

Bell IR, Schwartz GE, Peterson JM, et al. Possible time-dependent sensitization to xenobiotics: self-reported illness from chemical odors, foods, and opiate drugs in an older adult population. Arch Environ Health 1993; 48: 315–27

Antelman SM. What are the implications of drug-induced time-dependent sensitization?: conclusions. Drug Dev Res 1988; 14: 1–30

Antelman SM, Kocan D, Edwards DJ, et al. A single injection of diazepam induces long-lasting sensitization. Psychopharmacol Bull 1987; 23: 430–4

Post RM, Weiss SRB, Smith M, et al. Stress, conditioning, and the temporal aspect of affective disorders. Ann N Y Acad Sci 1995; 771: 677–96

Yehuda R, Antelman SM. Criteria for rationally evaluating animal models of posttraumatic stress disorder. Biol Psychiatry 1993; 33: 479–86

Post RM, Weiss SRB, Pert A. Cocaine-induced behavioral sensitization and kindling: implications for the emergence of psychopathology and seizures. Ann N Y Acad Sci 1988; 537: 292–308

Bell IR, Schwartz GE, Baldwin CM, et al. Neural sensitization and physiological chemical sensitivity: overview of theory and empirical evidence. Toxicol Ind Health 1999; 15: 295–307

Kurt TL. Multiple chemical sensitivities: a syndrome of pseudotoxicity manifest as exposure perceived symptoms. Clin Toxicol 1995; 33: 101–5

Ross GH. Treatment options in multiple chemical sensitivity. Toxicol Ind Health 1992; 8: 87–94

Jewett DL, Fein G, Greenberg MH. A double-blind study of symptom provocation to determine food sensitivity. N Engl J Med 1990; 323: 429–33

Staudenmayer H. Clinical consequences of the EI/MCS 'diagnosis': two paths. Regul Toxicol Pharmacol 1996; 24: S96–S110

Ames BN, Gold LS. The causes and prevention of cancer: the role of the environment. In: Bailey R, editor. The true state of the planet. New York: Free Press, 1995: 141–75
Acknowledgements
No funding was received to assist the preparation of this manuscript. The authors have no conflict of interest. We thank Su Dierbeck for secretarial assistance. We dedicate this work to the memory of our colleague, Neil L. Rosenberg, M.D.
About this article
Cite this article
Staudenmayer, H., Binkley, K.E., Leznoff, A. et al. Idiopathic Environmental Intolerance. Toxicol Rev 22, 235–246 (2003). https://doi.org/10.2165/00139709-200322040-00005
Published:

Issue Date:

DOI: https://doi.org/10.2165/00139709-200322040-00005
Keywords
Toxic Exposure

Multiple Chemical Sensitivity

Sick Building Syndrome

Idiopathic Environmental Intolerance

Chemical Intolerance