Abstract
Irritant incapacitants, also called riot control agents, lacrimators and tear gases, are aerosol-dispersed chemicals that produce eye, nose, mouth, skin and respiratory tract irritation. Tear gas is the common name for substances that, in low concentrations, cause pain in the eyes, flow of tears and difficulty in keeping the eyes open. Only three agents are likely to be deployed: (i) 1-chloroacetophenone (CN); (ii) 2-chlorobenzylidene malononitrile (CS); or (iii) dibenz[b,f]-1,4-oxazepine (CR). CN is the most toxic lacrimator and at high concentrations has caused corneal epithelial damage and chemosis. It has accounted for at least five deaths, which have resulted from pulmonary injury and/or asphyxia. CS is a 10-times more potent lacrimator than CN but is less systemically toxic. CR is the most potent lacrimator with the least systemic toxicity and is highly stable.
CN, CS and CR cause almost instant pain in the eyes, excessive flow of tears and closure of the eyelids, and incapacitation of exposed individuals. Apart from the effects on the eyes, these agents also cause irritation in the nose and mouth, throat and airways and sometimes to the skin, particularly in moist and warm areas. In situations of massive exposure, tear gas, which is swallowed, may cause vomiting. Serious systemic toxicity is rare and occurs most frequently with CN; it is most likely to occur when these agents are used in very high concentrations within confined non-ventilated spaces. Based on the available toxicological and medical evidence, CS and CR have a large safety margin for life-threatening or irreversible toxic effects. There is no evidence that a healthy individual will experience long-term health effects from open-air exposures to CS or CR, although contamination with CR is less easy to remove.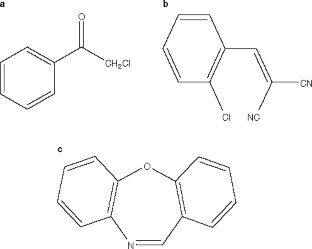 Notes
1.

The use of tradenames is for product identification purposes only and does not imply endorsement.
References
1.

Stein AA, Kirwan WE. Chloroacetophenone (tear gas) poisoning: a clinicopathologic report. J Forensic Sci 1964; 9: 374–82

2.

Chapman AJ, White C. Death resulting from lacrimatory agents. J Forensic Sci 1978; 23: 527–30

3.

Beswick FW. Chemical agents used in riot control and warfare. Hum Toxicol 1983; 2: 247–56

4.

Varma S, Holt PJ. Severe cutaneous reaction to CS gas. Clin Exp Dermatol 2001; 26: 248–50

5.

Committees on Toxicity MaCoCiFCPatE, Department of Health. Statement on 2-chlorobenzylidene malononitrile (CS) and CS spray. London: The Department of Health, 1999

6.

Kluchinsky Jr TA, Savage PB, Fitz R, et al. Liberation of hydrogen cyanide and hydrogen chloride during high-temperature dispersion of CS riot control agent. AIHA J (Fairfax, Va) 2002; 63: 493–6

7.

Cucinell SA, Swentzel KC, Biskup R, et al. Biochemical interactions and metabolic fate of riot control agents. Fed Proc 1971; 30: 86–91

8.

Jones GR. Verdict on CS. BMJ 1971; 3: 722

9.

Leopold IH, Lieberman TW. Chemical injuries of the cornea. Fed Proc 1971; 30: 92–5

10.

Thorburn KM. Injuries after use of the lacrimatory agent chloroacetophenone in a confined space. Arch Environ Health 1982; 37: 182–6

11.

Park S, Giammona ST. Toxic effects of tear gas on an infant following prolonged exposure. Am J Dis Child 1972; 123: 245–6

12.

Beswick FW, Holland P, Kemp KH. Acute effects of exposure to orthochlorobenzylidene malononitrile (CS) and the development of tolerance. Br J Ind Med 1972; 29: 298–306

13.

Brooks SM, Weiss MA, Bernstein IL. Reactive airways dysfunction syndrome (RADS): persistent asthma syndrome after high level irritant exposures. Chest 1985; 88: 376–84

14.

Brooks SM, Weiss MA, Bernstein IL. Reactive airways dysfunction syndrome: case reports of persistent airways hyperreactivity following high-level irritant exposures. J Occup Med 1985; 27: 473–6

15.

Hu H, Christiani D. Reactive airways dysfunction after exposure to tear gas. Lancet 1992; 339: 1535

16.

Wheeler H, Murray V. Treating CS gas injuries to the eye: poisons centre will monitor cases. BMJ 1995; 311: 871

17.

Thomas RJ, Smith PA, Rascona DA, et al. Acute pulmonary effects from ochlorobenzylidenemalonitrile 'tear gas': a unique exposure outcome unmasked by strenuous exercise after a military training event. Mil Med 2002; 167: 136–9

18.

Bayeux-Dunglas M-C, Deparis P, Touati M-A, et al. Asthmé professionnel chez une enseignante après inhalation repetée de gaz lacrymogènes. Rev Mal Respir 1999; 16: 558–9

19.

Sidell FR. Civil emergencies involving chemical warfare agents: medical considerations. In: Somani SM, editor. Chemical warfare agents. San Diego: Academic Press, 1992: 341–56

20.

Holland P. The cutaneous reactions produced by dibenzoxazepine (CR). Br J Dermatol 1974; 90: 657–9

21.

Frazier CA. Contact allergy to mace. JAMA 1976; 236: 2526

22.

Penneys NS. Contact dermatitis to chloroacetophenone. Fed Proc 1971; 30: 96–9

23.

Hill AR, Silverberg NB, Mayorga D, et al. Medical hazards of the tear gas CS: a case of persistent, multisystem, hypersensitivity reaction and review of the literature. Medicine (Baltimore) 2000; 79: 234–40

24.

Treudler R, Tebbe B, Blume-Peytavi U, et al. Occupational contact dermatitis due to 2-chloracetophenone tear gas. Br J Dermatol 1999; 140: 531–4

25.

Marrs TC, Colgrave HF, Cross NL. A repeated dose study of the toxicity of technical grade dibenz-(b,f)-1,4-oxazepine in mice and hamsters. Toxicol Lett 1983; 17: 13–21

26.

Kumar P, Flora SJS, Pant SC, et al. Toxicological evaluation of 1-chloroacetophenone and dibenz[b,f]-1,4-oxazepine after repeated inhalation exposure in mice. J Appl Toxicol 1994; 14: 411–6

27.

Marrs TC, Gray MIH, Colgrave HF, et al. A repeated dose study of the toxicity of CR applied to the skin of mice. Toxicol Lett 1982; 13: 259–65

28.

Scott RAH. Treating CS gas injuries to the eye: illegal 'mace' contains more toxic CN particles. BMJ 1995; 311: 871

29.

Wils ERJ, Hulst AG. Gas chromatographic-mass spectrometric identification of tear-gases in dilute solutions using large injection volumes. J Chromatogr 1985; 330: 379–82

30.

Ferslew KE, Orcutt RH, Hagardorn AN. Spectral differentiation and gas chromatographic/mass spectrometric analysis of the lacrimators 2-chloroacetophenone and o-chlorobenzylidene malononitrile. J Forensic Sci 1986; 31: 658–65
Acknowledgements
No sources of funds were used to assist in the preparation of this manuscript. The author is not aware of any potential conflicts of interest directly relevant to the content of this review.
About this article
Cite this article
Blain, P.G. Tear Gases and Irritant Incapacitants. Toxicol Rev 22, 103–110 (2003). https://doi.org/10.2165/00139709-200322020-00005
Keywords
Allergic Contact Dermatitis

Sulphur Mustard

Methyl Isobutyl Ketone

Blepharospasm

Loxapine