Abstract
Background: Two topical 1% clindamycin/5% benzoyl peroxide combination products (BenzaClin® [Dermik Laboratories, Inc., Bridgewater, NJ, USA] and Duac® [Stiefel Laboratories, Coral Gables, FL, USA]) are commonly used in the treatment of mild-to-moderate acne vulgaris. One adverse event reported with their use is local skin irritation.
Objective: The primary aim of this study was to compare the irritation potential of BenzaClin® and Duac® using a cumulative irritant patch test on healthy human skin.
Methods: A randomized controlled, subject- and evaluator-blinded design was used to compare the cumulative irritation potential of BenzaClin®, Duac®, a positive control (0.2% sodium laurilsulfate [SLS]), and a negative control (white petrolatum) in healthy volunteers at a single US research study center. Forty subjects were enrolled and 37 completed the study. Most subjects were women (83%) and Caucasian (68%), and the mean age was 47 years. The 21-day cumulative irritation patch test was used to measure the irritation potential of the products applied under occlusive conditions. Evaluation of dermal reactions to the four products was assessed visually using an ordinal scoring system at the time of removal of each patch. The four patches were applied once daily over 21 days, excluding Saturdays and Sundays, resulting in a total of 15 applications. The primary endpoint, determined prior to data collection, was mean cumulative irritation score at the end of the study on day 22.
Results: At the end of the study, the mean cumulative irritation scores were not significantly different between BenzaClin® and Duac® (1.39 vs 1.36, respectively; p = 0.668). Both BenzaClin® and Duac® were significantly more irritating than white petrolatum and significantly less irritating than SLS (both p < 0.001). Based on mean cumulative irritation score, BenzaClin® and Duac® were classified as moderately irritating, SLS as highly irritating, and white petrolatum as not irritating.
Conclusion: BenzaClin® and Duac® show similar propensity to cause moderate irritation compared with SLS and white petrolatum when applied to the skin of healthy subjects under occlusive patch conditions.
Access options
Buy single article
Instant access to the full article PDF.
US$ 49.95
Tax calculation will be finalised during checkout.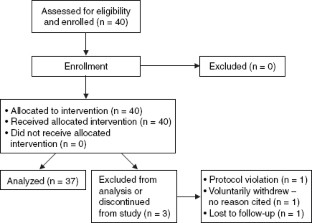 Notes
1.

The use of trade names is for product identification purposes only and does not imply endorsement.
References
1.

Goodman G. Acne and acne scarring: the case for active and early intervention. Aust Fam Physician 2006; 35: 503–4

2.

Hanna S, Sharma J, Klotz J. Acne vulgaris: more than skin deep. Dermatol Online J 2003; 9: 8

3.

Lookingbill DP, Chalker DK, Lindholm JS, et al. Treatment of acne with a combination clindamycin/benzoyl peroxide gel compared with clindamycin gel, benzoyl peroxide gel and vehicle gel: combined results of two double-blind investigations. J Am Acad Dermatol 1997; 37: 590–5

4.

Dermik Laboratories. BenzaClin® [package insert]. Bridgewater (NJ): Dermik Laboratories, 2007

5.

Stiefel Laboratories. Duac® [package insert]. Coral Gables (FL): Stiefel Laboratories, 2007

6.

Strauss JS, Krowchuk DP, Leyden JJ, et al. Guidelines of care for acne vulgaris management. J Am Acad Dermatol 2007; 56: 651–63

7.

Fagundes DS, Fraser JM, Klauda HC. Differences in the irritation potential and cosmetic acceptability of two combination topical acne gels: combined results of two comparative studies. Todays Ther Trends 2003; 21: 269–75

8.

Del Rosso JQ. The role of the vehicle in combination acne therapy. Cutis 2005; 76 (2 Suppl.): 15–8

9.

Tanghetti EA, Gold MH, Fraser JM. A two-center patient preference study comparing two benzoyl peroxide/clindamycin gels in acne vulgaris patients [abstract no. P108]. J Am Acad Dermatol 2005; 52 (3 Suppl.):P12

10.

Ellis CN, Leyden J, Katz HI, et al. Therapeutic studies with a new combination benzoyl peroxide/clindamycin topical gel in acne vulgaris. Cutis 2001; 67 (2 Suppl.): 13–20

11.

Tschen EH, Katz HI, Jones TM, et al. A combination benzoyl peroxide and clindamycin topical gel compared with benzoyl peroxide, clindamycin phosphate, and vehicle in the treatment of acne vulgaris. Cutis 2001; 67: 165–9

12.

Zhen Y, Stoudemayer M, Vamvakias G, et al. Pilot investigation of the hydrating effects of topical acne medications. J Drugs Dermatol 2007; 6: 810–6

13.

Dosik JS, Gilbert RD, Arsonnaud S. Cumulative irritancy comparison of topical retinoid and antimicrobial combination therapies. Skinmed 2006; 5: 219–23

14.

Center for Drug Evaluation and Research (CDER). Guidance for industry: skin irritation and sensitization testing of generic transdermal drug products. U.S. Dept of Health and Human Services, Food and Drug Administration [online].Available from URL: http://www.fda.gov/cder/guidance/2887fnl.htm [Accessed 2008 Jul 28]

15.

Brand B, Gilbert R, Baker MD, et al. Cumulative irritancy comparison of adapalene gel 0.1% versus other retinoid products when applied in combination with topical antimicrobial agents. J Am Acad Dermatol 2003; 49 (3 Suppl.): S227–32
Acknowledgments
This study was funded by sanofi-aventis US LLC. Editorial support for this article was provided by Dermik Laboratories, a business of sanofi-aventis US LLC. The authors would like to acknowledge Michael Coco for his assistance with the development of the first draft of this manuscript.
Dr Jonathan Dosik has no conflicts of interest that are directly relevant to the content of this study. George Vamvakias is a full-time employee of sanofiaventis.
About this article
Cite this article
Dosik, J.S., Vamvakias, G. Comparative Irritation Potential of Two Combination Acne Products. Am J Clin Dermatol 9, 313–317 (2008). https://doi.org/10.2165/00128071-200809050-00005
Keywords
Acne

Patch Test

Benzoyl Peroxide

Topical Retinoid

Irritation Potential