Abstract
Background:Atopic dermatitis (AD) is characterized by dryness of the skin, pruritus and involvement of the skin flexures. Skin hydration (SH) and integrity, as measured by transepidermal water loss (TEWL), are important parameters for objectively quantifying AD research.
Objectives:To evaluate if sites in the forearm are equivalent to the antecubital fossa for standard SH and TEWL measurements; and to determine the correlations among these measurements and scores of disease severity and quality of life.
Methods:We evaluated SH and TEWL under standardized conditions at three common measurement sites in the forearm (antecubital flexure, 2 cm below the antecubital flexure, mid-forearm), and determined the SCORing Atopic Dermatitis (SCORAD) score, Nottingham Eczema Severity Score (NESS), and Children's Dermatology Life Quality Index (CDLQI).
Results:Significant correlations between clinical scores, SH, and TEWL were obtained at a site 2 cm below the antecubital fossa (r = -0.553, p < 0.001 for SH and SCORAD; r = 0.596, p <0.001 for TEWL and SCORAD). SH and TEWL were also correlated with long-term severity of AD as measured by NESS (r = -0.494, p = 0.001 for SH; r = 0.430, p = 0.004 for TEWL), while TEWL was significantly correlated with CDLQI (r = 0.323, p = 0.035). Overall, similar significant correlations were obtained at the mid-forearm, but less so at the antecubital fossa.
Conclusion:In AD research, three sites on the forearm appear to be convenient for determination of SH and TEWL. This is the first report to demonstrate that significant correlations are obtained among acute and chronic scores of AD disease severity, quality of life, and the bioengineering parameters
Access options
Buy single article
Instant access to the full article PDF.
USD 39.95
Price excludes VAT (USA)
Tax calculation will be finalised during checkout.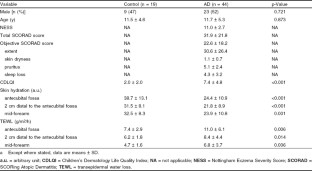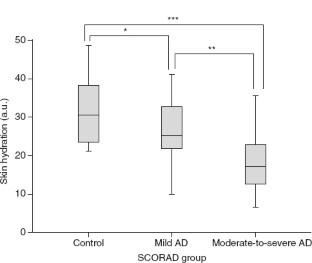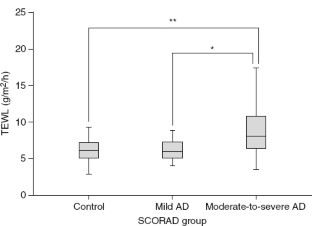 Similar content being viewed by others
References
Leung DY. Atopic dermatitis: the skin as a window into the pathogenesis of chronic allergic diseases. J Allergy Clin Immunol 1995; 96: 302–18

Severity scoring of atopic dermatitis: the SCORAD index. Consensus report of the European Task Force on Atopic Dermatitis. Dermatology 1993; 186: 23–31

Hon KL, Leung TF, Wong Y, et al. Lesson from performing SCORADs in children with atopic dermatitis: subjective symptoms do not correlate well with disease extent or intensity. Int J Dermatol 2006; 45: 728–30

Hon KL, Kam WY, Lam MC, et al. CDLQI, SCORAD and NESS: are they correlated? Qual Life Res 2006; 15: 1551–8

Hon KL, Lam MC, Leung TF, et al. Nocturnal wrist movements are correlated with objective clinical scores and plasma chemokine levels in children with atopic dermatitis. Br J Dermatol 2006; 154: 629–35

Pinnagoda J, Tupker RA, Agner T, et al. Guidelines for transepidermal water loss (TEWL) measurement: a report from the Standardization Group of the European Society of Contact Dermatitis. Contact Derm 1990; 22: 164–78

Serup J. Characterization of contact dermatitis and atopy using bioengineering techniques: a survey. Acta Derm Venereol Suppl (Stockh) 1992; 177: 14–25

Seidenari S, Giusti G. Objective assessment of the skin of children affected by atopic dermatitis: a study of pH, capacitance and TEWL in eczematous and clinically uninvolved skin. Acta Derm Venereol 1995; 75: 429–33

Choi SJ, Song MG, Sung WT, et al. Comparison of transepidermal water loss, capacitance and pH values in the skin between intrinsic and extrinsic atopic dermatitis patients. J Korean Med Sci 2003; 18: 93–6

O'goshi K, Serup J. Inter-instrumental variation of skin capacitance measured with the Corneometer. Skin Res Technol 2005; 11: 107–9

Kim DW, Park JY, Na GY, et al. Correlation of clinical features and skin barrier function in adolescent and adult patients with atopic dermatitis. Int J Dermatol 2006; 45: 698–701

Proksch E, Nissen HP, Bremgartner M, et al. Bathing in a magnesium-rich Dead Sea salt solution improves skin barrier function, enhances skin hydration, and reduces inflammation in atopic dry skin. Int J Dermatol 2005; 44: 151–7

Son SW, Park SY, Ha SH, et al. Objective evaluation for severity of atopic dermatitis by morphologic study of skin surface contours. Skin Res Technol 2005; 11: 272–80

Hanifin JM, Rajka G. Diagnostic features of atopic dermatitis. Acta Derm Venereol (Stockh) 1980; 2: 44–7

Emerson RM, Charman CR, Williams HC. The Nottingham Eczema Severity Score: preliminary refinement of the Rajka and Langeland grading. Br J Dermatol 2000; 142: 288–97

Ho KL, Ma KC, Wong E, et al. Validation of a self-administered questionnaire in Chinese in the assessment of eczema severity. Pediatr Dermatol 2003; 20: 465–9

Chuh AA. Validation of a Cantonese version of the Children's Dermatology Life Quality Index. Pediatr Dermatol 2003; 20: 479–81

Loden M, Olsson H, Axell T, et al. Friction, capacitance and transepidermal water loss (TEWL) in dry atopic and normal skin. Br J Dermatol 1992; 126: 137–41

Sakurai K, Sugiura H, Matsumoto M, et al. Occurrence of patchy parakeratosis in normal-appearing skin in patients with active atopic dermatitis and in patients with healed atopic dermatitis: a cause of impaired barrier function of the atopic skin. J Dermatol Sci 2002; 30: 37–42

Matsumoto M, Sugiura H, Uehara M. Skin barrier function in patients with completely healed atopic dermatitis. J Dermatol Sci 2000; 23: 178–82

Shahidullah M, Raffle EJ, Rimmer AR, et al. Transepidermal water loss in patients with dermatitis. Br J Dermatol 1969; 81: 722–30

Mohrenschlager M, Schafer T, Huss-Marp J, et al. The course of eczema in children aged 5-7 years and its relation to atopy: differences between boys and girls. Br J Dermatol 2006; 154: 505–13

Palmer CN, Irvine AD, Terron-Kwiatkowski A, et al. Common loss-of-function variants of the epidermal barrier protein filaggrin are a major predisposing factor for atopic dermatitis. Nat Genet 2006; 38: 441–6
Acknowledgments
No sources of funding were used to assist in the preparation of this study. The authors have no conflicts of interest that are directly relevant to the content of this study.
About this article
Cite this article
Hon, Kl.E., Wong, K.Y., Leung, Tf. et al. Comparison of Skin Hydration Evaluation Sites and Correlations among Skin Hydration, Transepidermal Water Loss, SCORAD Index, Nottingham Eczema Severity Score, and Quality of Life in Patients with Atopic Dermatitis. Am J Clin Dermatol 9, 45–50 (2008). https://doi.org/10.2165/00128071-200809010-00005
Published:

Issue Date:

DOI: https://doi.org/10.2165/00128071-200809010-00005
Keywords