Abstract
Palmoplantar keratodermas (PPKs) are a diverse entity of disorders that are characterized by abnormal thickening of the skin on the palms and soles. Traditionally they have been classified as either hereditary or acquired and are distinguished from each other on the basis of mode of inheritance, presence of transgrediens (defined as contiguous extension of hyperkeratosis beyond the palmar and/or plantar skin), co-morbidities with other symptoms, and extent of epidermal involvement, namely diffuse, focal, and punctate. As the terms hyperkeratosis and keratoderma have been used interchangeably throughout the literature, we define acquired keratoderma as a non-hereditary, non-frictional hyperkeratosis of the palms and/or soles that involves ≥50% of the surface of involved acral areas and that may or may not be associated with clinical and histologic inflammation.
Given the numerous possible underlying causes for acquired PPKs, evaluation of patients presenting with acquired PPK can be a perplexing task. To facilitate such evaluations, this review categorizes the acquired PPKs as: keratoderma climactericum, drug related, malnutrition associated, chemically induced, systemic disease related, malignancy associated, dermatoses related, infectious, and idiopathic. In order to avoid the possibility of overlooking an underlying etiology and to eliminate excessive testing, we present an algorithm for assessing patients presenting with acquired PPK. The first step should include a comprehensive history and a physical examination, including a complete skin examination. If findings are consistent with a hereditary keratoderma, then a genetics consultation should be considered. Any findings suggestive of underlying conditions should be aggressively evaluated and treated. If no pertinent findings are identified after a history and a physical examination, laboratory and radiology studies should be undertaken in a systematic, logical fashion.
In terms of treatment, the most successful results occur when the underlying etiology is diagnosed and treated. If no such etiology is evident, then conservative treatment options include topical keratolytics (urea, salicylic acid, lactic acid), repeated physical debridement, topical retinoids, topical psoralen plus UVA, and topical corticosteroids. Etretinate and acitretin have also shown some success as alternative treatments in recalcitrant cases.
Access options
Buy single article
Instant access to the full article PDF.
USD 49.95
Price excludes VAT (USA)
Tax calculation will be finalised during checkout.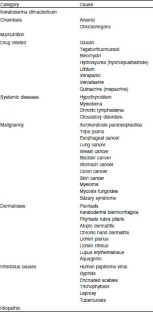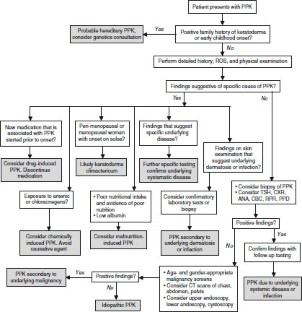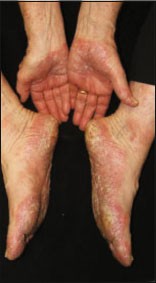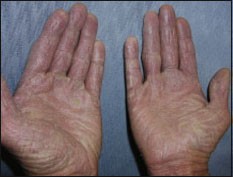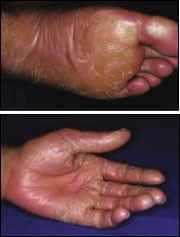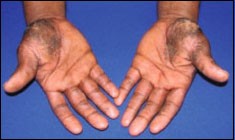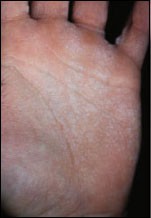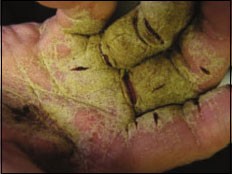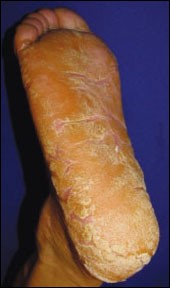 References
Arnold Jr HL; Odom RB; James WD.: Andrews' diseases of the skin: clinical dermatology. 8th ed. Philadelphia (PA)WB Saunders, 1990

Freedberg M, Eisen AK, Wolff K.: Fitzpatrick's dermatology in general medicine. 6th ed. New York McGraw-Hill,2003

Champion RH, Burton JL, Burns DA.: Rook, Wilkinson, Ebling textbook of dermatology. 7th ed. Malden (MA): Blackwell Science Ltd, 2004: 34, 79–107

Bolognia JL, Jorizzo JL, Rapini RP.: Dermatology. New York: Mosby, 2003: 809–10

Stevens HP, Kelsell DP, Bryant SP.: Linkage of an American pedigree with palmoplantar keratoderma and malignancy (palmoplantar ectodermal dysplasia type III) to 17q24: literature survey and proposed updated classification of the keratodermas. Arch Dermatol 1996; 132: 640–51

Itin PH, Fistrol SK.: Palmoplantar keratodermas. Clin Dermatol 2005; 23: 15–22

Farmer ER, Hood AF.: Pathology of the skin. 2nd ed. New York: McGraw-Hill, 1990: 143, 653–4

Weedon D.: Skin pathology. 2nd ed. New York Churchill Livingstone, 2002

McKee PH.: Pathology of the skin. 2nd ed. Chicago (IL) Mosby-Wolfe, 1996

McCarthy L.: Histopathology of skin diseases. St. Louis (MO) CV Mosby Company, 1931: 36–7, 96-8 and 118-9

Elder D, Elenitsas R, Jaworsky.: Lever's histopathology of the skin. 8th ed. Philadelphia (PA) Lippincott-Raven,1997

Barnhill RL, Busam KJ, Crowson AN. Textbook of dermatopathology. New York McGraw Hill, 1998: 287–8, 499 Fig. 8. Idiopathic acquired palmoplantar keratoderma in a patient with no family history of keratoderma and no evidence of malignancy to date.

Haxthausen H.: Keratoderma climactericum. Br J Dermatol 1934; 46: 161–7

Deschamps P, Leroy D, Pedailles S.: Keratoderma climactericum (Haxthausen's disease): clinical signs, laboratory findings and etretinate treatment in 10 patients. Dermatologica 1986; 172: 258–62

Lynch FW.: Keratoderma climactericum (Haxthausen). Arch Derm 1943; 48: 270–81

Wathcel TJ.: Plantar and palmar hyperkeratosis in young castrated women. Int J Dermatol 1981; 20: 270–1

Brincat M, Moniz CJ, Studd JW.: Long term effects of the menopause and sex hormones on skin thickness. Br J Obstet Gynaecol 1985; 92: 256–9

Shuster S, Black MM, McVitie E.: The influence of age and sex on skin thickness, skin collagen and density. Br J Dermatol 1975; 93: 639–43

Zultak M, Bedeaux C, Blanc D.: Keratoderma climactericum treatment with topical estrogen. Dermatologica 1988; 176: 151–2

Sass U, Grosshans E, Simonart JM.: Chronic arsenicism: criminal poisoning or drug-intoxication? Dermatology 1993; 186: 303–5

Poskitt LB, Duffill MB, Rademaker MR. Chloracne, palmoplantar keratoderma and localized scleroderma in a weed sprayer. Clin Exp Dermatol 1994; 19: 264–7

Shannon RS, Strayer DS.: Arsenic induced skin toxicity. Hum Toxicol 1989; 8: 99–104

Rahman MM, Chowdhury UK, Mukherjee SC.: Chronic arsenic toxicity in Bangladesh and West Bengal, India: a review and commentary. J Toxicol Clin Toxicol 2001; 39 (7): 683–700

Tindall JP.: Chloracne and chloracnegens. J Am Acad Dermatol 1985; 13: 539–58

Geusau A, Jurecka W, Nahavandi H.: Punctate keratoderma-like lesions on the palms and soles in a patient with chloracne: a new clinical manifestation of dioxin intoxication? Br J Dermatol 2000; 143 (5): 1067–71

Lee BY, Hogan DJ, Ursine S.: Personal observation of skin disorders in malnutrition. Clin Dermatol 2006; 24: 222–7

Duvic M, Reisman M, Finley V.: Glucan-induced keratoderma in acquired immunodeficiency syndrome. Arch Dermatol 1987; 123: 751–6

Albersheim P, Darvill AG. Oligosaccharins. Sci Am 1985; 253: 58–64

Jucgla A, Sais G, Navarro M.: Palmoplantar keratoderma secondary to chronic acral erythema due to tegafur. Arch Dermatol 1995; 131 (sn3): 364–5

Lambert D, Beer F, Gisselman R.: Cutaneous lesions due to lithium therapy. Ann Dermatol Venereol 1982; 109 (1): 19–24

Reiffers J, Dick P.: Cutaneous side effects of treatment with lithium. Dermatologica 1977; 155 (sn3): 155–63

Dalle S, Becuwe C, Balme B.: Venlafaxine-associated psoriasiform palmoplantar keratoderma and subungual hyperkeratosis. Br J Dermatol 2006; 154: 999–1000

Tsuji T, Sawabe M.: Hyperpigmentation in striae distensae after bleomycin treatment. J Am Acad Dermatol 1993; 3: 503–5

Blum RH, Carter SK, Agre K. A clinical review of bleomycin: a new antineoplastic agent. Cancer 1973; 31: 903–13

Branski EE, Ware RE, Prose NS.: Skin and nail changes in children with sickle cell anemia receiving hydroxyurea therapy. J Am Acad Dermatol 2001; 44: 859–61

Kennedy BJ, Smith LR, Goltz RW.: Skin changes secondary to hydroxyurea therapy. Arch Dermatol 1975; 111: 183–7

Chaine B, Neonato MG, Girot R.: Cutaneous adverse reactions to hydroxyurea in patients with sickle cell disease. Arch Dermatol 2001; 137: 467–70

Burns DA, Sarkany I, Gaylarde P.: Effects of hydroxyurea therapy on normal skin: a case report. Clin Exp Dermatol 1980; 5: 447–9

Major P.: Verapamil as a cause of palmar hyperkeratosis. Tidsskr Nor Laegeforen 1983; 103: 2061

Bauer F.: Quinacrine hydrochloride drug eruption (tropical lichenoid dermatitis). J Am Acad Dermatol 1981; 4: 239–48

Bauer F.: Sequelae of Atabrine? dermatitis in Australian ex-servicemen. Aust J Dermatol 1962; 6: 311–9

Miller JJ, Roling D, Spiers E.: Palmoplantar keratoderma associated with hypothyroidism. Br J Dermatol 1998; 139: 741–2

Shaw WM, Mason EH, Kaltz EG.: Hypothyroidism, liver damage and vitamin A deficiency as factors in hyperkeratosis. Arch Dermatol Syph 1952; 66: 197–203

Good JM, Neill SM, Rowland Payne CME.: Keratoderma of myxoedema. Clin Exp Dermatol 1988; 13: 339–41

Hodak E, David M, Feuerman EJ.: Palmoplantar keratoderma in association with myxedema. Acta Derm Venerol 1986; 66: 354–7

Tan OT, Sarkany I.: Sever palmar keratoderma in myxoedema. Clin Exp Dermatol 1977; 2: 287–8

Zouboulis CC, Biczo S, Gollnick H.: Elephantiasis nostras verrucosa: beneficial effect of oral etretinate therapy. Br J Dermatol 1992; 127: 411–6

Parnell DD, Johnson SA.: Tylosis palmaris et plantaris: its occurrence with internal malignancy. Arch Dermatol 1969; 100: 7–9

Millard LG, Gould DJ.: Hyperkeratosis of the palms and soles associated with internal malignancy and elevated levels of immunoreactive human growth hormone. Clin Exp Dermatol 1976; 1: 363–8

Powell F, Mackey JP.: Bronchial carcinoma and hyperkeratosis palmaris et plantaris. Postgrad Med J 1981; 57: 57–9

Cuzick J, Harris R, Mortimer PS.: Palmar keratoses and cancers of the bladder and lung. Lancet 1984; I: 530–3

Murata Y, Kumano K, Tani M.: Acquired diffuse keratoderma of the palms and soles with bronchial carcinoma: report of a case and review of the literature. Arch Dermatol 1988; 124: 497–8

Kerdel FA, MacDonald DM.: Palmo-plantar keratoderma associated with carcinoma of the bronchus. Acta Dermato Venereol 1982; 62 (2): 178–80

Khanna SK, Agnone FA, Leibowitz AI.: Nonfamilial diffuse palmoplantar keratoderma associated with bronchial carcinoma. J Am Acad Dermatol 1993; 28: 295–7

Murata I, Ogami Y, Nagai Y.: Carcinoma of the stomach with hyperkeratosis palmaris et plantaris and acanthosis of the esophagus. Am J Gastroenterol 1998; 93 (3): 449–51

Abadir R, Zurowski S. Case report: squamous cell carcinoma of the skin in both acrokerpalms, axillary node, donor skin graft site and both soles: associated hyperkeratosis and porokeratosis. Br J Radiol 1994; 67: 507–10

Smith CH, Barker JN, Hay RJ.: Diffuse plane xanthomatosis and acquired palmoplantar keratoderma in association with myeloma. Br J Dermatol 1995; 132: 286–9

Tomsick RS.: Hyperkeratosis in mycosis fungoides. Cutis 1982; 29: 621–3

Taswell HF, Winkelmann RK.: Śezary syndrome: a malignant reticulemic erythroderma. JAMA 1961; 177: 465–72

Fleischmajer R, Eisenberg S.: Śezary's reticulosis: its relationship with neoplasias of the lymphoreticular system. Arch Dermatol 1964; 89: 9–19

Howel Evans W, McConnell RB, Clarke CA.: Carcinoma of the oesophagus with keratosis palmaris et plantaris (tylosis). Q J Med 1958; 27: 413–29

Bazex A, Griffiths A.: Acrokeratosis paraneoplastica: a new cutaneous marker of malignancy. Br J Dermatol 1980; 102: 301–6

Pecora AL, Landsman L, Imgrund SP.: Acrokeratosis paraneoplastica (Bazex' syndrome). Arch Dermatol 1983; 119: 820–6

Jacobsen FK, Abildtrup N, Laursen SO.: Acrokeratosis paraneoplastica (Bazex' syndrome). Ach Dermatol 1984; 120: 502–4

Obasi OE, Garg SK.: Bazex paraneoplastic acrokeratosis in prostate carcinoma. Br J Dermatol 1987; 117: 647–51

Hara M, Hunayama M, Aiba S.: Acrokeratosis paraneoplastica (Bazex syndrome) associated with primary cutaneous squamous cell carcinoma of the lower leg, vitiligo and alopecia areata. Br J Dermatol 1995; 133: 121–4

Martin RW, Cornitius TG, Naylor MF.: Bazex's syndrome in a woman with pulmonary adenocarcinoma. Arch Dermatol 1989; 125: 847–8

Clarke J.: Malignant acanthosis nigricans. Clin Exp Dermatol 1977; 2: 167–70

Breathnach SM, Wells GC.: Acanthosis palmaris: tripe palms: a distinctive pattern of palmar keratoderma frequently associated with internal malignancy. Clin Exp Dermatol 1980; 5: 181–9

Lo WL, Wong CK.: Tripe palms: a significant cutaneous sign of internal malignancy. Dermatology 1992; 185: 151–3

Cohen PR, Kurzrock R.: Malignancy associated tripe palms. J Am Acad Dermatol 1992; 27 (2): 271–2

Cohen PR, Grossman ME, Almeida L.: Tripe palms and malignancy. J Clin Oncol 1989; 7 (5): 669–78

Cohen PR, Grossman ME, Silvers DN.: Tripe palms and cancer. Clin Dermatol 1993; 11: 165–73

Patel A, Teixeira F, Redington AE.: Palmoplantar keratoderma (tripe palms) associated with primary pulmonary adenocarcinoma. Thorax 2005; 60: 976

Pentenero M, Carrozzo M, Pagano M.: Oral acanthosis nigricans, tripe palms and sign of Leser-Trélat in a patient with gastric adenocarcinoma. Int J Dermatol 2004; 43: 530–2

Kebria MM, Belinson J, Kim R.: Malignant acanthosis nigricans, tripe palms and the sign of Leser-Trélat, a hint to the diagnosis of early stage ovarian cancer: a case report and review of the literature. Gynecol Oncol 2006; 101: 353–5

McGinness J, Greer K.: Malignant acanthosis nigricans and tripe palms associated with pancreatic adenocarcinoma. Cutis 2006; 78 (1): 37–40

Berardesca E, Del Forno C, Vignini M.: Usefulness of etretinate treatment in paraneoplastic palmoplantar hyperkeratosis [letter]. Br J Dermatol 1987; 117(sn1): 132

Marks R, Finlay AY, Holt PJA.: Severe disorders of keratinization: effects of treatment with Tigason (etretinate). Br J Dermatol 1981; 104: 667–73

Kumar B, Kaur I, Thami GP.: Plantar psoriasis: clinical correlation of lesion pattern to weight bearing. Acta Derm Venereol 1995; 75: 157–8

Rai R, Saraswat A, Kaur I.: Marginal acrokeratoderma and psoriasis: is there an association? Int J Dermatol 2000; 39: 936–9

Farber EM, Nall L.: Nonpustular palmoplantar psoriasis. Cutis 1992; 50: 407–10

Kumar B, Saraswat A, Inderjeet K.: Palmoplantar lesions in psoriasis: A study of 3065 patients. Acta Derm Venereol 2002; 82: 192–5

Munro CS, Cox NH, Marks JM.: Lichen nitidus presenting as palmoplantar hyperkeratosis and nail dystrophy. Clin Exp Dermatol 1993; 18: 381–3

Ashinoff R, Werth VP, Franks AG.: Resistant discoid lupus erythematosus of palms and soles: successful treatment with azathioprine. J Am Acad Dermatol 1988; 19: 961–5

English JC, McCollough ML.: Transient reactive papulotranslucent acrokeratoderma. J Am Acad Dermatol 1996; 34: 686–7

Onwukwe MF, Mihm JrMC, Toda K.: Hereditary papulotranslucent acrokeratoderma: a new variant of familial punctate keratoderma? Arch Dermatol 1973; 108: 108–10

Yan AC, Aasi SZ, Alms WJ.: Aquagenic palmoplantar keratoderma. J Am Acad Dermatol 2001; 44: 696–9

Neri I, Bianchi F, Patrizi A. Transient aquagenic palmar hyperwrinkling: the first instance reported in a young boy. Pediatr Dermatol 2006; 23 (1): 39–42

Baldwin BT, Prakash A, Fenske NA.: Aquagenic syringeal acrokeratoderma: report of a case with histologic findings. J Am Acad Dermatol 2006; 54 (5): 899–902

Lowes MA, Khaira GS, Holt D.: Transient reactive papulotranslucent acrokeratoderma associated with cystic fibrosis. Aust J Dermatol 2000; 41: 172–4

MacCormack MA, Wiss K, Malhotra R.: Aquagenic syringeal acrokeratoderma: report of two teenage cases. J Am Acad Dermatol 2001; 45: 124–6

Itin PH, Lautenschlager S.: Aquagenic syringeal acrokeratoderma (transient reactive papulotranslucent acrokeratoderma). Dermatology 2002; 204: 8–11

Betlloch I, Vergara G, Albares MP.: Aquagenic keratoderma. J Eur Acad Dermatol Venereol 2003; 17: 306–7

Schmults C, Sidhu G, Urbanek W.: Aquagenic syringeal acrokeratoderma. Dermatol Online J 2003; 9: 27

Johns MK.: Skin wrinkling in cystic fibrosis. Med Biol Illustr 1975; 25: 205–10

Katz KA, Yan AC, Turner ML.: Aquagenic wrinkling of the palms in patients with cystic fibrosis homozygous for the delta F508 CFTR mutation. Arch Dermatol 2005; 141 (5): 621–4

Carder KR, Weston WL.: Rofecoxib-induced instant aquagenic wrinkling of the palms. Pediatr Dermatol 2002; 19: 353–5

Yalcin B, Artuz F, Toy GG.: Acquired aquagenic papulotranslucent acrokeratoderma. J Eur Acad Dermatol Venereol 2005; 19 (5): 654–6

Heymann WR.: Hereditary papulotranslucent acrokeratoderma. Cutis 1998; 61: 29–30

Wilder-Smith EP, Chow A.: Water immersion wrinkling is due to vasoconstriction. Muscle Nerve 2003; 27: 307–11

Mikhail GR, Babel D.: Trichophyton rubrum infection and keratoderma palmaris et plantaris. Arch Derm 1981; 117 (11): 753–4

Premalatha S, Augustine SM, Yesudian P.: Punctate palmoplantar keratosis acuminate: an unusual form of tuberculid. Int J Dermatol 1982; 21: 470–1

Mehlmauer MA.: Keratotic papules and nodules and hyperkeratosis of palms and soles in patients with tuberculosis and AIDS-related complex. J Am Acad Dermatol 1990; 23: 381–5

Herman PS.: Punctate porokeratotic keratoderma. Dermatologica 1973; 147: 206–13

Rault S, Salmon Ehr V, Cambie MP.: Palmoplantar filiform parakeratotic hyperkeratosis and digestive adenocarcinoma. Ann Dermatol Venereol 1997; 124 (10): 707–9

Wishart JM.: Bazex paraneoplastic acrokeratosis: a case report and response to Tigason. Br J Dermatol 1986; 115: 595–9
Acknowledgment
No sources of funding were used to assist in the preparation of this review. The authors have no conflicts of interest that are directly relevant to the content of this review.
About this article
Cite this article
Patel, S., Zirwas, M. & English, J.C. Acquired Palmoplantar Keratoderma. Am J Clin Dermatol 8, 1–11 (2007). https://doi.org/10.2165/00128071-200708010-00001
Published:

Issue Date:

DOI: https://doi.org/10.2165/00128071-200708010-00001
Keywords
Human Papilloma Virus

Lichen Planus

Etretinate

Scabies

Acitretin