Abstract
Introduction: Hyaluronic acid (hyaluronan) is a key component of the extracellular matrix and is known to be involved in several mechanisms of the wound healing process. It has been shown to improve and accelerate the healing process of chronic wounds. This open-label study investigated whether application of hyaluronic acid could also improve the healing progression of acute wounds.
Methods: Forty-three patients with acute wounds, including trauma wounds, surgical sutures, burns, and dermabrasions, were included in the study. Hyaluronic acid (ialuset®) was applied either as a cream or as a dressing, and the progression and quality of healing were evaluated at each application for a maximum of nine applications.
Results: The mean surface area of the wounds decreased from 556 mm2 at baseline to 169 mm2 by the sixth evaluation, an average reduction of 70% in the surface area of the wounds. Complete healing occurred in 56% of cases by the sixth application. Little or no fibrin was observed in 91% of cases, and 84% of wounds showed little or no exudate. Both formulations of hyaluronic acid were well tolerated and were rated highly by nurses and patients for ease of use and treatment satisfaction.
Conclusion: Interpretation of the results of this open-label study is limited by the lack of a standard wound dressing as a comparator and by the varying types of wounds selected for inclusion. Nevertheless, the results of this study indicate that hyaluronic acid provides good healing of acute wounds and is well accepted by both patients and nurses.
This is a preview of subscription content, log in to check access.
Access options
Buy single article
Instant access to the full article PDF.
US$ 49.95
Price includes VAT for USA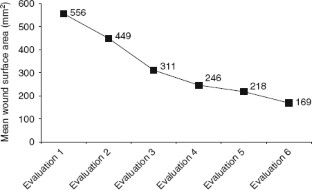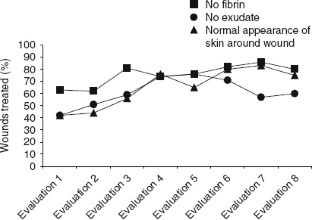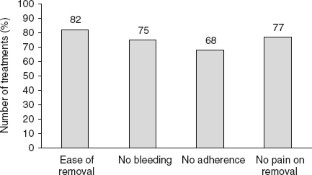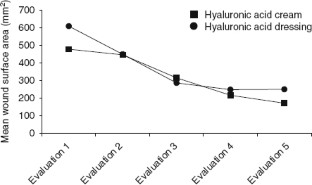 Notes
1.

The use of trade names is for product identification purposes only and does not imply endorsement.
References
1.

Brown JA. The role of hyaluronic acid in wound healing's proliferative phase. J Wound Care 2004 Feb; 13 (2): 48-51

2.

Chen WYJ, Abatangelo G. Functions of hyalmonan in wound repair. Wound Repair Regen 1999; 7: 79-89

3.

Weindl G, Schaller M, Schdfer-Korting M, et al. Hyaluronic acid in the treatment and prevention of skin diseases: molecular, biological, pharmaceutical and clinical aspects. Skin Pharmacol Physiol 2004; 17: 207-13

4.

Price RD, Myers S, Leigh IM, et al. The role of hyaluronic acid in wound healing: assessment of clinical evidence. Am J Clin Dermatol 2005; 6 (6): 393-402

5.

Longaker MT, Chin ES, Adzick S, et al. Studies in fetal wound healing: prolonged presence of hyaluronic acid characterizes fetal wound fluid. Ann Surg 1991; 213: 292-6

6.

Ferguson MWJ, O'Kane S. Scar-free healing: from embryonic mechanisms to adult therapeutic intervention. Philos Trans R Soc Lond B Biol Sci 2004; 359: 839-50

7.

Ortonne JP. A controlled study of the activity of hyaluronic acid in the treatment of venous leg ulcers. J Dermatol Treat 1996; 7: 75-81

8.

Bruni T. Evaluation de l'activité et de la tolérance locale de Iasulet© crè;me et compresse dans le traitement des ulcè;res des membres inférieurs. Dossier d'enregistrement. Laboratoires Genévrier, Sophia-Antipolis, France, 1994

9.

Bonnetblanc JM. Propriétés pharmacologiques de l'acide hyalmonique. Ann Dermatol Venereol 2001 Mar; Suppl.: 9-12

10.

Navsaria H. L'acide hyaluronique, matériel biotechnologique. Ann Dermatol Venereol 2002; 129: 1227-30

11.

Trabucchi E, Pallotta S, Morivi M, et al. Low molecular weight hyalmonic acid prevents oxygen free radical damage to granulation tissue during wound healing. Int J Tissue React 2002; 24 (2): 65-71

12.

Liguori V, Guillemin C, Pesce GF, et al. Double-blind, randomized clinical study comparing hyaluronic acid cream to placebo in patients treated with radiotherapy. Radiother Oncol 1997 Feb; 42 (2): 155-61

13.

Koller J. Topical treatment of partial thickness burns by silver sulfadiazine plus hyalmonic acid compared to silver sulfadiazine alone: a double-blind, clinical study. Drugs Exp Clin Res 2004; 30 (5/6): 183-90

14.

Costagliola M, Agrosi M. Second-degree burns: a comparative, multicenter, randomized trial of hyalmonic acid plus silver sulfadiazine vs silver sulfadiazine alone. Curr Med Res Opin 2005 Aug; 21 (8): 1235-40

15.

Chen WY, Abatangelo G. Functions of hyaluronan in wound repair. Wound Repair Regen 1999 Mar-Apr; 7 (2): 79-89
Acknowledgments
This study was supported by Laboratoires Genévrier. The authors have no potential conflicts of interest that are directly relevant to the contents of this study.
About this article
Cite this article
Voinchet, V., Vasseur, P. & Kern, J. Efficacy and Safety of Hyaluronic Acid in the Management of Acute Wounds. Am J Clin Dermatol 7, 353–357 (2006). https://doi.org/10.2165/00128071-200607060-00003
Keywords
Hyaluronic Acid

Chronic Wound

Acute Wound

Treatment Application

Silver Sulfadiazine