Abstract
Current literature documents the use of many pharmacologic agents in the management of acute sunburn. While numerous studies have been undertaken, there is no consensus on an algorithm for such treatment. We review the literature for an evidence-based approach to the management of sunburn. A MEDLINE search was conducted whereby all published articles related to sunburn or ultraviolet (UV)-induced erythema from 1966–2001 were evaluated. Studies and reviews were excluded if they were not conducted in human beings. The results of these studies are varying and often conflicting in terms of clinical effectiveness or feasibility. A total of 40 studies were reviewed. Fourteen out of the 40 studies addressed the actual treatment of sunburn (i.e. the application of a substance after the development of signs or symptoms). The majority concluded that either corticosteroids, NSAIDs, antioxidants, antihistamines or emollients were ineffective at decreasing recovery time. The remaining studies showed mild improvement with such treatments, but study designs or methods were flawed. Furthermore, regardless of the treatment modality, the damage to epidermal cells is the same. Given the lack of convincing data and consensus of opinion regarding sunburn management, the most effective and practical approach to acute sunburn is symptomatic treatment of UV light-induced symptoms, including erythema, pain and pruritus.
This is a preview of subscription content, log in to check access.
Access options
Buy single article
Instant access to the full article PDF.
US$ 49.95
Price includes VAT for USA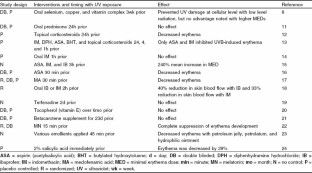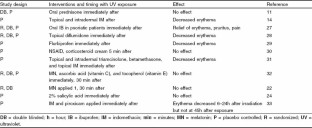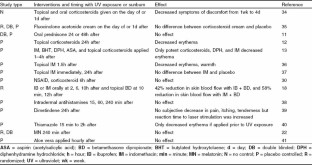 References
1.

Rapaport MJ, Rapaport V. Preventive and therapeutic approaches to short- and long-term sun damaged skin. Clin Dermatol 1998; 16: 429–39

2.

Ferrini RL, Perlman M, Hill L. American college of preventive medicine practice policy statement: skin protection from ultraviolet light exposure. Am J Prev Med 1998; 14: 83–6

3.

Hall HI, May DS, Lew RA, et al. Sun protection behaviors of the US white population. Prev Med 1997; 26: 401–7

4.

Bickers DR. Photosensitivity and other reactions to light. In: Braunwald E, editor. Harrison's principles of internal medicine. Vol. 15. New York: McGraw-Hill, 2001: 342–8

5.

Hruza L, Pentland A. Mechanisms of UV-induced inflammation. J Invest Dermatol 1993; 100: 35S-41S

6.

Walsh L. Ultraviolet B irradiation of skin induces mast cell degranulation and release of tumor necrosis factor-alpha. Immunol Cell Biol 1995; 73: 226–33

7.

Gilchrest B, Soter N, Stoff J, et al. The human sunburn reaction: histologic and biochemical studies. J Am Acad Dermatol 1981; 5: 411–22

8.

la Ruche G, Cesarini J. Protective effect of oral selenium plus copper associated with vitamin complex on sunburn cell formation in human skin. Photodermatol Photoimmunol Photomed 1991; 8: 232–5

9.

Eberlein-Konig B, Placzek M, Przybilla B. Protective effect against sunburn of combined systemic ascorbic acid (vitamin C) and d-alpha-tocopherol (vitamin E). J Am Acad Dermatol 1998 Jan; 38: 45–8

10.

Rhodes L, Durham B, Fraser W, et al. Dietary fish oil reduces basal and ultraviolet B generated PGE2 levels in skin and increases the threshold to provocation of polymorphic light eruption. J Invest Dermatol 1995; 105: 532–5

11.

Greenwald JS, Parrish JA, Jaenicke KF, et al. Failure of systemically administered corticosteroids to suppress UVB-induced delayed erythema. J Am Acad Dermatol 1981; 5: 197–202

12.

Sukanto H, Nater JP, Bleumink E. Suppression of ultraviolet erythema by topical steroids. Dermatologica 1980; 161: 84–8

13.

Vaananen A, Hannuksela M. UVB erythema inhibited by topically applied substances. Acta Derm Venereol 1989; 69: 12–7

14.

Morison W, Paul B, Parrish J. The effects of indomethacin on long-wave ultraviolet-induced delayed erythema. J Invest Dermatol 1977; 68: 120–33

15.

Edwards Jr E, Horwitz S, Frost P. Reduction of the erythema response to ultraviolet light by nonsteroidal antiinflammatory agents. Arch Dermatol Res 1982; 272: 263–7

16.

Miller W, Ruderman F, Smith Jr J. Aspirin and ultraviolet light-induced erythema in man. Arch Dermatol 1967; 95: 357–8

17.

Anderson T, Peterson C, Hamilton T. Meclofenomate inhibition of UV-induced erythema: a randomized, placebo-controlled, double blind study. Photodermatology 1989; 6: 63–8

18.

Hughes G, Francom S, Means L, et al. Synergistic effects of oral nonsteroidal drugs and topical corticosteroids in the therapy of sunburn in humans. Dermatology 1992; 184: 54–8

19.

Farr P, Diffey B, Humphreys F. A quantitative study of the effect of terfenadine on cutaneous erythema induced by UVB and UVC radiation. J Invest Dermatol 1986; 87: 771–4

20.

Werninghaus K, Meydani M, Bhawan J, et al. Evaluation of the photoprotective effect of oral Vitamin E supplementation. Arch Dermatol 1994; 130: 1257–61

21.

Gamryn M, Ribaya-Mercado J, Russel R, et al. Effect of beta-carotene supplementation on the human sunburn reaction. Exp Dermatol 1995; 4: 104–11

22.

Bangha E, Elsner P, Kistler G. Suppression of UV-induced erythema by topical treatment with melatonin (N-acetyl-5-methoxytryptamine): influence of the application time point. Dermatology 1997; 195: 248–52

23.

Schleider NR, Moskowitz RS, Cort DH, et al. Effects of emollients on ultraviolet-radiation-induced erythema of the skin. Arch Dermatol 1979; 115: 1188–91

24.

Cox NH, Sharpe G. Emollients, salicylic acid, and ultraviolet erythema. Lancet 1990; 335: 53–4

25.

Hanada K, Sawamura D, Tamai K, et al. Photoprotective effect of esterified glutathione against ultraviolet B-induced sunburn cell formation in hairless mice. J Invest Dermatol 1997; 108: 727–30

26.

Trevithick J, Xiong H, Lee S, et al. Topical tocopherol acetate reduces post-UVB, sunburn-associated erythema, edema, and skin sensitivity in hairless mice. Arch Biochem Biophys 1992; 296: 575–82

27.

Stern R, Dodson T. Ibuprofen in the treatment of UV-B-induced inflammation. Arch Dermatol 1985; 121: 508–12

28.

Gomez E, Trancik R. Effect of topical diflumidone on ultraviolet-light-induced erythema. Dermatologica 1981; 163: 175–82

29.

Tan P, Flowers F, Araujo O, et al. Effect of topically applied flurbiprofen on ultraviolet-induced erythema. Drug Intell Clin Pharm 1986; 20: 496–9

30.

Eaglstein W, Ginsberg L, Mertz P. Ultraviolet irradiation-induced inflammation: effects of steroid and nonsteroid anti-inflammatory agents. Arch Dermatol 1979; 115: 1421–3

31.

Kaidbey K, Kurban A. The influence of corticosteroids and topical indomethacin on sunburn erythema. J Invest Dermatol 1976; 66: 153–6

32.

Dreher F, Denig N, Gabard B, et al. Effect of topical antioxidants on UV-induced erythema formation when administered after exposure. Dermatology 1999; 198: 52–5

33.

Juhlin L, Shroot B. Effect of drugs on early and late phase UV erythema. Acta Derm Venereol 1992; 72: 222–3

34.

Goldman MS, Leon AJ, Rand GL. Topical and systemic steroids in severe sunburn. Dermatol Int 1966; 5: 75–8

35.

Russo PM, Schneiderman LJ. Effect of topical corticosteroids on symptoms of clinical sunburn. J Fam Pract 1978; 7: 1129–32

36.

Snyder D, Eaglstein W. Topical indomethacin and sunburn. Br J Dermatol 1974; 90: 91–3

37.

Farr P, Diffey B. A quantitative study of the effect of topical indomethacin on cutaneous erythema induced by UVB and UVC radiation. Br J Dermatol 1986; 115: 453–66

38.

Edwards Jr E, Edwards E. The effect of antihistamines on ultraviolet-light-induced erythema. Int J Dermatol 1983; 22: 540–1

39.

Schaffler K, Beckers C, Unkauf M, et al. Dimethindene maleate in the treatment of sunburn. Arzneimittel Forschung 1999; 49: 374–9

40.

Moseley H, MacFadyen E, Ferguson M, et al. Reduction of UV-induced erythema in normal subjects by applying methimazole. Photodermatology 1989; 6: 32–6

41.

Crowell J, Hilsenbeck S, Penneys N. Aloe vera does not affect cutaneous erythema and blood flow following ultraviolet B exposure. Photodermatology 1989; 6: 237–9

42.

Bangha E, Elsner P, Kistler G. Suppression of UV-induced erythema by topical treatment with melatonin (N-acetyl-5-methoxytryptamine): a dose response study. Arch Dermatol Res 1996; 288: 522–6

43.

Driscoll MS, Wagner RF. Clinical management of the acute sunburn. Cutis 2000; 66: 53–8
Acknowledgements
The authors received no funding for the preparation of this manuscript. They have provided no information as to conflicts of interest directly relevant to the content of this review.
About this article
Cite this article
Han, A., Maibach, H.I. Management of Acute Sunburn. Am J Clin Dermatol 5, 39–47 (2004). https://doi.org/10.2165/00128071-200405010-00006
Keywords
Melatonin

Indomethacin

Thiamazole

Betamethasone Valerate

Fluocinolone Acetonide