Abstract
Racial (ethnic) differences in skin properties may explain racial disparities seen in dermatologic disorders and provide insight into appropriate differences in the management of these disorders. However, racial differences in skin have been minimally investigated by objective methods and the data are often contradictory. Objective methods studied include transepidermal water loss (TEWL), water content (WC), corneocyte variability, blood vessel reactivity, elastic recovery/extensibility, pH gradient, lipid content, surface microflora, microscopic evaluation of mast cell granules, and confocal microscopy.
The majority of the evidence (six out of eight studies) indicates that TEWL is greater in Black skin compared with White skin. TEWL measurements of Asian skin are inconclusive as they have been found to be equal to Black skin and greater than Caucasian skin, equal to Caucasian skin, and less than all other ethnic groups in different studies. Racial differences in WC, as measured by resistance, capacitance, conductance and impedance, are also inconclusive as the data are contradictory. While the evidence regarding corneocyte desquamation is minimal, one clinically provocative observation is that Blacks have a 2.5 times greater spontaneous desquamation rate compared with Caucasians and Asians, possibly accounting for an increased frequency of xerosis seen clinically in Blacks.
With regards to blood vessel reactivity, studies can not be compared to each other because each uses different vasoactive substances. However, each study, except for one study comparing Hispanics and Whites, and another comparing Japanese and German women, reveal some degree of racial variation in blood vessel reactivity. It has been demonstrated that the pH of Black skin is less than White skin; however, the studies that have demonstrated this have done so under different skin conditions and on different anatomic sites. Racial differences in lipid content are inconclusive. Additionally, there is insufficient and conflicting evidence to make conclusions regarding racial differences in skin biomechanics and skin microflora. Microscopic evaluation reveals that Black skin contains larger mast cell granules, and differences in stuctural properties and enzymes of mast cells compared with White skin, possibly accounting for differences in pruritus experienced by the individuals of these racial groups.
There exists substantial evidence to support that Black skin has a higher TEWL, variable blood vessel reactivity, decreased skin surface pH, and larger mast cell granules compared with White skin. Although some deductions have been made about Asian and Hispanic skin, further evaluation needs to be done. Differences in WC, corneocyte desquamation, elastic recovery/extensibility, lipid content and skin microflora, although statistically significant, are inconclusive.
Access options
Buy single article
Instant access to the full article PDF.
USD 49.95
Price excludes VAT (USA)
Tax calculation will be finalised during checkout.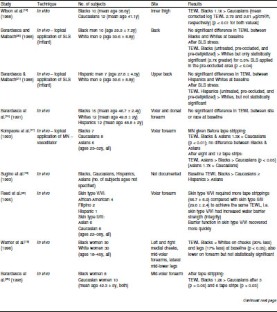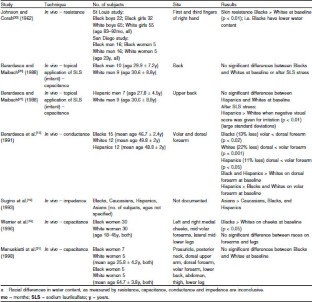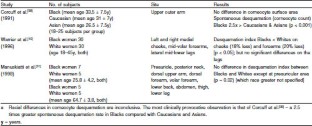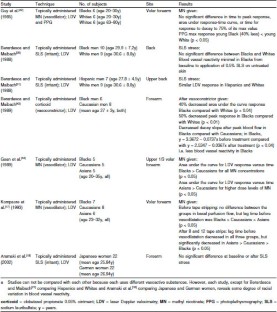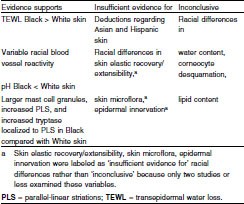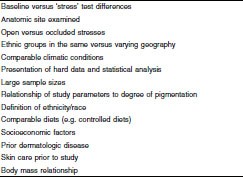 References
Thomson ML. Relative efficiency of pigment and horny layer thickness in protecting the skin of Europeans and Africans against solar ultraviolet radiation. J Physiol (Lond) 1955; 127: 236–46

Freeman RG, Cockerell EG, Armstrong J, et al. Sunlight as a factor influencing the thickness of the epidermis. J Invest Dermatol 1962; 39: 295–8

Weigand DA, Haygood C, Gaylor JR. Cell layers and density of Negro and Caucasian stratum corneum. J Invest Dermatol 1974; 62: 563–8

Dreher F, Arens A, Hostynek JJ, et al. Colorimetric method for quantifying human stratum corneum removed by adhesive tape-stripping. Acta Derm Venereol (Stockh) 1988; 78 (3): 186–9

Marshall EK, Lynch V, Smith HV. Variation in susceptibility of the skin to dichloroethylsulphide. J Pharmacol Exp Ther 1919; 12: 291

Weigand DA, Gaylor JR. Irritant reaction in Negro and Caucasian skin. South Med J 1974; 67: 548–51

Basketter DA, Griffiths HA, Wang XM, et al. Individual, ethnic and seasonal variability in irritant susceptibility of skin: the implications for a predictive human patch test. Contact Dermatitis 1996; 35: 208–13

Pillsbury DM, Shelley WB, Kligman AM, editors. Dermatology. Philadelphia (PA): WB Saunders Co, 1956: Ch 1

Rothman S. Insensible water loss. In: Physiology and biochemistry of the skin. Chicago: The University Chicago Press, 1954: 233

Larsen TH, Jemec GBE. Skin mechanics and hydration. In: Elsner P, Berardesca E, Wilhelm KP, et al., editors. Bioengineering of the skin: skin biomechanics. (Boca Raton FL): CRC Press LLC, 2002: 199–200

Distante F, Berardesca E. Transepidermal water loss. In: Berardesca E, Elsner P, Wilhelm KP, et al., editors. Bioengineering of the skin: methods and instrumentation. (Boca Raton FL): CRC Press Inc, 1995: 1–4

Wilson D, Berardesca E, Maibach HI. In vitro transepidermal water loss: differences between Black and white human skin. Br J Dermatol 1988; 199: 647–52

Robinson S, Dill D, Wilson J, et al. Adaptations of white men and Negroes to prolonged work in humid heat. Am J Trop Med 1941; 21: 261

Baker H. The skin as a barrier. In: Rook A, editor. Textbook of dermatology. Oxford: Blackwell Scientific, 1986: 355

Berardesca E, Rigal J, Leveque JL, et al. In vivo biophysical characterization of skin physiological differences in races. Dermatologica 1991; 182: 89–93

Warrier AG, Kligman AM, Harper RA, et al. A comparison of Black and white skin using noninvasive methods. J Soc Cosmet Chem 1996; 47: 229–40

Kompaore F, Marly JP, Dupont C. In vivo evaluation of the stratum corneum barrier function in Blacks, Caucasians, and Asians with two noninvasive methods. Skin Pharmacol 1993; 6 (3): 200–7

Aramaki J, Kawana S, Effendy I, et al. Differences of skin irritation between Japanese and European women. Br J Dermatol 2002; 146: 1052–6

Sugino K, Imokawa G, Maibach HI. Ethnic difference of stratum corneum lipid in relation to stratum corneum function [abstract]. J Invest Dermatol 1993, 100 (4); 587

Berardesca E, Maibach HI. Racial differences in sodium lauryl sulphate induced cutaneous irritation: black and white. Contact Dermatitis 1988; 18: 65–70

Berardesca E, Maibach HI. Sodium-lauryl-sulphate-induced cutaneous irritation: comparison of White and Hispanic subjects. Contact Dermatitis 1988; 18: 136–40

Reed JT, Ghadially R, Elias PM. Skin type, but neither race nor gender, influence epidermal permeability function. Arch Dermatol 1995 Oct; 131 (10): 1134–8

Berardesca E, Pirot F, Singh M, et al. Differences in stratum corneum pH gradient when comparing white Caucasian and Black African-American skin. Br J Dermatol 1998; 139: 855–7

Fitzpatrick TB. The validity and practicality of sun reactive skin type I through VI. Arch Dermatol 1988; 124: 869–71

Reinerston RP, Wheatley VR. Studies on the chemical composition of human epidermal lipids. J Invest Dermatol 1959; 32: 49–59

Yosipovitch G, Theng CTS. Asian skin: its architecture, function, and differences from caucasian skin. Cosmet Toiletr 2002 Sep; 117 (9): 57–62

Rougier A, Lotte C, Corcuff P, et al. Relationship between skin permeability and corneocyte size according to anatomic site, age, and sex in man. J Soc Cosmet Chem 1988; 39: 15–26

Distante F, Berardesca E. Hydration. In: Berardesca E, Elsner P, Wilhelm KP, et al., editors. Bioengineering of the skin: methods and instrumentation. (Boca Raton FL): CRC Press Inc, 1995: 5–12

Triebskorn A, Gloor M. Noninvasive methods for the determination of skin hydration. In: Frosch PJ, Kligman AM, editors, Noninvasive methods for the quantification of skin functions. Berlin; New York (NY): Springer-Verlag, 1993: 42–55

Johnson LC, Corah NL. Racial differences in skin resistance. Science 1962; 139: 766–7

Manuskiatti W, Schwindt DA, Maibach HI. Influence of age, anatomic site and race on skin roughness and scaliness. Dermatology 1998; 196: 401–7

Montagna W, Carlisle K. The architecture of Black and white skin. J Am Acad Dermatol 1991; 24: 929–37

Montagna W, Prota G, Kenney JA. Black skin: structure and function. San Diego: Academic Press, 1993: 1–12

Fitzpatrick TB, Szabo G, Wick MM. Biochemistry and physiology of melanin pigmentation. In: Lowell AG, editor. Biochemistry and physiology of the skin. New York: Oxford University Press, 1983: 687–712

Kaidbey KH, Poh AP, Sayre M, et al. Photoprotection by melanin: a comparison of Black and Caucasian skin. J Am Acad Dermatol 1979; 1: 249–60

Plewig G, Marples BM. Regional differences of cell sizes in the human stratum corneum. J Invest Dermatol 1970; 54: 13–8

Leveque JL, Corcuff P, De Rigal J, et al. In vivo studies of the evolution of physical properties of the human skin with age. Int J Dermatol 1984; 23: 322–9

Corcuff P, Lotte C, Rougier A, et al. Racial differences in Corneocytes: a comparison between black, white, and oriental skin. Acta Derm Venereal (Stockh) 1991; 71: 146–8

Wahlberg JE, Lindberg M. Assessment of skin blood flow: an overview. In: Berardesca E, Elsner P, Maibach HI, editors. Bioengineering of the skin: cutaneous blood flow and erythema. (Boca Raton FL): CRC Press Inc, 1995: 23–7

Oberg PA. Laser-doppler flowmetry. Crit Rev Biomed Eng 1990; 18: 125

Bernardi L, Leuzzi S. Laser doppler flowmetry and photoplethysmography: basic principles and hardware. In: Berardesca E, Elsner P, Maibach HI, editors. Bioengineering of the skin: cutaneous blood flow and erythema. (Boca Raton FL): CRC Press Inc, 1995: 31–55

Guy RH, Tur E, Bjerke S, et al. Are there age and racial differences to methyl nicotinate-induced vasodilatation in human skin? J Am Acad Dermatol 1985; 12: 1001–6

Berardesca E, Maibach HI. Cutaneous reactive hyperemia: racial differences induced by corticoid application. Br J Dermatol 1989; 129: 787–94

Gean CJ, Tur E, Maibach HI, et al. Cutaneous responses to topical methyl nicotinate in Black, Oriental, and Caucasian subjects. Arch Dermatol Res 1989; 281: 95–8

Katzung BG. Introduction to autonomic pharmacology. In: Katzung BG, editor. Basic and clinical pharmacology. Los Altos (CA): McGraw-Hill Co Inc, 2001: 75–91

Harding CR, Moore AE, Rogers JS, et al. Dandruff: a condition characterized by decreased levels of intercellular lipids in scalp stratum corneum and impaired barrier function. Arch Dermatol Res 2002; 294: 221–30

Rebora A, Guarrera M. Racial differences in experimental skin infection with candida albicans. Acta Derm Venereol (Stockh) 1988; 68: 165–8

Sueki H, Whitaker-Menezes D, Kligman AM. Structural diversity of mast cell granules in Black and white skin. Br J Dermatol 2001; 144: 85–93

Dikstein S, Zlotogorski A. Skin surface hydrogen ion concentration (pH). In: Leveque JL, editor. Cutaneous investigation in health and disease. New York (NY): Marcel Dekker, 1989: 59–78

Kligman AM, Shelly WB. An investigation of the biology of the human sebaceous gland. J Invest Dermatol 1973; 30: 99–125

Craig SS, DeBlois G, Schwartz LB. Mast cells in human keloid, small intestine, and lung by immunoperoxidase technique using a murine monoclonal antibody against tryptase. Am J Pathol 1986; 124: 427–35

Kischer CW, Bunce H, Sheltar MR. Mast cell analysis in hypertrophic scars, hypertrophic scars treated with pressure and mature scars. J Invest Dermatol 1978; 70: 355–7

Reilly DM, Ferdinando D, Johnston C, et al. The epidermal nerve fibre network: characterization of nerve fibres in human skin by confocal microscopy and assessment of racial variations. Br J Dermatol 1997; 137: 163–70

Robinson MK. Population differences in skin structure and physiology and the susceptibility to irritant and allergic contact dermatitis: implications for skin safety testing and risk assessment. Contact Dermatitis 1999; 41: 65–79

Modjtahedi SP, Maibach HI. Ethnicity as a possible endogenous factor in irritant contact dermatitis: comparing irritant response among Caucasians, Blacks, and Asians. Contact Dermatitis 2002; 47 (5): 272–8

Taylor SC. Understanding skin of color, skin of color: biology, structure, function, and implications for dermatologic disease. J Am Acad Dermatol 2002; 46: S41–62

Coon CS. The origin of races. New York (NY): Alfred A Knopf, 1962

Oppenheimer GM. Paradigm lost: race, ethnicity, and the search for a new population taxonomy. Am J Public Health 2001; 91 (7): 1049–55
Acknowledgments
We would like to acknowledge the American Academy of Dermatology Association's Minority Medical Student Mentoring Program for making this project possible. The authors have no conflicts of interest that are directly relevant to the content of this manuscript.
About this article
Cite this article
Wesley, N.O., Maibach, H.I. Racial (Ethnic) Differences in Skin Properties. Am J Clin Dermatol 4, 843–860 (2003). https://doi.org/10.2165/00128071-200304120-00004
Published:

Issue Date:

DOI: https://doi.org/10.2165/00128071-200304120-00004
Keywords
Stratum Corneum

Elastic Recovery

Laser Doppler Velocimetry

White Skin

Ceramide Level