Abstract
Approximately 30% of patients with diabetes mellitus will have disease-related dermatological problems. Dry skin can be associated with autonomic neuropathy and may be fragile, promoting bacterial invasion. Any potentially infected' diabetic foot' must be taken seriously, and non-painful deep sepsis suspected if there is evidence of sensory loss.
Consideration should be given to eliminating nasal carriage of staphylococci if recurrent superficial sepsis occurs in the presence of poor diabetic control. Fungal infections, both of skin and nails, are common but usually not serious in the absence of immunosuppression. Treatment with topical antifungals may need to be combined with systemic therapy for successful eradication. Systemic antifungal therapy should be carefully considered as treatment needs to be prolonged and is potentially toxic, particularly in individuals with diabetes mellitus who often have co-morbidities.
Varicose eczema should be treated by physical therapies intended to improve venous return and prevent peripheral edema and tissue injury. Allergic dermatitis is commonly associated with topical treatments and other sensitizers. Many reactions are not apparent from history, and patch testing for sensitivity is recommended.
There are several diabetes mellitus-specific conditions that dermatologists must be aware of, including, necrobiosis lipoidica diabeticorum, granuloma annulare, diabetic dermopathy (spotted leg syndrome or shin spots), diabetic bullae (bullosis diabeticorum), and limited joint mobility and waxy skin syndrome. Ulceration, due to varying combinations of peripheral vascular disease and sensory neuropathy, is the province of the specialist team dealing with the diabetic foot and should ideally be referred to an appropriate multidisciplinary team.
Access options
Buy single article
Instant access to the full article PDF.
US$ 49.95
Tax calculation will be finalised during checkout.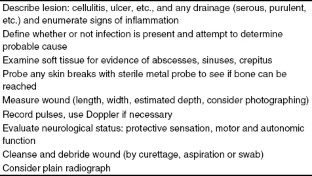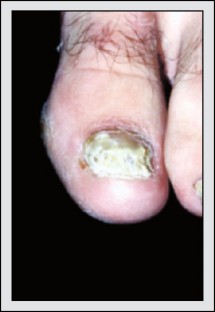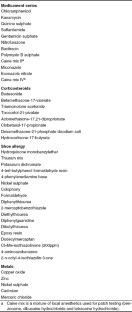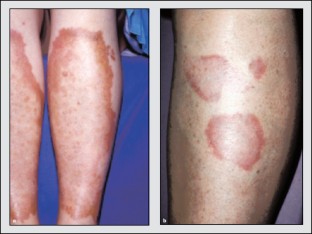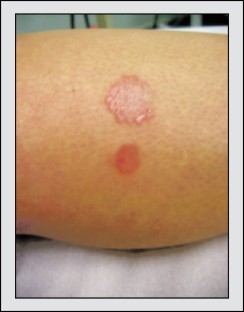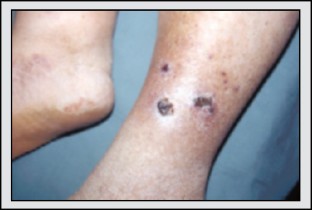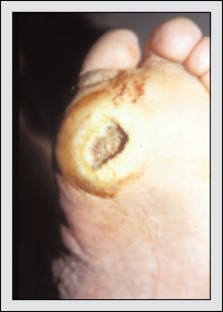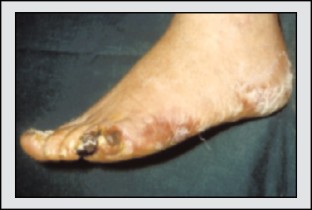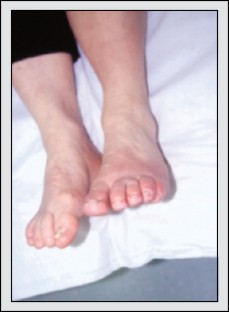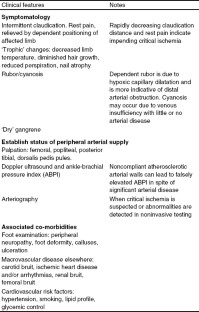 References
1.

Damci T, Ersanli Z. Skin and connective tissue disorders in diabetes mellitus. J Br Podiatr Med 1996; 51 (10): 151–4

2.

Tanenberg RJ, Schumer MP, Greene DA, et al. Neuropathic problems of the lower extremities in diabetic patients. In: Bowker JH, Pfeifer MA, editors. Levin and O'Neal's the diabetic foot. 6th ed. St Louis (MO): Mosby, 2001

3.

Delbridge L, Ellis CS, Robertson K, et al. Non-enzymatic glycosylation of keratin from the stratum corneum of the diabetic foot. Br J Dermatol 1985; 112 (5): 547–54

4.

Murray HJ, Young MJ, Hollis S, et al. The association between callus formation, high pressures and neuropathy in diabetic foot ulceration. Diabet Med 1996; 13 (11): 979–82

5.

Cavanagh PR, Ulbrecht JS, Caputo GM. The biomechanics of foot in diabetes mellitus. In: Bowker JH, Pfeifer MA, editors. Levin and O'Neal's the diabetic foot. 6th ed. St Louis (MO): Mosby, 2001: 180–1

6.

Johnston CLW. Infection and diabetes mellitus. In: Pickup J, Williams G, editors. Textbook of diabetes. Oxford: Blackwell Science, 1997: 70.1–70.14

7.

Boyko EJ, Lipsky BA, Sandoval R, et al. NIDDM and prevalence of nasal Staphylococcus aureus colonization: San Luis Valley Diabetes Study. Diabetes Care 1989; 12 (3): 189–92

8.

Zimakoff J, Bangsgaard Pedersen F, Bergen L, et al. Staphylococcus aureus carriage and infections among patients in four haemo- and peritoneal-dialysis centres in Denmark: the Danish Study Group of Peritonitis in Dialysis (DASPID). J Hosp Infect 1996; 33 (4): 289–300

9.

Lipsky BA. Infectious problems of the foot in diabetes. In: Bowker JH, Pfeifer MA, editors. Levin and O'Neal's the diabetic foot. 6th ed. St Louis (MO): Mosby, 2001: 467–80

10.

Buxton PK, Milne LJ, Prescott RJ, et al. The prevalence of dermatophyte infection in well-controlled diabetics and the response to Trichophyton antigen. Br J Dermatol 1996; 134 (5): 900–3

11.

Lugo-Somolinos A, Sanchez JL. Prevalence of dermatophytosis in patients with diabetes. J Am Acad Dermatol 1992; 26 (3 Pt 2): 408–10

12.

Heald AH, O'Halloran DJ, Richards K, et al. Fungal infection of the diabetic foot: two distinct syndromes. Diabet Med 2001; 18 (7): 567–72

13.

Durden FM, Elewski B. Fungal infections in HIV-infected patients. Semin Cutan Med Surg 1997; 16 (3): 200–12

14.

Rönnemaa T, Liukkonen I, Knuts L-R, et al. Prevalence of foot problems and the need for foot care in an unselected diabetic population. J Br Podiatr Med 1993; 48: 185–90

15.

Gupta AK, Joseph WS. Ciclopirox 8% nail lacquer in the treatment of onychomycosis of the toenails in the United States. J Am Podiatr Med Assoc 2000; 90 (10): 495–511

16.

Baran R, Feuilhade M, Datry A, et al. A randomized trial of amorolfine 5% solution nail lacquer combined with oral terbinafine compared with terbinafine alone in the treatment of dermatophytic toenail onychomycoses affecting the matrix region. Br J Dermatol 2000; 142 (6): 1177–83

17.

Polak-Wyss A. Mechanism of action of antifungals and combination therapy. J Eur Acad Dermatol Venereol 1995; 4 Suppl. 1: 511–6

18.

Goh CL. Contact sensitivity to topical antimicrobials, II: sensitizing potentials of some topical antimicrobials. Contact Dermatitis 1989; 21 (3): 166–71

19.

Kaplan AP. Drug-induced skin disease. J Allergy Clin Immunol 1984; 74: 573–9

20.

Angelini G. Topical drugs. In: Rycroft RJG, Menné T, Frisch PJ, et al., editors. Textbook of contact dermatitis. Berlin: Springer-Berlag, 1992: 476–502

21.

Cronin E. Clinical prediction of patch tests. Trans St Johns Hosp Dermatol Soc 1992; 58: 153–62

22.

Sharpe GR. The skin in diabetes. In: Pickup J, Williams G, editors. Textbook of diabetes. Oxford: Blackwell Science, 1997: 62.1–62.12

23.

Jelinek JE. Cutaneous aspects of diabetes mellitus. In: Bowker JH, Pfeiffer MA, editors. Levin and O'Neal's the diabetic foot. 6th ed. St Louis (MO): Mosby, 2001: 197–211

24.

Muller SA, Winkelman RK. Necrobiosis lipoidica diabeticorum, a clinical and pathological examination of 171 cases. Arch Dermatol 1966; 93: 272–81

25.

Hill SE, Sibbald GR. The skin in Diabetes Mellitus. In: Williams G, Pickup J, editors. Textbook of diabetes. London: Blackwell Scientific Publications, 1991: 753–61

26.

Heng MC, Allen SG, Song MK, et al. Focal endothelial cell degeneration and proliferative endarteritis in trauma-induced early lesions of necrobiosis lipoidica diabeticorum. Am J Dermatopathol 1991; 13 (2): 108–14

27.

Koh MS, Majewski BB, Barter S, et al. Increased plasma fibronectin in diabetes mellitus, necrobiosis lipoidica and widespread granuloma annulare. Clin Exp Dermatol 1984; 9 (3): 293–7

28.

Quimby SR, Muller SA, Schroeter AL. The cutaneous immunopathology of necrobiosis lipoidica diabeticorum. Arch Dermatol 1988; 124 (9): 1364–71

29.

Imakado S, Satomi H, Iskikawa M, et al. Diffuse necrobiosis lipoidica diabeticorum associated with non-insulin dependent diabetes mellitus. Clin Exp Dermatol 1998; 23 (6): 271–3

30.

Kobbah M, Ewald U, Tuvemo T. Vascular reactivity during the first year of diabetes in children. Acta Paediatr Scand Suppl 1985; 320: 56–63

31.

Jelinek JE. Cutaneous aspects of diabetes mellitus. In: Bowker JH, Pfeiffer MA, editors. Levin and O'Neal's the diabetic foot. 6th ed. St Louis (MO): Mosby, 2001: 197–211

32.

Imtiaz KE, Khaleeli AA. Squamous cell carcinoma developing in necrobiosis lipoidica. Diabet Med 2001; 18 (4): 325–8

33.

Porneuf M, Monpoint S, Barneon G, et al. Carcinoma cuniculatum arising in necrobiosis lipoidica. Ann Dermatol Venereol 1991; 118 (6–7): 461–4

34.

Sparrow G, Abell E. Granuloma annulare and necrobiosis lipoidica treated by jet injector. Br J Dermatol 1975; 93 (1): 85–9

35.

Petzelbauer P, Wolff K, Tappeiner G. Necrobiosis lipoidica: treatment with systemic corticosteroids. Br J Dermatol 1992; 126 (6): 542–5

36.

Dubin BJ, Kaplan EN. The surgical treatment of necrobiosis lipoidica diabeticorum. Plast Reconstr Surg 1977; 60 (3): 421–8

37.

Muhlemann MF, Williams DRR. Localised granuloma annulare is associated with insulin-dependent diabetes mellitus. Br J Dermatol 1984; 111: 325–9

38.

Jelinek JE. Collagen disorders in which diabetes and cutaneous features co-exist. The skin in diabetes. Philadelphia: Lea and Febiger, 1986: 155–73

39.

Jeffcoate W, MacFarlane R. Skin conditions associated with diabetes. The diabetic foot: an illustrated guide to management. London: Chapman and Hall Medical, 1995: 89–98

40.

Shemer A, Bergman R, Linn S, et al. Diabetic dermopathy and internal complications in diabetes mellitus. Int J Dermatol 1998; 37 (2): 113–5

41.

Sueki H, Fujisawa R. Pigmented pretibial patches, with special references to the clinical classification and the correlation to HbA1 which serves as an index of diabetic control. Nippon Hifuka Gakkai Zasshi 1986; 96 (3): 157–63

42.

Melin H. An atrophic circumscribed skin lesion in the lower extremities of diabetics. Acta Med Scand 1964; 176 Suppl. 423: 9–75

43.

Rosenbloom AL, Frias JL. Diabetes short stature and joint stiffness: a new syndrome [abstract]. Clin Res 1974; 22: 92A

44.

Rosenbloom AL. Limited joint mobility in insulin dependent childhood diabetes. Eur J Pediatr 1990; 149 (6): 380–8

45.

Fitzcharles MA, Duby S, Waddell RW, et al. Limitation of joint mobility (cheiroarthropathy) in adult noninsulin-dependent diabetic patients. Ann Rheum Dis 1984; 43 (2): 251–4

46.

Arkkila PE, Kantola IM, Viikari JS, et al. Limited joint mobility is associated with the presence but does not predict the development of microvascular complications in type 1 diabetes. Diabet Med 1996; 13: 828–33

47.

Sukenik S, Weitzman S, Buskila D, et al. Limited joint mobility and other rheumatological manifestations in diabetic patients. Diabet Metab 1987; 13: 187–92

48.

Starkman HS, Gleason RE, Rand LI, et al. Limited joint mobility (LJM) of the hand in patients with diabetes mellitus: relation to chronic complications. Ann Rheum Dis 1986; 45: 130–5

49.

Fernando DJ, Masson EA, Veves A, et al. Relationship of limited joint mobility to abnormal foot pressures and diabetic foot ulceration. Diabetes Care 1991; 14 (1): 8–11

50.

Delbridge L, Perry P, Marr S, et al. Limited joint mobility in the diabetic foot: relationship to neuropathic ulceration. Diabet Med 1988; 5: 333–7

51.

Rosenbloom AL, Silverstein JH, Lezotte DC, et al. Limited joint mobility in diabetes mellitus of childhood: natural history and relationship to growth impairment. J Pediatr 1982; 101 (5): 874–8

52.

Starkman H, Brink S. Limited joint mobility of the hand in type I diabetes mellitus. Diabetes Care 1982; 5 (5): 534–6

53.

Canfield WK, Chase HP, Hambridge KM. Limited joint mobility (LJM) in insulin dependent diabetes mellitus (IDDM): relationship to glucose and zinc nutriture [abstract]. Pediatr Res 1982; 16: 135A

54.

Rosenbloom AL, Silverstein JH, Lezotte DC, et al. Limited joint mobility in childhood diabetes mellitus indicates increased risk for microvascular disease. N Engl J Med 1981; 305 (4): 191–4

55.

Starkman HS, Gleason RE, Rand LI, et al. Limited joint mobility (LJM) of the hand in patients with diabetes mellitus: relation to chronic complications. Ann Rheum Dis 1986; 45 (2): 130–5

56.

Pecoraro RE, Reiber GE, Burgess EM. Pathways to diabetic limb amputation: basis for prevention. Diabetes Care 1990; 13 (5): 513–21

57.

Edmonds ME. Experience in a multidisciplinary diabetic foot clinic: the foot in diabetes. Proceedings of the First National Conference on the Diabetic Foot; 1986 May; Malvern, England. Chichester: John Wiley, 1987: 121–34

58.

Boulton AJ. Lawrence lecture: the diabetic foot: neuropathic in aetiology? Diabet Med 1990; 7 (10): 852–8

59.

Pomposelli Jr FB, Jepsen SJ, Gibbons GW, et al. Efficacy of the dorsal pedal bypass for limb salvage in diabetic patients: short-term observations. J Vasc Surg 1990; 11 (6): 745–52

60.

Aye M, Jayagopal V, Myint PK, et al. Mortality following amputation in diabetes [abstract]. Diabet Med 2001; 18 Suppl. 2: 59

61.

Thomson FA, Veves A, Ashe H, et al. A team approach to diabetic foot care: the Manchester experience. The Foot 1991; 2: 75–82
About this article
Cite this article
Aye, M., Masson, E.A. Dermatological Care of the Diabetic Foot. Am J Clin Dermatol 3, 463–474 (2002). https://doi.org/10.2165/00128071-200203070-00003
Keywords
Terbinafine

Allergic Contact Dermatitis

Tinea Pedis

Nasal Carriage

Ciclopirox