Abstract
Human skin has a resident, transient and temporary resident microflora. This article considers the possibilities of topical products influencing the balance of the microflora. The resident micro-organisms are in a dynamic equilibrium with the host tissue and the microflora may be considered an integral component of the normal human skin. The great majority of these micro-organisms are gram-positive and reside on the skin surface and in the follicles. The host has a variety of structures, molecules and mechanisms which restrict the transient and temporary residents, as well as controlling the population and dominance of the resident group. These include local skin anatomy, hydration, nutrients and inhibitors of various types. The resident microflora is beneficial in occupying a niche and denying its access to transients, which may be harmful and infectious. Also, the residents are important in modifying the immune system. In the healthy host the microflora causes few and temporary problems. Therefore, it is of interest that topical products have little or no effect on the ecology of the microflora. A range of mechanisms by which long-term use of cosmetics may influence the microflora are considered. Although the risks associated are low, it is argued that it is necessary to monitor these changes in ecology and use technologies of modeling and bioinformatics to predict outcomes, whether good, neutral or of concern.
Access options
Buy single article
Instant access to the full article PDF.
USD 49.95
Price excludes VAT (USA)
Tax calculation will be finalised during checkout.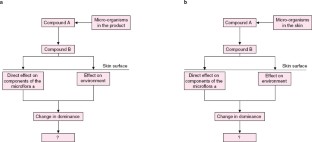 References
Noble W.C. Microbiology of human skin. London: Lloyd-Luke Ltd, 1981

Leeming J.P., Notman F.H., Holland K.T. The distribution and ecology of Malassezia furfur and cutaneous bacteria on the human skin. J Appl Bacteriol 1989; 67 (1): 47–52

Leeming J.P., Holland K.T., Cunliffe W.J. The microbial ecology of pilosebaceous units isolated from human skin. J Gen Microbiol 1984; 130 (4): 803–7

Kearney J.N., Harnby D., Gowland G., et al. The follicular distribution and abundance of resident bacteria on human skin. J Gen Microbiol 1984; 130: 797–801

Leyden J.J., McGinley K.J., Holzle E., et al. The microbiology of the human axilla and its relationship to axillary odour. J Invest Dermatol 1981; 77: 413–6

Marshall J., Holland K.T., Gribbon E.M. A comparative study of the cutaneous microflora of normal feet with low and high levels of odour. J Appl Bacteriol 1988; 65 (1): 61–8

Leyden J.J., McGinley K.J. Coryneform bacteria. In: Noble W.C., editor. The skin microflora and microbial skin diseases. Cambridge: Cambridge University Press, 1993: 102–17

Holland K.T. Nutrition of cutaneous resident microorganisms. In: Noble W.C., editor. The skin microflora and microbial skin diseases. Cambridge: Cambridge University Press, 1993: 33–72

Ament W., Huizenga J.R., Mook G.A., et al. Lactate and ammonia concentration in blood and sweat during incremental cycle ergometer exercise. Int J Sports Med 1997; 18: 35–9

Bierbaum G., Gotz F., Peschel A., et al. The biosynthesis of the lantibiotics epidermin, gallidermin, Pep5 and epilancin K7. Antonie Van Leeuwenhoek 1996; 69: 119–27

Heidrich C., Pag U., Josten M., et al. Isolation, characterization, and heterologous expression of the novel lantibiotic epicidin 280 and analysis of its biosynthetic gene cluster. Appl Environ Microbiol 1998; 64: 3140–6

Ogawa H., Miyazaki H. Immunochemical studies on the human skin lysozyme. J Invest Dermatol 1972; 58: 59–62

Aly R., Maibach H.I., Shinefield H.R., et al. Survival of pathogenic microorganisms on human skin. J Invest Dermatol 1972; 58: 205–10

Aly R., Maibach H.I., Rahman R., et al. Correlation of human in vivo and in vitro cutaneous antimicrobial factors. J Infect Dis 1975; 131: 579–83

Bibel D.J., Miller S.J., Brown B.E., et al. Antimicrobial activity of stratum corneum lipids from normal and essential fatty acid-deficient mice. J Invest Dermatol 1989; 92: 632–8

Schroder J.M., Harder J. Human beta-defensin-2. Int J Biochem Cell Biol 1999; 31: 645–51

Hemmi H, Takeuchi O., Kawai T., et al. A toll-like receptor recognizes bacterial DNA. Nature 2000; 408: 740–5

Leyden J.J., McGinley K.J., Mills O.H., et al. Age-related changes in the resident bacterial flora of the human face. J Invest Dermatol 1975; 65: 379–81

Leyden J.J., Marples R.R., Mills Jr O.H., et al. Gram-negative folliculitis: a complication of antibiotic therapy in acne vulgaris. Br J Dermatol 1973; 88: 533–8

Matricardi P.M., Bonini S. High microbial turnover rate preventing atopy: a solution to inconsistencies impinging on the Hygiene hypothesis? Clin Exp Allergy 2000; 30: 1506–10

Eady E.A., Ingham E. Propionibacterium acnes: friend or foe? Rev Med Microbiol 1994; 5: 163–73

Ingham E. The immunology of Propionibacterium acnes and acne. Curr Opin Infect Dis 1999; 12: 191–7

Ferrandiz C., Ribera M., Barranco J.C., et al. Eosinophilic pustular folliculitis in patients with acquired immunodeficiency syndrome. Int J Dermatol 1992; 31: 193–5

Back O., Faergemann J., Hornqvist R. Pityrosporum folliculitis: a common disease of the young and middle-aged. J Am Acad Dermatol 1985; 12: 56–61

McGinley K.J., Leyden J.J., Marples R.R., et al. Quantitative microbiology of the scalp in non-dandruff, dandruff, and seborrheic dermatitis. J Invest Dermatol 1975; 64: 401–5

Keddie F.M. Electron microscopy of Malassezia furfur in tinea versicolor. Sabouraudia 1967; 5: 134–7

Nordstrom K.M., McGinley K.J., Cappiello L., et al. Pitted keratolysis: the role of Micrococcus sedentarius. Arch Dermatol 1987; 123: 1320–5

Shelley W.B., Miller M.A. Electron microscopy, histochemistry, and microbiology of bacterial adhesion in trichomycosis axillaris. J Am Acad Dermatol 1984; 10: 1005–14

Sarkany I., Taplin D., Blank H. Incidence and bacteriology of erythrasma. Arch Dermatol 1962; 85: 578–82

Huebner J., Goldmann D.A. Coagulase-negative staphylococci: role as pathogens. Annu Rev Med 1999; 50: 223–36

Miller Y.W., Eady E.A., Lacey R.W., et al. Sequential antibiotic therapy for acne promotes the carriage of resident staphyloccocci on the skin of contacts. J Antimicrob Chemother 1996; 38: 829–37

Russell A.D. Mechanisms of bacterial insusceptibility to biocides. Am J Infect Control 2001; 29: 259–61
Acknowledgments
No sources of funding were used to assist in the preparation of this manuscript. The authors have no conflicts of interest that are directly relevant to the content of this manuscript.
About this article
Cite this article
Holland, K.T., Bojar, R.A. Cosmetics. Am J Clin Dermatol 3, 445–449 (2002). https://doi.org/10.2165/00128071-200203070-00001
Published:

Issue Date:

DOI: https://doi.org/10.2165/00128071-200203070-00001
Keywords
Sebaceous Follicle

Cosmetic Product

Topical Product

Skin Site

Normal Human Skin