Abstract
Pantothenic acid is essential to normal epithelial function. It is a component of coenzyme A, which serves as a cofactor for a variety of enzyme-catalyzed reactions that are important in the metabolism of carbohydrates, fatty acids, proteins, gluconeogenesis, sterols, steroid hormones, and porphyrins. The topical use of dexpanthenol, the stable alcoholic analog of pantothenic acid, is based on good skin penetration and high local concentrations of dexpanthenol when administered in an adequate vehicle, such as water-in-oil emulsions. Topical dexpanthenol acts like a moisturizer, improving stratum corneum hydration, reducing transepidermal water loss and maintaining skin softness and elasticity. Activation of fibroblast proliferation, which is of relevance in wound healing, has been observed both in vitro and in vivo with dexpanthenol. Accelerated re-epithelization in wound healing, monitored by means of the transepidermal water loss as an indicator of the intact epidermal barrier function, has also been seen. Dexpanthenol has been shown to have an anti-inflammatory effect on experimental ultraviolet-induced erythema.
Beneficial effects of dexpanthenol have been observed in patients who have undergone skin transplantation or scar treatment, or therapy for burn injuries and different dermatoses. The stimulation of epithelization, granulation and mitigation of itching were the most prominent effects of formulations containing dexpanthenol. In double-blind placebo-controlled clinical trials, dexpanthenol was evaluated for its efficacy in improving wound healing. Epidermal wounds treated with dexpanthenol emulsion showed a reduction in erythema, and more elastic and solid tissue regeneration. Monitoring of transepidermal water loss showed a significant acceleration of epidermal regeneration as a result of dexpanthenol therapy, as compared with the vehicle. In an irritation model, pretreatment with dexpanthenol cream resulted in significantly less damage to the stratum corneum barrier, compared with no pretreatment. Adjuvant skin care with dexpanthenol considerably improved the symptoms of skin irritation, such as dryness of the skin, roughness, scaling, pruritus, erythema, erosion/fissures, over 3 to 4 weeks. Usually, the topical administration of dexpanthenol preparations is well tolerated, with minimal risk of skin irritancy or sensitization.
Access options
Buy single article
Instant access to the full article PDF.
US$ 49.95
Tax calculation will be finalised during checkout.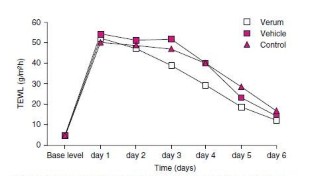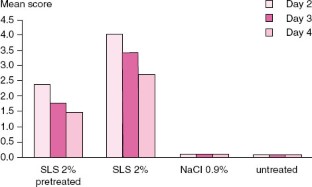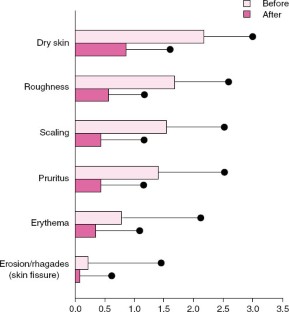 Notes
1.

Use of tradenames is for product identification only and does not imply endorsement.

2.

After this paper had been accepted for publication two further studies which may be of interest in the present context came to our knowledge.[55,56] In an evaluation of oil-in-water emulsions containing dexpanthenol (0, 2, 5%) on skin hydration and pH for 4 weeks the concentration-dependent moisturizing potential of the vitamin was demonstrated.[55] Likewise, a hydrophilic emulsion with 0, 2.5 or 5% dexpanthenol was effective with regard to hydration and anti-inflammatory efficacy in the repetitive washing test.[56]
References
1.

American Hospital Formulary Service: panthothenic acid, calcium panthothenate, dexpanthenol. Bethesda (MD): American Society of Hospital Pharmacists, 1998

2.

Dexpanthenol. Hazardous Substance Data Bank, 1998: 1-8. (Data on file)

3.

Marcus R., Coulston A.M. Water-soluble vitamins. The vitamin B complex and ascorbinic acid: panthothenic acid. In: Hardman J.G., Limbird L.E., Molinoff P.B., et al., editors. Goodman & Gilman's: the pharmacological basis of therapeutics. New York: McGraw-Hill, 1996

4.

Eggensperger H. Multiaktive Wirkstoffe für Kosmetika: Teil II. Seifen Öle Fette Wachse J 1994; 120: 534–538

5.

Pugliese P.T., Farina J.C., Chautems Y. Efficacy of dexpanthenol in wound healing: double-blind assessment of excised wound tissue by ultrasound and histologic examination [French]. Nouv Dermatol 1995; 14: 130–138

6.

Vimodrone M.I. Vitamine in dermatologia e cosmesi. Cosmet News 1992; 15: 99–104

7.

Caputo R. The spectrum of treatments for photodamage. J Dermatol Treat 1996; 7: S19–S22

8.

Gehring W., Gloor M. Effect of topically applied dexpanthenol on epidermal barrier function and stratum corneum hydration: results of a human in vivo study. Arzneimittel Forschung Drug Res 2000; 50: 659–663

9.

Eggensperger H. Multiaktive Wirkstoffe für Kosmetika: Teil III. Seifen Öle Fette Wachse J 1994; 120: 1013–1015

10.

Barth J, Heller G. Untersuchungen zur Verifizierbarkeit der Wirkung lokal applizierter Panthenolzubereitungen, I: Mitteilung: Prophylaxe und Therapie des UV-Strahlenerythems. Dtsch Gesundheitsw 1983; 38: 550–552

11.

Lokkevik E., Skovlund E., Reitan J.B., et al. Skin treatment with Bepanthen cream versus no cream during radiotherapy: a randomized controlled trial. Acta Oncol 1996; 35: 1021–1026

12.

Baschong W., Hüglin D., Röding J. D-Panthenol loaded nanotypes? providing enhanced anti-inflammatory efficacy: a study on human volunteers. Seifen Öle Fette Wachse J 1999; 125: 29–30

13.

Tauschel H.D., Rudolph C. Untersuchungen zur perkutanen Wirksamkeit einer Heparin-Allantoin-Dexpanthenol-Kombination in spezieller Salbengrundlage: Antiinflammatorische Wirkung auf UV-Erytheme am Meerschweinchen. Arzneimittel Forschung 1982; 32 (II): 1096–1100

14.

Hauptmann S., Schäfer H., Fritz A., et al. Untersuchung der wachstumsbeeinflussenden Wirkung von Wundsalben an der Zellkultur. Hautarzt 1992; 43: 432–435

15.

Abdel Hamid M., Kassem A.A., Mattha A.G., et al. Evaluation of the biological activity of some medicated solidified sodium stearate-based sticks (SSSS). Drug Dev Ind Pharm 1984; 10: 685–697

16.

Monographie. Dexpanthenol/Panthenol und Salze der Panthothensäure zur topischen Anwendung. Dtsch Apoth Ztg 1993; 133: 569

17.

Korkmaz S., Zeytinoglu H., Zeytinoglu M., et al. Testing wound-healing activity in T15 fibroblast cultures: a morphometric analysis. Atlas Radiol Clin Presse Med 2000; 28: 41–51

18.

Weiser H., Erlemann G.A. Beschleunigte Heilung oberflächlicher Wunden durch Panthenol und Zinkoxid. Parfüm Kosm 1987; 68: 425–428

19.

Jakob H..M., Ammon H.P.T., Mutschler E., et al. Information und Beratung "Dexpanthenol". Dtsch Apoth Ztg 1995; 135: 2102–2104

20.

Stüttgen G., Krause H. Die percutane Absorption von tritium-markiertem Panthenol bei Mensch und Tier. Arch Klin Exp Dermatol 1960; 209: 578–582

21.

Förster T., Pittermann W., Schmitt M., et al. Skin penetration properties of cosmetic formulations using a perfused bovine udder model. J Cosmet Sci 1999; 50: 147–157

22.

Bensaude A. Traitment de la fissure anale. Phlebologie 1980; 33: 683–688

23.

Eggensperger H. Multiaktive Wirkstoffe für Kosmetika: Teil I. Seifen Öle Fette Wachse J 1994; 120: 178–183

24.

Evers E. Lokale Behandlung venöser Erkrankungen sowie von Sport- und Unfallverletzungen mit Hepathrombin (R). Therapiewoche 1980; 30: 2239–2242

25.

Moosmann E.B. Wundcreme fördert Heilungsprozeß. Fortschr Med 1990; 108: 74

26.

Waterloh E., Groth K.H. Objectification of the efficacy of an ointment for joint injuries using a volumetric method [German]. Arzneimittel Forschung 1983; 33: 792–795

27.

Michael J. Zur Behandlung des Ulcus cruris: Klinische Erfahrungen mit Ulcrux-Creme und -Puder. Fortschr Med 1976; 94: 1148–1151

28.

Pfister R. Zur Lokalbehandlung des chronisch-venösen Beingeschwürs. Fortschr Med 1977; 95: 2057–2058, 2066

29.

Neiger A. Analfissuren. Urologe B 1982; 22: 201–205

30.

Presto S., Wehmeyer A., Filbry A., et al. Stimulation of epidermal regeneration by 5% dexpanthenol: results of a placebo-controlled double-blind study [German]. Z Hautkr 2001; 2: 86–90

31.

Presto S., Wehmeyer A., Filbry A., et al. Hautregeneration durch medizinische Pflegepräparate mit 3% Dexpanthenol. Dt Derm 1999; 47: 946–949

32.

Bielfeldt S., Wehmeyer A., Rippke F., et al. Efficacy of a new hand care system (cleansing oil and cream) in a model of irritation and in atopic hand eczema [in German]. Derm Beruf Umwelt 1998; 46: 159–165

33.

Rippke F., Wehmeyer A., Stenzaly-Achtert S., et al. Hautbelastung in Heilberufen: Klinische Relevanz und Effekte eines neuartigen Handpflegesystems. Dt Derm 1998; 46: 1–8

34.

Bahmer F., Pigatto P., Wehmeyer A., et al. Adjuvante Hautpflege mit den dexpanthenolhaltigen Formen von pH5-Eucerin. Dt Derm 1998; 4: 366–373

35.

Buttenmeyer R. Behandlung von Verbrennungen. Med Monatss Pharm 1995; 18: 31–39

36.

Dobry E. Die Behandlung von frischen Narben: Multizentrische Studie mit einer Narbensalbe. Therapiewoche Schweiz 1992; 8: 910–912

37.

Hungerberg W. Externa bei Sportverletzungen und rheumatischen Erkrankungen. Z Allgemeinmed 1994; 70: 322–325

38.

Geiser J.D., Berson I. Eine neue Lokalbehandlung von Periphlebitiden und oberflächlichen Phlebitiden. Ars Medici 1979; 69: 262–264

39.

Kopp H. Behandlung von Venenerkrankungen mit Dolobene (R) Gel. Z Algemeinmed 1985; 61: 107–109

40.

Kligman A.M. Wirkung einer vitaminreichen Hautlotion auf trockene Altershaut: Korrelation des klinischen Bildes mit histologischen Veränderungen. TW Dermatol 1997; 27: 42–44

41.

Gobbels M., Gross D. Klinische Studie zur Wirksamkeit eines dexpanthenolhaltigen Tränenersatzmittels (Siccaprotect(R)) bei der Behandlung trockener Augen. Klin Monatsbl Augenheilk 1996; 209: 84–88

42.

Christ T. Therapie der Erosio corneae mit einem neuen panthenolhaltigen Gel. Spektr Augenheil 1994; 8: 224–226

43.

Botzi C., Hemmer W., Focke M., et al. Allergic sensitization to dexpanthenol and exacerbation of eczema by orally ingested pantothenic acid [abstract 1371]. J Allerg Clin Immunol 1997; 99: S336

44.

Hahn C., Roseler S., Fritzsche R., et al. Allergic contact reaction to dexpanthenol: lymphocyte transformation test and evidence for microsomal-dependent metabolism of the allergen. Contact Dermatitis 1993; 28: 81–83

45.

Hemmer W., Bracun R., Wolf-Abdolvahab S., et al. Maintenance of hand eczema by oral pantothenic acid in a patient sensitized to dexpanthenol. Contact Dermatitis 1997; 37: 51

46.

Ippen H. Kontaktallergie auf Dexpanthenol. Derm Beruf Umwelt 1981; 29: 45

47.

Jeanmougin M., Manciet J.R., Moulin J.P., et al. Contact allergy to dexpanthenol in sunscreens. Contact Dermatitis 1988; 18: 240

48.

Schmid-Grendelmeier P., Wyss M., Elsner P. Kontaktallergie gegen Dexpanthenol: Ein Bericht über sieben Faelle und ein Literaturüberblick. Derm Beruf Umwelt 1995; 43: 175–178

49.

Schulzedirks A., Frosch P.J. Contact Allergy to Dexpanthenol [German]. Hautarzt 1988; 39: 375–377

50.

Stables G.I., Wilkinson S.M. Allergic contact dermatitis due to panthenol. Contact Dermatitis 1998; 38: 236–237

51.

Gollhausen R., Przybilla B., Ring J. Contact allergy to dexpanthenol. Contact Dermatitis 1985; 13: 38

52.

Schalock P.C., Storrs F.J., Morrison L. Contact urticaria from panthenol in a hair conditioner. Contact Dermatitis 2000; 223: 251

53.

Riedl B., Reitmeier G., Hesse A., et al. Type IV-allergies to components of ophthalmica [German]. Klin Monatsbl Augenheilk 1991; 198: 251–254

54.

Levy J.J., von Rosen J., Gaßmüller J., et al. Validation of an in vivo wound healing model for the quantification of pharmacological effects on epidermal regeneration. Dermatology 1995; 190: 136–141

55.

Savic S., Vuleta G., Milic J. Influence of polymer-stabilized emulsions enriched with tocopheryl acetate and dexpanthenol on skin hydration and pH. Seifen Öle Fette Wachse J 2001; 127 (11): 32–37

56.

Gehring W., Gloor M. Der repetitive Waschtest als Modell zur Beurteilung von Hautschutzpräparaten am Beispeil einer dexpanthenolhaltigen Formulierung. Akt Dermatol 2001; 27: 279–284
Acknowledgments
The authors have made no declaration with regard to funding or conflicts of interest.
About this article
Cite this article
Ebner, F., Heller, A., Rippke, F. et al. Topical Use of Dexpanthenol in Skin Disorders. Am J Clin Dermatol 3, 427–433 (2002). https://doi.org/10.2165/00128071-200203060-00005
Keywords
Anal Fissure

Pantothenic Acid

Topical Administration

Topical Formulation

Hand Eczema