Abstract
Background: Urea and ammonium lactate are used for the treatment of xerosis, with different degrees of success. This study compares the clinical effectiveness of these two agents.
Objective: To compare the effectiveness and tolerance of a 40% urea topical cream (Carmol®40)1 from Doak Dermatologics, a subsidiary of Bradley Pharmaceuticals, Inc., and 12% ammonium lactate topical lotion (Lac-Hydrin® 12%) from Westwood Squibb, a division of Bristol-Myers Squibb.
Methods: A randomized, double-blind, bilateral paired comparison study was conducted involving 25 men and women who were undergoing treatment for moderate to severe xerosis. The study included evaluations upon initiation of the study, after a 14-day treatment period and treatment follow-up on day 28.
Results: Eighteen study participants completed the entire 28-day evaluation period. Evaluation of treatment benefit was based on instrumental measurement of water loss from the skin surface, skin capacitance, skin desquamation, skin roughness, subject self assessment of skin and investigator evaluation. Results indicated that clinical observation ratings by patients and investigators, as well as instrument measures, show differences between the two treatments. Most measures show that improvement is achieved in less time with 40% urea cream than with 12% ammonium lactate lotion. On day 14, the 40% urea cream was superior to the 12% ammonium lactate lotion as measured by skin roughness, fissure reduction, thickness and dryness.
Discussion: At day 14 of treatment, 40% urea cream was superior to 12% ammonium lactate for most of the instrumental and clinical assessments.
Access options
Buy single article
Instant access to the full article PDF.
USD 49.95
Price excludes VAT (USA)
Tax calculation will be finalised during checkout.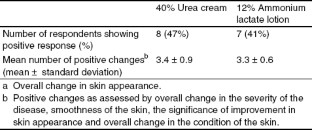 References
Gisold E.M., Hneyon G., Grossman R.M. A clinical evaluation of Urexine® moisturizer creams in the treatment of xerosis. Cosmet Dermatol 1988 Dec; 5: 19–24

Hashimoto-Kumasaka K., Takahashi K., Tagami H. Electrical measurement of the water content of the stratum corneum in vivo and in vitro under various conditions: comparison between skin surface hygrometer and corneometer in evaluation of the skin surface hydration state. Acta Derma Venereol 1993; 73: 335–9

Nilsson G.E. Measurement of water exchange through skin. Med Biol Eng Comput 1977; 15: 209–18

Schatz H., Kligman A.M., Manning S., et al. Quantification of dry (xerotic) skin by image analysis of scales removed by adhesive discs (D-Squames). J Soc Cosmet Chem 1993; 44: 53–63

Miller D.K. Sticky slides and tape techniques to harvest stratum corneum material. In: Serup J., Jemec G.B.E., editors. Handbook of non-invasive methods and the skin. Boca Raton (FL): CRC Press Inc., 1995: 149–51

Hoppe U., Lundenstaff R., Sauetmans G. Quantitative Analyse der Hautoberflache mit Hitte der digitulen Signalrerarbeitung. Arztl Kosmetol 1986; 16: 13

Articus K., Khazaka G., Wilhelm K.-P. The skin visiometer: a photometric device for the measurement of skin roughness. In: Wilhelm K.-P., Berardesca E., Elsner P., et al., editors. Bioengineering of the skin: skin surface imaging and analysis. Boca Raton (FL): CRC Press Inc., 1997: 59–72

Distante F., Berardesca E. Hydration. In: Berardesca E., Elsner P., Wilheml K.-P., et al., editors. Bioengineering of the skin: methods and instrumentation. Boca Raton (FL): CRC Press Inc., 1997: 5–12
Additional information
1 The use of tradenames is for product identification purposes only and does not imply endorsement.
About this article
Cite this article
Ademola, J., Frazier, C., Kim, S.J. et al. Clinical Evaluation of 40% Urea and 12% Ammonium Lactate in the Treatment of Xerosis. Am J Clin Dermatol 3, 217–222 (2002). https://doi.org/10.2165/00128071-200203030-00007
Published:

Issue Date:

DOI: https://doi.org/10.2165/00128071-200203030-00007
Keywords
Stratum Corneum

Plantar Surface

Skin Hydration

Carbomer

Ammonium Lactate