Abstract
Drug-induced pigmentation represents 10 to 20% of all cases of acquired hyperpigmentation and this hypothesis must be systematically raised in unexplained pigmented lesions especially in elderly people. The pathogenesis of drug-induced pigmentation is variable according to the causative medication and can involve an accumulation of melanin, sometimes following a nonspecific cutaneous inflammation and often worsened by sun exposure, an accumulation of the triggering drug itself, a synthesis of special pigments under the direct influence of the drug or deposits of iron following damage to the dermal vessels.
The influence of sun exposure is usually obvious in most cases, either by sun-induced melanin synthesis stimulation with formation of complexes between melanin and the causative drug or by transformation of the drug in visible particles usually taken up by dermal macrophages under the influence of sunlight.
The main drugs implicated in causing skin pigmentation are nonsteroidal anti-inflammatory drugs, antimalarials, amiodarone, cytotoxic drugs, tetracyclines, heavy metals and psychotropic drugs. Clinical features are very variable according to the triggering molecule, with a large range of patterns and shades which are sometimes more or less reminiscent of the culprit drug. Histological findings are very variable as well but the colored particles are often concentrated within dermal macrophages which are sometimes localized in a distinctive fashion with respect to dermal structures such as vessels or adnexes. Treatment is often limited to sun-avoidance or interruption of treatment with the offending drug but laser therapy recently gave rise to hope of a cure in some cases. These measures are often followed by a fading of the lesions but the pigmentation may last for a long time or may even become permanent in a small percentage of patients.
Access options
Buy single article
Instant access to the full article PDF.
USD 49.95
Price includes VAT (USA)
Tax calculation will be finalised during checkout.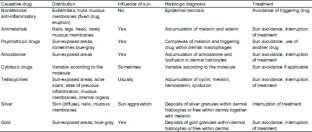 References
1.

Levantine A., Almeyda J. Drug induced changes in pigmentation. Br J Dermatol 1973; 89: 105–112

2.

Granstein R.D., Sober A.J. Drug- and heavy-metal-induced hyperpigmentation. J Am Acad Dermatol 1981; 5: 1–18

3.

Fitzpatrick J.E. New histopathologic findings in drug eruptions. Dermatol Clin 1992; 10: 19–36

4.

Zurcher K., Krebs A. Cutaneous drug reactions. Basel, Karger, 1992

5.

Dubois E.L. Antimalarials in the management of discoid and systemic lupus erythematosus. Semin Arthritis Rheum 1978; 8: 33–51

6.

Koranda F.C. Antimalarials. J Am Acad Dermatol 1981; 4: 650–655

7.

Bailin P.L., Matkaluk R.M. Cutaneous reactions to rheumatological drugs. Clin Rheum Dis 1982; 8: 493–516

8.

Ribrioux A. Synthetic antimalarials and skin. Ann Dermatol Venereol 1990; 117: 975–990

9.

Delage C., Lagace R., Huard J. Pseudocyanotic pigmentation of the skin induced by amiodarone: a light and electron microscopic study. Can Med Assoc J 1975; 112: 1205–1208

10.

Susser W.S., Whitaker-Worth D.L., Grant-Kels J.M. Mucocutaneous reactions to chemotherapy. J Am Acad Dermatol 1999; 40; 367–398

11.

Bronner A., Hood A. Cutaneous complications of chemotherapeutic agents. J Am Acad Dermatol 1983; 9: 645–663

12.

Harrison B., Wood C. Cyclophosphamide and pigmentation. BMJ 1972; 1: 352

13.

Pratt C.B., Shanks E.C. Hyperpigmentation of nails from doxorubicin. JAMA 1974; 228: 460

14.

Werner Y., Thornberg B. Cutaneous side effects of bleomycin therapy. Acta Derm Venereol 1976; 56: 155–158

15.

Hrushesky W. Unusual pigmentary changes associated with 5-fluorouracil therapy. Cutis 1980; 26: 181–182

16.

Guillet G., Guillet M., DeMeaux H., et al. Cutaneous pigmented stripes and bleomycin treatment. Arch Dermatol 1986; 122: 381–382

17.

Kumar L., Kochipillai V. Mitoxantrone induced hyperpigmentation. N Z Med J 1990; 103: 55

18.

Llistosella E., Codina A., Alvarez R., et al. Tegafur-induced acral hyperpigmentation. Cutis 1991; 48: 205–207

19.

Perlin E., Ahlgren J. Pigmentary effects from the protracted infusion of 5-fluorouracil. Int J Dermatol 1991; 30: 43–44

20.

Hendrix J., Greer K. Cutaneous hyperpigmentation caused by systemic drugs. Int J Dermatol 1992; 31: 458–466

21.

Konohama A. Blue-gray pigmentation in a patient receiving doxorubicin. J Dermatol 1992; 19: 250–252

22.

Gropper C., Don P., Sadjadi M. Nail and skin hyperpigmentation associated with hydroxyurea therapy for polycythemia vera. Int J Dermatol 1993; 32: 731–733

23.

Yule S., Pearson A., Craft A. Ifosfamide-induced hyperpigmentation. Cancer 1994; 73: 240–241

24.

Allen B., Parker D., Wright A. Reticulate pigmentation due to 5-fluorouracil. Int J Dermatol 1995; 34: 219–220

25.

Baselga E., Drolet B., Casper J., et al. Chemotherapy-associated supravenous hyperpigmentation. Dermatology 1996; 192: 384–385

26.

Kwong Y. Hydroxyurea-induced nail pigmentation. J Am Acad Dermatol 1996; 35: 275–276

27.

Borecky D., Stephenson J., Keeling J., et al. Idarubicin-induced pigmentary changes of the nail. Cutis 1997; 59: 203–204

28.

McGrae J.D., Zelickson A.S. Skin pigmentation secondary to minocycline therapy. Arch Dermatol 1980; 116: 1262–1265

29.

Simons J.J., Morales A. Minocycline and generalized cutaneous pigmentation. J Am Acad Dermatol 1980; 3: 244–247

30.

Patel K., Cheshire D., Vance A. Oral and systemic effects of prolonged minocycline therapy. Br Dent J 1998; 26; 185: 560–562

31.

Eisen D., Hakim M.D. Minocycline-induced pigmentation. Incidence, prevention and management. Drug Saf 1998; 18: 431–440

32.

Fraunfelder F.T., Randall J.A. Minocycline-induced scleral pigmentation. Ophthalmology 1997; 104: 936–938

33.

Pepine M., Flowers F.P., Ramos-Caro F.A. Extensive cutaneous hyperpigmentation caused by minocycline. J Am Acad Dermatol 1993; 28: 292–295

34.

Noble J.G., Christmas T.J., Chapple C., et al. The black thyroid: an unusual finding during neck exploration. Postgrad Med J 1989; 65: 34–35

35.

Beurey J., Weber M., Jeandel C., et al. Argyria. Therapie 1986; 41: 505–510

36.

Bleehen S.S., Gould D.J., Harrington C.I., et al. Occupational argyria: light and electron microscopic studies and x-ray microanalysis. Br J Dermatol 1981; 104: 19–26

37.

White M.I. Localized argyria caused by silver earrings. Br J Dermatol 1997; 136: 980

38.

Suzuki H., Baba S., Uchigasaki S., et al. Localized argyria with chrysiasis caused by implanted acupuncture needles: distribution and chemical forms of silver and gold in cutaneous tissue by electron microscopy and x-ray microanalysis. J Am Acad Dermatol 1993; 29: 833–837

39.

Legat F.J., Goessler W., Schlagenhaufen C., et al. Argyria after short-contact acupuncture. Lancet 1998; 352: 241

40.

Massi D., Santucci M. Human generalized argyria: a submicroscopic and x-ray spectroscopic study. Ultrastruct Pathol 1998; 22: 47–53

41.

Smith R.W., Leppard B., Barnett N.L., et al. Chrysiasis revisited: a clinical and pathological study. Br J Dermatol 1995; 131: 671–678

42.

Cremer B., Czarnetzki B.M. Skin discolorations under gold jewelry. Dtsch Med Wochenschr 1992; 117: 558

43.

Trotter M.J., Tron V.A., Hollingdale J., et al. Localized chrysiasis induced by laser therapy. Arch Dermatol 1995; 131: 1411–1414

44.

al-Talib R.K., Wright D.H., Theaker J.M. Orange-red birefringence of gold particles in paraffin wax embedded sections: an aid to the diagnosis of chrysiasis. Histopathology 1994; 24: 176–178

45.

Culora G.A., Barnett N., Theaker J.M. Artefacts in electron microscopy: ultrastructural features of chrysiasis. J Pathol 1995; 176: 421–425

46.

Wolf M.E., Richer S., Berk M.A., et al. Cutaneous and ocular changes associated with the use of chlorpromazine. Int J Clin Pharmacol Ther Toxicol 1993; 31: 365–367

47.

Mars U., Larsson B.S. Pheomelanin as a binding site for drugs and chemicals. Pigment Cell Res 1999; 12: 266–274

48.

Carter R.J., Shuster S. Melanocyte-stimulating hormone-mimetic action of the phenothiazines. J Pharm Pharmacol 1978; 30: 233–235

49.

Buckley C., Thomas V., Lewin J., et al. Stelazine-induced pigmentation. Clin Exp Dermatol 1994; 19: 149–151

50.

Bloom D., Krishnan B., Thavundayil J.X., et al. Resolution of chlorpromazine-induced cutaneous pigmentation following substitution with levomepromazine or other neuroleptics. Acta Psychiatr Scand 1993; 87: 223–224

51.

Lal S., Bloom D., Silver B., et al. Replacement of chlorpromazine with other neuroleptics: effect on abnormal skin pigmentation and ocular changes. J Psychiatry Neurosci 1993; 18: 173–177

52.

O'Croinin F., Zibin T. Re: Replacement of chlorpromazine with other neuroleptics: effect on abnormal skin pigmentation and ocular changes. J Psychiatry Neurosci 1994; 19: 226

53.

Hare P.J. 'Visage rouge' from imipramine. Br J Dermatol 1970; 83: 420

54.

Sicari M.C., Lebwohl M., Baral J., et al. Photoinduced dermal pigmentation in patients taking tricyclic antidepressants: histology, electron microscopy, and energy dispersive spectroscopy. J Am Acad Dermatol 1999; 40: 290–293

55.

Narurkar V., Smoller B.R., Hu C.H., et al. Desipramine-induced blue-gray photosensitive pigmentation. Arch Dermatol 1993; 129: 474–476

56.

Atkin D.H., Fitzpatrick R.E. Laser treatment of imipramine-induced hyperpigmentation. J Am Acad Dermatol 2000; 43: 77–80

57.

Karat A.B.A., Jeevaratnam A., Karat S., et al. Controlled clinical trial of clofazimine in untreated lepromatous leprosy. BMJ 1971; iv: 514–516

58.

Holdiness M.R. A review of the Redman syndrome and rifampicin overdosage. Med Toxicol Adverse Drug Exp 1989; 4: 444–451

59.

Greenberg R.G., Berger T.G. Nail and mucocutaneous hyperpigmentation with azidothymidine therapy. J Am Acad Dermatol 1990; 22: 327–330

60.

Gallais V., Lacour J.P., Perrin C., et al. Acral hyperpigmented macules and longitudinal melanonychia in AIDS patients. Br J Dermatol 1992; 126: 387–391

61.

Gallais V., Lacour J.P., Ortonne J.P. Cutaneous pigmentation disorders in human immunodeficiency virus infection. Ann Dermatol Venereol 1992; 119: 471–478

62.

Lascari A.D. Carotemia. Clin Pediatr (Bologna) 1981; 20: 25–29

63.

Hammer C.J., Melasma induced by oral contraceptive drugs. N W Med Seattle 1968; 67: 251–254

64.

Baker H. Adverse cutaneous reactions to oral contraceptives. Br J Dermatol 1969; 81: 946–949
About this article
Cite this article
Dereure, O. Drug-Induced Skin Pigmentation. Am J Clin Dermatol 2, 253–262 (2001). https://doi.org/10.2165/00128071-200102040-00006
Keywords
Amiodarone

Clofazimine

Pigment Lesion

Pigmentary Change

Gold Sodium Thiomalate