Abstract
Vitiligo is an acquired skin disorder caused by the disappearance of pigment cells from the epidermis that gives rise to well defined white patches which are often symmetrically distributed. The lack of melanin pigment makes the lesional skin more sensitive to sunburn.
Vitiligo can be cosmetically disfiguring and it is a stigmatizing condition, leading to serious psychologic problems in daily life. It occurs worldwide in about 0.5% of the population and it occurs as frequently in males as it does in females. The cause is unknown, but might involve genetic factors, autoimmunity, neurologic factors, toxic metabolites, and lack of melanocyte growth factors. Since a causative (gene) treatment is not (yet) available, current modalities are directed towards stopping progression and to achieving repigmentation in order to repair the morphology and functional deficiencies of the depigmented skin areas.
Many treatments have been used for some time; however; there are some new developments: narrowband ultraviolet (UV) B (311nm) therapy, the combination of corticosteroid cream + UVA therapy, and the transplantation of autologous pigment cells in various modalities. In widespread vitiligo, residual pigment can be removed by depigmentation agents. Sunscreens, camouflage products, and good guidance may help the patient cope better with the disease.
Access options
Buy single article
Instant access to the full article PDF.
US$ 49.95
Tax calculation will be finalised during checkout.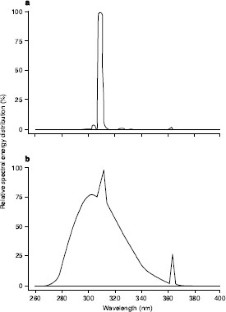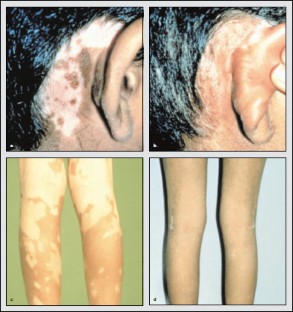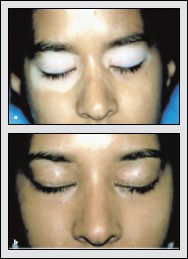 References
1.

Lerner A. Vitiligo. J Invest Dermatol 1959; 32: 285–310

2.

Bhatia P.S., Mohan L., Pandley N., et al. Genetic nature of vitiligo. J Dermatol Sci 1992; 4: 180–184

3.

Schallreuter K.U., Lemke R., Brandt O., et al. Vitiligo and other diseases: coexistence or true association? Hamburg study on 321 patients. Dermatology 1994; 188: 269–275

4.

Kim S.M., Chung H.S., Hann S.K. The genetics of vitiligo in Korean patients. Int J Dermatol 1998; 38: 908–910

5.

Mohr J. Vitiligo in a pair of monoovular twins. Acta Genet Stat Med 2: 1951; 252–255

6.

Siemens H.W. Die zwillingspathologie der Vitiligo. Acta Genet Med Gemellol (Roma) 1953; 2: 118–124

7.

Butterworth T., Strean L.P. Clinical genodermatology. Baltimore, MD: Williams and Wilkins, 1962: 4–6

8.

Lerner A.B.. Vitiligo. In: Dennis R.L., Dobson J., McGuire I. Clinical dermatology. Hagerstown: Harper and Row, 1977. Vol. 2

9.

Salamon T., Hadziselimovic R., Hallepovic E. Zur Frage der Erblichkeit der Vitiligo. Hautarzt 1989; 40: 141–145

10.

Majumder P.P., Das D.K., Li C.C. A genetic model for vitligo. Am J Hum Gen 1988; 43: 119–125

11.

Nath S.K., Majumder P.P., Nordlund J.J. Genetic epidemiology of vitiligo: multilocus recessivity crossvalidated. Am J Hum Genet 1994; 55: 981–990

12.

Majumder P.P., Nordlund J.J., Nath S.K. Pattern of familial aggregation of vitiligo. Arch Dermatol 1993; 129: 994–998

13.

Hafez M., Sharaf L., El-Nabi S.M.A. The genetics of vitiligo. Acta Dermatol Venereol (Stockh) 1983; 63: 249–251

14.

Ando I., Chi H.I., Nakagawa H., et al. Difference in clinical features and HLA antigens between familial and non-familial vitiligo of non-segmental type. Br J Dermatol 1993; 129: 408–410

15.

Gunther V.W., Richter K.V. Haufigkeitsverteilung von Histokompatibilitatsantigenen (HLA) bei dermatologischen Erkrankungen. Dermatol Monatsschr 1975; 161: 402–404

16.

Retornaz G., Betuel H., Ortonne J.P., et al. HLA antigens and vitiligo. Br J Dermatol 1976; 95: 173–175

17.

Foley L.M., Lowe N.J., Misheloff E., et al. Association of HLA-DR4 with vitiligo. J Am Acad Dermatol 1983; 8: 39–40

18.

Metzker A., Zamir R., Gazit E., et al. Vitiligo and the HLA system. Dermatologica 1980; 160: 100–105

19.

Venneker G.T., de Waal L.P., Westerhof W., et al. HLA associations in vitiligo patients in the Dutch population. Dis Markers 1993; 11: 187–190

20.

Orecchia G., Perfetti L., Malagoli P., et al. Vitiligo is associated with a significant increase in HLA A30, CW6, DQW3 and a decrease in C4AQO in Northern Italian patients. Dermatology 1992; 185: 123–127

21.

Lorini R., Orecchia G., Martinetti M., et al. Autoimmunity in vitiligo: Relationship with HLA, Gm and Km polymorphisms. Autoimmunity 1992; 11: 255–260

22.

Schallreuter K.U., Levenig C., Kuhnl P., et al. Histocompatibility antigens in vitiligo: Hamburg study on 102 patients from northern Germany. Dermatology 1993; 187: 186–192

23.

Bystryn J.C. Serum antibodies in vitiligo patients. Clin Dermatol 1988; 7: 136–145

24.

Grimes P.E., Halder R., Jones C., et al. Autoantibodies and their clinical significance in a black vitiligo population. Arch Dermatol 1983; 119: 300–303

25.

Betterle C., Caretto A., De Zio A., et al. Incidence and significance of organ-specific auto-immune disorders (clinical, latent or only autoantibodies) in patients with vitiligo. Dermatologica 1985; 171: 419–423

26.

Cui J., Arita Y., Bystryn J.C. Cytolytic antibodies to melanocytes in vitiligo. J Invest Dermatol 1993; 100: 812–815

27.

Cui J., Arita Y., Bystryn J.C. Characterization of vitiligo antigens. Pigment Cell Res 1995; 8: 53–59

28.

Naughton G.K., Reggiardo M.D., Bystryn J.C. Correlation between vitiligo antibodies and extent of depigmentation in vitiligo. J Am Acad Dermatol 1986; 15: 978–981

29.

Harning R., Cui J., Bystryn J.C. Relationship between the incidence and level of pigment cell antibodies and disease activity in vitiligo. J Invest Dermatol 1991; 97: 1078–1080

30.

Song Y.H., Connor E., Li Y., et al. The role of tyrosinase in autoimmune vitiligo. Lancet 1994; 344: 1049–1052

31.

Baharav E., Merimski O., Shoenfeld Y., et al. Tyrosinase as an autoantigen in patients with vitiligo. Clin Exp Immunol 1996; 105: 84–88

32.

Kemp E.H., Gawkrodger D.J., MacNeil S., et al. Detection of tyrosinase autoantibodies in patients with vitiligo using 35S-labeled recombinant human tyrosinase in a radioimmunoassay. J Invest Dermatol 1997; 109: 69–73

33.

Kemp E.H., Gawkrodger D.J., Watson P.F., et al. Immunoprecipitation of melanogenic enzyme autoantigens with vitiligo sera: evidence for cross-reactive autoantibodies to tyrosinase and tyrosinase related protein-2 (TRP-2). Clin Exp Immunol 1997; 109: 495–500

34.

Kemp E.H., Waterman E.A., Gawkrodger D.J., et al. Autoantibodies to tyrosinase-related protein-1 detected in the sera of vitiligo patients using a quantitative radiobinding assay. Br J Dermatol 1998; 139: 798–805

35.

Xie Z., Chen D., Jiao D., et al. Vitiligo antibodies are not directed to tyrosinase. Arch Dermatol 1999; 135: 417–422

36.

Al Badri A.M.T., Foulis A.K., Todd P.M., et al. Abnormal expression of MHC class II and ICAM-1 by melanocytes in vitiligo. J Pathol 1993; 169: 203–206

37.

Al Badri A.M.T., Todd P.M., Garioch J.J., et al. An immunohistochemical study of cutaneous lymphocytes in vitiligo. J Pathol 1993; 170: 149–155

38.

Le Poole C.I., van den Wijngaard R.M.J.G.J., Westerhof W., et al. Presence of T cells and macrophages in inflammatory vitiligo skin parallels melanocyte disappearence. Am J Pathol 1996; 148: 1219–1228

39.

Ogg G.S., Dunbar P.R., Romero P., et al. High frequency of skin-homing melanocyte specific cytotoxic T lymphocytes in autoimmune vitiligo. J Exp Med 1998; 188: 1203–1208

40.

Soubiran P., Benzaken S., Bellet C., et al. Vitiligo peripheral T-subset imbalance as defined by monoclonal antibodies. Br J Dermatol 1985; 113: 124–127

41.

Grimes P.E., Ghoneum M., Stockton T., et al. T-cell profile in vitiligo. J Am Acad Dermatol 1986; 14: 196–201

42.

Halder R.M., Walters C.S., Johnson B.A., et al. Aberrations in T lymphocytes and natural killer cells in vitiligo: a flow cytometric study. J Am Acad Dermatol 1986; 14: 733–737

43.

d'Amelio R, Frati C., Fattorossi A., et al. Peripheral T-cell subset imbalance in patients with vitiligo and in their apparently healthy first degree relatives. Ann Allerg 1990; 65: 143–145

44.

Mozzanica N., Frigerio U., Finzi A.F., et al. T cell subpopulations in vitiligo: a chronobiologic study. J Am Acad Dermatol 1990; 22: 223–230

45.

Baumer F.E., Frisch W., Milbradt R., et al. Erhohte Expression des OKM5-Antigens auf Blutmonozyten bei Vitiligo. Z Hautkr 1990; 65: 914–919

46.

Abdel Naser M.B., Ludwig W.D. Nonsegmental vitiligo: decrease of the CD45RA+ T-cell subset and evidence for peripheral T-cell activation. Int J Dermatol 1992; 31: 321–326

47.

Mahmoud F., Abul H., Al Saleh Q., et al. Peripheral T-cell activation in non-segmental vitiligo. J Dermatol 1998; 25: 637–640

48.

Orecchia G. Trivino M. Increased natural killer cells in the active phase of vitiligo. Ann Ital Derm Clin Sper 1999; 53: 1–4

49.

Nordlund J.J. The significance of depigmentation. Pigment Cell Res 1992; 2 Suppl.: 237–241

50.

Koga M., Tango T. Clinical features and course of type A and type B vitiligo Br J Dermatol 1988; 118: 223–228

51.

Westerhof W., Bolhaar B., Menke H.E., et al. Resultaten van een enquête onder vitiligo patienten. Ned Tijdschr Dermatol Venereol 1996; 6: 100–105

52.

Lerner A.B., Snell R.S., Chanco-Turner M.L., et al. Vitiligo and sympathectomy. The effect of sympathectomy and alpha-melanocyte stimulating hormone. Arch Dermatol 1966; 94: 269–278

53.

Nelhaus G. Acquired unilateral vitiligo and poliosis of the head and subacute encephalitis with partial recovery. Neurology 1970; 20: 965–974

54.

Arnozan L. Vitiligo avec troubles nerveux sensitifs et sympathetiques: l'origine sympathethique du vitiligo. Bull Soc Fr Dermatol Syphiligr 1992; 29: 338–342

55.

Breatnach A.S., Bor S., Wyllie L.M.A. Electron microscopy of peripheral nerve terminals and marginal melanocytes in vitiligo. J Invest Dermatol 1966; 47: 125–140

56.

Al'Abadie M., Warren M.A., Bleehen S.S., et al. Morphologic observations on the dermal nerves in vitiligo: an ultrastructural study. J Invest Dermatol 1995; 34: 837–840

57.

Liu P.Y., Bondesson L., Lontz W., et al. The occurence of cutaneous nerve endings and neuropeptides in vitiligo vulgaris: a case-control study. Arch Dermatol Res 1996; 288: 670–675

58.

Al'Abadie M.S., Senior H.J., Bleehen S.S., et al. Neuropeptide and neuronal marker studies in vitiligo. Br J Dermatol 1994; 131: 160–165

59.

Mozzanica N., Villa M.L., Foppa S., et al. Plasma a-melanocyte-stimulating hormone, ß-endorphin, met-enkephalin, and natural killer cell activity in vitiligo. J Am Acad Dermatol 1992; 26: 693–700

60.

Katsambas A.D., Schulpis K.H., Antoniou Ch., et al. ß-endorphin serum levels in patients with vitiligo. J Eur Acad Dermatol 1994; 3: 22–26

61.

Hara M., Toyoda M., Yaar M. Innervation of melanocytes in human skin. J Exp Med 1996; 184: 1385–1395

62.

Iyengar B., Misra R.S. Neural differentation of melanocytes in vitiliginous skin. Acta Anat (Basel) 1988; 133: 62–65

63.

Iyengar B. Modulation of melanocyte activity by acetylcholine. Acat Anat (Basel) 1989; 136: 139–140

64.

Kaur A., Sarin R.C. Studies of neurotropic influences in vitiligo. Indian J Dermatol 1988; 33: 33–36

65.

Merello M., Nogues M., Leiguarda R., et al. Abnormal sympathetic skin response in patients with autoimmune vitiligo and primary autoimmune hypothyroidism. J Neurol 1993; 240: 72–74

66.

Le Poole I.C., van den Wijngaard R.M.J.G.J., Smit N.P., et al. Catechol-o-methyltransferase in vitiligo. Arch Dermatol Res 1994; 286: 81–86

67.

Morrone A., Picardo M., de Luca C., et al. Catecholamines and vitiligo. Pigment Cell Res 1992; 5: 58–62

68.

Lerner A.B. On the etiology of vitiligo and gray hair. Am J Med 1971; 51: 141–147

69.

Cummings M.P., Nordlund J.J. Chemical leukoderma; fact or fancy. Am J Contact Dermatitis 1995; 6: 122–127

70.

Nordlund J.J., Ortonne J.P. Vitiligo and depigmentation. In: Weston W.L., Mackie R.M., Provost T.T., editors. Current problems in dermatology. Mosby Year Book Inc. St. Louis, 1992: 3–30

71.

Slominski A., Paus A.R., Bomirski A. Hypothesis; possible role for the melatonin receptor in vitiligo [discussion paper]. J Royal Soc Med 1989; 82: 539–541

72.

Schallreuter K.U., Wood J.M., Ziegler I., et al. Defective tetrahydrobiopterin and catecholamine biosynthesis in the depigmentation disorder vitiligo. Biochem Biophys Acta 1994; 1226: 181–192

73.

Schallreuter K.U., Wood J.M., Berger J. Low catalase levels in the epidermis of patients with vitiligo. J Invest Dermatol 1991; 97: 1081–1085

74.

Schallreuter K.U., Wood J.M., Lemke K.R., et al. Treatment of vitiligo with a topical application of pseudocatalase and calcium in combination with short-term UVB exposure: a case on 33 patients. Dermatology 1995; 190: 223–229

75.

Maresca V., Roccella M., Roccella F., et al. Increased sensitivity to peroxidative agents as possible pathogenetic factor of melanocyte damage in vitiligo. J Invest Dermatol 1997; 109: 310–313

76.

Passi S., Grandinetti M., Maggio F., et al. Epidermal oxidative stress in vitiligo. Pigment Cell Res 1998; 11: 81–85

77.

Puri N., Majumder M., Ramaiah A. In vitro growth characteristics of melanocytes obtained from adult normal and vitiligo subjects. J Invest Dermatol 1987; 88: 434–438

78.

Ramaiah A., Puri N., Majumder M. Etiology of vitiligo. A new hypothesis. Acta Derm Venereol (Stockh) 1989; 69: 323–367

79.

Le Poole I.C., Das P.K., van den Wijngaard R.M., et al. Review of the etiopathomechanism of vitiligo: a convergence theory. Exp Dermatol 1993; 2: 145–153

80.

Westerhof W., Nieuweboer-Krobotova L. Treatment of vitiligo with narrowband UV-B versus topical psoralen plus UV-A. Arch Dermatol 1997; 133: 1525–1528

81.

Njoo M.D., Bos J.D., Westerhof W. Treatment of generalized vitiligo in children with narrowband (TL-01) UV-B radiation therapy. J Am Acad Dermatol 2000; 42: 245–253

82.

British Photodermatology Group An appraisal of narrowband (TL-01) UV-B phototherapy. British Photodermatology Group Workshop Report (April 1996). Br J Dermatol 1997; 137: 327–330

83.

Grimes P.E. Psoralen photochemotherapy for vitiligo. Clin Dermatol 1997; 15: 921–926

84.

Drake L.A., Ceilley R.I., Dorner W., et al. Guidelines of care for phototherapy and photochemotherapy. J Am Acad Dermatol 1994; 31: 643–653

85.

Gupta A.K., Anderson T.F. Psoralen photochemotherapy. J Am Acad Dermatol 1987; 17: 703–734

86.

Ortonne J.P., MacDonald D.M., Micoud A., et al. PUVA-induced repigmentation of vitiligo: a histochemical (split-DOPA) and ultrastructural study. Br J Dermatol 1979; 101: 1–12

87.

Ortonne J.P., Shmitt D., Thivolet J. PUVA-induced repigmentation of vitiligo: scanning elctron microscopy of hair follicles. J Invest Dermatol 1980; 74: 40–42.

88.

Cui J., Wang G.C. Role of hair follicles in the repigmentation of vitiligo. J Invest Dermatol 1991; 97: 410–416

89.

Horikawa T., Norris D.A., Johnson T.W., et al. DOPA-negative melanocytes in the outer root sheath of human hair follicles express premelanosomal antigens but not a melanosomal antigen or the melanosome associated glycoproteins tyrosinase TRP-1 and TRP-2. J Invest Dermatol 1996; 106: 28–35

90.

Norris D.A., Horikawa T., Morelli J.G. Melanocyte destruction and repopulation in vitiligo. Pigment Cell Res 1994; 7: 193–203

91.

Abdel Naser M.B., Hann S.K., Bystryn J.C. Oral psoralen with UV-A therapy releases circulating growth factors that stimulate cell proliferation. Arch Dermatol 1997; 133: 1530–1533

92.

Kao C., Yu H. Comparison of the effect of 8-methoxypsoralen (8-MOP) plus UVA (PUVA) on human melanocytes in vitiligo vulgaris and in vitro. J Invest Dermatol 1992; 98: 734–740

93.

Hann S.K., Shin H.K., Song M.S., et al. The effect of systemic PUVA on the proliferation of melanocytes and the titer of anti-pigment cell autoantibodies in patients with vitiligo. Korean J Dermatol 1997; 35: 57–70

94.

Köster W., Wiskemann A. Phototherapy with UV-B in vitiligo. Zeitschr Hautkrank 1990; 65: 1022–1024

95.

Njoo M.D., Bossuyt P.M.M., Westerhof W. Management of vitiligo. Results of a questionnaire among dermatologists in The Netherlands. Int J Dermatol 1999; 38: 866–872

96.

Stern R.S., Lange R., and Members of the Photochemotherapy Follow-up Study. Nonmelanoma skin cancer occuring in patients treated with PUVA five to ten years after first treatment. J Invest Dermatol 1988; 91: 120–124

97.

Stern R.S., Nichols K.T., Vakeva L.H. Malignant melanoma in patients treated for psoriasis with methoxsalen (psoralen) and ultraviolet A radiation (PUVA). N Eng J Med 1997; 336: 1041–1045

98.

Nordlund J.J., Ortonne J.P. Vitiligo vulgaris. In: Nordlund J.J., Boissy R.E., Hearing V.J., et al., editors. The pigmentary system. Physiology and pathophysiology. New York: Oxford University Press, 1998: 513–514

99.

Lindelof B., Hedblad M.A., Sigurgeirsson B. On the association between vitiligo and malignant melanoma. Acta Derm Venereol (Stockh) 1998; 78: 483–484

100.

Buckley D.A., Rogers S. Multiple keratoses and squamous carcinoma after PUVA treatment of vitiligo. Clin Exp Dermatol 1996; 21: 43–45

101.

Takeda H., Mitsuhashi Y., Kondo S. Multiple squamous cell carcinomas in situ in vitiligo after long-term PUVA therapy. J Am Acad Dermatol 1998; 38: 268–270.

102.

British Photodermatology Group British Photodermatology Group guidelines for PUVA. Br J Dermatol 1994; 130: 246–255

103.

Studniberg H.M., Weller P. PUVA, UV-B, psoriasis and nonmelanoma skin cancers. J Am Acad Dermatol 1993; 29: 1013–1022

104.

Koopmans van Dorp B., Goedhart van Dijjk B., Neering H., et al. Treatment of vitiligo by local application of betamethasone 17-valerate in a dimethyl sulfoxide cream base. Dermatologica 1973; 146: 310–314

105.

Bleehen S.S. The treatment of vitiligo with topical corticosteroids. Light and electronmicroscopic studies. Br J Dermatol 1976; 94 Suppl. 12: 43–50

106.

Kumari J. Vitiligo treated with topical clobetasol propionate. Arch Dermatol 1984; 120: 631–635

107.

Kandil E. Treatment of localized vitiligo with intradermal injections of triamcinolonacetonide. Dermatologica 1970; 140: 195–206

108.

Moon T.K., Im S.B., Hann S.K., et al. The effect of small doses of oral corticosteroids in vitiligo patients. Korean J Dermatol 1995; 33: 880–885

109.

Kim S.M., Lee H.S., Hann S.K. The efficacy of low-dose corticosteroids in the treatment of vitiligo. Int J Dermatol 1999; 38: 546–550

110.

Pasricha J.S., Khaitan B.K. Oral mini-pulse therapy with betamethasone in vitiligo patients having extensive or fast-spreading disease. Int J Dermatol 1993; 32: 753–757

111.

Kanwar A.J., Dhar S., Dawn G. Oral minipulse therapy in vitiligo. Dermatologica 1995; 190: 251–252

112.

Xunquan L., Changgeng S., Peiying J., et al. Treatment of localized vitiligo with Ulobetasol cream. Int J Dermatol 1990; 29: 295–297

113.

Hann S.K., Kim H.I., Im S., et al. The change of melanocyte cytotoxicity after systemic steroid treatment in vitiligo patients. J Dermatol Sci 1993; 6: 201–205

114.

Hann S.K., Chen D., Bystryn J.C. Systemic steroids suppress antimelanocyte antibodies in vitiligo. J Cut Med Surg 1997; 14: 193–195

115.

Falabella R., Arrunategui A., Barona M.I., et al. The minigrafting test for vitiligo: detection of stable lesions for melanocyte transplantation. J Am Acad Dermatol 1995; 32: 228–232

116.

Westerhof W., Boersma B. The minigrafting test for vitiligo: detection of stable lesions for melanocyte transplantation. J Am Acad Dermatol 1995; 33: 1061–1062

117.

Boersma B.R., Westerhof W., Bos J.D. Repigmentation in vitiligo vulgaris by autologous minigrafting: results in nineteen patients. J Am Acad Dermatol 1995; 33: 990–995

118.

Njoo M.D., Nieuweboer-Krobotova L., Westerhof W. Repigmentation of leukodermic defects in piebaldism by dermabrasion and thin split-thickness skin grafting in combination with minigrafting. Br J Dermatol 1998: 139; 829–833

119.

Falabella R. Epidermal grafting. An original technique and its application in achromic and granulating areas. Arch Dermatol 1971; 104: 592–600

120.

Lerner A.B., Halaban R., Klaus S.N., et al. Transplantation of human melanocytes. J Invest Dermatol 1987; 89: 219–224

121.

Olsson M.J., Juhlin L. Transplantation of melanocytes in vitiligo. Br J Dermatol 1995; 132: 587–591

122.

Falabella R., Escobar C., Borrero I. Transplantation of in vitro cultured epidermis bearing melanocytes for repigmenting vitiligo. J Am Acad Dermatol 1989; 21: 257–264

123.

Plott R.T., Brysk M.M., Newton R.C., et al. A surgical treatment for vitiligo: Autologous cultured-epithelial grafts. J Dermatol Surg Oncol 1989; 15: 1161–1166.

124.

Gauthier Y., Surleve-Bazeille J.E. Autologous grafting with noncultured melanocytes: a simplified method for treatment of depigmented lesions. J Am Acad Dermatol 1992; 26: 191–194

125.

Olsson M.J., Juhlin L. Leucoderma treated by transplantation of a basal layer enriched suspension. Br J Dermatol 1998; 138: 644–648

126.

Nordlund J.J. Vitiligo. In: Thiers B.H., Dobson R.L., editors. Pathogenesis of skin disease. New York: Churchill Livingstone, 1986: 99–127

127.

Mosher D.B., Parrish J.A., Fitzpatrick T.B. Monobenzylether of hydroquinone. A retrospective study of treatment of 18 vitiligo patients and a review of the literature. Br J Dermatol 1977; 97: 669–679

128.

Njoo M.D., Vodegel R.M., Westerhof W. Depigmentation therapy in vitiligo universalis with 4-methoxyphenol and the Q-switched ruby laser. J Am Acad Dermatol 2000; 42: 760–769

129.

Nordlund J.J., Forget B., Kirkwood J., et al. Dermatitis produced by applications of monobenzone in patients with active vitiligo. Arch Dermatol 1985; 121: 1141–1144

130.

Hedges T.R., Kenyon K.R., Hanninen L.A., et al. Corneal and conjunctival effects of monobenzone in patients with vitiligo. Arch Ophthalmol 1983; 101: 64–68

131.

Snider R.I., Thiers B.H. Exogenous ochronosis. J Am Acad Dermatol 1993; 28: 662–664

132.

Thissen M. Westerhof W. Laser treatment for further depigmentation in vitiligo. Int J Dermatol 1997; 36: 386–388

133.

Westerhof W., Nieuweboer-Krobotova L., Mulder P.G.H., et al. Left-right comparison study of the combination fluticasone propionate and UV-A vs either fluticasone propionate or UV-A alone for the long-term treatment of vitiligo. Arch Dermatol 1999; 135: 1061–1066

134.

Lotti T., Rebora A. Vitiligo therapy: the Ratok terapia. Clinical assessment of focused microphotostimulation treatment by means of the Ratokderm equipment and method during five years (1990–1995). Vitiligo Special 1998

135.

Cao C.M. Melagenine: a Cuban product. A new and effective drug for the treatment of vitiligo. Series of National Reports, Republic of Cuba, Havana, 1986

136.

Souto M.G., Manhaes, Milhomens C.H., et al. Estudo comparativo entre melagenina e placebo no tratamento do vitiligo. An Bras Dermatol Rio de Janeiro 1997; 72: 237–239

137.

Nordlund J.J., Halder R. Melagenina. An analysis of published and other available data. Dermatologica 1990; 181: 1–4

138.

Hann S.K., Im S., Park Y.K., et al. Repigmentation of leukotrichia by epidermal grafting and systemic psoralen plus UVA. Arch Dermatol 1992; 128: 998–999

139.

Na G.Y., Seo S.K., Choi S.K. Single hair grafting for the treatment of vitiligo. J Am Acad Dermatol 1998; 38; 580–584

140.

Njoo M.D., Spuls Ph. I., Bos J.D., t al. Nonsurgical repigmentation therapies in vitiligo. Meta-analysis of the literature. Arch Dermatol 1998; 134: 1532–1540

141.

Njoo M.D., Westerhof W., Bos J.D., et al. A systematic review of autologous transplantation methods in vitiligo. Arch Dermatol 1998; 134: 1543–1549

142.

Njoo M.D., Westerhof W., Bos J.D., et al. The development of guidelines for the treatment of vitiligo. Arch Dermatol 1999; 135: 1514–1521
About this article
Cite this article
Njoo, M.D., Westerhof, W. Vitiligo. Am J Clin Dermatol 2, 167–181 (2001). https://doi.org/10.2165/00128071-200102030-00006
Keywords
Fluticasone Propionate

Vitiligo

Psoralen

PUVA Therapy

Term Adverse Effect