Abstract
There has been a renaissance in recent times in the use of honey, an ancient and traditional wound dressing, for the treatment of wounds, burns, and skin ulcers. In the past decade there have been many reports of case studies, experiments using animal models, and randomized controlled clinical trials that provide a large body of very convincing evidence for its effectiveness, and biomedical research that explains how honey produces such good results.
As a dressing on wounds, honey provides a moist healing environment, rapidly clears infection, deodorizes, and reduces inflammation, edema, and exudation. Also, it increases the rate of healing by stimulation of angiogenesis, granulation, and epithelialization, making skin grafting unnecessary and giving excellent cosmetic results.
Access options
Buy single article
Instant access to the full article PDF.
US$ 49.95
Tax calculation will be finalised during checkout.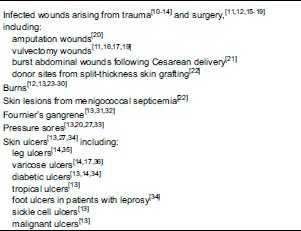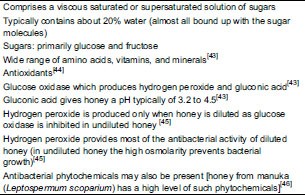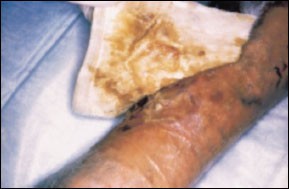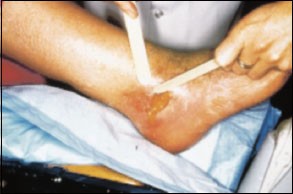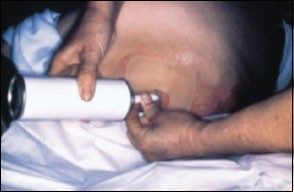 References
1.

Zumla A., Lulat A. Honey — a remedy rediscovered. J R Soc Med 1989; 82: 384–385

2.

Majno G. The healing hand. Man and wound in the ancient world. Cambridge (MA): Harvard University Press, 1975

3.

Forrest R.D. Early history of wound treatment. J R Soc Med 1982; 75: 198–205

4.

Gunther R.T. The Greek herbal of Dioscorides. New York: Hafner, 1934. Reprinted 1959

5.

Ankra-Badu G.A. Sickle cell leg ulcers in Ghana. East Afr Med J 1992; 69 (7): 366–369

6.

Imperato P.J., Traoré D. Traditional beliefs about measles and its treatment among the Bambara of Mali. Trop Geogr Med 1969; 21: 62–67

7.

Soffer A. Chihuahuas and laetrile, chelation therapy, and honey from Boulder, Colorado [editorial]. Arch Intern Med 1976; 136: 865–866

8.

Honey: sweet and dangerous or panacea [editorial]? S Afr Med J 1974; 56: 2300

9.

Condon R.E. Curious interaction of bugs and bees [editorial]. Surgery 1993; 113 (2): 234–235

10.

Green A.E. Wound healing properties of honey. Br J Surg 1988; 75 (12): 1278

11.

McInerney R.J.F. Honey — a remedy rediscovered. J R Soc Med 1990; 83: 127

12.

Ndayisaba G., Bazira L., Habonimana E., et al. Clinical and bacteriological results in wounds treated with honey. J Orthop Surg 1993; 7 (2): 202–204

13.

Efem S.E.E. Clinical observations on the wound healing properties of honey. Br J Surg 1988; 75: 679–681

14.

Wood B., Rademaker M., Molan P.C. Manuka honey, a low cost leg ulcer dressing. N Z Med J 1997; 110: 107

15.

Vardi A., Barzilay Z., Linder N., et al. Local application of honey for treatment of neonatal postoperative wound infection. Acta Paediatr 1998; 87 (4): 429–432

16.

Cavanagh D., Beazley J., Ostapowicz F. Radical operation for carcinoma of the vulva. A new approach to wound healing. J Obstet Gynaecol Br Commonw 1970; 77 (11): 1037–1040

17.

Bulman M.W. Honey as a surgical dressing. Middlesex Hosp J 1955; 55: 188–189

18.

Armon P.J. The use of honey in the treatment of infected wounds. Trop Doct 1980; 10: 91

19.

Bergman A., Yanai J., Weiss J., et al. Acceleration of wound healing by topical application of honey. An animal model. Am J Surg 1983; 145: 374–376

20.

Hutton D.J. Treatment of pressure sores. Nurs Times 1966; 62 (46): 1533–1534

21.

Phuapradit W., Saropala N. Topical application of honey in treatment of abdominal wound disruption. Aust N Z J Obstet Gynaecol 1992; 32 (4): 381–384

22.

Dunford C., Cooper R.A., Molan P.C. Using honey as a dressing for infected skin lesions. Nurs Times 2000; 96 (NTPLUS 14): 7–9

23.

Subrahmanyam M. Topical application of honey in treatment of burns. Br J Surg 1991; 78 (4): 497–498

24.

Subrahmanyam M. Honey impregnated gauze versus polyurethane film (OpSite®) in the treatment of burns — a prospective randomised study. Br J Plast Surg 1993; 46 (4): 322–323

25.

Subrahmanyam M. Honey dressing versus boiled potato peel in the treatment of burns: a prospective randomized study. Burns 1996; 22 (6): 491–493

26.

Burlando F. Sull'azione terapeutica del miele nelle ustioni. Minerva Dermatol 1978; 113: 699–706

27.

Blomfield R. Honey for decubitus ulcers. J Am Med Assoc 1973; 224 (6): 905

28.

Subrahmanyam M. A prospective randomised clinical and histological study of superficial burn wound healing with honey and silver sulfadiazine. Burns 1998; 24 (2): 157–161

29.

Subrahmanyam M. Honey-impregnated gauze versus amniotic membrane in the treatment of burns. Burns 1994; 20 (4): 331–333

30.

Adesunkanmi K., Oyelami O.A. The pattern and outcome of burn injuries at Wesley Guild Hospital, Ilesha, Nigeria: a review of 156 cases. J Trop Med Hyg 1994; 97 (2): 108–112

31.

Efem S.E.E. Recent advances in the management of Fournier's gangrene: preliminary observations. Surgery 1993; 113 (2): 200–204

32.

Hejase M.J., E. S.J., Bihrle R., et al. Genital Fournier's gangrene: experience with 38 patients. Urology 1996; 47 (5): 734–739

33.

Somerfield S.D. Honey and healing. J R Soc Med 1991; 84 (3): 179

34.

Tovey F.I. Honey and healing. J R Soc Med 1991; 84 (7): 447

35.

Harris S. Honey for the treatment of superficial wounds: a case report and review. Primary Intention (Aust J Wound Manage) 1994; 2 (4): 18–23

36.

Bloomfield E. Old remedies. J R Coll Gen Pract 1976; 26: 576

37.

Braniki F.J. Surgery in Western Kenya. Ann R Coll Surg Engl 1981; 63: 348–352

38.

Molan P.C. A brief review of honey as a clinical dressing. Primary Intention (Aust J Wound Manage) 1998; 6 (4): 148–158

39.

Kumar A., Sharma V.K., Singh H.P., et al. Efficacy of some indigenous drugs in tissue repair in buffaloes. Indian Vet J 1993; 70 (1): 42–44

40.

Oryan A., Zaker S.R. Effects of topical application of honey on cutaneous wound healing in rabbits. J Vet Med Ser A 1998; 45 (3): 181–188

41.

Gupta S.K., Singh H., Varshney A.C., et al. Therapeutic efficacy of honey in infected wounds in buffaloes. Indian J Anim Sci 1992; 62 (6): 521–523

42.

Subrahmanyam M. Early tangential excision and skin grafting of moderate burns is superior to honey dressing: a prospective randomised trial. Burns 1999; 25 (8): 729–731

43.

White J.W. Composition of honey. In: Crane E., editor. Honey: a comprehensive survey. London: Heinemann, 1975: 157–206

44.

Frankel S., Robinson G.E., Berenbaum M.R. Antioxidant capacity and correlated characteristics of 14 unifloral honeys. J Apic Res 1998; 37 (1): 27–31

45.

Molan P.C. The antibacterial activity of honey. 1. The nature of the antibacterial activity. Bee World 1992; 73 (1): 5–28

46.

Allen K.L., Molan P.C., Reid G.M. A survey of the antibacterial activity of some New Zealand honeys. J Pharm Pharmacol 1991; 43 (12): 817–822

47.

Chirife J., Herszage L., Joseph A., et al. In vitro study of bacterial growth inhibition in concentrated sugar solutions: microbiological basis for the use of sugar in treating infected wounds. Antimicrob Agents Chemother 1983; 23 (5): 766–773

48.

Kaufman T., Levin M., Hurwitz D.J. The effect of topical hyperalimentation on wound healing rate and granulation tissue formation of experimental deep second degree burns in guinea-pigs. Burns 1984; 10 (4): 252–256

49.

Bose B. Honey or sugar in treatment of infected wounds? Lancet 1982 Apr; I (24): 963

50.

Keast-Butler J. Honey for necrotic malignant breast ulcers. Lancet 1980 Oct; II (11): 809

51.

Mossel D.A.A. Honey for necrotic breast ulcers. Lancet 1980 Nov; II (15): 1091

52.

Molan P.C. The antibacterial activity of honey. 2. Variation in the potency of the antibacterial activity. Bee World 1992; 73 (2): 59–76

53.

Willix D.J., Molan P.C., Harfoot C.J. A comparison of the sensitivity of wound-infecting species of bacteria to the antibacterial activity of manuka honey and other honey. J Appl Bacteriol 1992; 73: 388–394

54.

Cooper R.A., Molan P.C., Harding K.G. Antibacterial activity of honey against strains of Staphylococcus aureus from infected wounds. J R Soc Med 1999; 92: 283–285

55.

Cooper R.A., Molan P.C. The use of honey as an antiseptic in managing Pseudomonas infection. J Wound Care 1999; 8 (4): 161–164

56.

Abuharfeil N., Al-Oran R., Abo-Shehada M. The effect of bee honey on the proliferative activity of human B- and T-lymphocytes and the activity of phagocytes. Food Agric Immunol 1999; 11: 169–177

57.

Van Wart H.E., Birkedal-Hansen H. The cystein switch: a principle of regulation of metalloproteinase activity with potential applicability to the entire matrix metalloproteinase gene family. Proc Nat Acad Sci U S A 1990; 87 (14): 5578–5582

58.

Flohé L, Beckmann R., Giertz H., et al. Oxygen-centred free radicals as mediators of inflammation. In: Sies H., editor. Oxidative stress. London, Orlando: Academic Press, 1985: 403–435

59.

Kaufman T., Eichenlaub E.H., Angel M.F., et al. Topical acidification promotes healing of experimental deep partial thickness skin burns: a randomised double-blind preliminary study. Burns 1985; 12: 84–90

60.

Kaufman T., Neuman R.A., Weinberg A. Is postburn dermal ischaemia enhanced by oxygen free radicals? Burns 1989; 15 (5): 291–294

61.

Tanaka H., Hanumadass M., Matsuda H., et al. Hemodynamic effects of delayed initiation of antioxidant therapy (beginning two hours after burn) in extensive third-degree burns. J Burn Care Rehabil 1995; 16 (6): 610–615

62.

Murrell G.A.C., Francis M.J.O., Bromley L. Modulation of fibroblast proliferation by oxygen free radicals. Biochem J 1990; 265: 659–665

63.

Tur E., Bolton L., Constantine B.E. Topical hydrogen peroxide treatment of ischemic ulcers in the guinea pig: blood recruitment in multiple skin sites. J Am Acad Dermatol 1995; 33 (2 Pt 1): 217–221

64.

Chung L.Y., Schmidt R.J., Andrews A.M., et al. A study of hydrogen peroxide generation by, and antioxidant activity of, Granuflex? (DuoDERM?) Hydrocolloid Granules and some other hydrogel/hydrocolloid wound management materials. Br J Dermatol 1993; 129 (2): 145–153

65.

Postmes T., Vandeputte J. Recombinant growth factors or honey? Burns 1999; 25 (7): 676–678

66.

Aristotle. Historia animalium. In: Smith J.A., Ross W.D., editors. The works of Aristotle (350 BC). Vol IV. Oxford, UK: Oxford University, 1910

67.

Molan P.C., Allen K.L. The effect of gamma-irradiation on the antibacterial activity of honey. J Pharm Pharmacol 1996; 48: 1206–1209

68.

Postmes T., van den Bogaard A.E., Hazen M. The sterilization of honey with cobalt 60 gamma radiation: a study of honey spiked with Clostridium botulinum and Bacillus subtilis. Experentia (Basel) 1995; 51: 986–989
Acknowledgements
The advice of Julie Betts, Wound Resource Nurse, Community Health, Health Waikato Ltd., New Zealand, and Val Robson, Clinical Nurse Specialist Leg Ulcer Care, University Hospital Aintree, Liverpool, England, on the practical aspects of the clinical usage of honey is gratefully acknowledged. Photographs were provided by Julie Betts.
About this article
Cite this article
Molan, P.C. Potential of Honey in the Treatment of Wounds and Burns. Am J Clin Dermatol 2, 13–19 (2001). https://doi.org/10.2165/00128071-200102010-00003
Keywords
Amniotic Membrane

Fusidic Acid

Clostridium Botulinum

Rapid Healing

Manuka Honey