Abstract
Background & Objective
In France, non-homeopathic general practitioners (GPs) often use antibacterials to treat children with recurrent acute viral rhinopharyngitis; whereas homeopathic GPs tend to use homeopathic medicines. We compared the effectiveness, the quality of life of the parents, and the direct and indirect costs associated with treatment from homeopathic and non-homeopathic GPs.
Method
We assessed the direct (consultations, medicines, further tests) and indirect (time off work) costs of the two types of treatment to society, the patient, and social security. We also assessed the effectiveness of the treatment received and the quality of life of the parents.
Results
Of the 499 children included, 231 were treated by 62 non-homeopathic GPs and 268 by 73 homeopathic GPs. The effectiveness (assessed as complications/patient, total number of adverse events, and quality of life) [mean overall Parents of children with Ear, Nose, and Throat infections Quality of Life questionnaire© scale score] was better in the homeopathic GP group than in the non-homeopathic GP group. No significant difference was found between the two groups for the total costs to social security (€98.55 for homeopathic GPs vs €96.17 for non-homeopathic GPs). Homeopathic GPs initiated preventive treatment in 82.2% of their patients and used antibacterials in 20.9% of their patients, while non-homeopathic GPs initiated preventive treatment in 43.3% of patients and prescribed antibacterials for 89.6% of patients.
Conclusion
This study produced new findings that indicate that, in France, acute rhinopharyngitis is handled differently by homeopathic GPs and non-homeopathic GPs: homeopathic GPs prescribe fewer antibacterials than non-homeopathic GPs for the treatment of recurrent acute rhinopharyngitis in children aged between 18 months and 4 years. Moreover, homeopathic treatment gave better results in terms of pragmatic medical effectiveness (fewer episodes and fewer complications) and the parents' quality of life, with similar total medical costs to social security. However, this study is potentially biased by the lack of homogeneity of the two patient-samples in terms of the 'passive smoking', 'patient age', 'childcare', and 'type of occupation' criteria because our study protocol did not provide for prior matching of the two patient-samples with respect to these criteria. The observations found in this study need to be confirmed by randomized clinical trials.
This is a preview of subscription content, log in to check access.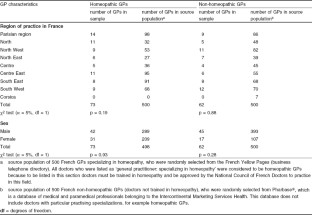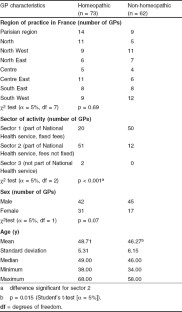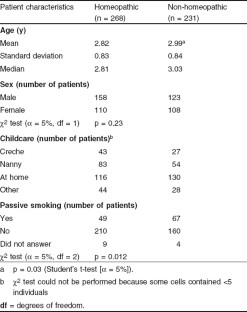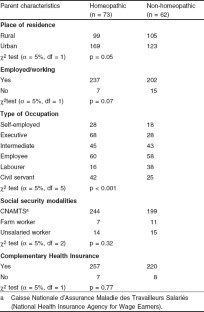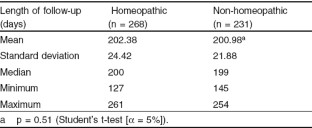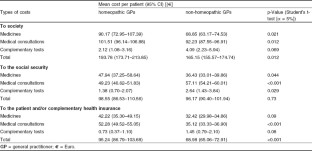 References
1.

Carbon C. Rhinopharyngites. Rev Prat Meg Gen 1999; 13(452): 407–16

2.

Berdeaux G, Hervié C, Smajda C, et al. Parental quality of life and recurrent ENT infections in their children: development of a questionnaire. Qual Life Res 1998; 7(6): 501–12

3.

Société de Pathologie Infectieuse de Langue Française (SPILF). Les infections ORL, 10éme conférence de consensus en thérapeutique infectieuse. Arch Pediatr 1997; 4(2): 188–94

4.

Cohen R. Enquête nationale sur les critéres de prescription d'une antibiothérapie dans les rhinopharyngites en pédiatrie de ville. Ann Pediatr 1992; 39: 195–201

5.

Aimar Adda P, Maire A, Verroust P, et al. Antibiothérapie dans la rhinopharyngite simple de lénfant: étude transversale parisienne. Rev Prat Med Gen 2002; 16(593): 1721–4

6.

Agence dumédicament. Affections respiratoires hautes: angines et rhinopharyngites aiguës: etude de la prescription et de la consommation des antibiotiques en ambulatoire. Observatoire National des Prescriptions et Consommations des Médicaments 1998; 2: 27–32

7.

Agence du médicament. Antibiothérapie par voie générale en pratique courante: infections ORL et respiratoires basses. Recommandations 1999, 3

8.

De Saint-Hardouin G, Goldgewicht M, Kemeny G, et al. Evaluation de la pression des parents sur les médecins pour la prescription des antibiotiques dans les infections ORL de l'enfant en ville. Med Mal Infect 1997; special: 372-8

9.

Mousquès J, Renaud T, Scemama O. Medical practice variability in primary care: the prescription of antibiotics for acute rhinopharyngitis. Centre de Recherche d'Etude et de Documenatation en Economie de la Santé 2003. Série analyse n°1494

10.

World Health Organization. WHO global strategy for containment of antimicrobial resistance. Switzerland: WHO, 2001

11.

European Union. Resistance to antibiotics as a threat to public health. Ed Economic and Social Committee 1998

12.

Jouanny J, Crapanne J-B, Dancer H, et al. Affections ORL récidivantes. Thérapeutique Homéopathique ed. Boiron 2000; 2(2): 148–62

13.

Dansette GY, Melac G, Nicoloyannis N, Duru G. A la frontière de l'explicatif et du pragmatisme: proposition de méthodologie au sujet des déficits intellectuels pathologiques dus à l'âge. XLVIIème colloque international AEA 1995

14.

Lamarsalle L, Chaufferin G, Dansette GY, Vainchtock A, Duru G. Evaluation médico-économique de la prise en charge des rhino-pharyngites aiguës récidivantes chez l'enfant de 18 mois à 4 ans: méthodologie et indicateurs de résultats. XIIème congrès CALASS 2001

15.

Reinert P, Morales M, Brin S, et al. Evaluation préventif par RU 41470 (Biostim®) des infections rhinopharyngées récidivantes de l'enfant. Ann Pediatr 1995; 42(7): 454–60

16.

Caisse Nationale d'Assurance Maladie des Travailleurs Salariés. Le régime général en 1998. Carnets Statistiques n°105

17.

Caisse Nationale d'Assurance Maladie des Travailleurs Salariés. Carnets statistiques, le secteur libéral des professions de santé 1996

18.

Baron F. Les guidelines en pharmacoeconomie. Ed GYD Institut 2000

19.

Aimar Adda P, Maire A, Verroust P, et al. Antibiotic therapy in simple rhinopharyngitis in the child. Rev Prat Med Gen 2002; 16(593): 1721–4

20.

Cars O, Molstad S, Melander A. Variation in antibiotic use in the European Union. Lancet 2001; 357(9271): 1851–3

21.

Levine MA, Pradhan A. Can the health care system buy better antibiotic prescribing behaviour? CMAJ 1999; 160(7): 1023–4

22.

Linbaek M, Berild D, Straand J, et al. Influence of prescription patterns in general practice on anti-microbial resistance in Norway. Br J Gen Prat 1999; 49(443): 436–40
Acknowledgments
This study was funded by BOIRON Laboratories but was executed by the GYD Institute, an independent research organization in pharmacoeconomics. Data management was performed by university experts in statistics. The authors have no conflicts of interest that are directly relevant to the content of this study.
About this article
Cite this article
Trichard, M., Chaufferin, G., Dubreuil, C. et al. Effectiveness, Quality of Life, and Cost of Caring for Children in France with Recurrent Acute Rhinopharyngitis Managed by Homeopathic or Non-Homeopathic General Practitioners. Dis-Manage-Health-Outcomes 12, 419–427 (2004). https://doi.org/10.2165/00115677-200412060-00009
Keywords
Social Security

Passive Smoking

Antibacterial Prescription

Homeopathic Treatment

Homeopathic Medicine