Abstract
Background and objectives: Multiple myeloma treatment with lenalidomide-based regimens is associated with risk of venous thromboembolism (VTE), particularly during concomitant use with erythropoiesis-stimulating agents (ESAs). The risk of VTE in myelodysplastic syndrome (MDS) patients treated with lenalidomide is not well characterized and the background risk in untreated patients is not known. This study set out to determine the reporting rate of VTE in MDS patients on lenalidomide in the two years of postmarketing experience in the US, and to investigate whether there is a disproportional signal of VTE in MDS patients on lenalidomide by screening the US FDA Adverse Event Reporting System (AERS) safety database.
Methods: The MDS population exposed to lenalidomide was obtained from RevAssist®, the company's proprietary restrictive distribution programme. VTE reports were identified from the company's postmarketing surveillance safety database. The FDA AERS database was used for disproportionality analysis, and signal scores computed using three algorithms: multi-item gamma Poisson shrinker (MGPS), proportional reporting ratio (PRR), and reporting odds ratios (ROR).
Results: A total of 7764 MDS patients were prescribed lenalidomide during the first two years of commercial use in the US. VTE representing deep vein thrombosis and pulmonary embolism was reported in 41 patients, a reporting rate of 0.53%. The computed signal scores did not exceed the statistical threshold for identification of a significant disproportional signal for VTE in MDS reports involving use of lenalidomide without concomitant use of ESAs. However, a disproportional signal of VTE was detected in MDS reports where lenalidomide was concurrently used with ESAs.
Conclusions: The VTE reporting rate for MDS patients receiving lenalidomide during the first two years of postmarketing exposure was low (0.53%). Disproportionality analysis demonstrated a statistically meaningful association of VTE with lenalidomide concomitantly used with ESAs in MDS patients, but the association was not statistically significant when lenalidomide was used in the absence of ESAs.
Access options
Buy single article
Instant access to the full article PDF.
US$ 49.95
Tax calculation will be finalised during checkout.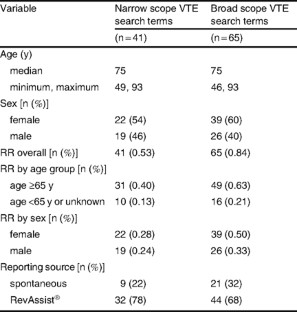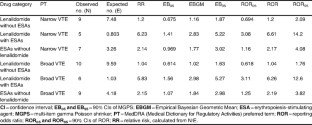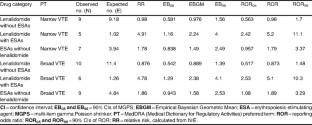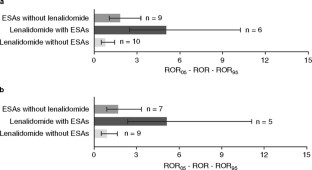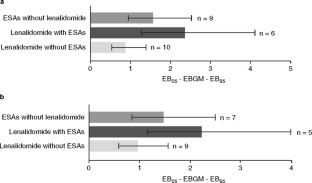 References
1.

Shadduck RK, Latsko JM, Rossetti JM, et al. Recent advances in myelodysplastic syndromes. Exp Hematol 2007; 35(4 Suppl.1): 137–43

2.

Catenacci DV, Schiller GJ. Myelodysplasic syndromes: a comprehensive review. Blood Rev 2005; 19(6): 301–19

3.

Ma X, Does M, Raza A, et al. Myelodysplastic syndromes: incidence and survival in the United States. Cancer 2007; 109(8): 1536–42

4.

Beyne-Rauzy O, Laurent G, Adoue D. Myelodysplastic syndromes in adults. Presse Med 2007; 36 (3 Pt 2): 481–91

5.

Larson RA. Myelodysplasia: when to treat and how. Best Pract Res Clin Haematol 2006; 19(2): 293–300

6.

List A, Dewald G, Bennett J, et al. Lenalidomide in the myelodysplastic syndrome with chromosome 5q deletion. N Engl J Med 2006; 355(14): 1456–65

7.

Maier SK, Hammond JM. Role of lenalidomide in the treatment of multiple myeloma and myelodysplastic syndrome. Ann Pharmacother 2006; 40(2): 286–9

8.

Melchert M, Williams C, List A. Remitting activity of lenalidomide in treatment-induced myelodysplastic syndrome. Leukemia 2007; 21(7): 1576–8

9.

Melchert M, Kale V, List A. The role of lenalidomide in the treatment of patients with chromosome 5q deletion and other myelodysplastic syndromes. Curr Opin Hematol 2007; 14(2): 123–9

10.

Steurer M, Sudmeier I, Stauder R, et al. Thromboembolic events in patients with myelodysplastic syndrome receiving thalidomide in combination with darbepoietin-alpha. Br J Haematol 2003; 121(1): 101–3

11.

Cavo M, Zamagni E, Cellini C, et al. Deep-vein thrombosis in patients with multiple myeloma receiving first-line thalidomide-dexamethasone therapy. Blood 2002; 100(6): 2272–3

12.

Schutt P, Ebeling P, Buttkereit U, et al. Thalidomide in combination with vincristine, epirubicin and dexamethasone (VED) for previously untreated patients with multiple myeloma. Eur J Haematol 2005; 74(1): 40–6

13.

Miller KC, Padmanabhan S, Dimicelli L, et al. Prospective evaluation of low-dose warfarin for prevention of thalidomide associated venous thromboembolism. Leuk Lymphoma 2006; 47(11): 2339–43

14.

Zangari M, Barlogie B, Thertulien R, et al. Thalidomide and deep vein thrombosis in multiple myeloma: risk factors and effect on survival. Clin Lymphoma 2003; 4(1): 32–5

15.

Bennett CL, Schumock GT, Desai AA, et al. Thalidomide-associated deep vein thrombosis and pulmonary embolism. Am J Med 2002; 113(7): 603–6

16.

Bennett CL, Angelotta C, Yarnold PR, et al. Thalidomide-and lenalidomide-associated thromboembolism among patients with cancer. JAMA 2006; 296(21): 2558–60

17.

Bowcock SJ, Rassam SM, Ward SM, et al. Thromboembolism in patients on thalidomide for myeloma. Hematology 2002; 7(1): 51–3

18.

Hirsh J. Risk of thrombosis with lenalidomide and its prevention with aspirin. Chest 2007; 131(1): 275–7

19.

Hussein MA. Thromboembolism risk reduction in multiple myeloma patients treated with immunomodulatory drug combinations. Thromb Haemost 2006; 95(6): 924–30

20.

Rus C, Bazzan M, Palumbo A, et al. Thalidomide in front line treatment in multiple myeloma: serious risk of venous thromboembolism and evidence for thromboprophylaxis. J Thromb Haemost 2004; 2(11): 2063–5

21.

Baz R, Li L, Kottke-Marchant K, et al. The role of aspirin in the prevention of thrombotic complications of thalidomide and anthracycline-based chemotherapy for multiple myeloma. Mayo Clin Proc 2005; 80(12): 1568–74

22.

Rajkumar SV. Thalidomide therapy and deep venous thrombosis in multiple myeloma. Mayo Clin Proc 2005; 80(12): 1549–51

23.

Menon SP, Rajkumar SV, Lacy M, et al. Thromboembolic events with lenalidomide-based therapy for multiple myeloma. Cancer 2008; 112(7): 1522–8

24.

Knight R, DeLap RJ, Zeldis JB. Lenalidomide and venous thrombosis in multiple myeloma. N Engl J Med 2006; 354(19): 2079–80

25.

Rajkumar SV, Jacobus S, Callander N, et al. A randomized trial of lenalidomide plus high-dose dexamethasone versus lenalidomide plus low-dose dexamethasone in newly diagnosed multiple myeloma: a trial coordinated by the Eastern Cooperative Oncology Group. Blood 2007; 110: 13a

26.

DuMouchel W, Smith ET, Beasley R, et al. Association of asthma therapy and Churg-Strauss syndrome: an analysis of postmarketing surveillance data. Clin Ther 2004; 26(7): 1092–104

27.

Diaz RL, Gardeazabal J, Manrique P, et al. Greater allergenicity of topical ketoprofen in contact dermatitis confirmed by use. Contact Dermatitis 2006; 54(5): 239–43

28.

Hauben M, Horn S, Reich L. Potential use of data-mining algorithms for the detection of 'surprise' adverse drug reactions. Drug Saf 2007; 30(2): 143–55

29.

Hauben M, Patadia V, Gerrits C, et al. Data mining in pharmacovigilance: the need for a balanced perspective. Drug Saf 2005; 28(10): 835–42

30.

Hauben M, Madigan D, Gerrits CM, et al. The role of data mining in pharmacovigilance. Expert Opin Drug Saf 2005; 4(5): 929–48

31.

Heit JA. Cancer and venous thromboembolism: scope of the problem. Cancer Control 2005; 12Suppl. 1: 5–10

32.

Sgarabotto D, Prandoni P, Stefani PM, et al. Prevalence and patterns of symptomatic thromboembolism in oncohematology. Haematologica 1998; 83(5): 442–6

33.

Raza A, Meyer P, Dutt D, et al. Thalidomide produces transfusion independence in long-standing refractory anemias of patients with myelodysplastic syndromes. Blood 2001; 98(4): 958–65

34.

Musto P, Falcone A, Sanpaolo G, et al. Thalidomide abolishes transfusion-dependence in selected patients with myelodysplastic syndromes. Haematologica 2002; 87(8): 884–6

35.

Strupp C, Germing U, Aivado M, et al. Thalidomide for the treatment of patients with myelodysplastic syndromes. Leukemia 2002; 16(1): 1–6

36.

Kurtin S, Sokol L. Practical considerations in the use of lenalidomide therapy for myelodysplastic syndromes. Cancer Control 2006; 13 Suppl.: 26–31

37.

Bennett CL, Silver SM, Djulbegovic B, et al. Venous thromboembolism and mortality associated with recombinant erythropoietin and darbepoetin administration for the treatment of cancer-associated anemia. JAMA 2008; 299(8): 914–24

38.

O'Connell CL, Boswell WD, Duddalwar V, et al. Unsuspected pulmonary emboli in cancer patients: clinical correlates and relevance. J Clin Oncol 2006; 24(30): 4928–32

39.

Yang X, Freeman J, Bwire R. Data mining in pharmacovigilance practice: which algorithm to use? Drug Safety 2008; 31: 888 [abstract no. 1]
Acknowledgements
The authors are employees of Celgene Corporation and they undertook this study utilizing Celgene resources. The authors would like to thank Alex Kim for providing patient exposure data from the Celgene RevAssist® programme.
About this article
Cite this article
Yang, X., Brandenburg, N.A., Freeman, J. et al. Venous Thromboembolism in Myelodysplastic Syndrome Patients Receiving Lenalidomide. Clin. Drug Investig. 29, 161–171 (2009). https://doi.org/10.2165/00044011-200929030-00003
Keywords
Thalidomide

Lenalidomide

Darbepoetin Alfa

Signal Score

Adverse Event Reporting System