Abstract
Background: Magnesium deficiency has been implicated as a possible contributing factor to some symptoms of premenstrual syndrome (PMS) and several studies have reported a lower intracellular magnesium concentration in women with PMS. Thus, it has been suggested that magnesium supplementation may improve certain symptoms in women with PMS.
Objective: This open-label study assessed the efficacy and safety of a patented modified-release magnesium 250mg tablet for improving symptoms in women affected by PMS.
Methods: After a 3-month observational period, women aged 18–5 years with a regular menstrual cycle (from 25–35 days) who were affected by PMS (determined by a score of >-25 points on a PMS questionnaire) [n = 41] were given the modified-release magnesium tablet over three menstrual cycles, beginning 20 days after the start of their last menstrual period and continuing until the start of their next menstrual period.
Results: PMS symptoms improved during magnesium treatment. After 3 months, the mean total PMS score (primary endpoint), as assessed by the investigator using Moos' Modified Menstrual Distress Questionnaire, was significantly lower than before therapy (p < 0.0001). During the same period, the mean PMS scores, as recorded in patients' diaries (secondary efficacy variables), also showed significant improvements (p < 0.0001 for all subscales). The relative decreases in total PMS scores, as assessed by investigator and patient, were 35.1% and 33.5%, respectively. The magnesium tablet was well tolerated, with vertigo the only treatment-related adverse event reported (one patient).
Conclusions: We concluded that modified-release magnesium was effective in reducing premenstrual symptoms in women with PMS in this preliminary study.
Access options
Buy single article
Instant access to the full article PDF.
US$ 49.95
Tax calculation will be finalised during checkout.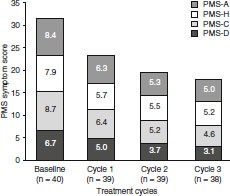 Notes
1.

The use of trade names is for product identification purposes only and does not imply endorsement.
References
1.

International Statistical Classification of Diseases and Health Related Problems — ICD-1 Edition. WHO 1987

2.

American College of Obstetricians and Gynecologists (ACOG). Premenstrual syndrome (ACOG practice bulletin no. 15). Washington (DC): ACOG; 2000

3.

Diagnostic and Statistical manual of Mental Disorders, Fourth Edition. American Psychiatric Association, 1994

4.

Halbreich U. The diagnosis of premenstrual syndromes and premenstrual dysphoric disorder: clinical procedures and research perspectives. Gynecol Endocrinol 2004 Dec; 19(6): 320–34

5.

Dalton K. What is PMS? J Roy Coll Gen Pract 1982; 32:717–23

6.

Johnson SR. The epidemiology and social impact of premenstrual symptoms. Clin Obstet Gynecol 1987; 30; 367–6

7.

Winer SA, Rapkin AJ. Premenstrual disorders: prevalence, etiology and impact. J Reprod Med 2006; 51; 339–47

8.

Freeman EW, Sondheimer SJ. Premenstrual dysphoric disorder: recognition and treatment. Prim Care Companion J Clin Psychiatry 2003 Feb; 5(1): 30–9

9.

Abraham GE. Nutritional factors in the etiology of the premenstrual tension syndromes. J Reprod Med 1983 Jul; 28(7): 446–64

10.

Halbreich U. Gonadal hormones and antihormones serotonin and mood. Psychopharmacol Bull 1990; 26: 291–5

11.

Halbreich U, Tworek H. Altered serotonergic activity in women with dysphoric premenstrual syndromes. Int J Psychiatry Med 1993; 23: 1–27

12.

Genazzani AR, Lucchesi A, Stomati M, et al. Effects of sex steroid hormones on the neuroendocrine system. Eur J Contracept Reprod Health Care 1997; 2: 63–9

13.

Seippel L, Backstrom T. Luteal-phase estradiol relates to symptom severity in patient with premenstrual syndrome. J Clin Endocrinol Metab 1998; 83: 1988–92

14.

Magos AL, Brewster E, Singh R, et al. The effect of norethister-one in postmenopausal women on estrogen therapy: a model for the premenstrual syndrome. Br J Obstect Gynecol 1986; 93: 1290–6

15.

Bjorn I, Bixo M, Nojd KS, et al. Negative mood changes during hormone replacement therapy: a comparison between two progestogens. Am J Obstet Gynecol 2000; 183: 1419–26

16.

Parry BL, Berga SL, Kripke DF, et al. Altered waveform of plasma nocturnal melatonin secretion in premenstrual depression. Arch Gen Psychiatry 1990; 47: 1139–46

17.

Parry BL, Newton RP. Chronobiological basis of female-specific mood disorders. Neuropsychopharmacology 2001; 25(Suppl. 5): S102–8

18.

Pacchierotti C, Iapichino S, Bossini L, et al. Melatonin in psychiatric disorders: a review on the melatonin involvement in psychiatry. Front Neuroendocrinol 2001; 22: 18–32

19.

Deuster PA, Dolev E, Bernier LL. Magnesium and zinc status during the menstrual cycle. Am J Obstet Gynecol 1987; 157: 964–68

20.

Facchinetti F, Borella P, Valentini M, et al. Premenstrual increase of intracellular magnesium levels in women with ovulatory, asymptomatic menstrual cycles. Gynecol Endocrinol 1988; 2: 249–56

21.

Muneyyirci-Delale O, Dalloul M, Nacharaju V L, et al. Serum ionized magnesium and calcium and sex hormones in healthy young men: importance of serum progesterone level. Fertility Sterility 1999; 72: 817–22

22.

Muneyyirci-Delale O, Nacharaju VL, Dalloul M, et al. Serum ionized magnesium and calcium in women after menopause: inverse relation of estrogen with ionized magnesium. Fertility Sterility 1999; 71: 869–72

23.

Schlemmer A, Podenphant J, Riis BJ, et al. Urinary magnesium in early postmenopausal women: influence of hormone therapy on calcium. Magnesium Trace Elements 1991-1992; 10: 34–9

24.

Rosenstein DL, Elin RJ, Hosseini JM, et al. Magnesium measures across the menstrual cycle in premenstrual syndrome. Biological Psychiatry 1994; 35: 557–61

25.

Parry BL, Berga SL, Kripke DF, et al. Altered waveform of plasma nocturnal melatonin secretion in premenstrual depression. Arch Gen Psychiatry 1990; 47: 1139–46

26.

Parry BL, Udell C, Elliott JA, et al. Blunted phase-shift responses to morning bright light in premenstrual dysphoric disorder. J Biol Rhythms 1997; 12: 443–56

27.

Parry BL, Berga SL, Mostofi N, et al. Plasma melatonin circadian rhythms during the menstrual cycle and after light therapy in premenstrual dysphoric disorder and normal control subjects. J Biol Rhythms 1997; 12: 47–64

28.

Durlach J, Pages N, Bac P, et al. Chronopathological forms of magnesium depletion with hypofunction or with hyperfunction of the biological clock. Magnes Res 2000; 15: 263–8

29.

Durlach J, Pages N, Bac P, et al. Biorhythms and possible central regulation of magnesium status, phototherapy, darkness therapy and chronopathological forms of magnesium depletion. Agnes Res 2002; 15: 49–66

30.

Seippel L, Backstrom T. Luteal-phase estradiol relates to symptom severity in patients with premenstrual syndrome. J Clin Endocrinol Metab 1998 Jun; 83(6): 1988–92

31.

Licinio J, Negrao AB, Mantzoros C, et al. Synchronicity of frequently sampled, 24-h concentrations of circulating leptin, luteinizing hormone, and estradiol in healthy women. Proc Natl Acad Sci U S A 1998 Mar 3; 95(5): 2541–6

32.

Norjavaara E, Ankarberg C, Albertsson-Wikland K. Diurnal rhythm of 17 beta-estradiol secretion throughout pubertal development in healthy girls: evaluation by a sensitive radioimmunoassay. J Clin Endocrinol Metab 1996 Nov; 81(11): 4095–102

33.

Moos RH. The development of a menstrual distress questionnaire. Psychosom Med 1968 Nov-Dec; 30(6): 853–67

34.

Ross C, Coleman G, Stojanovska C. Factor structure of the modified Moos Menstrual Distress Questionnaire: assessment of prospectively reported follicular, menstrual and premenstrual symptomatology. J Psychosom Obstet Gynaecol 2003 Sep; 24(3): 163–74

35.

Freeman EW, Rickeis K. Characteristics of placebo responses in medical treatment of premenstrual syndrome. Am J Psychiatry 1999 Sep; 156(9): 1403–8

36.

Walker AF, De Souza MC, Vickers MF, et al. Magnesium supplementation alleviates premenstrual symptoms of fluid retention. J Womens Health 1998 Nov; 7(9): 1157–65

37.

De Souza MC, Walker AF, Robinson PA, et al. A synergistic effect of a daily supplement for 1 month of 200mg magnesium plus 50mg vitamin B6 for the relief of anxiety-related premenstrual symptoms: a randomized, double-blind, crossover study. J Womens Health Gend Based Med 2000 Mar; 9(2): 131–9

38.

Webley GE, Lenton EA. The temporal relationship between melatonin and prolactin in women. Fertil Steril 1987 Aug; 48(2): 218–22

39.

Mitamura R, Yano K, Suzuki N, et al. Diurnal rhythms of luteinizing hormone, follicle-stimulating hormone, testosterone, and estradiol secretion before the onset of female puberty in short children. J Clin Endocrinol Metab 2000 Mar; 85(3): 1074–80

40.

Barbeau A, Rojo-Ortea JM, Brecht HM, et al. Deficience en magnesium et dopamine cerebrale. In: Durlack J. editor. First International Symposium on Magnesium Deficit in Human Pathology. Paris: F Vittel, 1973; 149–52

41.

Ben-Jonathan N, Hnasko R. Dopamine as a prolactin inhibitor. Endocrine Reviews 2001; 22(6): 724–63

42.

Khine K, Rosenstein DL, Elin RJ, et al. Magnesium (Mg) retention and mood effects after intravenous Mg infusion in premenstrual dysphoric disorder. Biol Psychiatry. Epub 2005 Sep 28, 2006 Feb 15; 59(4): 327–33
Acknowledgements
The publication of this manuscript was supported by an educational grant from Zambon Group S.p.A. The editorial assistance of Marit Moen, Wolters Kluwer Health Medical Communications, is gratefully acknowledged.
The authors have no potential conflicts of interest that are directly relevant to the contents of this study.
About this article
Cite this article
Quaranta, S., Buscaglia, M.A., Meroni, M.G. et al. Pilot Study of the Efficacy and Safety of a Modified-Release Magnesium 250mg Tablet (Sincromag®) for the Treatment of Premenstrual Syndrome. Clin. Drug Investig. 27, 51–58 (2007). https://doi.org/10.2165/00044011-200727010-00004
Keywords
Melatonin

Luteinising Hormone

Menstrual Cycle

Screen Visit

Magnesium Deficiency