Abstract
Objective: Glucosamine, classified as a slow-acting drug in osteoarthritis (SADOA), is an efficacious chondroprotective agent. Methylsulfonylmethane (MSM), the isoxidised form of dimethyl-sulfoxide (DSMO), is an effective natural analgesic and anti-inflammatory agent. The aim of this study was to compare the efficacy and safety of oral glucosamine (Glu), methylsulfonylmethane (MSM), their combination and placebo in osteoarthritis of the knee.
Patients and design: A total of 118 patients of either sex with mild to moderate osteoarthritis were included in the study and randomised to receive either Glu 500mg, MSM 500mg, Glu and MSM or placebo capsules three times daily for 12 weeks. Patients were evaluated at 0 (before drug administration), 2, 4, 8 and 12 weeks post-treatment for efficacy and safety. The efficacy parameters studied were the pain index, the swelling index, visual analogue scale pain intensity, 15m walking time, the Lequesne index, and consumption of rescue medicine.
Results: Glu, MSM and their combination significantly improved signs and symptoms of osteoarthritis compared with placebo. There was a statistically significant decrease in mean (± SD) pain index from 1.74 ± 0.47 at baseline to 0.65 ± 0.71 at week 12 with Glu (p < 0.001). MSM significantly decreased the mean pain index from 1.53 ± 0.51 to 0.74 ± 0.65, and combination treatment resulted in a more significant decrease in the mean pain index (1.7 ± 0.47 to 0.36 ± 0.33; p < 0.001). After 12 weeks, the mean swelling index significantly decreased with Glu and MSM, while the decrease in swelling index with combination therapy was greater (1.43 ± 0.63 to 0.14 ± 0.35; p < 0.05) after 12 weeks. The combination produced a statistically significant decrease in the Lequesne index. All treatments were well tolerated.
Conclusion: Glu, MSM and their combination produced an analgesic and anti-inflammatory effect in osteoarthritis. Combination therapy showed better efficacy in reducing pain and swelling and in improving the functional ability of joints than the individual agents. All the treatments were well tolerated. The onset of analgesic and anti-inflammatory activity was found to be more rapid with the combination than with Glu. It can be concluded that the combination of MSM with Glu provides better and more rapid improvement in patients with osteoarthritis.
This is a preview of subscription content, log in to check access.
Access options
Buy single article
Instant access to the full article PDF.
US$ 49.95
Price includes VAT for USA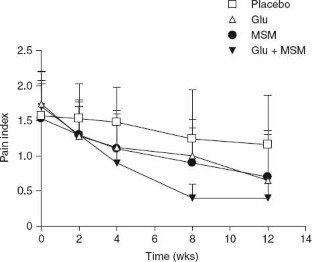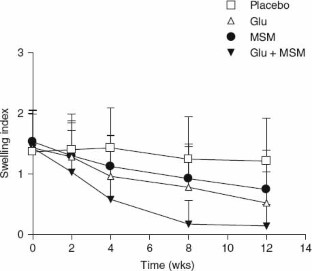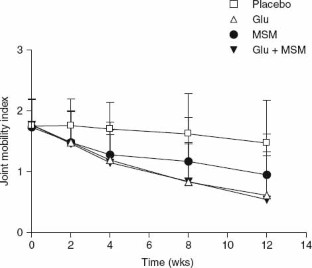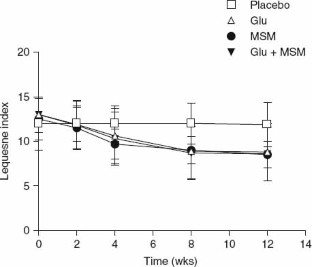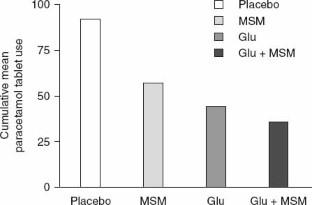 References
1.

Da Camara CC, Dowless GV. Glucosamine sulphate for osteoarthritis. Ann Pharmacother 1998; 32: 580–7

2.

Setnikar I. Antireactive properties of 'chondroprotective' drugs. Int J Tissue React 1992; 14: 253–61

3.

Noack W, Fischer M, Firster K, et al. Glucosamine sulphate in osteoarthritis of the knee. Osteoarthritis and cartilage 1994; 2: 51–9

4.

Reichelt A, Forster KK, Fischer M, et al. Efficacy and safety of intramuscular glucosamine sulphate in osteoarthritis of the knee. Arzeimittel Forschung 1994; 44(1): 75–80

5.

Lawrence RM. Methysulfonylmethane (MSM): a double-blind study of its use in degerative arthritis. Int J Anti-Aging Med 1998; 1(1): 50

6.

Jimenez RAH, Willkens RF. Dimethyl sulfoxide: a perspective of its use in rheumatic diseases. J Lab Clin Med 1982; 100: 489–500

7.

Murav'ev Iu V, Venikova MS, Pleskovskaia GN, Riazantseva TA, Sigidin Ia A. Effect of dimethyl sulfoxide and dimethyl sulfone on a destructive process in the joints of mice with spontaneous arthritis. Patol Fiziol Eksp Ter 1991 Mar–Apr; 2: 37–9

8.

Jacob SW, Herschler R. Dimethyl sulfoxide after twenty years. Ann N Y Acad sci 1983; 411: 13–7

9.

Fox RB, Fox WK. Dimethyl sulfoxide prevents hydroxyl radical-mediated depolymerization of hyaluronic acid. Ann N Y Acad sci 1983; 411: 14–8

10.

Evans MS, Reid KH, Sharp Jr JB. Dimethylsulfoxide (DSMO) blocks conduction in peripheral nerve C fibres: a possible mechanism of analgesia. Neurosci Lett 1993; 150: 145–8

11.

Zuckner J, Uddin J, Ganter Jr GE. Local application of dimethyl sulfoxide, DMSO combined with triamcinolone acetonide in rheumatoid arthritis. Ann N Y Acad sci 1967; 141: 555–9

12.

Paulus E. FDA Advisory Committee meeting: methotrexate; guidelines for the clinical evaluation of anti-inflammatory drugs; DMSO in scleroderma. Arthritis Rheum 1986; 29: 1289–90

13.

Murav'ev IV, Aliab'eva AP. Use of dimethyl sulfoxide for treating flexion contractures in rheumatoid arthritis patients. Ter Arkh 1984; 56: 128–9

14.

Hajarizadeh H, Lebredo L, Barrie R, et al. Protective effect of doxorubicin in vitamin C or dimethyl sulfoxide against skin ulceration in the pig. Ann Surg Oncol 1994; 1: 411–4

15.

Ivannikov AT, Beliaev IK, Altukhova GA, et al. Local application of pentacin in dimethyl sufoxide in skin burns contaminated with 241AM. Vestn Dermatol Venerol 1987; 1: 53–5

16.

Ozkaya-Bayazit E, Kavak A, Gungor H, et al. Intermittent use of topical dimethyl sulfoxide in macular and popular amyloidosis. Int J Dermatol 1998; 37: 949–54

17.

Rizzo R, Grandolfo M, Godeas C, et al. Calcium, sulfur and zinc distribution in normal and arthritic articular equine cartilage: a synchroton radiation-induced X-ray emission (SRIXE) study. J Exp Zool 1995; 273: 82–6

18.

Lequesne M, Mery C, Samson M, et al. Indexes of severity for osteo-arthritis of the hip and knee: validation-value in comparison with other assessment tests. Scand J Rheumatol 1982; 22: 2290–6

19.

Kellgren JH, Lawrence JS. Radiological assessment of osteoarthrosis. Ann Rheum Dis 1957; 16: 494–501

20.

Flaherty SA. Pain measurement tools for clinical practice and research. J Am Assoc Nurse Anesth 1996; 64: 133–9

21.

Flandry F, Hunt JP, Terry GC, et al. Analysis of subjective knee complaints using visual analog scales. Am J Sports Med 1991; 19: 112–8

22.

Altman R, Asch E, Bloch D, et al. Development of criteria for the classification and reporting of osteoarthritis: classification of osteoarthritis of the knee. Arthritis Rheum 1986; 29: 1039–49

23.

Pujalte JM, Llavore EP, Ylescupidez FR. Double-blind clinical evaluation of oral glucosamine sulphate in the basic treatment of osteoarthrosis. Curr Med Res Opin 1980; 7(2): 110–4

24.

Lequesne M. Symptomatic slow-acting drugs in osteoarthritis: a novel therapeutic concept? Rev Rheum 1994; 61: 69–73

25.

Howell DS, Altman RD. Cartilage repair and conservation in osteoarthritis. Rheum Dis Clin North Am 1993; 19: 713–24

26.

Lopez Vaz A. Double blind, clinical evaluation of the relative efficacy of ibuprofen and glucosamine sulphate in the management of osteoarthritis of the knee in out-patients. Curr Med Res Opin 1982; 8(3): 145–9

27.

Rindone JP, Hiller D, Collacott E, et al. Randomized,controlled trial of glucosamine for treating osteoarthritis of the knee. West J Med 2000; 172: 91–4

28.

Hughes R, Carr A. A randomized, double blind, placebo-controlled trial of glucosamine sulphate as an analgesic in osteoarthritis of the knee. Rheumatology 2002 Mar; 41(3): 279–84

29.

Palmieri L, Conte A, Giovannini L, et al. Metabolic fate of exogenous chondroitin sulphate in the experimental animal. Arzneimittel Forschung 1990; 40: 319–23

30.

Conte A, Volpi N, Palmieri L, et al. Biochemical and pharmacokinetic aspects of oral treatment with chondroitin sulphate. Arzneimittel Forschung 1995; 45: 918–25

31.

Morreale P, Manopulo R, Galati M, et al. Comparison of the anti-inflammatory efficacy of chondroitin sulphate and diclofenac sodium in patients with knee osteoarthritis. J Rhem 1996; 214: 1385–91

32.

McAlindon TE, La Valley MP, Gulin JP, et al. Glucosamine and chondroitin for treatment of osteoarthritis: a systematic quality assessment and meta-analysis. JAMA 2000; 283: 1469–75

33.

Moore RD. Diminished inflammatory joint disease in Mrl/1 pr mice ingesting DMSO or MSM [abstract 692]. Proceedings of the Federation of American Societies for Experimental Biology 1985; 510

34.

Jacob S. Introductory remarks: MSM after 20 years. Ann N Y Acad Sci 1983; 441: 14–6

35.

Parcell S. Sulphur in human nutrition and applications in medicine. Altern Med Rev 2002; 7(1): 22–44

36.

Jacob SW, Herschler R. Biological actions and medical applications of dimethyl sulfoxide. Ann N Y Acad sci 1983; 411: xiii–vii

37.

Perez HD, Elfman F, Marder S. Meclofenamate sodium mono-hydrate inhibits chemotactic factor-induced human polymorphonuclear leukocyte function: a possible explanation for its antiinflammatory effect. Arthritis Rheum 1987 Sep; 30(9): 1023–31

38.

Parcell S. Sulfur in human nutrition and applications in medicine. Altern Med Rev 2002 Feb; 7(1): 22–44

39.

Jimenez RAH, Willkens RF. Dimethyl sulfoxide: a perspective of its use in rheumatic diseases. J Lab Clin Med 1982; 100: 489–500

40.

Eberhardt R, Zwingers T, Hofmann R. DMSO in patients with active gonarthrosis: a double-blind placebo controlled phase III study [in German]. Fortschr Med 1995; 113: 446–50

41.

Jacob SW, Wood DC. Dimethyl sulfoxide (DMSO): toxicology, pharmacology, and clinical experience. Am J Surg 1967; 114: 414–26

42.

Gramajo RJ, Cutroneo EJ, Fernandez DE, et al. A single blind, placebo controlled study of glycosaminoglycan-peptide complex (Rumalon) in patients with osteoarthritis of the hip or knee. Curr Med Res Opin 1989; 11(6): 366–72
Acknowledgements
The authors thank Healers Limited, Chennai, India, for providing a study grant, the research material and the study medication. The authors have no conflicts of interest directly relevant to the content of this study.
About this article
Cite this article
Usha, P.R., Naidu, M.U.R. Randomised, Double-Blind, Parallel, Placebo-Controlled Study of Oral Glucosamine, Methylsulfonylmethane and their Combination in Osteoarthritis. Clin. Drug Investig. 24, 353–363 (2004). https://doi.org/10.2165/00044011-200424060-00005
Keywords
Osteoarthritis

Chondroitin Sulfate

Efficacy Parameter

Diary Card

Case Record Form