Abstract
Objective: Corticosteroids are effective in controlling the inflammatory component of allergic rhinitis; however, evidence for the clinical efficacy of systemic corticosteroids in this disease is sparse. It is further common practice to combine oral corticosteroids with antihistamines in the treatment of acute exacerbations of allergic rhinitis. The aim of this study was to investigate the effect of low-dose oral betamethasone alone and in combination with loratadine in a group of patients with allergic rhinitis with clinically significant obstruction.
Methods: In this parallel, double-blind, active controlled multicentre study, 299 patients with severe allergic rhinitis were randomly allocated to either betamethasone 1.0mg or betamethasone 1.0mg plus loratadine 10mg or betamethasone 0.5mg plus loratadine 10mg or loratadine 10mg alone for 5–7 days. Total symptom scores, nasal obstruction, and doctor and patient perception of improvement were measured as markers of disease severity.
Results: Although not statistically significant, both betamethasone 1.0mg regimens resulted in a total symptom score difference of at least 1 or more from loratadine (i.e. mean [SD] change in total symptom score of 4.10 [3.10] and 4.40 [3.62] vs 3.10 [3.30], respectively, for betamethasone 1.0 mg plus loratadine, betamethasone 1.0 mg and loratadine). All corticosteroid-containing regimens were significantly better than loratadine alone with regard to the patients' (p < 0.013) and doctors' (p < 0.009) perceptions of improvement. They significantly favoured loratadine in combination with betamethasone over single-drug therapy (i.e. odds ratio: investigator ratings 0.49, 0.36 and 0.45, and patient ratings 0.47, 0.40 and 0.43, respectively, for 0.5 mg and 1.0 mg betamethasone plus loratadine and betamethasone 1.0 mg alone vs loratadine alone). Betamethasone 1.0mg plus loratadine also resulted in significant reduction of the relapse rate compared with the other therapies.
Conclusions: This study demonstrated the benefit of a short course of a systemic low dosage of corticosteroids with and without antihistamine therapy during acute severe exacerbations of allergic rhinitis. Combination treatment with betamethasone 1.0mg and loratadine 10mg was significantly better in relieving symptoms of hayfever as experienced by patients. This was the first study to give evidence of benefit of systemic low-dose corticosteroids with and without an antihistamine in patients with acute exacerbations of allergic rhinitis.
Access options
Buy single article
Instant access to the full article PDF.
USD 49.95
Price excludes VAT (USA)
Tax calculation will be finalised during checkout.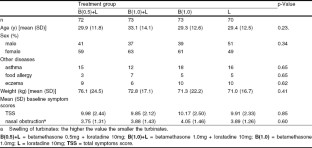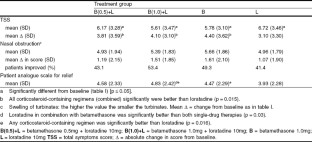 Notes
The use of trade names is for product identification purposes only and does not imply endorsement.
References
Davie RJ, Trigg C. Rhinitis: pathophysiology and classification. In: Holgate ST, Church MK, editors. Allergy. London: Gower Medical Publishing, 1993: 17.1–10

Woolcock AJ, Peat JK, Trevillion LM. Changing prevalence of allergies worldwide. In: Johanson SGO, editor. Progress in allergy and clinical immunology. Vol 3. Seattle: Hogrefe and Huber Publishers, 1994: 167–71

Rachelefsky GS. National guidelines needed to manage rhinitis and prevent complications. Ann Allergy Asthma Immunol 1999; 82: 296–305

Mygind N, Dahl R, Nielsen LP, et al. Effect of corticosteroids on nasal blockage in rhinitis measured by objective methods. Allergy 1997; 52(S40): 39–44

Holm AF, Godthelp T, Fokkens WJ, et al. Longterm effects of corticosteroid nasal spray on nasal inflammatory cells in patients with perennial allergic rhinitis. Clin Exp Allergy 1998; 2: 1356–66

Jacobson MR, Juliasson S, Löurhagen O, et al. Effect of topical corticosteroids on seasonal increases in epithelial eosinophils and mast cells in allergic rhinitis: a comparison of nasal brush and biopsy methods. Clin Exp Allergy 1999; 29: 1347–55

Mygind N, Laursen LC, Dahl M. Systemic corticosteroid treatment for seasonal allergic rhinitis: a common but poorly documented therapy. Allergy 2000; 55: 11–5

Dykewicz MS, Fineman S, for the Workgroup on Rhinitis. Diagnosis and management of rhinitis: complete guidelines of the joint task force on practice parameters in allergy, asthma and immunology. Ann Allergy Asthma Immunol 1998; 81: 478–518

Prodigy Guidance: allergic rhinitis [online]. Available from URL: www.prodigy.nhs.uk/guidance.asp.gt.allergicrhinitis. [Accessed 2003 Jan]

Brooks CD, Karl KJ, Francon SF. Oral methylprednisolone acetate (Medrol tablets) for seasonal rhinitis: examination of dose and symptom response. J Clin Pharmacol 1993; 33: 816–22

Bruttman G, Charpin D, Germonty J, et al. Evaluation of the efficacy and safety of loratadine in perennial allergic rhinitis. J Allergy Clin Immunol 1989; 83: 411–6

Jordana G, Dolovich J, Briscoe MP, et al. Intranasal fluticasone propionate versus loratadine in the treatment of adolescent patients with seasonal allergic rhinitis. J Allergy Clin Immunol 1996; 97: 588–95

South African Allergic Rhinitis Working Group. South African rhinitis guidelines. S Afr Med J 1996; 86 (10 Pt 2): 1315–28

Youssef HH, Ali NA, Farouk AK, et al. The effects of loratadine in patients with allergic bronchial asthma. JAMA 1996; 6: 37–42

Purello-D'Ambriosio F, Isola S, Ricciardi L, et al. A controlled study on the effectiveness of loratadine in combination with flunisolide in the treatment of nonallergic rhinitis with eosinophilia (NARES). Clin Exp Allergy 1999; 29: 1143–7

Data on file, Schering-Plough (Pty) Ltd, Isando, South Africa. Effect of celestamine in nasal allergy: statistical comparison between an antihistamine, a steroid, and a combination of the two by the double-blind method

MIMS medical specialities (monthly medicine update from Johnnic publishing limited, JR Snyman, editor). November 2003, 43 (11): 312

Costa J. Corticotrophins and corticosteroids. In: Dulas MNG, Aronson JK, editors. Meylers' side effects of drugs. 14th ed. Amsterdam: Elsevier, 2000: 1364–95

Snyman JR, Sommers De K, Van Wyk M, et al. Short-course, low dose betamethasone therapy causes only marginal and transient hypothalamic-pituitary-adrenal-axis suppression. Clin Drug Invest 2001; 21(7): 499–504

Betamethasone. In: Reynolds JEF, editor. Martindale: the extra pharmacopoeia. 30th ed. London: The Pharmaceutical Press, 1993: 724–5

Steel RGD, Torrie JH. Principles and procedures of statistics: a biometrical approach. Chapter 8: Multiple comparisons. 2nd ed. Tokyo: McGraw Hill, 1980: 172–94

McCullagh P. Regression models for ordinal data (with discussion). J Royal Stat Soc (series B) 1980; 42: 109–42

De Graaf-in't Veld T, Koenders S, Garrelds IM, et al. The relationship between nasal hyperreactivity, quality of life and nasal symptoms in patients with perennial allergic rhinitis. J Allergy Clin Immunol 1996; 98: 508–13

Juniper EF. Rhinitis management: the patients perspective. Clin Exp Allergy 1998; 28(S6): 34–8

Kronholm A. Injectable depot corticosteroid therapy in hay fever. J Int Med Res 1979; 7: 314–7

Ohlander BO, Hansson RE, Karlsson K-E. A comparison of three injectable corticosteroids for the treatment of patients with seasonal hay fever. J Int Med Res 1980; 8: 63–9

Ratner PH, Van Bavel JH, Martin BG, et al. A comparison of the efficacy of fluticasone propionate aqueous nasal spray and loratadine, alone and in combination for the treatment of seasonal allergic rhinitis. J Fam Pract 1998; 47: 118–25

Prednisolone and prednisone. In: Dollery C, editor. Therapeutic drugs. 2nd ed. Edinburgh: Churchill Livingstone, 1999: P192–8
Acknowledgements
The Claricort Study Group would like to thank Schering Plough (Pty) Ltd South Africa for their sponsorship of this study and Mrs J. Bekker for secretarial support.
The Claricort Study Group: P. Crossland, H. du Preez, I. Engelbrecht, K.C. Esterhuizen, E.J. Evans, M. Groenewald, L.G. Herbst, R. Heitner, M.H. Hockman, D. Lakha, L. Leaver, H. Makan, W.E. Mans, P.C. Potter, A.S. Putterman, G.J. Ras, C.J.B. Smit, J.R. Snyman, J. Steer, C.O. van Bergen, B.J. van der Merwe, A. Viljoen.
The authors have no conflicts of interest that may have influenced this study.
About this article
Cite this article
Snyman, J.R., Potter, P.C., Groenewald, M. et al. Effect of Betamethasone-Loratadine Combination Therapy on Severe Exacerbations of Allergic Rhinitis. Clin. Drug Investig. 24, 265–274 (2004). https://doi.org/10.2165/00044011-200424050-00003
Published:

Issue Date:

DOI: https://doi.org/10.2165/00044011-200424050-00003
Keywords
Rhinitis

Allergic Rhinitis

Pollen Season

Betamethasone

Nasal Obstruction