Abstract
Objective: This post-marketing surveillance study aimed to investigate the contraceptive efficacy and tolerability of a combination tablet containing chlormadinone acetate 2mg and ethinylestradiol 0.03mg (Belara®) in daily gynaecological practice. A secondary aim was investigation of the changes in clinical signs of androgenisation.
Design: 21 820 female patients were surveyed during a six-cycle period by 3600 gynaecologists throughout Germany.
Results: Out of 21 820 patients, a total of 19 650 women (90.1%) completed the study. Chlormadinone acetate 2mg/ethinylestradiol 0.03mg had excellent contraceptive efficacy with an adjusted Pearl index of 0.076 (unadjusted Pearl index: 0.344), calculated from 125 634 cycles of exposure. Cycle control was good, with beneficial reductions in intracyclic bleeding (22.9% in cycle 1, 1.6% in cycle 6), amenorrhoea, severe withdrawal bleeding and dysmenorrhoea. At cycle six, only 1.2, 0.4 and 0.5% of all patients complained about spotting, breakthrough bleeding and amenorrhoea, respectively. At baseline, 69.9% of the women showed androgen-related skin disorders. After six cycles of chlormadinone acetate 2mg/ ethinylestradiol 0.03mg, these disorders were improved in 86.5% of patients, including 28.5% who had complete resolution. Correspondingly, greasy or very greasy hair condition decreased from 47.0 to 13.6%. Chlormadinone acetate 2mg/ethinylestradiol 0.03mg was well tolerated; a total of two venous thromboembolic events (VTEs) occurred, and both patients recovered with appropriate treatment. Breast pain (3.6%) and migraine/headache (2.6%) were the most frequently reported adverse events. Conversely, these symptoms disappeared in most women (84.5 and 79.9%) who experienced them prior to chlormadinone acetate 2mg/ethinylestradiol 0.03mg treatment.
Conclusions: These results support the reliable contraceptive efficacy, cycle stability and tolerability reported in previous clinical trials and confirm the marked antiandrogenic properties of chlormadinone acetate 2mg/ethinylestradiol 0.03mg.
Access options
Buy single article
Instant access to the full article PDF.
US$ 49.95
Tax calculation will be finalised during checkout.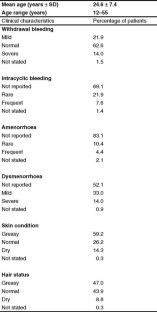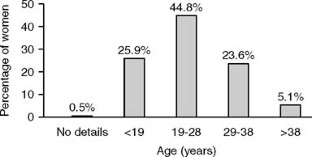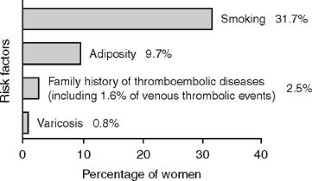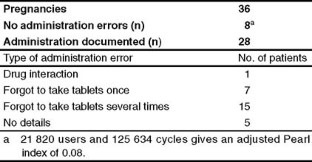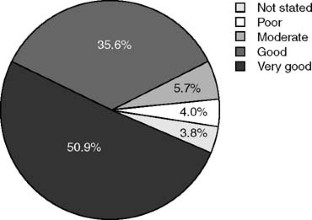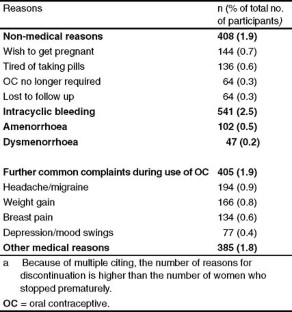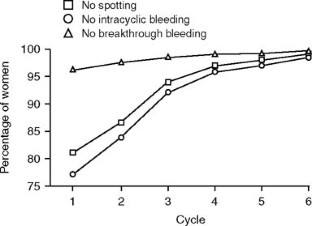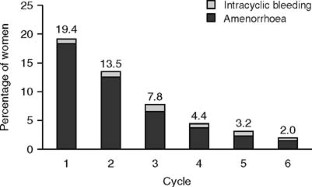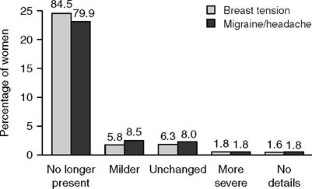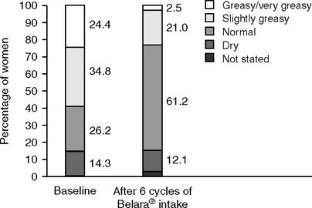 References
1.

Rabe T, Vladescu E, Runnebaum B. Die Zukunft der oralen hormonalen Kontrazeption. Gynäkologe 1998; 31: 451–69

2.

Mall-Haefeli M. Die Wirkung der Androgene auf das Zyklusgeschehen. In: Loch EG, Schramm G, editors. Chlormadinonacetat bei Androgenisierungserscheinungen. Schattauer, Stuttgart 1995: 43–55

3.

Kaiser E. Action of a new hormonal contraceptive (Neo-Eunomin®) on androgenisation of the skin in women. Geburtshilfe Frauenheilkd 1984; 44: 651–5

4.

Carlborg L. Cyproterone acetate versus levonorgestrel combined with ethinylestradiol in the treatment of acne. Acta Obstet Gynecol Scand 1986; 134: 29–32

5.

Kuhl H. Chemie und Pharmakologie von Chlormadinonacetat. In: Loch EG, Schramm G, editors. Chlormadinonacetat bei Androgenisierungserscheinungen. Schattauer, Stuttgart 1995: 1–12

6.

Breckwoldt M, Zahradnik HP, Wieacker P. Hirsutism. In: Orfanos CE, Happle R, editors. Hair and hair diseases. Berlin: Springer-Verlag, 1990: 777–89

7.

Basdevant A, Conard J, Pelissier C, et al. Hemostatic and metabolic effects of lowering the ethinylestradiol dose from 30 mcg to 20 mcg in oral contraceptives containing desogestrel. Contraception 1993; 48: 193–204

8.

Kuhl H, Jung-Hoffmann C, editors. Pharmakologie der Gestagene. In: Kontrazeption. Thieme, Stuttgart/New York 1999: 28–31

9.

Zahradnik HP, Goldberg J, Andreas JO. Efficacy and safety of the new antiandrogenic oral contraceptive Belara®. Contraception 1998; 57: 103–9

10.

Runnebaum B, Rabe T. Gynäkologische Endokrinologie. Springer Heidelberg/New York 1994: 412–53

11.

Speroff L, DeCherney A. Review -evaluation of a new generation of oral contraceptives. Obstet Gynecol 1993; 81: 1034–47

12.

Rebar RW Combination oral contraceptives. Curr Ther Endocrinol Metab1997; 6: 275–80

13.

Dunson TR, McLaurin VL, Aguayo EL, et al. A multicenter comparative trial of triphasic and monophasic, low-dose combined oral contraceptives. Contraception 1993; 4: 515–25

14.

Fotherby K. Twelve years of clinical experience with an oral contraceptive containing 30 μg ethinylestradiol and 150 μg desogestrel. Contraception 1995; 51: 3–12

15.

Cachrimanidou AC, Hellberg D, Nilsson S, et al. Long-interval treatment regimen with a desogestrel-containing oral contraceptive. Contraception 1993; 48: 205–16

16.

Lidegaard O, Milsom I. Oral contraceptives and thrombotic diseases: impact of new epidemiological studies [editorial]. Contraception 1996; 53: 135

17.

Zimmermann T, Dietrich H, Wisser H, et al. The efficacy and tolerability of Valette®: a postmarketing surveillance study. Eur J Contracept Reprod Health Care 1999; 4(3): 155–64

18.

Jick H, Jick SS, Gurewich V, et al. Risk of idiopathic cardiovascular death and nonfatal venous thromboembolism in women using oral contraceptives with differing progestagen components. Lancet 1995; 346: 1589–93

19.

Farmer RDT, Lawrenson RA, Thompson CR, et al. Populationbased study of risk of venous thromboembolism associated with various oral contraceptives. Lancet 1997; 349: 83–8

20.

Farmer RDT, Preston TD. The risk of venous thromboembolism associated with low-dose estrogen oral contraceptives. J Obstet Gynaecol 1995; 15: 195–200

21.

Gerstmann BB, Piper JM, Tomita DK, et al. Oral contraceptive estrogen dose and the risk of deep venous thromboembolic disease. Am J Epidemiol 1991; 133: 32–7

22.

Luderschmidt C. Akne der Frau -eine interdisziplinäre Herausforderung. In: Loch EG, Schramm G, editors. Chlormadinonacetat bei Androgenisierungserscheinungen: Schattauer, Stuttgart 1995: 57–76

23.

Breckwoldt M, Wieacker P. Hirsutismus. In: Bettendorf G, Breckwoldt M, editors. Reproduktionsmedizin. Stuttgart (Germany): Fischer, 1989: 483–7

24.

McKenna TJ. The use of anti-androgens in the treatment of hirsutism. Clin Endocrinol 1991; 35: 1–3

25.

Dieben T, Vromans L, Theeuwes C, et al. The effects of CRT-24, a biphasic oral contraceptive combination, compared to Diane-35 in women with acne. Contraception 1994; 50: 373–82

26.

Redmond GP, Olson WH, Lippmann JS, et al. Norgestimate and ethinylestradiol in the treatment of acne vulgaris: A randomized, placebo-controlled trial. Obstet Gynecol 1997; 89(4): 615–22

27.

Ebling FJ. Hormonal control of sebacious glands in experimental animal. In: Montagna W, Ellis RA, Silver AF, editors. Advances in the biology of skin. The sebacious gland. Vol. 4. Oxford (UK): Pergamon Press, 1963: 200–19

28.

Lucky AW, Henderson TA, Olson WH, et al. Effectiveness of norgestimate and ethinylestradiol in treating moderate acne vulgaris. J Am Acad Dermatol 1997; 37: 746–54

29.

Cirkel U, Belkien L, Hanker JP, et al. Auswirkungen eines chlormadinonazetathaltigen Ovulationshemmers auf Androgenisierungserscheinungen sowie auf den Leber-und Fettstoffwechsel junger Frauen. Geburtshilfe Frauenheilkd 1986; 46: 439–43
Acknowledgements
This study was conducted and sponsored by Grünenthal GmbH, Germany. The authors would like to thank the gynaecologists and Grünenthal staff who participated in the study.
Additional information
Use of tradenames is for product identification only and does not imply endorsement.
About this article
Cite this article
Schramm, G., Steffens, D. Contraceptive Efficacy and Tolerability of Chlormadinone Acetate 2mg/ Ethinylestradiol 0.03mg (Belara®). Clin. Drug Investig. 22, 221–231 (2002). https://doi.org/10.2165/00044011-200222040-00002
Keywords
Ethinylestradiol

Breast Pain

Dienogest

Contraceptive Efficacy

Breakthrough Bleeding