Abstract
Objective
This randomised, double-blind, parallel group study compared the efficacy and tolerability of flurbiprofen lozenges (8.75mg or 12.5mg) with demulcent placebo lozenges in the treatment of patients with sore throat due to upper respiratory tract infection.
Study Participants
A total of 320 patients with objective and subjective evidence of sore throat were randomised to treatment with flurbiprofen 8.75mg (n = 128), flurbiprofen 12.5mg (n = 64) or placebo (n = 128) lozenges.
Main Outcome Measures
Efficacy was assessed by changes in subjective ratings scales measuring pain relief, throat soreness and swollen throat at specified intervals over a 6-hour period following administration of a single dose. Tolerability was assessed over a 5-day multiple-dose regimen.
Results
Flurbiprofen 8.75mg lozenge was significantly superior to placebo for the primary efficacy variable, total pain relief summed over 15 to 120 minutes (TOTPAR15–120min), and for reducing throat soreness over 2 hours and swollen throat over 2 and 6 hours (p < 0.05). Flurbiprofen 12.5mg treatment was not significantly better than flurbiprofen 8.75mg. There were no significant differences between treatment groups in the incidence of adverse events when reports of taste perversion, which reflects an aspect of patient acceptability rather than tolerability, were removed from the analysis (p = 0.776).
Conclusions
The efficacy and tolerability profile of flurbiprofen 8.75mg lozenges indicated that they provide a convenient treatment for patients with sore throat. Symptomatic relief was rapid, occurring within 15 minutes of administration due to lozenge demulcency, and statistically significant differences between active and placebo lozenges were detected within 30 minutes and sustained over 4 hours.
Access options
Buy single article
Instant access to the full article PDF.
US$ 49.95
Tax calculation will be finalised during checkout.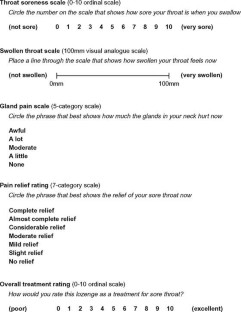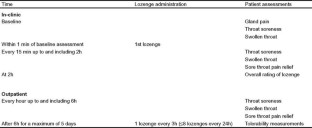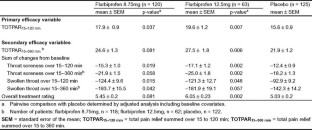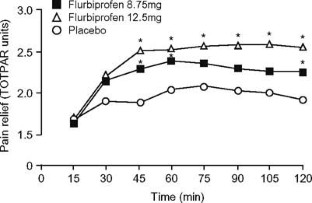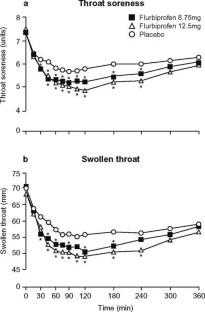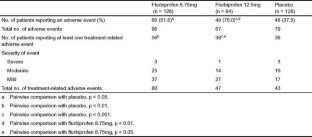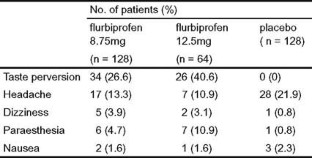 References
1.

Lamberts H, Woods M, eds. ICPC, international classification of primary care. New York: Oxford University Press, 1987

2.

Gwaltney JM Jr. Pharyngitis. In: Mandell GL, Betten JD, Dolin R, editors. Principles and practice of infectious disease. 4th ed. New York: Churchill Livingstone, 1995: 566–72

3.

Little PS, Williamson I. Controversies in management: Are antibiotics appropriate for sore throats? Costs outweigh the benefits. BMJ 1994; 309(6960): 1010–1

4.

Del Mar C. Managing sore throat: a literature review II. Do antibiotics confer benefit? Med J Aust 1992; 156(9): 644–9

5.

Whitfield MJ, Hughes AO. Penicillin in sore throat. Practitioner 1981; 225(1352): 234–9

6.

Little P, Williamson I, Warner G, et al. Open randomised trial of prescribing strategies in managing sore throat. BMJ 1997; 314(7082): 722–7

7.

Butler CC, Rollnick S, Kinnersley P, et al. Reducing antibiotics for respiratory tract symptoms in primary care: consolidating 'why' and considering 'how'. Br J Gen Pract 1998; 48(437): 1865–70

8.

Jacoby GA, Archer GL. New mechanisms of bacterial resistance to antimicrobial agents. New Engl J Med 1991; 324(9): 601–12

9.

Levy SB. The antibiotic paradox. New York, NY: Plenum Press, 1992

10.

Little P, Gould C, Williamson I, et al. Reattendance and complications in a randomised trial of prescribing strategies for sore throat: the medicalising effect of prescribing antibiotics. BMJ 1997; 315(7104): 350–2

11.

Brooks CD, Linet OI, Schellenberg D, et al. Clinical safety of flurbiprofen. J Clin Pharmacol 1990; 30(4): 342–51

12.

Busson M. A long-term study of flurbiprofen in rheumatological disorders. I. Rheumatoid arthritis. J Int Med Res 1986; 14(1): 1–6

13.

Busson M. A long-term study of flurbiprofen in rheumatological disorders. II. Osteoarthritis. J Int Med Res 1986; 14(1): 7–12

14.

Busson M. A long-term study of flurbiprofen in rheumatological disorders. III. Other articular disorders. J Int Med Res 1986; 14(1): 13–8

15.

Stubbs DF, Freeman BE. Efficacy comparisons of flurbiprofen with other nonsteroidal anti-inflammatory drugs in arthritic diseases. Curr Ther Res 1989; 46: 511–28

16.

Benvenuti C, Guidoni G, Longoni A, et al. Controlled study on flurbiprofen and diclofenac in the treatment of rheumatic disorders. Int J Tissue React 1983; 5(1): 61–5

17.

Preston SJ, Arnold MH, Beller EM, et al. Variability in response to nonsteroidal anti-inflammatory analgesics: evidence from controlled clinical therapeutic trial of flurbiprofen in rheumatoid arthritis. Br J Clin Pharmacol 1988; 26(6): 759–64

18.

Buchanan WW, Kassam YB. European experience with flurbiprofen. A new analgesic/anti-inflammatory agent. Am J Med 1986; 80(3A): 145–52

19.

Heasman PA, Benn DK, Kelly PJ, et al. The use of topical flurbiprofen as an adjunct to non-surgical management of periodontal disease. J Clin Periodontal 1993; 20(6): 457–64

20.

Battisti N. The evaluation of the analgesic and anti-inflammatory effects of flurbiprofen mouthwash and 100 mg tablets in oral medicine. Minerva Stomatol 1994; 43(4): 141–4

21.

Procaccini M, Palazzo V, Mastroianni L, et al. Flurbiprofen collutory in oral surgical pathology. Minerva Stomatol 1996; 45(9): 421–5

22.

Paganelli C. Pharmacological support during orthodontic therapy with a topical anti-inflammatory. Minerva Stomatol 1993; 42(6): 271–4

23.

Schachtel BP, Homan HD, Gibb IA, et al. Demonstration of dose-response of flurbiprofen lozenge for sore throat. Clin Pharmacol Ther 1999; 65(2): 117

24.

Christian J, Largey PM, Shaw H, et al. Local and general tolerability of flurbiprofen lozenges in healthy volunteers. Pharmacol Res 1999; 39: 104

25.

Schachtel BP, Cleves GS, Konerman JP, et al. A placebo-controlled model to assay the onset of action of nonprescription-strength analgesic drugs. Clin Pharmacol Ther 1994; 55(4): 464–70

26.

Schachtel BP, Fillingim JM, Thoden WR, et al. Sore throat pain in the evaluation of mild analgesics. Clin Pharmacol Ther 1988; 44(6): 704–1

27.

Schachtel BP, Fillingim JM, Beiter DJ, et al. Subjective and objective features of sore throat. Arch Intern Med 1984; 144(3): 497–500

28.

Department of Health and Human Services (DCHS). COST-ART (Coding Symbols for Thesaurus of Adverse Reaction Terms), 3rdedition. Rockville, Maryland: DHHS, FDA, 1989
Acknowledgements
This study was funded by Boots Healthcare International, Nottingham, UK.
About this article
Cite this article
Benrimoj, S.I., Langford, J.H., Christian, J. et al. Efficacy and Tolerability of the Anti-inflammatory Throat Lozenge Flurbiprofen 8.75mg in the Treatment of Sore Throat. Clin. Drug Investig. 21, 183–193 (2001). https://doi.org/10.2165/00044011-200121030-00004
Keywords
Sore Throat

Flurbiprofen

Oral Examination

Petechial Haemorrhage

Primary Efficacy Variable