Abstract
Objective
To investigate the effects of G115® ginseng extract in reducing the bacterial count in the lungs of patients undergoing an acute attack of chronic bronchitis.
Design
Nonblinded, randomised, comparative pilot trial.
Setting
One centre in Milan, Italy.
Patients
75 patients with acute attacks of chronic bronchitis.
Interventions
All patients received 875mg amoxicillin and 125mg clavulanic acid twice daily for 9 days. They were then further randomised into two groups, one (n = 37) receiving only the antibacterial treatment, the second (n = 38) also receiving 100mg standardised ginseng extract G115® twice daily. The total duration of treatment was 9 days.
Main Outcome Measures and Results
Of the 75 patients included in the trial, 44 were evaluable. Significant group and time effects were found after analysis of the evolution of bacterial count. Significant differences between treatment groups were found on days 4, 5, 6 and 7, while a borderline trend was found on day 8. The log rank test showed a significant difference between the treatment groups after analysis of time to clearance of infection (χ2 = 6.2127, p = 0.0127). The median time to reach the point where no bacteria were detected was lower in the antibacterial plus ginseng group [median 6 days, mean 5.9 days, standard deviation (SD) 0.3] than in those receiving antibacterials alone (median 7 days, mean 6.7 days, SD 0.3).
Conclusions
In the group receiving G115® ginseng extract, bacterial clearance was significantly faster than in those receiving antibacterials alone. These results indicate a beneficial effect of G115® ginseng extract on the reduction of bacterial counts in the bronchial systems of patients with acute attacks of chronic bronchitis. Patients in whom the elimination of bacteria from the bronchial system is particularly difficult may benefit from the use of ginseng.
This is a preview of subscription content, log in to check access.
Access options
Buy single article
Instant access to the full article PDF.
US$ 49.95
Tax calculation will be finalised during checkout.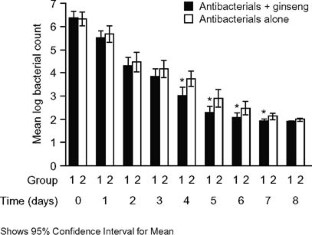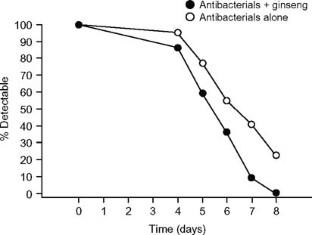 Notes
1.

1Term used to identify patients who have follow-up data to enter a particular interval in a life-table analysis, but whose most current follow-up data do not extend to the end of the interval. The number of patients withdrawn during this interval is then used for the survival analysis.
References
1.

Singh VK, Agarwai SS, Gupta BM. Immunomodulatory activity of Panax ginseng extract. Planta Med 1984; 50(6): 462–5

2.

Anthonisen NR, Manfreda J, Warren CPW, et al. Antibiotic therapy in exacerbations of chronic obstructive pulmonary disease. Ann Int Med 1987; 106: 196–204

3.

Bates JM. The role of infection during exacerbation of chronic bronchitis. Ann Int Med 1982; 97: 130–1

4.

Murphy TF, Sethi S. Bacterial infections in chronic obstructive pulmonary disease. Am Rev Respir Dis 1992; 146: 1067–83

5.

Singh VK, George CX, Singh N, et al. Combined treatment of mice with Panax ginseng extract and interferon inducer. Planta Med 1983; 47(4): 234–6

6.

Scaglione F, Ferrara F, Dugnani S, et al. Immunomodulatory effects of two extracts of Panax ginseng C.A. Meyer. Drugs Exp Clin Res 1990; 16(10): 537–42

7.

Scaglione F, Cattaneo G, Alessandria M, et al. Efficacy and safety of the standardised ginseng extract G115® for potentiating vaccination against common cold and/or influenza syndrome. Drugs Exp Clin Res 1996; 22(2): 65–72

8.

Scaglione F, Cogo R, Cocuzza C, et al. Immunomodulatory effects of Panax ginseng C.A. Meyer (G115®) on alveolar macrophages from patients suffering with chronic bronchitis. Int J Immunother 1994; 10(1): 21–4

9.

Gross D, Krieger D, Efrat R, et al. Ginseng extract G115® for the treatment of chronic respiratory diseases. Schweiz Z für Ganzheits Medizin 1995; 1: 29–33

10.

Song, ZJ, Johansen HK, Faber V, et al. Ginseng treatment reduces bacterial load and lung pathology in chronic Pseudomonas aeruginosa pneumonia in rats. Antimicrob Agents Chemother 1997; 41(5): 961–4
About this article
Cite this article
Scaglione, F., Weiser, K. & Alessandria, M. Effects of the Standardised Ginseng Extract G115® in Patients with Chronic Bronchitis. Clin. Drug Investig. 21, 41–45 (2001). https://doi.org/10.2165/00044011-200121010-00006
Keywords
Alveolar Macrophage

Acute Attack

Chronic Bronchitis

Bacterial Count

Panax Ginseng