Abstract
Combination therapy with an insulin-stimulating agent (i.e. glibenclamide [glyburide]) and an insulin-sensitising agent (i.e. metformin) is an optimal and rational therapeutic first- and second-line treatment in patients with type 2 diabetes mellitus. Single-tablet glibenclamide/metformin achieves better glycaemic control than monotherapy with either agent. The improved convenience of fixed-dose glibenclamide/metformin may improve patient compliance with treatment, thereby improving glycaemic control.
Access options
Buy single article
Instant access to the full article PDF.
USD 49.95
Price excludes VAT (USA)
Tax calculation will be finalised during checkout.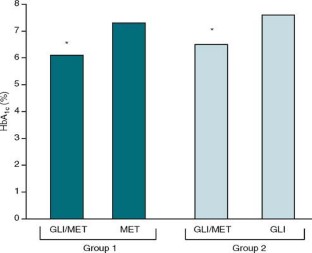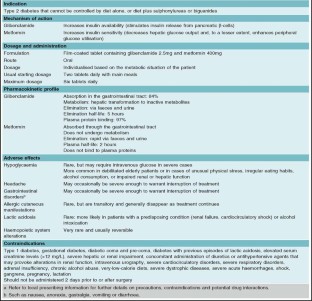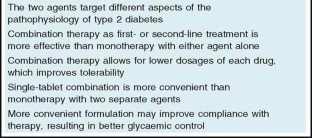 References
International Diabetes Federation. Diabetes facts and figures [online]. Available from URL: http://www.idf.org [Accessed 2006 Jun 23]

American Diabetes Association. Diagnosis and classification of diabetes mellitus. Diabetes Care 2005; 28 Suppl. 1: S37–42

Hawkins D, Bradberry JC, Cziraky MJ, et al. National Pharmacy Cardiovascular Council treatment guidelines for the management of type 2 diabetes mellitus: toward better patient outcomes and new roles for pharmacists. Pharmacotherapy 2002 Apr; 22(4): 436–44

UK Prospective Diabetes Study (UKPDS) Group. Intensive blood-glucose control with sulphonylureas or insulin compared with conventional treatment and risk of complications in patients with type 2 diabetes (UKPDS 33). Lancet 1998; 352: 837–53

UK Prospective Diabetes Study (UKPDS) Group. Effect of intensive blood glucose control with metformin on complications in overweight patients with type 2 diabetes (UKPDS 34). Lancet 1998; 352: 854–65

European Diabetes Policy Group. A desktop guide to type 2 diabetes mellitus. Diabet Med 1999; 16: 716–30

American College of Endocrinology. Consensus statement on guidelines for glycemic control. Endocr Pract 2002 Jan–Feb; 8 Suppl. 1: 5–11

American Diabetes Association. Standards of medical care in diabetes. Diabetes Care 2004; 27 Suppl. 1: S15–35

Wolters Klower Health, Inc. Facts and Comparisons 4.0 [online]. Available from http://online.factsandcomparisons.com[Accessed 2006 Jun 23]

Turner RC, Cull CA, Frighi V, et al. Glycemic control with diet, sulfonylurea, metformin, or insulin in patients with type 2 diabetes mellitus: progressive requirement for multiple therapies (UKPDS 49). JAMA 1999; 281: 2005–12

Guillausseau P-J. Impact of compliance with oral antihyperglycemic agents on health outcomes in type 2 diabetes mellitus: a focus on frequency of administration. Treat Endocrinol 2005; 4(3): 167–75

Chehade JM, Mooradian AD. Drug therapy: current and emerging agents. In: Sinclair AJ, Finucane P, editors. Diabetes in old age. 2nd ed. Chichester: John Wiley & Sons, 2001

Tosi F, Muggeo M, Brun E, et al. Combination treatment with metformin and glibenclamide versus single-drug therapies in type 2 diabetes mellitus: a randomised, double-blind, comparative study. Metabolism 2003 Jul; 52(7): 862–7

Howlett H, Porte F, Allavoine T, et al. The development of an oral antidiabetic combination tablet: design, evaluation and clinical benefits for patients with type 2 diabetes. Curr Med Res Opin 2003; 19(3): 218–25

Arezina R, Grune D. A single-blind four way cross-over study to assess the bioavailability of oral single doses of glibenclamide 5mg, metformin 500 mg, and two fixed combinations of glibenclamide 2.5 and 5mg and metformin 400 mg in 12 healthy male volunteers (Study 96549). Pisa: Laboratori Guidotti S.p.A., 1997. (Data on file)

DeFronzo RA, Goodman AM. Efficacy of metformin in patients with non-insulin-dependent diabetes mellitus. The Multicenter Metformin Study Group. N Engl J Med 1995 Aug 31; 333(9): 541–9

UK Prospective Diabetes Study (UKPDS) Group. UKPDS 28: a randomized trial of efficacy of early addition of metformin in sulfonylurea-treated type 2 diabetes. Diabetes Care 1998 Jan; 21(1): 87–92

Hermann LS, Schersten B, Melander A. Antihyperglycaemic efficacy, response prediction and dose-response relations of treatment with metformin and sulphonylurea, alone and in primary combination. Diabet Med 1994 Dec; 11(10): 953–60

Groop L, Widen E. Treatment strategies for secondary sulfonylurea failure. Should we start insulin or add metformin? Is there a place for intermittent insulin therapy? Diabete Metab 1991 May; 17 (1 Pt 2): 218–23

Klein W. Sulfonylurea-metformin-combination versus sulfonylurea-insulin-combination in secondary failures of sulfonylurea monotherapy: results of a prospective randomized study in 50 patients. Diabete Metab 1991 May; 17 (1 Pt 2): 235–40

Trischitta V, Italia S, Mazzarino S, et al. Comparison of combined therapies in treatment of secondary failure to glyburide. Diabetes Care 1992 Apr; 15(4): 539–42

Haupt E, Knick B, Koschiniski T, et al. Oral antidiabetic combination therapy with sulfonylureas and metformin. Diabete Metab 1991; 17 Suppl. 1; 224–31

Hermann LS, Schersten B, Bitzen PO, et al. Therapeutic comparison of metformin and sulfonylurea, alone and in various combinations: a double-blind controlled study. Diabetes Care 1994 Oct; 17(10): 1100–9

Cignarelli M, Giorgino R. Relazione della sperimentazione clinica controllata sullo studio degli effectti metabolici di una associazione glibencalmide metformina (Glibomet) versus glibenclamide nel trattamento del diabete mellito de tipo II. Pisa: Laboratori Guidotti S.p.A., 1984. (Data on File)

D'Argenzio R, Cavallo P, Merante D, et al. Comparison of two treatment models in type-II diabetic patients with poor metabolic control: preformed combination of glibenclamide 2, 5 mg + metformin 400 mg or mono-therapy with sulfonylurea at maximal doses? An evaluation at six months [in Italian]. Minerva Endocrinol 1996 Sep; 21(3): 101–10

Curiale V. Metformin plus glibenclamide versus glibenclamide in type II diabetic patients. Ann Exp Clin Med 1994; 1: 198–202

Pastore L, Morviducci L, Merante D et al. Combined glibenclamide plus metformin improves insulin sensitivity in non-obese type 2 diabetic patients. Diab Nutr Metab 1998; 11: 225–31

Garber AJ, Donovan Jr DS, Dandona P, et al. Efficacy of glyburide/metformin tablets compared with initial monotherapy in type 2 diabetes. J Clin Endocrinol Metab 2003 Aug; 88(8): 3598–604

Garber AJ, Bruce S, Fiedorek FT. Durability of efficacy and long-term safety profile of glyburide/metformin tablets in patients with type 2 diabetes mellitus: an open-label extension study. Clin Ther 2002 Sep; 24(9): 1401–13

Garber AJ, Larsen J, Schneider SH, et al. Simultaneous glyburide/ metformin therapy is superior to component monotherapy as an initial pharmacological treatment for type 2 diabetes. Diabetes Obes Metab 2002 May; 4(3): 201–8

Dailey III GE, Mohideen P, Fiedorek FT. Lipid effects of glyburide/metformin tablets in patients with type 2 diabetes mellitus with poor glycemic control and dyslipidemia in an open-label extension study. Clin Ther 2002 Sep; 24(9): 1426–38

Melikian C, White TJ, Vanderplas A, et al. Adherence to oral antidiabetic therapy in a managed care organization: a comparison of monotherapy, combination therapy, and fixed-dose combination therapy. Clin Ther 2002; 24: 460–7

Blonde L, Wogen J, Kreilick C, et al. Greater reductions in A1C in type 2 diabetic patients new to therapy with glyburide/metformin tablets as compared to glyburide co-administered with metformin. Diabetes Obes Metab 2003 Nov; 5(6): 424–31

British national formulary. No. 51. London: The Pharmaceutical Press, 2006 Mar

Garber AJ, Duncan TG, Goodman AM, et al. Efficacy of metformin in type II diabetes: results of a double-blind, placebo-controlled, dose-response trial. Am J Med 1997 Dec; 103(6): 491–7
About this article
Cite this article
Derosa, G. Glibenclamide plus metformin combination tablets are effective, convenient and well tolerated in the treatment of type 2 diabetes mellitus. Drugs Ther. Perspect 22, 1–6 (2006). https://doi.org/10.2165/00042310-200622080-00001
Published:

Issue Date:

DOI: https://doi.org/10.2165/00042310-200622080-00001
Keywords
Metformin

Glycaemic Control

Glibenclamide

Acarbose

Sulphonylurea