Abstract
Cannabis is the most widely used illicit drug in the world. Treatment admissions for cannabis use disorders have risen considerably in recent years, and the identification of medications that can be used to improve treatment outcomes among this population is a priority for researchers and clinicians. To date, several medications have been investigated for indications of clinically desirable effects among cannabis users (e.g. reduced withdrawal, attenuation of subjective or reinforcing effects, reduced relapse). Medications studied have included those: (i) known to be effective in the treatment of other drug use disorders; (ii) known to alleviate symptoms of cannabis withdrawal (e.g. dysphoric mood, irritability); or (iii) that directly affect endogenous cannabinoid receptor function. Results from controlled laboratory studies and small open-label clinical studies indicate that buspirone, dronabinol, fluoxetine, lithium and lofexidine may have therapeutic benefit for those seeking treatment for cannabis-related problems. However, controlled clinical trials have not been conducted and are needed to both confirm the potential clinical efficacy of these medications and to validate the laboratory models being used to study candidate medications. Although the recent increase in research towards the development of pharmacotherapy for cannabis use disorders has yielded promising leads, well controlled clinical trials are needed to support broad clinical use of these medications to treat cannabis use disorders.
Access options
Buy single article
Instant access to the full article PDF.
US$ 49.95
Tax calculation will be finalised during checkout.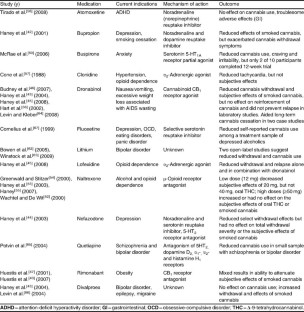 References
1.

ElSohly MA, Slade D. Chemical constituents of marijuana: the complex mixture of natural cannabinoids. Life Sci 2005; 78: 539–48

2.

Howlett AC, Breivogel CS, Childers SR, et al. Cannabinoid physiology and pharmacology: 30 years of progress. Neuropharmacology 2004; 47: 345–58

3.

Gardner EL. Endocannabinoid signaling system and brain reward: emphasis on dopamine. Pharmacol Biochem Behav 2005; 81: 263–84

4.

DeFonseca FR, Carrera MRA, Navarro M, et al. Activation of corticotropin-releasing factor in the limbic system during cannabinoid withdrawal. Science 1997; 276: 2050–4

5.

Diana M, Melis M, Muntoni AL, et al. Mesolimbic dopaminergic decline after cannabinoid withdrawal. Proc Natl Acad Sci U S A 1998; 95: 10269–73

6.

UNODC. World drug report: 2007. New York: United Nations Office on Drugs and Crime, 2007

7.

SAMHSA. Treatment episode data set (TEDS) 1995–2005: national admissions to substance abuse treatment services. Rockville (MD): DHHS, 2008

8.

EMCDDA. Annual report on the state of the drugs problem. Lisbon: European Monitoring Centre for Drugs and Drug Addiction, 2007

9.

AIHW. Alcohol and other drug treatment services in Australian Capital Territory 2005–06: findings from the National Minimum Data Set. Canberra (ACT): Australian Institute of Health and Welfare, 2007

10.

Benyamina A, Lecacheux M, Blecha L, et al. Current state of pharmacotherapy and psychotherapy in cannabis withdrawal and dependence. Expert Rev Neurother 2008; 8: 479–91

11.

Nordstrom BR, Levin FR. Treatment of cannabis use disorders: a review of the literature. Am J Addict 2007; 16: 331–42

12.

Budney AJ, Higgins ST, Radonovich KJ, et al. Adding voucher-based incentives to coping-skills and motivational enhancement improves outcomes during treatment for marijuana dependence. J Consult Clin Psychol 2000; 68: 1051–61

13.

Budney AJ, Moore BA, Rocha HL, et al. Clinical trial of abstinence-based vouchers and cognitive-behavioral therapy for cannabis dependence. J Consult Clin Psychol 2006; 74: 307–16

14.

Carroll KM, Easton CJ, Nich C, et al. The use of contingency management and motivational/skills-building therapy to treat young adults with marijuana dependence. J Consult Clin Psychol 2006; 74: 955–66

15.

Copeland J, Swift W, Roffman R, et al. A randomized controlled trial of brief cognitive-behavioral interventions for cannabis use disorder. J Subst Abuse Treat 2001; 21: 55–64

16.

Kadden RM, Litt MD, Kabela-Cormier E, et al. Abstinence rates following behavioral treatments for marijuana dependence. Addict Behav 2007; 32: 1220–36

17.

Madden G, Copeland J, Swift W. The adolescent cannabis check-up: feasibility of a brief intervention for young cannabis users. J Subst Abuse Treat 2005; 29: 207–13

18.

Marijuana Treatment Project Research Group. Brief treatments for cannabis dependence: findings from a randomized multisite trial. J Consult Clin Psychol 2004; 72: 455–66

19.

Moore BA, Budney AJ. Relapse in outpatient treatment for marijuana dependence. J Subst Abuse Treat 2003; 25: 85–9

20.

Stephens RS, Roffman RA, Simpson EE. Treating adult marijuana dependence: a test of the relapse prevention model. J Consult Clin Psychol 1994; 62: 92–9

21.

Stephens RS, Roffman RA, Curtin L. Comparison of extended versus brief treatments for marijuana use. J Consult Clin Psychol 2000; 68: 898–908

22.

Fiore MC, Bailey WC, Cohen SJ, et al. Treating tobacco use and dependence: clinical practice guideline. Rockville (MD): US Department of Health and Human Services, 2000

23.

Silagy C, Lancaster T, Stead L, et al. Nicotine replacement therapy for smoking cessation. Cochrane Database Syst Rev 2004; (3): CD000146

24.

Mattick RP, Breen C, Kimber J, et al. Methadone maintenance therapy versus no opioid replacement therapy for opioid dependence. Cochrane Database Syst Rev 2003; (2): CD002209

25.

Hart CL. Increasing treatment options for cannabis dependence: a review of potential pharmacotherapies. Drug Alcohol Depend 2005; 80: 147–59

26.

Lichtman AH, Martin BR. Cannabinoid tolerance and dependence. In: Pertwee RG, editor. Handbook of experimental pharmacology: cannabinoids. Berlin: Springer-Verlag, 2005:691–717

27.

Piomelli D. The endogenous cannabinoid system and the treatment of marijuana dependence. Neuropharmacology 2004; 47: 359–67

28.

Haney M. The marijuana withdrawal syndrome: diagnosis and treatment. Curr Psychiatry Rep 2005; 7: 360–6

29.

Budney AJ, Hughes JR, Moore BA, et al. A review of the validity and significance of the cannabis withdrawal syndrome. Am J Psychiatry 2004; 161(11): 1967–77

30.

Copersino ML, Boyd SJ, Tashkin DP, et al. Cannabis withdrawal among non-treatment-seeking adult cannabis users. Am J Addict 2006; 15: 8–14

31.

Budney AJ, Moore BA, Vandrey RG, et al. The time course and significance of cannabis withdrawal. J Abnorm Psychol 2003; 112(3): 393–402

32.

Haney M, Ward AS, Comer SD, et al. Abstinence symptoms following smoked marijuana in humans. Psychopharmacology 1999; 14: 395–404

33.

Kouri EM, Pope HG. Abstinence symptoms during withdrawal from chronic marijuana use. Exp Clin Psychopharmacol 2000; 8(4): 483–92

34.

Coffey C, Carlin JB, Degenhardt L, et al. Cannabis dependence in young adults: an Australian population study. Addiction 2002; 97: 187–94

35.

Stephens RS, Babor TF, Kadden R, et al. The marijuana treatment project: rationale, design, and participant characteristics. Addiction 2002; 97Suppl. 1: 109–24

36.

Budney AJ, Vandrey RG, Hughes JR, et al. A comparison of cannabis and tobacco withdrawal: severity and contribution to relapse. J Subst Abuse Treat 2008; 35(4): 362–8

37.

Dwoskin LP, Rauhut AS, King-Pospisil KA, et al. Review of the pharmacology and clinical profile of bupropion, an antidepressant and tobacco use cessation agent. CNS Drug Rev 2006; 12: 178–207

38.

Löscher W. Basic pharmacology of valproate: a review after 35 years of clinical use for the treatment of epilepsy. CNS Drugs 2002; 16: 669–94

39.

Artigas F, Nutt DJ, Shelton R. Mechanism of action of antidepressants. Psychopharmacol Bull 2002; 36Suppl. 2:123–32

40.

Levi MS, Borne RF. A review of chemical agents in the pharmacotherapy of addiction. Curr Med Chem 2002; 9: 1807–18

41.

Pertwee RG. Ligands that target cannabinoid receptors in the brain: from THC to anandamide and beyond. Addict Biol 2008; 13: 147–59

42.

Haney M, Ward AS, Comer SD, et al. Bupropion SR worsens mood during marijuana withdrawal in humans. Psychopharmacology 2001; 155: 171–9

43.

Haney M, Hart CL, Vosburg SK, et al. Marijuana withdrawal in humans: effects of oral THC or divalproex. Neuropsychopharmacology 2004; 29: 158–70

44.

Haney M, Hart CL, Ward AS, et al. Nefazodone decreases anxiety during marijuana withdrawal in humans. Psychopharmacology 2003; 165: 157–65

45.

Haney M, Hart CL, Vosburg SK, et al. Effects of THC and lofexidine in a human laboratory model of marijuana withdrawal and relapse. Psychopharmacology 2008; 197: 157–68

46.

Budney AJ, Vandrey RG, Hughes JR, et al. Oral delta-9-tetrahydrocannabinol suppresses cannabis withdrawal symptoms. Drug Alcohol Depend 2007; 86: 22–9

47.

Huestis MA, Gorelick DA, Heishman SJ, et al. Blockade of effects of smoked marijuana by the CB1-sective cannabinoid recptor antagonist SR 141716. Arch Gen Psychiatry 2001; 58: 322–8

48.

Gorelick DA, Heishman SJ, Preston KL, et al. The cannabinoid receptor antagonist rimonabant attenuates the hypotensive effect of smoked marijuana in male smokers. Am Heart J 2006; 151: 754.e1-e5

49.

Huestis MA, Boyd SJ, Heishman SJ, et al. Single and multiple doses of rimonabant antagonize acute effects of smoked cannabis in male cannabis users. Psychopharmacology 2007; 194: 505–15

50.

Navarro M, Carrera MR, Fratta W, et al. Functional interaction between opioid and cannabinoid receptors in drug self-administration. J Neurosci 2001; 21: 5344–50

51.

Justinova Z, Tanda G, Munzar P, et al. The opioid antagonist naltrexone reduces the reinforcing effects of delta-9-THC in squirrel monkeys. Psychopharmacology 2004; 173: 186–94

52.

Wachtel SR, De Wit H. Naltrexone does not block the subjective effects of oral delta(9)-tetrahydrocannabinol in humans. Drug Alcohol Depend 2000; 59: 251–60

53.

Haney M, Bisaga A, Foltin RW. Interaction between naltrexone and oral THC in heavy marijuana smokers. Psychopharmacology 2003; 166: 77–85

54.

Greenwald MK, Stitzer ML. Antinociceptive subjective and behavioral effects of smoked marijuana in humans. Drug Alcohol Depend 2000; 59: 261–75

55.

Haney M. Opioid antagonism of cannabinoid effects: differences between marijuana smokers and nonmarijuana smokers. Neuropsychopharmacology 2007; 32: 1391–403

56.

Hart CL, Haney M, Ward AS, et al. Effects of oral THC maintenance on smoked marijuana self-administration. Drug Alcohol Depend 2002; 67: 301–9

57.

Cone EJ, Welch P, Lange WR. Clonidine partially blocks the physiologic effects but not the subjective effects produced by smoking marijuana in male human subjects. Pharmacol Biochem Behav 1988; 29: 649–52

58.

Tirado CF, Goldman M, Lynch K, et al. Atomoxetine for treatment of marijuana dependence: a report on the efficacy and high incidence of gastrointestinal adverse events in a pilot study. Drug Alcohol Depend 2008; 94: 254–7

59.

Simpson D, Perry CM. Atomoxetine. Pediatr Drugs 2003; 5:407–15

60.

McRae AL, Brady KT, Carter RE. Buspirone for treatment of marijuana dependence: a pilot study [letter]. Am J Addict 2006; 15: 404

61.

Cui SS, Bowen RC, Gu GB, et al. Prevention of cannabinoid withdrawal syndrome by lithium: involvement of oxytocinergic neuronal activation. J Neurosci 2001; 21: 9867–76

62.

Bowen R, McIlwrick J, Baetz M, et al. Lithium and marijuana withdrawal. Can J Psychiatry 2005; 50: 240–1

63.

Winstock AR, Lea T, Copeland J. Lithium carbonate in the management of cannabis withdrawal in humans: an open-label study. J Psychopharmacol 2009; 23: 84–93

64.

Levin FR, Kleber HD. Use of dronabinol for cannabis dependence: two case reports and review. Am J Addict 2008; 17: 161–4

65.

Potvin S, Stip E, Roy JY. The effect of quetiapine on cannabis use in 8 psychosis patients with drug dependency [letter]. Can J Psychiatry 2004; 49: 711

66.

Levin FR, McDowell D, Evans SM, et al. Pharmacotherapy for marijuana dependence: a double-blind, placebo-controlled pilot study of divalproex sodium. Am J Addict 2004; 13: 21–32

67.

Cornelius JR, Salloum IM, Haskett RF, et al. Fluoxetine versus placebo for the marijuana use of depressed alcoholics. Addict Behav 1999; 24: 111–4

68.

Perkins KA, Lerman C, Stitzer M, et al., Development of procedures for early screening of smoking cessation medications in humans. Clin Pharmacol Ther 2008; 84: 216–21

69.

Haney M, Spealman R. Controversies in translational research: drug self-administration. Psychopharmacology 2008; 199: 403–19

70.

Calhoun SR, Galloway GP, Smith DE. Abuse potential of dronabinol (Marinol). J Psychoactive Drugs 1998; 30:187–96
Acknowledgements
We thank the US National Institute on Drug Abuse (Dr Vandrey: DA12471 and DA025794; Dr Haney: DA09236 and DA19239) for its support. Dr Vandrey also thanks the Johns Hopkins University School of Medicine Department of Psychiatry and Behavioral Sciences for support. The authors have no conflicts of interest that are directly relevant to the content of this review.
About this article
Cite this article
Vandrey, R., Haney, M. Pharmacotherapy for Cannabis Dependence. CNS Drugs 23, 543–553 (2009). https://doi.org/10.2165/00023210-200923070-00001
Keywords
Naltrexone

Atomoxetine

Buspirone

Rimonabant

Nefazodone