Abstract
Night eating syndrome (NES) is an eating disorder characterised by the clinical features of morning anorexia, evening hyperphagia, and insomnia with awakenings followed by nocturnal food ingestion. The core clinical feature appears to be a delay in the circadian timing of food intake. Energy intake is reduced in the first half of the day and greatly increased in the second half, such that sleep is disrupted in the service of food intake. The syndrome can be distinguished from bulimia nervosa and binge eating disorder by the lack of associated compensatory behaviours, the timing of food intake and the fact that the food ingestions are small, amounting to repeated snacks rather than true binges. NES also differs from sleep-related eating disorder by the presence of full awareness, as opposed to parasomnic nocturnal ingestions.
NES is of importance clinically because of its association with obesity. Its prevalence rises with increasing weight, and about half of those diagnosed with it report a normal weight status before the onset of the syndrome. The recognition and effective treatment of NES may be an increasingly important way to treat a subset of the obese population. Treatment of the syndrome, however, is still in its infancy. One clinical trial has reported efficacy with the SSRI sertraline. Other treatments, such as the anticonvulsant topiramate, phototherapy and other SSRIs, may also offer future promise.
Access options
Buy single article
Instant access to the full article PDF.
USD 49.95
Price excludes VAT (USA)
Tax calculation will be finalised during checkout.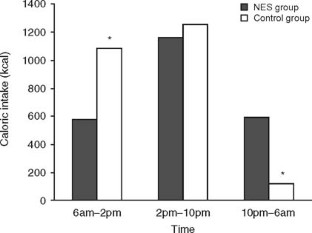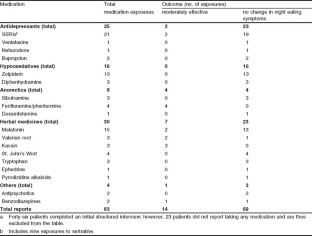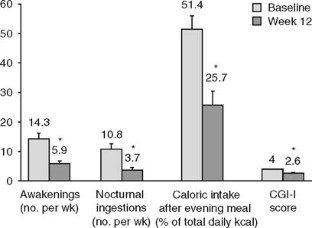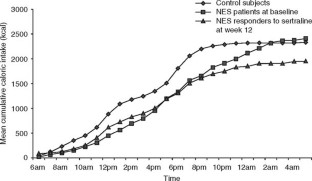 References
Stunkard AJ, Grace WJ, Wolff HG. The night-eating syndrome: a pattern of food intake among certain obese patients. Am J Med 1955; 19: 78–86

Stunkard AJ. Eating patterns and obesity. Psychiatr Q 1959; 33: 284–94

Stunkard AJ, Berkowitz R, Wadden T, et al. Binge eating disorder and the night eating syndrome. Int J Obes 1996; 20: 1–6

Birketvedt G, Florholmen J, Sundsfjord J, et al. Behavioral and neuroendocrine characteristics of the night-eating syndrome. JAMA 1999; 282: 657–63

de Zwaan M, Burgard MA, Schenck CH, et al. Night time eating: a review of the literature. Eur Eat Disord Rev 2003; 11: 7–24

O'Reardon JP, Ringel BL, Dinges DF, et al. Orcadian eating and sleeping patterns in the night eating syndrome. Obes Res 2004; 12: 1789–96

Gluck ME, Geliebter A, Satov T. Night eating syndrome is associated with depression, low self-esteem, reduced daytime hunger, and less weight loss in obese outpatients. Obes Res 2001; 9: 264–7

Napolitano MA, Head S, Babyak MA, et al. Binge eating disorder and night eating syndrome: psychological and behavioral characteristics. Int J Eat Disord 2001; 30: 193–203

O'Reardon JP, Stunkard AJ, Allison KC. A clinical trial of sertraline in the treatment of the night eating syndrome. Int J Eat Disord 2004; 35: 16–26

Rand CS, Kaldau JM. Morbid obesity: a comparison between a general population and obesity surgery patients. Int J Obes 1993; 17: 657–61

Morgenthaler TI, Silber MH. Amnestic sleep-related eating disorder associated with zolpidem. Sleep Med 2002; 3: 323–7

Schenck CH, Hurwitz TD, Bundlie SR, et al. Sleep-related eating disorders: polysomnographic correlates of a heterogeneous syndrome distinct from daytime eating disorders. Sleep 1991; 14: 419–31

Schenck CH, Hurwitz TD, O'Connor KA, et al. Additional categories of sleep-related eating disorders and the current status of treatment. Sleep 1993; 16: 457–66

Whyte J, Kavey NB. Somnambulistic eating: a report of three cases. Int J Eat Disord 1990; 9: 577–81

Winkelman JW. Clinical and polysomnographic features of sleep-related eating disorder. J Clin Psychiatry 1998; 59: 14–9

Winkelman JW, Herzog DB, Fava M. The prevalence of sleep-related eating disorder in psychiatric and non-psychiatric populations. Psychol Med 1999; 29: 1461–6

Schenck CH, Mahowald MW. Review of nocturnal sleep-related eating disorders. Int J Eat Disord 1994; 15: 343–56

Striegel-Moore RH, Thompson D, Franko DL, et al. Definitions of night eating in adolescent girls. Obes Res 2004; 12: 1311 -21

Geliebter A. Work-shift period and weight change. Nutrition 2000; 16: 27–9

Rand CSW, Macgregor MD, Stunkard AJ. The night eating syndrome in the general population and among post-operative obesity surgery patients. Int J Eat Disord 1997; 22: 65–9

Cerú-Björk C, Andersson I, Rössner S. Night eating and nocturnal eating: two different or similar syndromes among obese patients? Int J Obes 2001; 25: 365–72

Adami GF, Meneghelli A, Scopinaro N. Night eating and binge eating disorder in obese patients. Int J Eat Disord 1999; 25: 335–8

Fabricatore A, Crerand C, Allison K, et al. Prevalence and related features of night eating in persons seeking bariatric surgery for extreme obesity [abstract]. Obes Res 2004; 12: A82

Hsu LKG, Betancourt S, Sullivan SP. Eating disturbances before and after vertical banded gastroplasty: a pilot study. Int J Eat Disord 1996; 19: 23–34

Marshall HM, Allison KC, O'Reardon JO, et al. The night eating syndrome among nonobese persons. Int J Eat Disord 2004; 35: 217–22

Grilo CM, Masheb RM. Night-time eating in man and women with binge eating disorder. Behav Res Ther 2003; 42: 397–407

Lundgren JD, Allison KC, Crow S, et al. Prevalence of the night eating syndrome in a psychiatric population. Am J Psychiatry. In press

Wadden T, Phelan S. Behavioral assessment of the obese patient. In: Wadden TA, Stunkard AJ, editors. Handbook of obesity treatment. New York: Guilford, 2002

Vander Wal JS, Waller SM, Klurfeld DM, et al. Night eating syndrome: evaluation of two screening instruments. Eat Behav 2005; 6: 63–73

Aranoff NJ, Geliebter A, Hashim SA, et al. The relationship between daytime and nighttime foodintake in an obese night-eater. Obes Res 2001; 2: 145–51

Spaggiari MC, Granella F, Parrino L, et al. Nocturnal eating syndrome in adults. Sleep 1994; 17: 339–44

Friedman S, Even C, Dardennes R, et al. Light therapy, obesity, and night-eating syndrome. Am J Psychiatry 2002; 159: 875–6

Neumeister A, Turner EH, Matthews JR, et al. Effects of tryptophan depletion vs catecholamine depletion in patients with seasonal affective disorder in remission with light therapy. Arch Gen Psychiatry 1998; 55: 524–30

Miyaoka T, Yasukawa R, Tsubouchi K, et al. Successful treatment of nocturnal eating/drinking syndrome with selective serotonin reuptake inhibitors. Int Clin Psychopharmacol 2003; 18: 175–7

McElroy SL, Casuto L, Nelson E, et al. Placebo-controlled trial of sertraline in the treatment of binge eating disorder: a randomized trial. Am J Psychiatry 2000; 157: 1004–6

Cohen LS, Miner C, Brown E, et al. Premenstrual daily fluoxetine for premenstrual dysphoric disorder: a placebo-controlled, clinical trial using computerized diaries. Obstet Gynecol 2002; 100: 435–44

Miller JD, Morin LP, Schwartz WJ, et al. New insights into the mammalian circadian clock. Sleep 1996; 19: 641–67

Physicians Desk Reference. Montvale (NJ): Thomson Healthcare, 2005

McElroy SL, Arnold LM, Shapira NA, et al. Topiramate in the treatment of binge eating disorder associated with obesity: a randomized, placebo-controlled trial. Am J Psychiatry 2003 Feb; 160(2): 255–61

Hoopes SP, Reimherr FW, Hedges DW, et al. Treatment of bulimia nervosa with topiramate in a randomized, double-blind, placebo-controlled trial, part 1: improvement in binge and purge measures. J Clin Psychiatry 2003 Nov; 64(11): 1335–41

Winkelman JW. Treatment of nocturnal eating syndrome and sleep-related eating disorder with topiramate. Sleep Med 2003; 4: 243–6

Pawlow LA, O'Neil PM, Malcolm RJ. Night eating syndrome: effects of brief relaxation training on stress, mood, hunger, and eating patterns. Int J Obes Relat Metab Disord 2003; 27: 970–8
Acknowledgements
The authors wish to acknowledge the support of grants from the National Institutes of Health (R01 DK56735-01) and Pfizer Pharmaceuticals, which supported the empirical studies cited in this manuscript that were conducted at the Weight and Eating Disorders Program of the University of Pennsylvania, Philadelphia, USA. The authors have no conflicts of interest that are directly relevant to the content of this review.
About this article
Cite this article
O'Reardon, J.P., Peshek, A. & Allison, K.C. Night Eating Syndrome. CNS Drugs 19, 997–1008 (2005). https://doi.org/10.2165/00023210-200519120-00003
Published:

Issue Date:

DOI: https://doi.org/10.2165/00023210-200519120-00003
Keywords
Melatonin

Eating Disorder

Topiramate

Sertraline

Bulimia Nervosa