Abstract
Introduction: While benzodiazepines are the most widely used psychotropic drugs, there are relatively few studies that have examined deficits in cognitive functioning after long-term use. The literature that is available is difficult to interpret due to conflicting results as well as a variety of methodological flaws.
Objective: To systematically evaluate and integrate the available research findings to determine the effect of long-term benzodiazepine use on cognitive functioning using meta-analytical techniques.
Methods: Thirteen research studies that employed neuropsychological tests to evaluate cognitive performance after long-term use of benzodiazepine medication met inclusion criteria. The neuropsychological tests employed in these 13 studies were each categorised as measuring one of 12 cognitive domains. Separate effect sizes were calculated for each of the 12 cognitive categories. Each study was only allowed to contribute one effect size to each cognitive category by averaging together the effect sizes from the same study if more than one type of test was used to measure a particular category. This strategy resulted in equal weight being given to each study per category, regardless of the number of tests in that category.
Results: The overall mean number of patients who were benzodiazepine users was 33.5 (SD ± 28.9) and the mean number of controls was 27.9 (SD ± 19.6). The duration of benzodiazepine use ranged from 1 to 34 (mean 9.9) years. Long-term benzodiazepine users were consistently more impaired than controls across all cognitive categories examined, with effect sizes ranging in magnitude from −1.30 to −0.42. The mean weighted effect size was −0.74 (SD ± 0.25). None of the effect sizes had 95% CIs that spanned zero and, therefore, all of these effects were significant and different to zero.
Conclusion: Moderate-to-large weighted effect sizes were found for all cognitive domains suggesting that long-term benzodiazepine users were significantly impaired, compared with controls, in all of the areas that were assessed. However, this study has several limitations, one being that it includes a relatively small number of studies. Further studies need to be conducted; ideally, well designed, controlled studies that thoroughly investigate certain areas of cognitive functioning and present data in such a way so as to be amenable to inclusion in a meta-analysis. Incorporating the information from these studies into a larger meta-analysis would allow for a more thorough and statistically sound investigation of the effects of moderator variables. The observation that long-term benzodiazepine use leads to a generalised effect on cognition has numerous implications for the informed and responsible prescription of these drugs.
This is a preview of subscription content, log in to check access.
Access options
Buy single article
Instant access to the full article PDF.
US$ 49.95
Price includes VAT for USA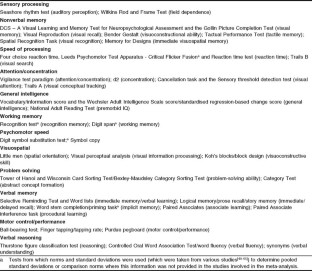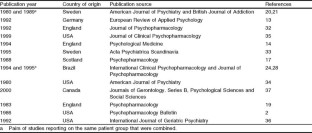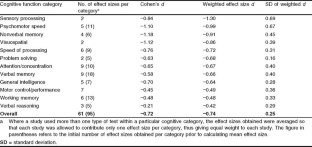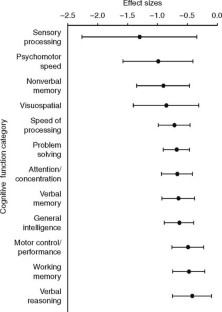 References
1.

Lader M, Petursson H. Long term effects of benzodiazepines. Neuropharmacology 1983; 22(4): 527–33

2.

Lucki I, Rickeis K. The behavioral effects of benzodiazepines following long-term use. Psychopharmacol Bull 1986; 22(2): 424–33

3.

Balter MB, Manheimer DI, Mellinger GD, et al. A cross-national comparison of anti-anxiety/sedative drug use. Curr Med Res Opin 1984; 8 Suppl. 4: 5–20

4.

Chen Y. Long-term benzodiazepine treatment: is it ever justified? Hum Psychopharmacol Clin Exp 1990; 5(4): 301–12

5.

Mellinger GD, Balter BB, Uhlenhuth EH. Prevalence and correlates of the long-term regular use of anxiolytics. JAMA 1984; 251(3): 375–9

6.

Zandstra SM, Furer JW, van de Lisdonk EH, et al. Different study criteria affect the prevalence of benzodiazepine use. Soc Psychiatry Psychiatr Epidemiol 2002; 37: 139–44

7.

Pollack MH. Innovative uses of benzodiazepines in psychiatry. Can J Psychiatry 1993; 38(9 Suppl. 4): 122–6

8.

McEvoy GK, Welsh OH, Litvak K. American Hospital Formulary Service (AHFS) drug information 2002. Bethesda (MD): American Society of Health System Pharmacists, 2002

9.

Gudex C. Adverse effects of benzodiazepines. Soc Sci Med 1991; 33(5): 587–96

10.

Ashton H. Toxicity and adverse consequences of benzodiazepine use. Psychiatr Ann 1995; 25(3): 158–65

11.

Ashton H. Adverse effects of prolonged benzodiazepine use. Adverse Drug React Bull 1986; 118: 440–3

12.

Lader MH. Psychological effects of buspirone. J Clin Psychiatry 1982; 43(12): 62–7

13.

Birzele HJ. Benzodiazepine induced amnesia after long-term medication and during withdrawal. Eur Rev Appl Psychol 1992; 42(4): 277–82

14.

Tata PR, Rollings J, Collins M, et al. Lack of cognitive recovery following withdrawal from long-term benzodiazepine use. Psychol Med 1994; 24(1): 203–13

15.

Golombok S, Moodley P, Lader M. Cognitive impairment in long-term benzodiazepine users. Psychol Med 1988; 18(2): 365–74

16.

Lucki I, Rickeis K, Geller AM. Chronic use of benzodiazepines and psychomotor and cognitive test performance. Psychopharmacology 1986; 88(4): 426–33

17.

Sakol MS, Power KG. The effects of long-term benzodiazepine treatment and graded withdrawal on psychometric performance. Psychopharmacology 1988; 95(1): 135–8

18.

Golombok S. Causes, effects and treatment of long-term benzodiazepine use: a review of psychological perspectives. Hum Psychopharmacol Clin Exp 1989; 4(1): 15–20

19.

Petursson H, Gudjonsson GH, Lader MH. Psychometric performance during withdrawal from long-term benzodiazepine treatment. Psychopharmacology 1983; 81: 345–9

20.

Bergman H, Borg S, Engelbrektson K, et al. Dependence on sedative-hypnotics: neuropsychological impairment, field dependence and clinical course in a 5-year follow-up study. Br J Addict 1989; 84: 547–53

21.

Bergman H, Borg S, Holm S. Neuropsychological impairment and exclusive abuse of sedatives or hypnotics. Am J Psychiatry 1980; 137(2): 215–7

22.

Gorenstein C, Bernik MA, Pompeia S, et al. Impairment of performance associated with long-term use of benzodiazepines. J Psychopharmacol 1995; 9(4): 313–8

23.

Brosan L, Broadbent D, Nutt D, et al. Performance effects of diazepam during and after prolonged administration. Psychol Med 1986; 16: 561–71

24.

Aranko K, Mattila MJ, Bordignon D. Psychomotor effects of alprazolam and diazepam during acute and subacute treatment, and during follow-up phase. Acta Pharmacol Toxicol (Copenh) 1985; 56: 364–72

25.

Allen D, Curran HV, Lader M. The effects of repeated doses of clomipramine and alprazolam on physiological, psychomotor and cognitive functions in normal subjects. Eur J Clin Pharmacol 1991; 40: 355–62

26.

Paterniti S, Dufouil C, Alperovitch A. Long-term benzodiazepine use and cognitive decline in the elderly: the epidemiology of vascular aging study. J Clin Psychopharmacol 2002; 22: 285–93

27.

Chaves ML, Bianchin M, Peccin S, et al. Chronic use of benzodiazepines and cognitive deficit complaints: a risk factor study. Ital J Neurol Sci 1993; 14(6): 429–35

28.

Gorenstein C, Bernik MA, Pompeia S. Differential acute psychomotor and cognitive effects of diazepam on long-term benzodiazepine users. Int Clin Psychopharmacol 1994; 9(3): 145–53

29.

Crowe SF. Neuropsychological effects of the psychiatric disorders. Melbourne (VIC): Hardwood Academic, 1998

30.

Gladsjo JA, Rapaport MH, McKinney R, et al. A neuropsychological study of panic disorder: negative findings. J Affect Disord 1998; 49(2): 123–31

31.

Chavez EL, Trautt GM, Brandon A, et al. Effects of test anxiety and sex of subject on neuropsychological test performance: finger tapping, trail making, digit span and digit symbol tests. Percept Motor Skills 1983 Jun; 56(3): 923–9

32.

Curran HV. Memory functions, alertness and mood of long-term benzodiazepine users: a preliminary investigation of the effects of a normal daily dose. J Psychopharmacol 1992; 6(1): 69–75

33.

Toenne U, Hiltunen AJ, Vikander B, et al. Neuropsychological changes during steady-state drug use, withdrawal and abstinence in primary benzodiazepine-dependent patients. Acta Psychiatr Scand 1995; 91(5): 299–304

34.

Hendler N, Cimini C, Ma T, et al. A comparison of cognitive impairment due to benzodiazepines and to narcotics. Am J Psychiatry 1980; 137(7): 828–30

35.

Rickels K, Lucki I, Schweizer E, et al. Psychomotor performance of long-term benzodiazepine users before, during, and after benzodiazepine discontinuation. J Clin Psychopharmacol 1999; 19(2): 107–13

36.

Salzman C, Fisher J, Nobel K, et al. Cognitive improvement following benzodiazepine discontinuation in elderly nursing home residents. Int J Geriatr Psychiatry 1992; 7(2): 89–93

37.

Vignola A, Lamoureux C, Bastion CH, et al. Effects of chronic insomnia and use of benzodiazepines on daytime performance in older adults. J Gerontol B Psychol Sci Soc Sei 2000; 55B: 54–62

38.

Lezak MD. Neuropsychological assessment. 3rd ed. New York: Oxford University Press, 1995

39.

Spreen O, Strauss E. A compendium of neuropsychological tests: administration, norms, and commentary. 2nd ed. New York: Oxford University Press, 1998

40.

Graf P, Squire LR, Mandler G. The information that amnesic patients do not forget. J Exp Psychol 1984; 10(1): 164–78

41.

Graf P, Mandler G. Activation makes words more accessible, but not necessarily more retrievable. J Verbal Learn Verbal Behav 1984; 23: 553–68

42.

Ryan JJ, Lopez SJ, Paolo AM. Digit span performance of persons 75–96 years of age: base rates and associations with selected demographic variables. Psychol Assess 1996; 8(3): 324–7

43.

Brown J, Packham DW. The effect of prior recall on multiple response recognition. Q J Exp Psychol 1967; 19(4): 356–61

44.

Curran S, Hindmarch I, Wattis JP, et al. Critical flicker fusion in normal elderly subjects: a cross-sectional community study. Curr Psychol Res Rev 1990; 9(1): 25–34

45.

Wechsler D. Wechsler adult intelligence scale: revised manual. San Antonio (TX): Psychological Incorporation, 1981

46.

Cooper AJ. Benzodiazepines: toward more logical use. Scott Med J 1982; 27: 297–304

47.

Rosenthal R. Meta-analytic procedures of social research. Rev. ed. London: Sage Publications, 1991

48.

Cohen J. Statistical power analyses for the behavioral sciences. 2nd ed. Hillsdale (NJ): Lawrence Erlbaum Associates, 1988

49.

Hedges LV, Olkin I. Statistical methods for meta-analysis. New York: Academic Press, 1985

50.

Kilic C. Long-term effects of alprazolam on memory: a 3.5 year follow-up of agoraphobia/panic patients. Psychol Med 1999; 29(1): 225–31
Acknowledgements
No sources of funding were used to assist in the preparation of this manuscript. The authors have no conflicts of interest that are directly relevant to the content of this manuscript. The results reported in this manuscript form part of M. Barker's doctoral thesis.
About this article
Cite this article
Barker, M.J., Greenwood, K.M., Jackson, M. et al. Cognitive Effects of Long-Term Benzodiazepine Use. CNS Drugs 18, 37–48 (2004). https://doi.org/10.2165/00023210-200418010-00004
Keywords
Verbal Memory

Psychomotor Speed

Visuospatial Ability

High Effect Size

Weighted Effect Size