Abstract
Psychogenic excoriation (also called neurotic excoriation, acne excoriée, pathological or compulsive skin picking, and dermatotillomania) is characterised by excessive scratching or picking of normal skin or skin with minor surface irregularities. It is estimated to occur in 2% of dermatology clinic patients and is associated with functional impairment, medical complications (e.g. infection) or substantial distress.
Psychogenic excoriation is not yet recognised in the DSM. We propose preliminary operational criteria for its diagnosis that take into account the heterogeneity of behaviour associated with psychogenic excoriation and allow for subtyping along a compulsivity-impulsivity spectrum.
Psychiatric comorbidity in patients with psychogenic excoriation, particularly mood and anxiety disorders, is common. Patients with psychogenic excoriation frequently have comorbid disorders in the compulsivity-impulsivity spectrum, including obsessive-compulsive disorder, body dysmorphic disorder, substance use disorders, eating disorders, trichotillomania, kleptomania, compulsive buying, obsessive-compulsive personality disorder, and borderline personality disorder.
There are few studies of the pharmacological treatment of patients with psychogenic excoriation. Case studies, open trials and small double-blind studies have demonstrated the efficacy of selective serotonin (5-hydroxytryptamine; 5-HT) reuptake inhibitors in psychogenic excoriation. Other pharmacological treatments that have been successful in case reports include doxepin, clomipramine, naltrexone, pimozide and olanzapine.
There are no controlled trials of behavioural or psychotherapeutic treatment for psychogenic excoriation. Treatments found to be effective in case reports include a behavioural technique called 'habit reversal' a multicomponent programme consisting of self-monitoring, recording of episodes of scratching, and procedures that produce alternative responses to scratching; and an 'eclectic' psychotherapy programme with insight-oriented and behavioural components.
Access options
Buy single article
Instant access to the full article PDF.
US$ 49.95
Tax calculation will be finalised during checkout.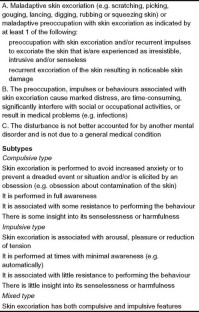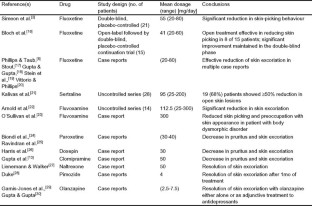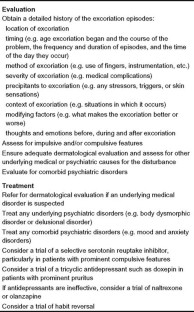 References
1.

Fruensgaard K. Neurotic excoriations: a controlled psychiatric examination. Acta Psychiatr Scand 1984; 312Suppl. 69: 1–52

2.

Simeon D, Stein DJ, Gross S, et al. A double-blind trial of fluoxetine in pathologic skin picking. J Clin Psychiatry 1997; 58: 341–7

3.

Arnold LM, McElroy SL, Mutasim DF, et al. Characteristics of 34 adults with psychogenic excoriation. J Clin Psychiatry 1998; 59: 509–14

4.

Wilhelm S, Keuthen NJ, Deckersbach T, et al. Self-injurious skin picking: clinical characteristics and comorbidity. J Clin Psychiatry 1999; 60: 454–9

5.

Keuthen NJ, Deckersbach T, Wilhelm S, et al. Repetitive skin-picking in a student population and comparison with a sample of self-injurious skin-pickers. Psychosomatics 2000; 41: 210–5

6.

Koblenzer CS. Psychocutaneous disease. New York (NY): Grune & Stratton, 1987

7.

Stein DJ, Hollander E. Dermatology and conditions related to obsessive-compulsive disorder. J Am Acad Dermatol 1992; 26: 237–42

8.

Phillips KA, Taub SL. Skin picking as a symptom of body dysmorphic disorder. Psychopharmacol Bull 1995; 31: 279–88

9.

Stein DJ, Mullen L, Islam MN, et al. Compulsive and impulsive symptomatology in trichotillomania. Psychopathology 1995; 28: 208–13

10.

American Psychiatric Association. Diagnostic and statistical manual of mental disorders. 4th ed. Washington, DC: American Psychiatric Association, 1994

11.

Arnold LM, McElroy SL. The nosology of compulsive skin picking [reply letter]. J Clin Psychiatry 1999; 60: 618–9

12.

Greisemer RD. Emotionally triggered disease in a psychiatric practice. Psychiatr Ann 1978; 8: 407–12

13.

Gupta MA, Gupta AK, Haberman HF. Neurotic excoriations: a review and some new perspectives. Compr Psychiatry 1986; 27: 381–6

14.

McElroy SL, Phillips KA, Keck PE, et al. Obsessive compulsive spectrum disorder. J Clin Psychiatry 1994; 55(10 Suppl.): 33–53

15.

Oldham JM, Hollander E, Skodol AE. Impulsivity and compulsivity. Washington, DC: American Psychiatric Press, 1996

16.

Bloch MR, Elliott MA, Thompson H, et al. Fluoxetine for skin picking. Abstracts of the New Clinical Drug Evaluation Unit Annual Meeting. Boca Raton, Florida, May 30–June 2, 2000

17.

Stout RJ. Fluoxetine for the treatment of compulsive facial picking [letter]. Am J Psychiatry 1990; 147: 370

18.

Gupta MA, Gupta AK. Fluoxetine is an effective treatment for neurotic excoriations: case report. Cutis 1993; 51: 386–7

19.

Stein DJ, Hutt CS, Spitz JL, et al. Compulsive picking and obsessive-compulsive disorder. Psychosomatics 1993; 34: 177–81

20.

Vittorio CC, Phillips KA. Treatment of habit-tic deformity with fluoxetine. Arch Dermatol 1997; 133: 1203–4

21.

Kalivas J, Kalivas L, Gilman D, et al. Sertraline in the treatment of neurotic excoriations and related disorders. Arch Dermatol 1996; 132: 589–90

22.

Arnold LM, Mutasim DF, Dwight MM, et al. An open clinical trial of fluvoxamine treatment of psychogenic excoriation. J Clin Psychopharmacol 1999; 19: 15–8

23.

O'Sullivan RL, Phillips KA, Keuthen NJ, et al. Near-fatal skin picking from delusional body dysmorphic disorder responsive to fluvoxamine. Psychosomatics 1999; 40: 79–81

24.

Biondi M, Arcangeli T, Petrucci RM. Paroxetine in a case of psychogenic pruritus and neurotic excoriations. Psychother Psychosom 2000; 69: 165–6

25.

Ravindran AV, Lapierre YD, Anisman H. Obsessive-compulsive spectrum disorders: effective treatment with paroxetine. Can J Psychiatry 1999; 44: 805–7

26.

Harris BA, Sherertz EF, Flowers FP. Improvement of chronic neurotic excoriations with oral doxepin therapy. Int J Dermatol 1987; 26: 541–3

27.

Lienemann J, Walker FD. Reversal of self-abusive behavior with naltrexone [letter]. J Clin Psychopharmacol 1989; 9: 448–9

28.

Duke EE. Clinical experience with pimozide: emphasis on its use in postherpetic neuralgia. J Am Acad Dermatol 1983; 8: 845–50

29.

Garnis-Jones S, Collins S, Rosenthal D. Treatment of self-mutilation with olanzapine. J Cutan Med Surg 2000; 4: 161–3

30.

Gupta MA, Gupta AK. Olanzapine is effective in the management of some self-induced dermatoses: three case reports. Cutis 2000; 66: 143–6

31.

Fruensgaard K. Psychotherapeutic strategy and neurotic excoriations. Int J Dermatol 1991; 30: 198–203

32.

Rosenbaum MS, Ayllon T. The behavioral treatment of neuro-dermatitis through habit-reversal. Behav Res Ther 1981; 19:313–8

33.

Kent A, Drummond LM. Acne excoriée — a case report of treatment using habit reversal. Clin Exp Dermatol 1989; 14: 163–4

34.

Welkowitz LA, Held JL, Held AL. Management of neurotic scratching with behavioral therapy. J Am Acad Dermatol 1989; 21: 802–4

35.

Fruensgaard K. Psychotherapy and neurotic excoriations. Int J Dermatol 1991; 30: 262–5

36.

Fried RG. Evaluation and treatment of 'psychogenic' pruritus and self-excoriation. J Am Acad Dermatol 1994; 30: 993–9
About this article
Cite this article
Arnold, L.M., Auchenbach, M.B. & McElroy, S.L. Psychogenic Excoriation. Mol Diag Ther 15, 351–359 (2001). https://doi.org/10.2165/00023210-200115050-00002
Keywords
Olanzapine

Naltrexone

Borderline Personality Disorder

Body Dysmorphic Disorder

Impulse Control Disorder