Abstract
This paper provides an overview of the phenomenology, longitudinal outcome data, assessment and management of separation anxiety disorder (SAD) in children and adolescents.
SAD is qualitatively different from early worries, and is characterised by an abnormal reactivity to real or imagined separation from attachment figures, which significantly interferes with daily activities and developmental tasks. Different epidemiological studies indicate a prevalence of 4 to 5% in children and adolescents. In contrast to other anxiety disorders, 50 to 75% of children with SAD come from homes of low socioeconomic status. The severity of symptomatology ranges from anticipatory uneasiness to full-blown anxiety about separation, but children are usually brought to the clinician when SAD results in school refusal or somatic symptoms. School refusal is reported in about 75% of children with SAD, and SAD is reported to occur in up to 80% of children with school refusal. Longitudinal studies have suggested that childhood SAD may be a risk factor for other anxiety disorders, but whether this link is specific to, for example, panic disorder and agoraphobia, or whether SAD represents a general factor of vulnerability for a broad range of anxiety disorders is still debated.
Most relevant data are reported on nonpharmacological treatments (psychoeducational, behavioural, cognitive-behavioural, family and psychodynamic), and these are the first choice approach in SAD. Controlled studies show efficacy of cognitive-behavioural therapy in children with anxiety disorders and specifically in SAD-school phobia, supporting this approach as the best proven treatment. Pharmacotherapy should be used in addition to behavioural or psychotherapeutic intervention when the child's symptoms have failed to respond to those treatments, and he/she is significantly impaired by the symptoms. Selective serotonin (5-hydroxytryptamine; 5-HT) reuptake inhibitors (SSRI) have a good adverse effect profile and may be considered as first choice drugs in SAD. When different SSRIs fail to improve symptomatology, a trial with a tricyclic antidepressant (TCA) is indicated, with careful monitoring of cardiac functioning. Because of the adverse effect profile and the potential for abuse and dependence, benzodiazepines should be used only when a rapid reduction of symptomatology is needed, until the SSRI or the TCA have begun to be effective (few weeks). Buspirone should be considered in children who have not responded to other treatments. Further research is needed to confirm efficacy of newer antidepressants (venlafaxine, mirtazapine, nefazodone) in childhood anxiety disorders.
Access options
Buy single article
Instant access to the full article PDF.
USD 49.95
Price excludes VAT (USA)
Tax calculation will be finalised during checkout.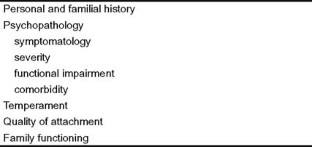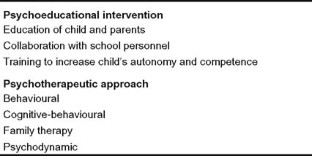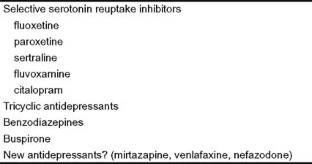 References
Field T. Attachment and separation in young children. Annu Rev Psychol 1996; 47(4): 541–61

Last CG, Perrin S, Hersen M, et al. DSM-III-R anxiety disorders in children: sociodemographic and clinical characteristics. J Am Acad Child Adolesc Psychiatry 1992; 31(6): 1070–6

Manassis K, Bradley S, Goldberg S, et al. Attachment in mothers with anxiety disorders and their children. J Am Acad Child Adolesc Psychiatry 1994; 33(8): 1106–13

Sheckhar A, Keim SR. The circumventricular organs form a potential neural pathway for lactate sensitivity: implications for panic disorder. J Neurosci 1997; 17(24): 9726–35

Kagan J, Snidman N, Arcus D. Childhood derivatives of high and low reactivity in infancy. Child Dev 1998;69(6): 1483–93

Pine DS, Gran J. Childhood anxiety: integrating developmental psychopathology and affective neuroscience. J Child Adolesc Psychopharmacol 1999; 9(1): 1–12

Shaffer D, Fisher P, Dulkan MK, et al. The NIMH Diagnostic Interview Schedule for Children Version 2.3 (DISC 2.3): description, acceptability, prevalence rates, and performance in the MACA study. J Am Acad Child Adolesc Psychiatry 1995; 35: 865–77

Verhulst FC, van der Ende J, Ferdinand RF, et al. The prevalence of DSM-III-R diagnoses in a national sample of Dutch adolescents. Arch Gen Psychiatry 1997; 54(4): 329–36

Costello EJ, Angold A, Burns BJ, et al. The Great Smoky Mountains Study of Youth: goals, design, methods, and the prevalence of DSM-III-R disorders. Arch Gen Psychiatry 1996; 53(12): 1129–36

Bowen RC, Offord DR, Boyle MH. The prevalence of overanxious disorder and separation anxiety disorder: results from the Ontario Child Health Study. J Am Acad Child Adolesc Psychiatry 1990; 29(5): 753–8

Anderson JC, Williams S, McGee R, et al. DSM-III disorders in preadolescent children. Prevalence in a large sample from the general population. Arch Gen Psychiatry 1987; 44(1): 69–76

McGee R, Feehan M, Williams S, et al. DSM-III disorders in a large sample of adolescents. J Am Acad Child Adolesc Psychiatry 1990; 29(40): 611–9

Bird HR, Canino G, Rubio-Stipec M. Estimates of the prevalence of childhood maladjustment in a community survey in Puerto Rico. The use of combined measures. Arch Gen Psychiatry 1988; 45(12): 1120–6

Lewinsohn PM, Hops H, Roberts RE, et al. Adolescent psychopathology: I. Prevalence and incidence of depression and other DSM-III-R disorders in high school students. J Abnorm Psychol 1993; 102(1): 133–44

Breton JJ, Bergeron L, Valla JP, et al. Quebec Child Mental Health Survey: prevalence of DSM-III-R mental health disorders. J Child Psychol Psychiatry 1999; 40(3): 375–84

Prior M, Sanson A, Smart D, et al. Psychological disorders and their correlates in an Australian community sample of preadolescent children. J Child Psychol Psychiatry 1999; 40(4): 563–80

Last CG, Francis G, Hersen M, et al. Separation anxiety and school phobia: a comparison using DSM III criteria. Am J Psychiatry 1987; 144(5): 653–7

Velez CN, Johnson J, Cohen P. A longitudinal analysis of selected risk factors for childhood psychopathology. J Am Acad Child Adolesc Psychiatry 1989; 28(6): 861–4

American Psychiatric Association. Diagnostic and statistical manual for mental disorders. 4th ed. Washington, DC: American Psychiatric Association, 1994

World Health Organization. The tenth revision of the international classification of diseases and related health problems (ICD-10). Geneva: World Health Organization, 1992

Francis G, Last CG, Strauss CC. Expression of separation anxiety isorder: the role of age and gender. Child Psychiatry Hum Dev 1987; 18(2): 82–9

Last CG, Strauss CC, Francis G. Comorbidity among childhood anxiety disorders. J Nerv Ment Dis 1987; 175(12): 726–30

Masi G, Favilla L, Mucci M, et al. Symptomatology and comorbidity of generalized anxiety disorder in children and adolescents. Compr Psychiatry 1999; 40(3): 210–5

King N, Ollendick TH, Tonge BJ. School refusal: assessment and treatment. Needham Heights (MA): Allyn & Bacon, 1995

Klein RG, Last CG. Anxiety disorders in children. Newbury Park (CA): Sage, 1989

Borchardt CM, Giesler J, Bernstein GA, et al. A comparison of inpatient and outpatient school refusers. Child Psychiatry Hum Dev 1994; 24(4): 255–64

Black B. Separation anxiety disorder and panic disorder. In: March JS, editor. Anxiety disorders in children and adolescents. New York: Guilford, 1995: 212–34

Deltito JA, Hahn R. A three-generational presentation of separation anxiety in childhood with agoraphobia in adulthood. Psychopharmacol Bull 1993; 29(2): 189–93

Berg I, Jackson A. Teenage school refusers grow-up: a follow-up study of 168 subjects, ten years on average after in-patient treatment. Br J Psychiatry 1985; 147: 366–70

Flakierska-Praquin N, Lindstrom M, Gillberg C. School phobia with separation anxiety disorder: a comparative 20- to 29-year follow-up study of 35 school refusers. Compr Psychiatry 1997; 38(1): 17–22

Silove D, Manicavasagar V. Adults who feared school: is early separation anxiety specific to the pathogenesis of panic disorder? Acta Psychiatr Scand 1993; 88(6): 385–90

Silove D, Harris M, Morgan A, et al. Is early separation anxiety a specific precursor of panic disorder-agoraphobia? A community study. Psychol Med 1995; 25(2): 405–11

Silove D, Manicavasagar V, O'Connel D, et al. Reported early separation anxiety symptoms in patients with panic and generalized anxiety disorders. Aust NZJ Psychiatry 1993; 27(3): 489–94

Manicavasagar V, Silove D, Hadzi-Pavlovic D. Subpopulations of early separation anxiety: relevance to risk of adult anxiety disorder. J Affect Disord 1998; 48(2–3): 181–90

Bradley SJ, Hood J. Psychiatrically referred adolescents with panic attacks:presenting symptoms, Stressors and comorbidity. Am Acad Child Adolesc Psychiatry 1993; 32(4): 826–9

Biederman J, Faraone SV, Marrs A, et al. Panic disorder and agoraphobia in consecutively referred children and adolescents. J Am Acad Child Adolesc Psychiatry 1997; 36(2): 214–23

Masi G, Favilla L, Mucci M, et al. Depressive comorbidity in children and adolescents with generalized anxiety disorder. Child Psychiatry Hum Dev 2000; 30(3): 205–15

Capps L, Sigman M, Sena R, et al. Fear, anxiety, and perceived control in children of agoraphobic parents. J Child Psychol Psychiatry 1996; 37(4): 445–52

Pine DS, Cohen P, Gurley D, et al. The risk for early adulthood anxiety and depressive disorders in adolescents with anxiety and depressive disorders. Arch Gen Psychiatry 1998; 55(1): 56–64

Tyrer P, Tyrer S. School refusal, truancy, and adult neurotic illness. Psychol Med 1974; 4(4): 416–21

Van der Molen GM, Van den Hout MA, Van Dieren AC, et al. Childhood separation anxiety and adult-onset panic disorders. J Anxiety Disord 1989; 3: 97–106

Aronson TA, Logue CM. On the longitudinal course of panic disorder: developmental history and predictors of phobic complications. Compr Psychiatry 1987; 28(4): 344–55

Lipsitz JD, Martin LY, Mannuzza S, et al. Childhood separation anxiety disorder in patients with adult anxiety disorder. Am J Psychiatry 1994; 151(6): 927–9

Silove D, Manicavasagar V, Curtis J, et al. Is early separation anxiety a risk factor for adult panic disorder? a critical review. Compr Psychiatry 1996; 37(3): 167–79

Battaglia M, Bertella S, Politi E, et al. Age of onset of panic disorder: influence of familial liability to the disease and of childhood separation anxiety disorder. Am J Psychiatry 1995; 152(9): 1362–4

Manicasavagar V, Silove D. Is there an adult form of separation anxiety disorder? Abrief clinical report. Aust NZJ Psychiatry 1997; 31(2): 299–303

Fagiolini A, Shear MK, Cassano GB, et al. Is lifetime separation anxiety a manifestation of a panic spectrum? CNS Spectrums 1998; 3(4): 63–72

Prior M. Childhood temperament. J Child Psychol Psychiatry 1992; 33(1): 249–79

Martin C, Cabrol S, Bouvard MP, et al. Anxiety and depressive disorder in fathers and mothers of anxious school-refusing children. J Am Acad Child Adolesc Psychiatry 1999; 38(7): 916–22

Orvaschel H. Schedule for Affective Disorders and Schizophrenia for School-Age Children - Epidemiologic Version 5 (K-SADS-E-5). Fort Lauderdale (FL): Nova Southeastern University, 1995

Reich W. Diagnostic Interview for Children and Adolescents — Revised DSM-IV version. Toronto: Multi-Health Systems, 1997

Kashani JH, Orvaschel H. A community study of anxiety in children and adolescents. Am J Psychiatry 1990; 147(3): 13–8

Masi G, Favilla L, Mucci M, et al. Panic disorder in clinically referred children and adolescents. Child Psychiatry Hum Dev 2000; 31(2): 139–51

Birmaher B, Brent DA, Chiappetta L, et al. Psychometric properties of the Screen for Child Anxiety Related Emotional Disorders (SCARED): a replication study. J Am Acad Child Adolesc Psychiatry 1999; 38(10): 1230–6

March JS, Parker JDA, Sullivan K, et al. The multidimensional anxiety scale for children (MASC): factor structure, reliability, and validity. J Am Acad Child Adolesc Psychiatry 1997; 36(4): 554–65

Hamilton M. The assessment of anxiety states by rating. Br J Med Psychol 1959; 32: 50–5

Kovacs M. The Children's Depression Inventory (CDI) Manual. North Tonawanda (NY): Multi-Health Systems, 1992

King N, Ollendick TH. Treatment of child phobias. J Child Psychol Psychiat 1997; 38(4): 389–400

Blagg N, Yule W. The behavioral treatment of school refusal — a comparative study. Behav Res Ther 1984; 22(2): 119–27

Kendall PC. Treating anxiety disorders in children: results of a randomized clinical trial. J Consult Clin Psychol 1994; 62(1): 100–10

King NJ, Tonge BJ, Heyne BJ, et al. Cognitive-behavioral treatment of school-refusing children: a controlled evaluation. J Am Acad Child Adol Psychiatry 1998; 37(4): 395–403

Last CG, Hansen MS, Franco N. Cognitive-behavioral treatment of school phobia. J Am Acad Child Adolesc Psychiatry 1998; 37(4): 404–11

Mendlowitz SL, Manassis K, Bradley S, et al. Cognitive-behavioral group treatments in childhood anxiety disorders: the role of parental involvement. J Am Acad Child Adolesc Psychiatry 1999; 38(10): 1223–9

Bemporad J. Psychoanalysis and psychodynamic psychotherapy. In: Wiener JM, editor. Textbook of child and adolescent psychiatry. Washington, DC: American Psychiatric Press, 1991; 571–5

Bernstein GA, Garfinkel BD, Borchardt CM. School phobia: pattern of family functioning. J Am Acad Child Adolesc Psychiatry 1990; 29(1): 24–30

American Academy of Child and Adolescent Psychiatry. Practice parameters for the assessment and treatment of children and adolescents with anxiety disorders. J Am Acad Child Adolesc sychiatry 1997; 36Suppl.10: 69S–84S

Gittelman-Klein R, Klein DF. Controlled imipramine treatment of school phobia. Arch Gen Psychiatry 1971; 25: 204–7

Klein RG, Koplewicz HS, Kanner A. Imipramine treatment of children with separation anxiety disorder. J Am Acad Child Adolesc Psychiatry 1992; 31(1): 21–8

Berney T, Kolvin I, Bhate SR, et al. School phobia: a therapeutic trial with clomipramine and short-term outcome. Br J Psychiatry 1981; 138: 110–8

Bernstein GA, Garfinkel BD, Borchardt CM. Comparative studies of pharmacotherapy for school refusal. J Am Acad Child Adolesc Psychiatry 1990; 29(5): 773–81

Ryan ND, Puig-Antich J, Cooper TB, et al. Imipramine in adolescent major depression: plasma levels and clinical response. Acta Psychiatr Scand 1986; 73: 275–88

Ryan ND, Last C, BirmaherB, et al. Imipramine and cognitive therapy for children and adolescents with school phobia. 15th National Conference of the Anxiety Disorders Association of America, Pittsburgh, PA, 1995

Bernstein GA, Borchardt CM, Perwien AR, et al. Imipramine plus cognitive-behavioral therapy in the treatment of school refusal. J Am Acad Child Adolesc Psychiatry 2000; 39(3): 276–83

Leonard HL, Meyer MC, Swedo SE, et al. Electrocardiographic changes during desimipramine and clomipramine treatment in children and adolescents. J Am Acad Child Adolesc Psychiatry 1995; 34(11): 1460–8

Manassis K, Bradley S. Fluoxetine in anxiety disorders. J Am Acad Child Adolesc Psychiatry 1994; 33(5): 761–2

Birmaher B, Waterman GS, Ryan N, et al. Fluoxetine for childhood anxiety disorders. J Am Acad Child Adolesc Psychiatry 1994; 33(7): 993–9

Fairbanks JM, Pine DS, Tancer NK, et al. Open fluoxetine treatment of mixed anxiety disorders in children and adolescents. J Child Adolesc Psychopharmacol 1997; 7(1): 17–29

Guy W. ECDEU assessment manual of psychopharmacology. DHEW Publication ADM 76-338. Rockville (MD): NIMH, Psychopharmacology Research Branch, 1976

Vitiello B, RUPP Anxiety Study Group. A multisite double blind placebo-controlled trial of fluvoxamine for children and adolescents with anxiety disorders. 40th Annual Meeting for the New Clinical Drug Evaluation Unit (NCDEU), Boca Raton (FL), 2000

Simeon JG, Ferguson HB, Knott V, et al. Clinical, cognitive, and neurophysiological effects of alprazolam in children and adolescents with overanxious and avoidant disorder. J Am Acad Child Adolesc Psychiatry 1992; 31(1): 29–33

Graae F, Milner J, Rizzotto L, et al. Clonazepam in childhood anxiety disorders. J Am Acad Child Adolesc Psychiatry 1994; 33(3): 372–6

Kutcher SP, Reiter S, Gardner DN, et al. The pharmacotherapy of anxiety disorders in children and adolescents. Psychiatr Clin North Am 1992; 15(1): 41–67

Kranzler HR. Case study: use of buspirone in an adolescent with overanxious disorder. J Am Acad Child Adolesc Psychiatry 1988; 27(6): 789–90

Simeon JG, Knott VJ, Thatte S, et al. Pharmacotherapy of childhood anxiety disorders. Pediatr Neuropharmacol 1992; 15Suppl. 1 PtA: 229A–30A

Simeon JG, Knott VJ, DuBois C, et al. Buspirone therapy of mixed anxiety disorders in childhood and adolescents: a pilot study. J Child Adolesc Psychopharmacol 1994; 4: 159–70

Coffey BJ. Anxiolytics for children and adolescents: traditional and new drugs. J Child Adolesc Psychopharmacol 1990; 1: 57–83

Linet LS. Tourette syndrome, pimozide, and school phobia: the neuroleptic separation anxiety syndrome. Am J Psychiatry 1985; 142(5): 613–5

Mikkelsen EJ, Detlor J, Cohen DJ. School avoidance and school phobia triggered by haloperidol in patients with Tourette's disorder. Am J Psychiatry 1981; 138(12): 1572–6

Hannah GL, Fluent DE, Fischer DJ. Separation anxiety in children and adolescents treated with risperidone. J Child Adolesc Psychopharmacol 1999; 9: 277–83

Falkai P. Mirtazapine: other indications. J Clin Psychiatry 1999; 60 Suppl. 17: 36–40

Feighner JP. Overview of antidepressants currently used to treat anxiety disorders. J Clin Psychiatry 1999; 60 Suppl. 22: 18–22

Sheehan DV. Venlafaxine extended release (XR) in the treatment of generalized anxiety disorder. J Clin Psychiatry 1999; 60 Suppl. 22: 23–8

Kearney CA, Silverman WK. The evolution and reconciliation of taxonomic strategies for school refusal behavior. Clin Psychol 1996; 3: 339–54

Birmaher B, Yelovich AK, Renaud J. Pharmacologic treatment for children and adolescents with anxiety disorders. Pediatr lin North Am 1998; 45: 1187–204
About this article
Cite this article
Masi, G., Mucci, M. & Millepiedi, S. Separation Anxiety Disorder in Children and Adolescents. Mol Diag Ther 15, 93–104 (2001). https://doi.org/10.2165/00023210-200115020-00002
Published:

Issue Date:

DOI: https://doi.org/10.2165/00023210-200115020-00002
Keywords
Anxiety Disorder

Imipramine

Social Phobia

Panic Disorder

Buspirone