Abstract
Pharmaceutical manufacturers have increased the availability of their products and sometimes increased their own financial returns by charging lower prices outside of the US and by discounting to lower-income patients in the US. Examples include discounted HIV-AIDS drugs in developing countries and pharmaceutical manufacturers' discount cards in the US. Representatives of some international organisations argue that the price reductions are insufficient to make the medications widely available to lower-income patients.
The WHO advocates both differential pricing and price transparency. While its efforts are well meaning, this paper identifies six concerns about its methods of comparing the price of a given molecule across manufacturers and across countries. More significantly, the WHO efforts to increase transparency are likely to lead to less price differentiation and less access to innovative pharmaceuticals. An important reason why manufacturers are reluctant to charge lower prices in lower-income countries is that they fear that such low prices will undermine the prices they charge to higher-income consumers. International organisations should not facilitate transparency but should dissuade governments from making price comparisons and basing their prices on those of lower-income countries. Furthermore, they should endeavour to keep low-priced and free drugs in the hands of the low-income consumers for which they were intended.
Access options
Buy single article
Instant access to the full article PDF.
US$ 49.95
Tax calculation will be finalised during checkout.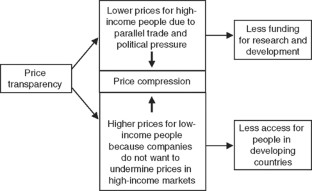 Notes
1.

The typical rationales for patents are that they promote innovation, encourage inventors to disclose their inventions to others, and that inventors are entitled to their discoveries.

2.

DiMasi et al.[12] found that the out-of-pocket cost per new drug is $US403 million (2000 value). After accounting for the compound's share of failures and the opportunity cost of investing in R&D rather than earning a risk-free rate of return, the estimate is $US802 million. For an estimate of rates of return for pharmaceutical manufacturers, see Grabowski et al.[13]

3.

It would be profitable for manufacturers to differentiate between patients in a given country, but because of the role of the government as a monopsony buyer, manufacturers are often unable to do so.

4.

Demand for drugs is assumed to be more price elastic for patients with lower incomes. Furthermore, the cost of manufacturing is assumed to be lower than the poor consumer's willingness to pay. If the cost of manufacturing exceeds the poor consumer's willingness to pay, then it might be best to choose different products or subsidise treatment.

5.

In the US, the top half of all earners paid 96% of federal income taxes in 2001.[15]

6.

Manufacturers also express concerns about the lack of infrastructure in many developing countries. If HIV/AIDS patients do not adhere to a rigid schedule for taking their medicines, then they can spread drug resistance. A well known call by 133 Harvard faculty members advocates 'directly observed therapy' in which a community health worker visits each patient and observes him or her taking the antiretroviral medication.[2]

7.

Furthermore, the manufacturer often prefers that the consumer not be informed of the differential pricing structure, so that higher-paying consumers do not search for arbitrage opportunities. For an analysis of the impact of the Internet on differential pricing, see Ridley and Schulman.[17]

8.

For a survey of other policies by international organisations that would enhance patient health in developing countries, see Kremer[2].

9.

Currently, parallel trade has little impact on drug costs in the US. Instead, state governments control drug costs using mechanisms such as prior authorisation, drug category exclusions and increased patient charges. Soumerai[31] describes the risks and benefits of such cost controls.
References
1.

Lichtenberg FR. The impact of new drug launches on longevity: evidence from longitudinal, disease-level data from 52 countries, 1982–2001. National Bureau of Economic Research (NBER) Working Paper 9754, Jun 2003

2.

Kremer M. Pharmaceuticals and the developing world. J Econ Perspect 2002; 16 (4): 67–90

3.

Lopert R, Lang DL, Hill SR, et al. Differential pricing of drugs: a role for cost-effectiveness analysis? Lancet 2002; 359 (9323): 2105–7

4.

Quick JD. Ensuring access to essential medicines in the developing countries: a framework for action. Clin Pharmacol Ther 2003; 73 (4): 279–83

5.

World Health Organization and Health Action International. Medicine prices: a new approach to measurement 2003 [online]. Available from URL: http://www.haiweb.org/medicine prices/manual/manuals/MedicinePrices.pdf [Accessed 2004 Aug 14]

6.

World Health Organization and Health Action International. Medicine prices: a new approach to measurement 2004 [online]. Available from URL: http://www.haiweb.org/medicine prices/manual/manuals/MedicinePricesManualBrochure.pdf [Accessed 2004 Aug 14]

7.

Sclar DA, Robison LM, Skaer TL, et al. International expenditure projections for pharmacotherapeutic advances in the treatment of HIV/AIDS. Clin Ther 1997; 19 (1): 86–95

8.

Waldholz M, Zimmerman R. Bristol-Myers offers to sell two AIDS drugs in Africa at below cost. The Wall Street Journal 2001 Mar 15, B1

9.

Harris G, Waldholz M. AIDS drug plan spurs call to cut prices elsewhere. The Wall Street Journal 2000 May 12, B1

10.

Berndt ER. American Enterprise Institute monograph, Uniform pharmaceutical pricing: an economic analysis, Washington, DC: American Enterprise Institute, 1994

11.

Viscusi WK, Vernon JM, HarringtonJr JE. Economics of regulation and antitrust. 2nd ed. Cambridge (MA): The MIT Press, 1995

12.

DiMasi JA, Hansen RW, Grabowski HG. The price of innovation: new estimates of drug development costs. J Health Econ 2003; 22: 151–85

13.

Grabowski HG, Vernon JM, DiMasi JA. Returns on research and development for 1990s new drug introductions. Pharmacoeconomics 2002; 20 Suppl. 3: 11–29

14.

Varian HR. Price discrimination. In: Schmalensee R, Willig RD, editors. Handbook of industrial organization. Amsterdam: Elsevier, 1989: 1, 597–654

15.

The rich recession. The Wall Street Journal 2003 Sep 30; Sect. A: 20

16.

Dyer O. Cost price drugs for developing countries are found in Belgian pharmacies. BMJ 2002; 325: 794

17.

Ridley DB, Schulman KA. Differential pricing of pharmaceuticals in the intemet age. J Ambul Care Manage 2004; 27 (3): 210–4

18.

Central Intelligence Agency. The World Factbook [online]. Available from URL: http://www.cia.gov/cia/publications/factbook/ [Accessed 2004 Aug 14]

19.

Kaufman M. Shalala halts bid to lower drug costs: reimportation bill's 'fatal flaws' cited. Washington Post. 2000 Dee 27; Page A01 [online]. Available from URL: http://www.washingtonpost.com/ac2/wp-dyn/A52588-2000Dec26 [Accessed 2005 Apr 1]

20.

US Dept of Health and Human Services response to Sen. James Jeffords on drug reimportation 2001 Jul 9 [online]. Available from URL: http://www.fda.gov/oc/po/thompson/medsact.html [Accessed 2005 Apr 1]

21.

Price differences in Europe: the flaw of one price. The Economist 2003 Oct 18; 97

22.

Danzon PM, Ketcham JD. Reference pricing of pharmaceuticals for Medicare: evidence from Germany, The Netherlands, and New Zealand. National Bureau of Economic Research (NBER) Working Paper 10007, Sep 2003

23.

Schneeweiss S, Dormuth C, Grootendorst P, et al. Net health plan savings from reference pricing for angiotensin-converting enzyme inhibitors in elderly British Columbia residents. Med Care 2004; 42 (7): 653–60

24.

Danzon P, Wang YR, Wang L. The impact of price regulation on the launch delay of new drugs: a study of twenty-five major markets in the 1990s. National Bureau of Economic Research (NBER) Working Paper 9874, 2003

25.

Kyle MK. Pharmaceutical price controls and entry strategies. Duke University working paper, 2005 [online]. Available from URL: http://www.duke.edu/-mkyle [Accessed 2005 May 30]

26.

Scott Morton F. The strategic response by pharmaceutical firms to the Medicaid most-favored-customer rules. RAND J Econ 1997; 28: 269–90

27.

Stigler GJ. A theory of oligopoly. J Polit Econ 1964; 72 (1): 4461

28.

Danzon PM, Furukawa MF. Prices and availability of pharmaceuticals: evidence from nine countries. Health Affairs Web Exclusive 2003 Oct [online]. Available from URL: http://content.healthaffairs.org/cgi/content/abstract/hlthaff.w3.521v1 [Accessed 2004 Aug 14]

29.

Danzon PM, Kim JD. International price comparisons for pharmaceuticals. Pharmacoeconomics 1998; 14 Suppl. 1: 115–28

30.

Munro GR, Scott AD. The economics of fisheries management. In: Kneese AV, Sweeney JL, editors. Handbook of natural resources and energy economics. Amsterdam: Elsevier, 1985, 2

31.

Soumerai SB. Benefits and risks of increasing restrictions on access to costly drugs in Medicaid. Health Aff 2004; 23 (1): 135–46

32.

Ratanawijitrasin S, Soumerai SB, Weerasuriya K. Do national medicinal drug policies and essential drug programs improve drug use? A review of experiences in developing countries. Soc Sci Med 2001; 53 (7): 831–44
Acknowledgements
Clay Ackerly, Ernst Berndt, Jeffrey Moe, participants at the International Federation of Pharmaceutical Manufacturers and Associations Assembly, and anonymous referees provided helpful comments. This study was supported by a grant to Duke University from Pfizer Inc. The views expressed here are those of the author. The author has no other conflicts of interest directly relevant to this manuscript.
About this article
Cite this article
Ridley, D.B. Price differentiation and transparency in the global pharmaceutical marketplace. Pharmacoeconomics 23, 651–658 (2005). https://doi.org/10.2165/00019053-200523070-00002
Keywords
Lower Price

Market Power

Reference Price

Differential Price

Innovative Drug