Abstract
In the last 20 years, expenditures on pharmaceuticals — as well as total health expenditures — have grown faster than the gross national product in all European countries. The aim of this paper was to review policies that European governments apply to reduce or at least slow down public expenditure on pharmaceutical products. Such policies can target the industry, the wholesalers and retailers, prescribers, and patients.
The objectives of pharmaceutical policies are multidimensional and must take into account issues relating to public health, public expenditure and industrial incentives. Both price levels and consumption patterns determine the level of total drug expenditure in a particular country, and both factors vary greatly across countries.
Licensing and pricing policies intend to influence the supply side. Three types of pricing policies can be recognised: product price control, reference pricing and profit control. Profit control is mainly used in the UK. Reference pricing systems were first used in Germany and The Netherlands and are being considered in other countries. Product price control is still the most common method for establishing the price of drugs. For the aim of fiscal consolidation, price-freeze and price-cut measures have been frequently used in the 1980s and 1990s. They have affected all types of schemes. For drug wholesalers and retailers, most governments have defined profit margins. The differences in price levels as well as the introduction of a Single European Pharmaceutical Market has led to the phenomenon of parallel imports among member countries of the European Union. This may be facilitated by larger and more powerful wholesalers and the vertical integration between wholesalers and retailers.
To control costs, the use of generic drugs is encouraged in most countries, but only few countries allow pharmacists to substitute generic drugs for proprietary brands.
Various interventions are used to reduce the patients' demand for drugs by either denying or limiting reimbursement of products and providing an incentive for patients to reduce their consumption of drugs. These interventions include defining a list either of drugs reimbursed (positive list) or one of drugs not reimbursed (negative list), and patient co-payments, which require patients to pay a proportion of the cost of a prescribed product or a fixed charge.
Policies intended to affect physicians' prescribing behaviour include guidelines, information (about price and less expensive alternatives) and feedback, and the use of budgetary restrictions.
Access options
Buy single article
Instant access to the full article PDF.
US$ 49.95
Tax calculation will be finalised during checkout.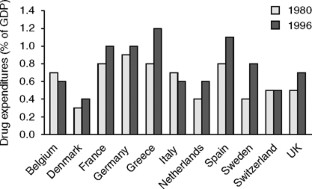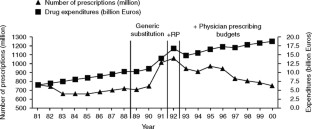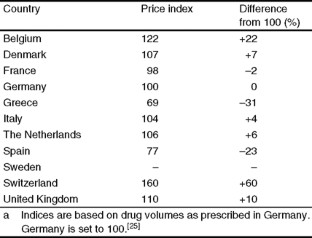 References
1.

Laurence C. Opening statement, in health care reforms: the will to change, OECD, editor. Paris: Directorate for Education, Employment and Social Affairs, 1996

2.

OECD. The reform of health care systems: a review of seventeen OECD countries. 1st ed. Health Policies Studies. Paris: OECD, 1994

3.

Jacobzone S. Pharmaceutical policies in OECD countries: reconciling social and industrial goals. Paris: OECD, 2000

4.

Louis WJ. Regulatory demands for cost-benefit studies. Am Heart J 1990; 119 (3): 771–5

5.

Jönsson B. Cost sharing for pharmaceuticals — the Swedish Reimbursement System. Pharmacoeconomics 1996; 10 Suppl. 10: 68–74

6.

Gerdtham U-G, Johannesson M, Gunnarsson B, et al. The effect of shanges in treatment patterns on drug expenditure. Pharmacoeconomics 1998; 13 (1 Pt 2): 127–34

7.

OECD health data 1999. Software package: a comparative analysis of 29 countries. Paris: OECD, 1999

8.

OECD health data 2000. Software package: a comparative analysis of 29 countries. Paris: OECD, 2000

9.

OECD health data 2001. Software package: a comparative analy'sis of 29 countries. Paris: OECD, 2001

10.

Klein R. Puzzling out priorities. Why we must acknowledge that rationing is a political process. BMJ 1998; 317: 959–60

11.

Walley T, Earl-Slater A, Haycox A, et al. An integrated national pharmaceutical policy for the United Kingdom? BMJ 2000; 321: 1523–6

12.

Jönsson B. Pricing and reimbursement of pharmaceuticals in Sweden. Pharmacoeconomics 1994; 6 Suppl. 1: 51–60

13.

Rovira J. Are national drug expenditure control policies compatible with a single European market? Pharmacoeconomics 1996; 10 Suppl. 2: 4–13

14.

Earl-Slater A. The importance of the pharmaceutical industry to the UK economy. J Manag Med 1998; 12 (1): 5–20

15.

Dickson M. The pricing of pharmaceuticals: an international comparison. Clin Ther 1992; 14 (4): 604–11

16.

Abbott TA. Price regulation in the pharmaceutical industry: prescription or placebo? J Health Econ 1995; 14 (5): 551–67

17.

Dickson M, Redwood H. Pharmaceutical reference prices: how do they work in practice? Pharmacoeconomics 1998; 14 (5): 471–9

18.

Schwabe U, Paffrath D. Arzneimittelverordnungs — report 2001. Berlin: Springer, 2001

19.

Giuliani G, Selke G, Garattini L. The German experience in reference pricing. Health Policy 1998; 44: 73–85

20.

Schneeweiss S, Schöffski O, Selke GW. What is Germany's experience on reference based drug pricing and the etiology of adverse health outcomes or substitution? Health Policy 1998; 44: 253–60

21.

Rigter H. Recent public policies in the Netherlands to control pharmaceutical pricing and reimbursement. Pharmacoeconomics 1994; 6 Suppl. 1: 15–21

22.

Lockhart-Mirams A. Pharmaceutical price regulation in the UK. Der Internist 2000; 41 (5): M111–4

23.

Feely J. The influence of pharmacoeconomic factors on prescribing patterns in Ireland. Pharmacoeconomics 1992; 2 (2): 99–106

24.

Danzon PM. Pharmaceutical price regulation. National policies versus global interest. Washington DC: American Enterprise Institute Press, 1997

25.

Gutachten des Sachverständigenrates für die Konzertierten Aktion im Gesundheitswesen 2000–2001: Zur Steigerung von Effizienz und Effektivität der Arzneimittelversorgung in der gesetzlichen Krankenversicherung. Available from URL: http://www.svr-gesundheit.de/gutacht/gutalt/gutaltle.htm [Accessed 2001 Dec 20]

26.

Fattore G, Jommi C. The new pharmaceutical policy in Italy. Health Policy 1998; 46: 21–41

27.

Le Pen C. Drug pricing and reimbursement in France. Pharmacoeconomics 1996; 10 Suppl. 2: 26–36

28.

Marino M, Marqués J, Velasco A. Impact of selective financing of drugs on pharmaceutical expenditure control in the Province of Valladolid, Spain. Pharmacoeconomics 1996; 10 (3): 269–80

29.

Soumerai SB, Ross-Degnan D, Gortmaker S, et al. Withdrawing payment for nonscientific drug therapy: intended and unexpected effects of a large-scale natural experiment. JAMA 1990; 263: 831–9

30.

Cranovsky R, Schilling J, Faisst K et al. Health technology assessment in Switzerland. Int J Technol Assess Health Care 2000 Spring; 16 (2): 576–90

31.

Harris B, Stergachis A, Ried L. The effects of drug co-payments on utilisation and cost of pharmaceuticals in a health maintenance organisation. Med Care 1990; 28: 901–17

32.

Soumerai S, McLaughlin TJ, Ross-Degnan D, et al. Effects of limiting Medicaid drug-reimbursement benefits on the use of psychotropic agents and acute mental health services by patients with schizophrenia. N Engl J Med 1994; 331: 650–5

33.

Soumerai S, McLaughlin TJ, Ross-Degnan D, et al. Effects of Medicaid drug-payment limits on admission to hospitals and nursing homes. N Engl J Med 1991; 325: 1072–7

34.

Soumerai S, Avorn J, Ross-Degnan D, et al. Payment restrictions for prescriptions drugs under Medicaid. N Engl J Med 1987; 317: 550–6

35.

Schneeweiss S, Walker AM, Glynn RJ, et al. Outcomes of reference drug pricing for angiotensin-converting enzyme inhibitors in British Columbia, Canada. N Engl J Med 2002; 346 (11): 822–9

36.

Greenhalgh T, Gill P. Pressure to prescribe. BMJ 1997; 315: 1482–3

37.

Bradley C. Uncomfortable prescribing decisions: a critical incident study. BMJ 1992; 304: 294–6

38.

Wensing M, Grol R. Single and combined strategies for implementing changes in primary care: a literature review. Int J Qual Health Care 1994; 6: 115–32

39.

Oxman AD. No magic bullets: a systematic review of 102 trials of interventions to improve professional practice. Can Med Assoc J 1995; 153: 1423–31

40.

Amstrong D, Reyburn H, Jones R. A study of general practitioner's reasons for changing their prescribing behaviour. BMJ 1996; 312: 942–52

41.

McKee M, Clarke A. Guidelines, enthusiasms, uncertainty and the limit to purchasing. BMJ 1995; 310: 101–4

42.

West E, Newton J. Clinical guidelines. BMJ 1997; 315: 324

43.

Pelc A, Castan J-P. New developements in pricing and drug reimbursement in France. Pharmacoeconomics 1994; 6 Suppl. 1: 28–35

44.

Schulenburg JM, Uber A. Current issues in German healthcare. Pharmacoeconomics 1997; 12 (5): 517–23

45.

Stewart-Brown S, Surender R, Bradlow J, et al. The effects of fundholding in general practice on prescribing habits three years after the introduction of the scheme. BMJ 1995; 311: 1543–7

46.

O'Connell D, Henry D, Tomlins R. Randomised controlled trial of effect of feedback on general practitioners' prescribing in Australia. BMJ 1999; 318: 507–11

47.

Delnoij D, Brenner G. Importing budget systems from another countries: what can we learn fro the German drug budget and the British GP fundholding. Health Policy 2000; 52: 157–69

48.

Schöffski O. Consequences of implementing a drug budget for office-based physicians in Germany. Pharmacoeconomics 1996; 10 Suppl. 2: 37–47

49.

Ulrich V, Wille E. Healthcare reform and expenditure on drugs: the German situation. Pharmacoeconomics 1996; 10 Suppl. 2: 81–8

50.

Baines DL, Parry DJ. Analysis of the ability of the new needs adjustment formula to improve the setting of weighted capitation prescribing budgets in English genereal practice. BMJ 2000; 320: 288–90

51.

Harris CM, Scrivener G. Fundholder's prescribing costs: the first five years. BMJ 1996; 313: 1531–4

52.

Dixon J, Mays N. New Labour, new NHS? BMJ 1997; 315: 1639–40
Acknowledgements
The author wishes to thank Dr Iris Beeler for the fruitful discussions and her help with the research of the literature. Dr Schneeweiss was supported by grants from the US Agency for Healthcare Research and Quality (HS09855 and HS10881), Department of Health and Human Services, Rockville, MD. The authors have no conflicts of interest to declare that are directly relevant to the contents of this manuscript.
About this article
Cite this article
Ess, S.M., Schneeweiss, S. & Szucs, T.D. European Healthcare Policies for Controlling Drug Expenditure. Pharmacoeconomics 21, 89–103 (2003). https://doi.org/10.2165/00019053-200321020-00002
Keywords
Gross Domestic Product

National Health Service

Generic Drug

Drug Expenditure

Reference Price