Abstract
Objectives: This study examines the financial benefits that can accrue to drug developers from improvements in the drug development process. The effect on drug development costs from faster development, earlier decisions on project failures, and higher approval success rates are quantified.
Data and Methods: The results from a recent study of research and development (R&D) costs for new drugs are used as a benchmark against which improvements in the discovery and development processes are simulated. The cost results in the benchmark study were based on a sample of 68 randomly selected investigational drugs from 10 pharmaceutical firms.
Results: Simultaneous 25% reductions in phase lengths lower capitalised total cost per approved drug by 16%, or $US129 million; 50% reductions in time lower cost by 29%, or $US235 million. Earlier decisions to terminate research on drugs that will ultimately fail significantly reduce clinical costs. For example, shifting 5% of all clinical failures from phase III/regulatory review to phase I reduces out-of-pocket clinical costs by 5.5 to 7.1%; and capitalised clinical cost is lowered by 5.1 to 6.3%. If more productive discovery programmes or better preclinical screens increase success rates from 21.5% to one in three, firms can reduce capitalised total cost per approved drug by $US221 million to $US242 million.
Conclusions: Whether faster development times, quicker termination decisions or higher success rates derive from public policy initiatives, better management, or new technologies, the impact on R&D costs can be substantial. Ultimately, the increased efficiency could result in more innovation and new therapies reaching patients sooner.
This is a preview of subscription content,
to check access.
Access this article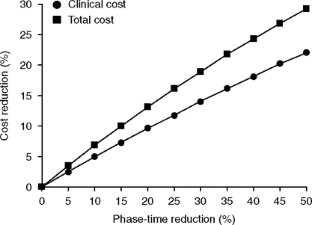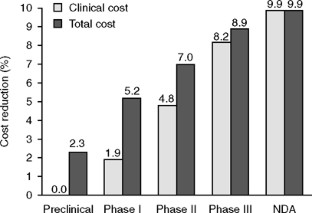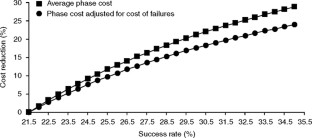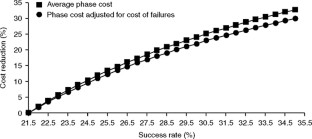 Similar content being viewed by others
Notes
Assuming proportionately higher or lower values for phase out-of-pocket costs would change the absolute amount of cost savings for the simulated process improvements, but it would not affect the reductions in percentage terms. The changes in absolute savings are easily determined since they vary in the same proportion as phase costs.

Reductions in time also provide the benefit of getting drugs to the market sooner. This can increase the amount of time that a drug is on themarket without generic competition (effective patent lifetime). However, it would be likely that this impact would be fairly limited since the effective patent lifetimes of many drugs are constrained by the Hatch-Waxman legislation in the United States that limits patent restoration time to 5 years and constrains the total effective patent lifetime with restoration to 14 years. However, to the extent that individual firms are more effective at reducing development times than their competitors, then those firms will reap the potentially substantial benefit of having their drugs spend a longer period on the market with no or few substitutes in their product class.
References
DiMasi JA, Hansen RW, Grabowski HG. The price of innovation: new estimates of drug development costs. J Health Econ 2002. In Press

Grabowski HG, Vernon J, DiMasi JA. Returns on research and development for 1990s new drug introductions. Pharmacoeconomics 2002; 20 Suppl. 3: 11–29

DiMasi JA. New drug innovation and pharmaceutical industry structure: trends in the output of pharmaceutical firms. Drug Inf J 2000; 34 (4): 1169–94

Watkins KJ. Fighting the clock: pharmaceutical and biotechnology companies seek ways to reduce the time required to discover and develop medicines. Chem Eng News 2002; 80: 27–34

Kaitin KI, Healy EM. The new drug approvals of 1996, 1997, and 1998: drug development trends in the user fee era. Drug Inf J 2000; 34 (1): 1–14

Kaitin KI, DiMasi JA. Measuring the pace of new drug development in the user fee era. Drug Inf J 2000; 34 (3): 673–80

DiMasi JA, Manocchia M. Initiatives to speed new drug development and regulatory review: the impact of FDA-sponsor conferences. Drug Inf J 1997; 31 (3): 771–88

Milne CP, Bergman EM. Fast track designation under the food and drug administration modernization act: the industry experience. Drug Inf J 2001; 35 (1): 71–83

DiMasi JA, Hansen RW, Grabowski HG, et al. Cost of innovation in the pharmaceutical industry. J Health Econ 1991; 10: 107–42

DiMasi JA. New drug development in the United States from 1963 to 1999. Clin Pharmacol Ther 2001; 69: 286–96

DiMasi JA. Risks in new drug development: approval success rates for investigational drugs. Clin Pharmacol Ther 2001; 69: 297–307

DiMasi JA, Caglarcan E, Wood-Armany M. Emerging role of pharmacoeconomics in the research and development decision-making process. Pharmacoeconomics 2001; 19 (7): 753–66

Tollman P, Guy P, Altshuler J, et al. A revolution in R&D: the impact of genomics. Boston (MA): The Boston Consulting Group, Jun 2001

The fruits of genomics: drug pipelines face indigestion until the new biology ripens. Lehman Brothers, Jan 2001
Acknowledgements
The author would like to thank the two referees for helpful comments. No external financial support was provided to conduct this study. The author has no conflicts of interest with regard to the content of this manuscript.
About this article
Cite this article
DiMasi, J.A. The Value of Improving the Productivity of the Drug Development Process. Pharmacoeconomics 20 (Suppl 3), 1–10 (2002). https://doi.org/10.2165/00019053-200220003-00001
Published:

Issue Date:

DOI: https://doi.org/10.2165/00019053-200220003-00001
Keywords