Abstract
Background: Although various prescription drugs may be equally effective in promoting sleep, some may lead to substantial impairment in psychomotor functioning and an increased risk of motor vehicle accidents.
Objective: To develop a general model to evaluate the potential effects of sleep medications on motor vehicle accidents and costs, and apply the model to the French setting.
Methods: Impairment in driving performance, as evaluated by randomised controlled open-road studies using the standard deviation of a vehicle's lateral position (SDLP), a measure of weaving, was expressed in terms of equivalent blood alcohol (ethanol) concentration (BAC). Epidemiological data were then used to relate BAC to the excess risk of motor vehicle accidents. Although a non-impairing medication would not increase risk, a medication that produces mild impairment in driving performance (a change of 2.5cm in SDLP, equivalent to 0.05% BAC) would increase motor vehicle accident risk by 25%. One that leads to moderate impairment (an SDLP change of 4.5cm, equivalent to 0.08% BAC) would roughly double this risk, and a severely impairing medication (an SDLP change of 7cm, equivalent to 0.12% BAC) would result in up to a 5-fold increase in motor vehicle accident risk. For application to the French setting, a hypothetical cohort of 100 000 adult drivers with insomnia was assumed to be treated for 14 days either with zaleplon 10mg, a new sleep medication that has been shown not to significantly impair driving performance, or zopiclone 7.5mg, which has been shown to cause moderate impairment.
Results: Compared with zaleplon, use of zopiclone over 14 days in France would be expected to result in 503 excess accidents per 100 000 drivers at an additional cost of 158 French francs (31 US dollars) per person (1996 values).
Conclusions:Our model illustrates the extent to which non-impairing sleep medications could reduce the burden posed by motor vehicle accidents. Our model is designed to be general, and thus can serve as the basis for similar investigations.
Access options
Buy single article
Instant access to the full article PDF.
US$ 49.95
Tax calculation will be finalised during checkout.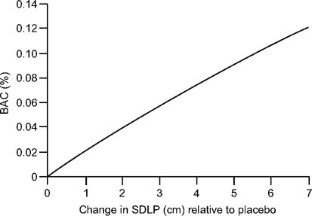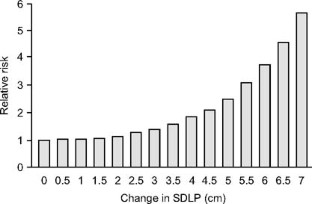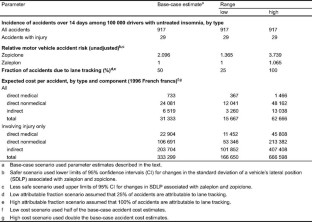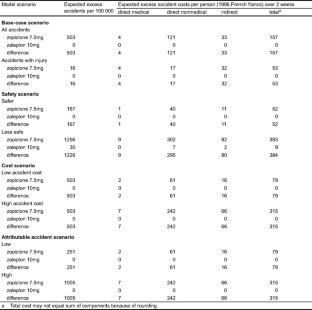 References
1.

Broman JE, Lundh LG, Hetta J. Insufficient sleep in the general population. Neurophysiol Clin 1996; 26: 30–9

2.

Hohagen F, Rink K, Käppler C, et al. Prevalence and treatment of insomnia in general practice. Eur Arch Psychiatry Clin Neurosci 1993; 242: 329–36

3.

Mellinger GD, Balter MB, Uhlenhuth EH. Insomnia and its treatment. Arch Gen Psychiatry 1985; 42: 225–32

4.

National Sleep Foundation. Sleep in America: 1995. Washington, DC: National Sleep Foundation, 1995

5.

Ohayon MM. Epidemiological study on insomnia in the general population. Sleep 1996; 19: S7–S15

6.

Ohayon MM, Caulet M. Psychotropic medication and insomnia complaints in two epidemiological studies. Can J Psychiatry 1996; 41 (7): 457–64

7.

Quera-Salva MA, Orluc A, Goldenerg F, et al. Insomnia and the use of hypnotics: study of a French population. Sleep 1991; 14: 386–91

8.

Weyerer S, Dilling H. Prevalence and treatment of insomnia in the community: results from the upper Bavarian field study. Sleep 1991; 14: 392–8

9.

Zammit GK, Weiner J, Damato N, et al. Quality of life in people with insomnia. Sleep 1999; 22 Suppl. 2: S379–S385

10.

Hatoum HT, Kong SX, Kania CM, et al. Insomnia, health-related quality of life and healthcare resource consumption. Pharmacoeconomics 1998; 14 (6): 629–37

11.

Stoller MK. Economic effects of insomnia. Clin Ther 1994; 16 (5): 263–87

12.

Leger D. The cost of sleep-related accidents: a report for the National Commission on Sleep Disorders Research. Sleep 1994; 17 (1): 84–93

13.

Balter MB, Uhlenhuth EH. New epidemiologic findings about insomnia and its treatment. J Clin Psychiatry 1992; 53 Suppl.: 34–9

14.

Declerck AC, Ruwe F, O'Hanlon JF, et al. Effects of zolpidem and flunitrazepam on nocturnal sleep of women subjectively complaining of insomnia [published erratum appears in: Psychopharmacology (Berl) 1992; 109 (1–2): 254]. Psychopharmacology (Berl) 1992; 106 (4): 497–501

15.

Flemming JA, McClure DJ, Mayes C, et al. A comparison of the efficacy, safety and withdrawal effects of zopiclone and triazolam in the treatment of insomnia. Int Clin Psychopharmacol 1990; 5 Suppl. 2: 29–37

16.

Hajak G, Clarenbach P, Fischer W, et al. Zopiclone improves sleep quality and daytime well-being in insomniac patients: comparison with triazolam, flunitrazepam, and placebo. Int Clin Psychopharmacol 1994; 9: 251–61

17.

Nowell PD, Mazumdar S, Buysse DJ, et al. Benzodiazepines and zolpidem for chronic insomnia: a meta-analysis of treatment efficacy. JAMA 1997; 278: 2170–7

18.

Ponciano E, Frietas F, Camara J, et al. A comparison of the efficacy, tolerance and residual effects of zopiclone, flurazepam, and placebo in insomniac outpatients. Int Clin Psychopharmacol 1990; 52 Suppl.: 69–77

19.

Scharf MB, Roth PB, Dominguez RA, et al. Estazolam and flurazepam: a multicenter, placebo-controlled comparative study in outpatients with insomnia. J Clin Pharmacol 1990; 30: 461–7

20.

Scharf MB, Roth T, Vogel GW, et al. A multicenter, placebo-controlled study evaluating zolpidemin the treatment of chronic insomnia. J Clin Psychiatry 1994; 55: 192–9

21.

Vermeeren A, Danjou PE, O'Hanlon JF. Residual effects of evening and middle-of-the-night administration of zaleplon 10 and 20 mg on memory and actual driving performance. Hum Psychopharmacol Clin Exp 1998; 13: S98–S107

22.

Volkerts ER, O'Hanlon JF. Hypnotics' residual effects on driving performance. In: O'Hanlon JF, de Gier JJ, editors. Drugs and driving. Philadelphia (PA): Taylor & Francis, 1985: 123–35

23.

O'Hanlon JF, Brookhuis KA, Louwerens JW, et al. Performance testing as part of drug registration. In: O'Hanlon JF, de Gier JJ, editors. Drugs and driving. Philadelphia (PA): Taylor & Francis, 1985: 311–30

24.

Hemmelgarn B, Suissa S, Huang A, et al. Benzodiazepine use and the risk of motor vehicle crash in the elderly. JAMA 1997; 278: 27–31

25.

Neutel CI. Risk of traffic accident injury after a prescription for a benzodiazepine. Ann Epidemiol 1995; 5: 239–44

26.

Ray WA. Psychoactive drugs and the risk of injurious motor vehicle crashes in elderly drivers. Am J Epidemiol 1992; 136: 873–83

27.

Skegg DCG, Richards SM, Doll R. Minor tranquillisers and road accidents. BMJ 1979; 1: 917–9

28.

Ray WA. Safety and mobility of the older driver: a research challenge. JAMA 1997; 278: 66–7

29.

Barbone F, McMahon AD, Davey PG, et al. Association of road-traffic accidents with benzodiazepine use. Lancet 1998; 352: 1331–6

30.

Lacronique JF. Benzodiazepines: le point de vue de l'economiste. Psychologie Medicale 1989; 21A (hors serie): 79–88

31.

Lagier G et al. Livre blanc: sécurité routière, drogues licites ou illicites et médicaments. Rapport au Premier Ministre. Paris: La Documentation Française, 1996

32.

OECD health data 1999 [CD-ROM]. Washington, DC: Brookings Press, 2000

33.

Louwerens JW, Gloerich ABM, de Vries G, et al. The relationship between drivers' blood alcohol concentration (BAC) and actual driving performance during high speed travel. In: Nordzij PC, Roszbach R, editors. Alcohol, drugs and traffic safety — T86. Amsterdam: Excerpta Medica, 1986: 183–6

34.

Borkenstein RF, Crowther RF, Shumate RP, et al. The role of the drinking driver in traffic accidents. Blutalkohol 1974; 11 Suppl. 1: 1–131

35.

Fontaine H, Hubert JP, Lejeune M. Exposition au risque et risque d'accident des conducteurs de véhicules légers. Arcueil: INRETS (Institut National de Recherche sur les Transports et leur Sécurité), 1997 Oct. DERA Report No.: 9708

36.

Observatoire National Interministériel de Sécurité Routière. Bilan annuel. Statistiques et Commentaires, année 1996. Paris: La Documentation Française, 1997

37.

Dawson D, Reid K. Fatigue, alcohol and performance impairment [letter]. Nature 1997; 388 (6639): 235
Acknowledgements
This study was funded in part by the Wyeth-Ayerst Global Health Outcomes Assessment Group, Radnor, PA. We would like to thank Charlotte McMillan, PhD, George Sillup, PhD, and George France for their helpful comments and suggestions on the model. We also would like to thank Luke Boulanger, MA, and Shawn O'Donoghue for their assistance in conducting the study.
About this article
Cite this article
Menzin, J., Lang, K.M., Levy, P. et al. A General Model of the Effects of Sleep Medications on the Risk and Cost of Motor Vehicle Accidents and its Application to France. Pharmacoeconomics 19, 69–78 (2001). https://doi.org/10.2165/00019053-200119010-00005
Keywords
Zolpidem

Motor Vehicle Accident

Zopiclone

Flunitrazepam

Zaleplon