Abstract
Swimming is an exercise modality that is highly suitable for health promotion and disease prevention, and is one of the most popular, most practiced and most recommended forms of physical activity. Yet little information is available concerning the influence of regular swimming on coronary heart disease (CHD). Exercise recommendations involving swimming have been generated primarily from unjustified extrapolation of the data from other modes of exercise (e.g. walking and cycling). Available evidence indicates that, similarly to other physically active adults, the CHD risk profile is more favourable in swimmers than in sedentary counterparts and that swim training results in the lowering of some CHD risk factors. However, the beneficial impact of regular swimming may be smaller than land-based exercises. In some cases, regular swimming does not appear to confer beneficial effects on some CHD risk factors. Moreover, swimming has not been associated with the reduced risks of developing CHD. Thus, extrapolation of research findings using land-based exercises into swimming cannot be justified, based on the available research. Clearly, more research is required to properly assess the effects of regular swimming on CHD risks in humans.
Access options
Buy single article
Instant access to the full article PDF.
USD 49.95
Price excludes VAT (USA)
Tax calculation will be finalised during checkout.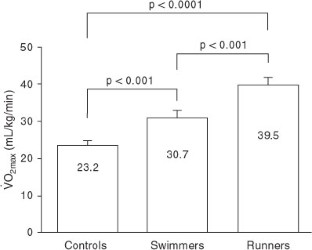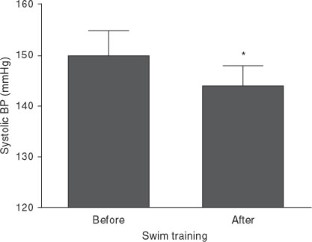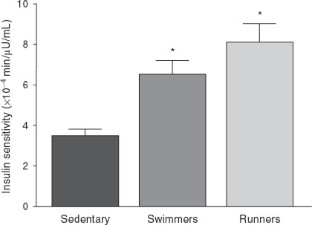 References
Kushi LH, Fee RM, Folsom AR, et al. Physical activity and mortality in postmenopausal women. JAMA 1997; 277: 1287–92

Blair SN, Kampert JB, Kohl HW, et al. Influences of cardiovascular fitness and other precursors on cardiovascular disease and all-cause mortality in men and women. JAMA 1996; 276: 205–10

Thompson PD, Buchner D, Pina IL, et al. Exercise and physical activity in the prevention and treatment of atherosclerotic cardiovascular disease: a statement from the Council on Clinical Cardiology (Subcommittee on Exercise, Rehabilitation, and Prevention) and the Councilon Nutrition, Physical Activity, and Metabolism (Subcommittee on Physical Activity). Circulation 2003; 107(24): 3109–16

Pescatello LS, Franklin BA, Fagard R, et al. American College of Sports Medicine position stand: exercise and hypertension. Med Sci Sports Exerc 2004; 36 (3): 533–53

World Hypertension League. Physical exercise in the management of hypertension: a consensus statement by the World Hypertension League. J Hypertension 1991; 9: 283–7

Cleroux J, Feldman RD, Petrella RJ. Lifestyle modifications to prevent and control hypertension: 4. Recommendations on physical exercise training. Canadian Hypertension Society, Canadian Coalition for High Blood Pressure Prevention and Control, Laboratory Centre for Disease Control at Health Canada, Heart and Stroke Foundation of Canada. CMAJ 1999; 160 (9 Suppl.): S21–8

Haskell WL, Lee IM, Pate RR, et al. Physical activity and public health: updated recommendation for adults from the American College of Sports Medicine and the American Heart Association. Med Sci Sports Exerc 2007; 39 (8): 1423–34

Zinman B, Ruderman N, Campaigne BN, et al. Physical activity/exercise and diabetes mellitus. Diabetes Care 2003; 26 Suppl. 1: S73–7

Nosaka T, Tanaka H, Watanabe I, et al. Influence of regular exercise on age-related changes in arterial elasticity:mechanistic insights from wall compositions in rat aorta. Can J Appl Physiol 2003; 28 (2): 204–12

Harri M, Kuusela P. Is swimming exercise or cold exposure for rats? Acta Physiol Scand 1986; 126: 189–97

Stevenson JA, Box BM, Feleki V, et al. Bouts of exercise and food intake in the rat. J Appl Physiol 1966; 21 (1): 118–22

Sturek ML, Bedford TG, Tipton CM, et al. Acute cardio-respiratory responses of hypertensive rats to swimming and treadmill exercise. J Appl Physiol 1984; 57 (5): 1328–32

Becker BE, Cole AJ. Aquatic rehabilitation. In: DeLisa JA, Gans BM, editors. Rehabilitation medicine: principles and practice. 3rd ed. Philadelphia (PA): Lippincott-Raven, 1998: 887–901

Levy CM, Kolin E, Berson BL. Cross training: risk or benefit? An evaluation of injuries in four athlete populations. Sports Med Clin Forum 1986; 3 (1): 1–8

Sheldahl LM, Buskirk ER, Loomis JL, et al. Effects of exercise in cool water on body weight loss. Int J Obesity 1982; 6: 29–42

Booth ML, Bauman A, Owen N, et al. Physical activity preferences, preferred sources of assistance, and perceived barriers to increased activity among physically inactive Australians. Prev Med 1997; 26: 131–7

Vaz de Almeida MD, Graca P, Afonso C, et al. Physical activity levels and body weight in a nationally representative sample in the European Union. Public Health Nutr 1999; 2 (1A): 105–13

Afonso C, Graca P, Kearney JM, et al. Physical activity in European seniors: attitudes, beliefs and levels. J Nutr Health Aging 2001; 5 (4): 226–9

Kolt GS, Driver RP, Giles LC. Why older Australians participate in exercise and sport. J Aging Phys Act 2004; 12 (2): 185–98

Sports participation statistics. Mt Prospect (IL): National Sporting Goods Association, 2006

US Census Bureau. The 2009 statistical abstract of the United States: Commerce Department, Census Bureau (publ.). Washington, DC: 2009

Khanam S, Costarelli V. Attitudes towards health and exercise of overweight women. J Royal Soc Health 2008; 128 (1): 26–30

Specialists in Business Information. US market for swimming pool equipment and maintenance products. Rockville (MD): Specialists in Business Information, 2007

Convertino VA, Tatro DL, Rogan RB. Renal and cardiovascular responses to water immersion in trained runners and swimmers. Eur J Appl Physiol 1993; 67: 507–12

Itoh M, Araki H, Hotokebuchi N, et al. Increased heart rate and blood pressure, and occurrence of arrhythmias in elderly swimmers. J Sports Med Phys Fitness 1994; 34: 169–78

Wilson IH, Kasch FW. Swimming as a clinical tool. J Assoc Phys Mental Rehab 1967; 21 (3): 82–4

Epstein M. Renal endocrine, and hemodynamic effects of water immersion in humans. In: Buskirk ER, Puhl SM, editors. Body fluid balance: exercise and sport. Boca Raton(FL): CRC Press, 1996: 197–212

Fernhall B, Congdon K, Manfredi T. ECG response to water and land based exercise in patients with cardiovascular disease. J Cardiopulm Rehab 1990; 10: 5–11

Fernhall B, Manfredi TG, Congdon K. Prescribing waterbased exercise from treadmill and arm ergometry in cardiac patients. Med Sci Sports Exerc 1992; 24 (1): 139–43

McMurray RG, Fieselman CC, Avery KE, et al. Exercise hemodynamics in water and on land in patients with coronary artery disease. J Cardiopulm Rehab 1988; 8: 69–75

Magder S, Linnarsson D, Gullstrand L. The effect of swimming on patients with ischemic heart disease. Circulation 1981; 63 (5): 979–86

Kannel WB. Clinical misconceptions dispelled by epidemiological research. Circulation 1995; 92: 3350–60

Tanaka H, Baseett DR, Howley ET. Effects of swim training on body weight, carbohydrate metabolism, lipid and lipoprotein profile. Clin Physiol 1997; 17: 347–59

Tanaka H, Bassett DR, Howley ET, et al. Swimming training lowers the resting blood pressure in individuals with hypertension. J Hypertens 1997; 15 (6): 651–7

Tanaka H, Clevenger CM, Jones PP, et al. Influence of body fatness on the coronary risk profile of physically active postmenopausal women. Metabolism 1998; 47 (9): 1112–20

Tanaka H, Dale GA, Bassett DR. Influence of regular swimming on profile of mood states in obese subjects with essential hypertension. Jap J Phys Fitness Sports Med 1999; 48 (4): 447–52

Tanaka H, Seals DR. Age and gender interactions in physiological functional capacity: insight from swimming performance. J Appl Physiol 1997; 82 (3): 846–51

Parker Jones P, Davy KP, Desouza CA, et al. Total blood volume in endurance-trained postmenopausal females:relation to exercise mode and maximal aerobic capacity. Acta Physiol Scand 1999; 166 (4): 327–33

Van Pelt RE, Jones PP, Davy KP, et al. Regular exercise and the age-related decline in resting metabolic rate in women. J Clin Endocrinol Metab 1997; 82: 3208–12

Tanaka H. Effects of cross-training: transfer of training effects on V̇O2max between cycling, running and swimming. Sports Med 1994; 18 (5): 330–9

Tanaka H, Seals DR. Dynamic exercise performance in Masters athletes: insight into the effects of primary human aging on physiological functional capacity. J Appl Physiol 2003; 95 (5): 2152–62

Tanaka H, DeSouza CA, Jones PP, et al. Greater rate of decline in maximal aerobic capacity with age in physically active versus sedentary healthy women. J Appl Physiol 1997; 83 (6): 1947–53

Blair SN, Kohl HW, Barlow CE, et al. Changes in physical fitness and all-cause mortality. JAMA 1995; 273: 1093–8

Blair SN, Kohl HW, Paffenbarger RS, et al. Physical fitness and all-cause mortality: a prospective study of men and women. JAMA 1989; 262: 2395–401

WHO Study Group. Aging and working capacity. Geneva: World Health Organization, 1993

Van Boxtel MPJ, Paas FGW, Houx PJ, et al. Aerobic capacity and cognitive performance in a cross-sectional aging study. Med Sci Sports Exerc 1997; 29 (10): 1357–65

Pollock ML. The quantification of endurance training programs. In: Wilmore J, editor. Exercise and sports sciences reviews. Vol. 1. New York: Academic Press, 1973: 155–88

Houston ME, Wilson DM, Green HJ, et al. Physiological and muscle enzyme adaptations to two different intensities of swim training. Eur J Appl Physiol 1981; 46: 283–91

Magel JR, Faulkner JA. Maximum oxygen uptakes of college swimmers. J Appl Physiol 1967; 22 (5): 929–38

Holmer I, Lundin A, Eriksson BO. Maximum oxygen uptake during swimming and running by elite swimmers. J Appl Physiol 1974; 36 (6): 711–4

Magel JR, Foglia GF, McArdle WD, et al. Specificity of swim training on maximum oxygen uptake. J Appl Physiol 1975; 38 (1): 151–5

Holmer I, Astrand PO. Swimming training and maximal oxygen uptake. J Appl Physiol 1972; 33 (4): 510–3

Eriksson BO, Holmer I, Lundin A. Physiological effects of training in elite swimmers. In: Eriksson BO, Furberg B, editors. Swimming medicine IV. Baltimore (MD): University Park Press, 1978: 177–87

Gergley TJ, McArdle WD, DeJesus P, et al. Specificity of arm training on aerobic power during swimming and running. Med Sci Sports Exerc 1984; 16 (4): 349–54

Koda M, Mutoh Y, Higuchi M, et al. Aerobic work capacity of Japanese masters swimmers. Coaching Sport Sci J 1994; 1 (1): 16–8

Tanasescu M, Leitzmann MF, Rimm EB, et al. Exercise type and intensity in relation to coronary heart disease in men. JAMA 2002; 288 (16): 994–2000

Joint National Committee on Prevention, Detection, Evaluation, and Treatment of High Blood Pressure. The sixth report of the Joint National Committee on Prevention, Detection, Evaluation, and Treatment of High Blood Pressure. Arch Intern Med 1997; 157 (24): 2413–46

Tanaka H, DeSouza CA, Seals DR. Exercise and hypertension in older adults. In: Tanaka H, Shindo M, editors. Exercise for preventing common diseases. Tokyo: Springer-Verlag, 1999: 45–50

Hagberg JM, Park JJ, Brown MD. The role of exercise training in the treatment of hypertension: an update. Sports Med 2000; 30 (3): 193–206

Wallace JP. Exercise in hypertension: a clinical review. Sports Med 2003; 33 (8): 585–98

Kingwell B, Jennings GL. Effects of walking and other exercise programs upon blood pressure in normal subjects. Med J Aust 1993; 158: 234–8

Holmer I, Stein EM, Saltin B, et al. Hemodynamic and respiratory responses compared in swimming and running. J Appl Physiol 1974; 37 (1): 49–54

Cureton Jr TK. Physical fitness appraisal and guidance. St Louis (MO): CV Mosby, 1947

Jost J, Weiss M, Weicker H. Sympathoadrenergic regulation and the adrenoceptor system. J Appl Physiol 1990; 68 (3): 897–904

Marconnet P, Slaoui F, Gastaud M, et al. Preexercise, exercise and early post exercise arterial blood pressure in young competitive swimmers versus non swimmers. J Sports Med 1984; 24: 252–8

Cox KL, Burke V, Beilin LJ, et al. Blood pressure rise with swimming versus walking in older women: the Sedentary Women Exercise Adherence Trial 2 (SWEAT 2). J Hypertens 2006; 24 (2): 307–14

Ishikawa K, Ohta T, Zhang J, et al. Influence of age and gender on exercise training-induced blood pressure reduction in systemic hypertension. Am J Cardiol 1999; 84 (2): 192–6

Ishikawa-Takata K, Ohta T, Tanaka H. How much exercise is required to reduce blood pressure in essential hypertensives:a dose-response study. Am J Hypertens 2003; 16 (8): 629–33

Tanaka H, Reiling MJ, Seals DR. Regular walking increases peak limb vasodilatory capacity of older hypertensive humans:implications for arterial structure. J Hypertens 1998; 16: 423–8

Fagard R, Amery A. Physical exercise in hypertension. In: Laragh JH, Brenner BM, editors. Hypertension: pathophysiology, diagnosis, and management. 2nd ed. New York: Raven Press, 1995: 2669–81

Durstine JL, Grandjean PW, Cox CA, et al. Lipids, lipoproteins, and exercise. J Cardiopulm Rehab 2002; 22 (6): 385–98

Ohkuwa T, Itoh H. High density lipoprotein cholesterol following anaerobic swimming in trained swimmers. J Sports Med Phys Fitness 1993; 33: 200–2

Barr SI, Costill DL, Fink WJ, et al. Effect of increased training volume on blood lipids and lipoproteins in male collegiate swimmers. Med Sci Sports Exerc 1991; 23 (7): 795–800

Sgouraki E, Tsopanakis A, Tsopanakis C. Acute exercise: response of HDL-C, LDL-C lipoproteins and HDL-C subfractions levels in selected sport disciplines. J Sports Med Phys Fitness 2001; 41 (3): 386–91

Schnabel A, Kindermann W. Effect of maximal oxygen uptake and different forms of physical training on serum lipoproteins. Eur J Appl Physiol 1982; 48: 263–77

Higuchi M, Ishii K, Yoshitake Y, et al. Plasma lipoprotein profile in Japanese middle-aged swimmers. In: Miyashita M, Mutoh Y, Richardson AB, editors. Medicine and science in aquatic sports. Basel: Karger, 1994: 193–8

Higuchi M, Tamai T, Kobayashi S, et al. Plasma lipoprotein and apolipoprotein profiles in aged Japanese athletes. In: Sato Y, Poortmans J, Hashimoto I, et al., editors. Integration of medical and sports sciences: medical sports science. Basel: Karger, 1992: 126–36

Weinstein AR, Sesso HD, Lee IM, et al. Relationship of physical activity versus body mass index with type 2 diabetes in women. JAMA 2004; 292 (10): 1188–94

Hu FB, Sigal RJ, Rich-Edwards JW, et al. Walking compared with vigorous physical activity and risk of type 2 diabetes in women: a prospective study. JAMA 1999; 282(15): 1433–9

Holloszy JO, Schultz J, Kusnierkiewicz J, et al. Effects of exercise on glucose tolerance and insulin resistance. Acta Med Scand Suppl. 1986; 711: 55–65

Sideraviciute S, Gailiuniete A, Visagurskiene K, et al. The effect of long-term swimming program on glycemic control in 14–19 year aged healthy girls with type 1 diabetes mellitus. Medicina 2006; 42 (6): 513–9

Makita S, Nohara R, Uehara H, et al. Training program incorporating swimming for patients with mild diabetes mellitus. In: Miyashita M, Mutoh Y, Richardson AB, editors. Medicine and science in aquatic sports. Basel: Karger, 1994; 76–81

Eckel RH. Obesity and heart disease: a statement for healthcare professionals from the Nutrition Committee, American Heart Association. Circulation 1997; 96: 3248–50

Hill JO, Commerford R. Physical activity, fat balance, and energy balance. Int J Sport Nutr 1996; 6: 80–92

Flynn MG, Costill DL, Kirwan JP, et al. Fat storage in athletes: metabolic and hormonal responses to swimming and running. Int J Sports Med 1990; 11 (6): 433–40

Housh TJ, Thorland WG, Johnson GO, et al. Body composition variables as discriminators of sports participation of elite adolescent female athletes. Res Quart 1984; 55 (3): 302–4

Vaccaro P, Ostrove SM, Vandervelden L, et al. Body composition and physiological responses of masters female swimmers 20 to 70 years of age. Res Quart 1984; 55 (3): 278–84

Pugh LGCE, Edholm OG, Fox RH, et al. A physiological study of channel swimming. Clin Sci 1960; 19: 257–73

Pugh LGC, Edholm OG. The physiology of channel swimmers. Lancet 1955; ii: 761–8

Gwinup G. Weight loss without dietary restriction: efficacy of different forms of aerobic exercise. Am J Sports Med 1987; 15 (3): 275–9

Kasch FW. Physiological changes with swimming and running during two years of training. Scand J Sports Sci 1981; 3 (1): 23–6

Littman AJ, Kristal AR, White E. Effects of physical activity intensity, frequency, and activity type on 10-y weight change in middle-aged men and women. Int J Obes (Lond) 2005; 29 (5): 524–33

Jones PJ, Leitch CA. Validation of doubly labeled water for measurement of caloric expenditure in collegiate swimmers. J Appl Physiol 1993; 74 (6): 2909–14

White LJ, Dressendorfer RH, Holland E, et al. Increased caloric intake soon after exercise in cold water. Int J Sport Nutr Exerc Metab 2005; 14: 38–47

Taaffe DR, Snow-Harter C, Connolly DA, et al. Differential effects of swimming versus weight-bearing activity on bone mineral status of eumenorrheic athletes. J Bone Miner Res 1995; 10 (4): 586–93
Acknowledgements
No sources of funding were used to assist in the preparation of this review. The author has no conflicts of interest that are directly relevant to the content of this review.
About this article
Cite this article
Tanaka, H. Swimming Exercise. Sports Med 39, 377–387 (2009). https://doi.org/10.2165/00007256-200939050-00004
Published:

Issue Date:

DOI: https://doi.org/10.2165/00007256-200939050-00004
Keywords
Coronary Heart Disease

Coronary Heart Disease Risk

Coronary Heart Disease Risk Factor

Swimming Exercise

Maximal Aerobic Capacity