Abstract
Annual age-grouping is a common organizational strategy in sport. However, such a strategy appears to promote relative age effects (RAEs). RAEs refer both to the immediate participation and long-term attainment constraints in sport, occurring as a result of chronological age and associated physical (e.g. height) differences as well as selection practices in annual age-grouped cohorts. This article represents the first meta-analytical review of RAEs, aimed to collectively determine (i) the overall prevalence and strength of RAEs across and within sports, and (ii) identify moderator variables. A total of 38 studies, spanning 1984–2007, containing 253 independent samples across 14 sports and 16 countries were re-examined and included in a single analysis using odds ratios and random effects procedures for combining study estimates. Overall results identified consistent prevalence of RAEs, but with small effect sizes. Effect size increased linearly with relative age differences. Follow-up analyses identified age category, skill level and sport context as moderators of RAE magnitude. Sports context involving adolescent (aged 15–18 years) males, at the representative (i.e. regional and national) level in highly popular sports appear most at risk to RAE inequalities. Researchers need to understand the mechanisms by which RAEs magnify and subside, as well as confirm whether RAEs exist in female and more culturally diverse contexts. To reduce and eliminate this social inequality from influencing athletes' experiences, especially within developmental periods, direct policy, organizational and practitioner intervention is required.
Access options
Buy single article
Instant access to the full article PDF.
USD 39.95
Price excludes VAT (USA)
Tax calculation will be finalised during checkout.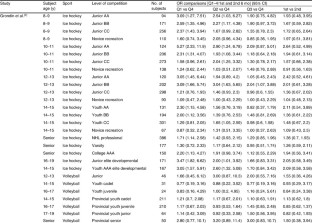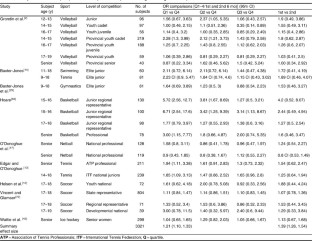 Notes
The search and data collection procedure missed one study, which came to light following data analysis.[43]

Since the time of data collection and analysis several more studies have been published.

An odds ratio is considered as a comparison between the odds of exposure (i.e. to a sport context) compared to the odds of exposure (i.e. general population). Confidence intervals quantify the uncertainty in measurement. It is usually reported as 95% CI, which is the range of values within which we can be 95% sure that the true value for the whole population lies. See Rudas[44] for an introduction.
References
Barnsley RH, Thompson AH, Barnsley PE. Hockey success and birthdate: the RAE. Can Assoc Health Phys Educ Recreation J 1985; 51: 23–8

Grondin S, Deschaies P, Nault LP. Trimesters of birth and school output [in French]. Apprent Social 1984; 16: 169–74

Barnsley RH, Thompson AH. Birthdate and success in minor hockey: the key to the NHL. Can J Behav Sci 1988; 20: 167–76

Armstrong HG. A comparison of the performance of summer and autumn-born children at eleven and sixteen. Br J Educ Psychol 1966; 36: 72–6

Freyman R. Further evidence on the effect of date of birth on subsequent school performance. Educ Res 1965; 8: 58–64

Alton A, Massey A. Date of birth and achievement in GCSE and GCE A-level. Educ Res 1998; 40: 105–9

Thompson A, Barnsley R, Stebelsky G. 'Born to play ball': the relative age effect and major league baseball. Sociol Sport J 1991; 8: 146–51

Thompson A, Barnsley R, Stebelsky G. Baseball performance and the relative age effect: does little league neutralize birthdate selection bias? Nine 1992; 1: 19–30

Boucher J, Mutimer B. The relative age phenomenon in sport: a replication and extensions with ice-hockey players. Res Q Exerc Sport 1994; 65: 377–81

Verhulst J. Seasonal birth distribution of West European soccer players: a possible explanation. Med Hypotheses 1992; 38: 346–8

Barnsley RH, Thompson AH, Legault P. Family planning: football style–the relative age effect in football. Int Rev Sociol Sport 1992; 27: 77–88

Helsen WF, Van Winckel J, Williams MA. The relative age effect in youth soccer across Europe. J Sports Sci 2005; 23: 629–36

Edgar S, O'Donoghue P. Season of birth distribution of elite tennis players. J Sports Sci 2005; 23: 1013–20

Baxter-Jones A. Growth and development of young athletes: should competition levels be age related? Sports Med 1995; 20: 59–64

Abernethy B, Farrow D. Contextual factors influencing the development of expertise in Australian athletes. Proceedings of the 11th World Congress of Sport Psychology; 2005 Aug 15-19; Sydney (NSW)

Edwards S. Born too late to win? [letter] Nature 1994; 370: 186

O'Donoghue P, Edgar S, McLaughlin E. Season of birth bias in elite cricket and netball. J Sports Sci 2004; 22: 256–7

Côté J, MacDonald DJ, Baker J, et al. When 'where' is more important than 'when': birthplace and birthdate effects on the achievement of sporting expertise. J Sports Sci 2006; 24: 1065–73

Sherar LB, Baxter-Jones ADG, Faulkner RA, et al. Does physical maturity and birth date predict talent in male youth ice hockey players? J Sports Sci 2007; 25(8): 879–86

Malina RM. Physical growth and biological maturation of young athletes. Exerc Sport Sci Rev 1994; 22: 389–434

Musch J, Grondin S. Unequal competition as an impediment to personal development: a review of the relative age effect in sport. Dev Rev 2001; 21: 147–67

Malina RM, Bouchard C, Bar-Or O. Growth, maturation and physical activity. 2nd ed. Champaign (IL): Human Kinetics, 2004

Malina RM, Ribeiro B, Aroso J, et al. Characteristics of youth soccer players aged 13-15 years classified by skill level. Br J Sports Med 2007; 41: 290–5

Baxter-Jones A, Helms P, Baines-Preece J, et al. Growth and development of male athletes: implications for identification of talent [abstract]. J Sports Sci 1994; 12: 156

Baxter-Jones A, Helms P, Maffuli N, et al. Growth and development of male gymnasts, swimmers, soccer and tennis players: a longitudinal study. Ann Hum Biol 1995; 22: 381–94

Levfvre J, Beunen G, Steens G, et al. Motor performance during adolescence and age thirty as related to age at peak height velocity. Ann Hum Biol 1990; 17: 423–35

Brewer J, Balsom PD, Davis JA, et al. The influence of birth date and physical development on the selection of a male junior international soccer squad. J Sports Sci 1992; 10: 561–2

Garganta J, Maia J, Silva R, et al. A comparative study of explosive leg strength in elite and non-elite young soccer players. In: Reilly T, Clarys J, Stibbe A, editors. Science and football. London: Spon, 1993: 304–6

Ste-Marie DM, Starkes J, Cronin A, et al. The relative age effect: a 'flip-flop' phenomenon in gymnasts. Proceedings of the Canadian Society for Psychomotor Learning and Sport Psychology Conference; 2000 Oct; Waterloo (ON)

Helsen WF, Starkes JL, Van Winckel J. The influence of relative age on success and drop out in male soccer players. Am J Hum Biol 1998; 10: 791–8

Ericsson KA, Krampe RT, Tesch-Römer C. The role of deliberate practice in the acquisition of expert performance. Psychol Rev 1993; 100: 363–406

Baker J, Horton S. A review of primary and secondary influences on sport expertise. High Ability Studies 2004; 15: 211–28

Ward P, Williams AM. Perceptual and cognitive skill development in soccer: the multidimensional nature of expert performance. J Sport Exerc Psychol 2003; 25: 93–111

Williams AM. Perceptual skill in soccer: implications for talent identification and development. J Sports Sci 2000; 18: 737–50

Harter S. Effectance motivation reconsidered: toward a developmental model. Hum Dev 1978; 21: 34–64

Harter S. Causes and consequences of low self-esteem in children and adolescents. In: Baumeister RF, editor. Self-esteem: the puzzle of low self-regard. New York: Plenum Press, 1993: 87–116

Bandura A. Social foundations of thought and action: a social cognitive theory. Englewood Cliffs (NJ): Prentice Hall; 1986

Smith RE. Toward a cognitive-affective model of athletic burnout. J Sport Psychol 1986; 8: 36–50

Gould D, Pelichkoff L. Participation motivation and attrition in young athletes. In: Smoll FL, Magill RA, Ash MJ, editors. Children in sport. 3rd ed. Champaign (IL): Human Kinetics, 1988: 161–78

Weiss R, Chaumeton N. Motivational orientations in sport. In: Horn TS, editor. Advances in sport psychology. Champaign (IL): Human Kinetics, 1992: 61–99

Daniel TE, Janssen CTL. More on the relative age effect. Can Assoc Health Phys Educ Recreation J 1987; 53: 21–4

Wattie N, Baker J, Cobley S, et al. A historical examination of relative age effects in Canadian hockey players. Int J Sport Psychol 2007; 38: 178–86

Pyne DB, Gardner AS, Sheehan K, et al. Positional differences in fitness and anthropometric characteristics in Australian football. J Sci Med Sport 2006; 9: 143–50

Rudas T. Odds ratios in the analysis of contingency tables: qualitative application in the social sciences series. Thousand Oaks (CA): Sage Publications, 1997

Statistics Canada. Adapted from CANSIM database. Table 053-0001 vital statistics, births, deaths and marriages,quarterly (1970-2000) [online]. Available from URL: http://cansim2.statcan.ca. [Accessed 2007 Feb 25]

Office for National Statistics (UK). Birth Statistics FM1, volume numbers 11-32 [online]. Available from URL: http://www.statistics.gov.uk. [Accessed 2007 Jan 26]

DerSimonian R, Laird N. Meta-analysis in clinical trials. Controlled Clin Trials 1986; 7: 177–88

Sutton AJ, Abrams KR, Jones DR, et al. Methods for meta-analysis in medical research. Chichester: Wiley and Sons, 2002

Cochran WG. The combination of estimates from different experiments. Biometrics 1954; 10: 101–29

Review manager (Rev Man). Version 4.2 for Windows. Copenhagen: the Nordic Cochrane Centre, the Cochrane Collaboration 2003 [online]. Available from URL: http://www.cc-ims.net/RevMan [Accessed 2007 Jan 28]

Montelpare WJ, Scott D, Pelino M. Tracking the relative age effect across minor, amateur and professional ice hockey leagues. In: Ashare AB, editor. Safety in ice hockey. vol. 3. Philadelphia (PA): American Society for Testing and Materials, 2000: 250–60. ASTM STP 1341

Haddock CK, Rindskopf D, Shadish WR. Using odds ratios as effect sizes for meta-analysis of dichotomous data: a primer on methods and issues. Psychol Methods 1998; 3: 339–53

Begg CB. Publication bias. In: Cooper H, Hedges LV, editors. The handbook of research synthesis. New York: Russell Sage Foundation, 1994: 399–409

Egger M, Smith GD, Schneider M, et al. Bias in meta-analysis detected by a simple graphical test. BMJ 1997; 315: 629–34

Gelber RD, Goldhirsch A. The interpretation of results from sub-set analyses within overviews of randomized clinical trials. Stat Med 1987; 6: 371–88

Yusuf S, Wittes J, Probstfield J, et al. Analysis and interpretation of treatment effects in subgroups of patients in randomized clinical trials. JAMA 1991; 266: 93–8

Boucher J, Halliwell W. The Novem system: a practical solution to age grouping. Can Assoc Health Phys Educ Recreation J 1991; 57: 16–20

Grondin S, Trudeau F. Date of birth and the National Hockey League: analyses of different parameters [inFrench]. Rev Sci Tech Act Phys Sport. 1991; 26: 37–45

Glamser F, Marciani L. The birthdate effect and college athletic participation: some comparisons. J Sport Behav 1992; 15: 227–38

Dudink A. Birthdate and sporting success [letter]. Nature 1994; 368: 592

Brewer J, Balsom PD, Davis J. Seasonal birth distribution amongst European soccer players. Sports Exerc Inj 1995; 1: 154–7

Stanaway KB, Hines T. Lack of a season of birth effect among American athletes. Percept Mot Skills 1995; 81: 952–4

Musch J, Hay R. The relative age effect in soccer: cross-cultural evidence for a systematic discrimination against children born late in the competition year. Sociol Sport 1999; 16: 54–64

Helsen WF, Starkes JL, Van Winckel J. Effect of a change in selection year on success in male soccer players. Am J Hum Biol 2000; 12: 729–35

Hoare D. Birthdate and basketball success: is there a relative age effect? Proceedings of the Pre-Olympic Congress:Sports Medicine and Physical Education International Congress on Sports Science; 2000 Sep 7-13; Brisbane (QLD)

Grondin S, Koren S. The relative age effect in professional baseball: a look at the history of major league baseball and at current status in Japan. Avante 2000; 6: 64–74

Simmons C, Paull GC. Season-of-birth bias in association football. J Sports Sci 2001; 19: 677–86

Musch J. Birthdate and success in youth soccer: investigating the development of the relative age effect. Sportonomics 2002; 8: 22–8

Glamser FD, Vincent J. The relative age effect among elite American youth soccer players. J Sport Behav 2004; 27: 31–8

Edgar S, O'Donoghue P. The distribution of season-of-birth among players of the 2002 FIFA World Cup. J Sports Sci 2004; 22: 578–9

Vaeyens R, Philippaerts RA, Malina RM. The relative age effect in soccer: a match-related perspective. J Sports Sci 2005; 23: 747–56

Vincent J, Glamser FD. Gender differences in the relative age effect among US Olympic development program youth soccer players. J Sports Sci 2006; 24: 405–13

Esteva S, Drobnic F. Birthdate and basketball success. FIBA Assist Magazine 2006; 18: 64–6

Baker J, Côté J, Abernethy B. Sport specific training, deliberate practice and the development of expertise in team ball sports. J Appl Sport Psychol 2003; 15: 12–25

Barynina II, Vaitsekhovskii SM. The aftermath of early sports specialization for highly qualified swimmers. Fitness Sports Rev Int 1992; 27: 132–3

Hurley W, Lior D, Tracze S. A proposal to reduce the age discrimination in Canadian minor hockey. Can Public Policy 2001; 27 (1): 65–75

Simon HA, Chase WG. Skill in chess. Am Scientist 1973; 61: 394–403

American Academy of Pediatrics. Intensive training and sports specialization in young athletes. Pediatrics 2000; 106: 154–7

Wiersma LD. Risks and benefits of youth sport specialization: perspectives and recommendations. Pediatric Exerc Sci 2000; 12: 13–22

Baker J. Early specialization in youth sport: a requirement for adult expertise? High Ability Stud 2003; 14: 85–94
Acknowledgement
No funding was received for this review, and the authors have no conflicts of interest that are directly relevant to the content of this review.
About this article
Cite this article
Cobley, S., Baker, J., Wattie, N. et al. Annual Age-Grouping and Athlete Development. Sports Med 39, 235–256 (2009). https://doi.org/10.2165/00007256-200939030-00005
Published:

Issue Date:

DOI: https://doi.org/10.2165/00007256-200939030-00005
Keywords