Abstract
Core stability and core strength have been subject to research since the early 1980s. Research has highlighted benefits of training these processes for people with back pain and for carrying out everyday activities. However, less research has been performed on the benefits of core training for elite athletes and how this training should be carried out to optimize sporting performance. Many elite athletes undertake core stability and core strength training as part of their training programme, despite contradictory findings and conclusions as to their efficacy. This is mainly due to the lack of a gold standard method for measuring core stability and strength when performing everyday tasks and sporting movements. A further confounding factor is that because of the differing demands on the core musculature during everyday activities (low load, slow movements) and sporting activities (high load, resisted, dynamic movements), research performed in the rehabilitation sector cannot be applied to the sporting environment and, subsequently, data regarding core training programmes and their effectiveness on sporting performance are lacking.
There are many articles in the literature that promote core training programmes and exercises for performance enhancement without providing a strong scientific rationale of their effectiveness, especially in the sporting sector. In the rehabilitation sector, improvements in lower back injuries have been reported by improving core stability. Few studies have observed any performance enhancement in sporting activities despite observing improvements in core stability and core strength following a core training programme. A clearer understanding of the roles that specific muscles have during core stability and core strength exercises would enable more functional training programmes to be implemented, which may result in a more effective transfer of these skills to actual sporting activities.
This is a preview of subscription content, log in to check access.
Access options
Buy single article
Instant access to the full article PDF.
US$ 49.95
Price includes VAT for USA
Subscribe to journal
Immediate online access to all issues from 2019. Subscription will auto renew annually.
US$ 199
This is the net price. Taxes to be calculated in checkout.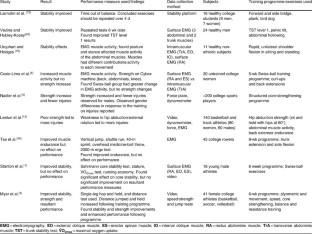 References
1.

Stanton R, Reaburn PR, Humphries B. The effect of shortterm Swiss ball training on core stability and runningeconomy. J Strength Cond Res 2004; 18 (3): 522–8

2.

McGill SM. Low back stability: from formal description to issues for performance and rehabilitation. Exerc Sport Sci Rev 2001; 29 (1): 26–31

3.

Axler CT, McGill SM. Low back loads over a variety of abdominal exercises: searching for the safest abdominalchallenge. Med Sci Sports Exerc 1997; 29 (6): 804–11

4.

Myer GD, Ford KR, Palumbo JP, et al. Neuromuscular training improves performance and lower-extremity biomechanicsin female athletes. J Strength Cond Res 2005; 19 (1): 51–60

5.

Nadler SF, Malanga GA, Bartoli LA, et al. Hip muscle imbalance and low back pain in athletes: influence ofcore strengthening. Med Sci Sports Exerc 2002; 34 (1):9–16

6.

Cosio-Lima LM, Reynolds KL, Winter C, et al. Effects of physio ball and conventional floor exercises on early phase adaptations in back and abdominal core stability and balance in women. J Strength Cond Res 2003; 17: 721–5

7.

Fig G. Sport-specific conditioning: strength training for swimmers — training the core. Strength Cond J 2005; 27 (2): 40–2

8.

Lehman GJ. Resistance training for performance and injury prevention in golf. JCCA J Can Chiropr Assoc 2006; 50 (1):27–42

9.

McGill S. Low back disorders: evidence-based prevention and rehabilitation. Champaign (IL): Human Kinetics, 2002

10.

Santana J. Sport-specific conditioning: the serape effect — a kinesiological model for core training. Strength Cond J 2003; 25 (2): 73–4

11.

Elphinston J. Getting to the bottom of things. Sportex Dynam 2004; 2: 12–6

12.

Leetun DT, Ireland ML, Willson JD, et al. Core stability measures as risk factors for lower extremity injury in athletes. Med Sci Sports Exerc 2004; 36 (6): 926–34

13.

Panjabi M. The stabilising system of the spine, part I: function, dysfunction, adaptation and enhancement. J SpinalDisord 1992; 5: 383–9

14.

Kibler WB, Press J, Sciascia A. The role of core stability in athletic function. Sports Med 2006; 36 (3): 189–98

15.

Akuthota V, Nadler SF. Core strengthening. Arch Phys Med Rehabil 2004; 85 (3 Suppl. 1): 86–92

16.

Faries MD, Greenwood M. Core training: stabilising the confusion. Strength Cond J 2007; 29 (2): 10–25

17.

Comerford MJ. Performance stability, module 1: stability for performance. Course 1: core stability concepts. Ludlow: Comerford & Performance Stability; 2007

18.

Hides JA, Jull GA, Richardson CA. Long-term effects of specific stabilizing exercises for first-episode low back pain. Spine 2001; 26 (11): 243–8

19.

National Collegiate Athletic Association. NCAA injury surveillance system. Overland Park (KS): NCAA, 1998

20.

National Collegiate Athletic Association. NCAA injury surveillance system. Overland Park (KS): NCAA, 1999

21.

Arokoski JP, Kankaanpaa M, Valta T, et al. Back and hip extensor muscle function during therapeutic exercises. Arch Phys Med Rehabil 1999; 80 (7): 842–50

22.

Brown T. Getting to the core of the matter. Strength Cond J 2006; 28 (2): 552–61

23.

Cholewicki J, Van Vliet JJT. Relative contribution of trunk muscles to the stability of the lumbar spine during isometricexertions. Clin Biomech (Bristol, Avon) 2002; 17 (2): 99–105

24.

Hodges PW. Is there a role for transversus abdominis in lumbo-pelvic stability? Man Ther 1999; 4 (2): 74–86

25.

Hubley-Kozey CL, Vezina MJ. Muscle activation during exercises to improve trunk stability in men with low backpain. Arch Phys Med Rehabil 2002; 83 (8): 1100–8

26.

Stephenson J, Swank AM. Core training: designing a program for anyone. Strength Cond J 2004; 26 (6): 34–7

27.

Comerford MJ. Clinical assessment of stability dysfunctionperformance [online]. Available from URL: http://216.239.59.104/search?q=cache:skMpsUpvPzIJ:www.kineticcontrol.com/documents/others/MicrosoftWord-Ratingsystem0706.pdf+clinical+assessment+of+stability+dysfunction&hl=en&ct=clnk&cd=2&gl=uk[Accessed 2008Oct 29]

28.

Richardson C, Jull G, Hodges P, et al. Therapeutic exercise for spinal segmental stabilisation in low back pain:scientific basis and clinical approach. London: ChurchillLivingstone, 1999

29.

Gracovetsky S, Farfan HF, Lamy C. The mechanism of the lumbar spine. Spine 1981; 6 (3): 249–62

30.

Tse MA, McManus AM, Masters RS. Development and validation of a core endurance intervention program: implications for performance in college-age rowers. J Strength Cond Res 2005; 19 (3): 547–52

31.

Bobbert MF, van Zandwijk JP. Dynamics of force and muscle stimulation in human vertical jumping. Med SciSports Exerc 1999; 31 (2): 303–10

32.

Wilson E. Rehab tips: core stability: assessment and functional strengthening of the hip abductors. Strength Cond J 2005; 27 (2): 21–3

33.

Bergmark A. Stability of the lumbar spine: a study in mechanical engineering. Acta Orthop Scand Suppl 1989; 230:1–54

34.

Lee D. The pelvic girdle. 2nd ed. London: Churchill Livingstone, 1999

35.

McGill SM. A revised anatomical model of the abdominal musculature for torso flexion efforts. J Biomech 1996; 29(7): 973–7

36.

Comerford S, Mottram S. Transverse training: a waste of time in the gym? Fit Pro Network (Apr-May) [online].Available from URL: http://www.kineticcontrol.com/publication.asp [Accessed 2008 Oct 29]

37.

Gibbons SGT. A review of the anatomy, physiology and function of psoas major: a new model of stability. Proceedingsof the 11th Annual Orthopedic Symposium; 1999 nov 6-7; Halifax (NS)

38.

Behm DG, Anderson K, Curnew RS. Muscle force and activation under stable and unstable conditions. J StrengthCond Res 2002; 16 (3): 416–22

39.

Pollock ML, Leggett SH, Graves JE, et al. Effect of resistance training on lumbar extension strength. Am JSports Med 1989; 17 (5): 624–9

40.

Lewis FM, Hawke JR. Orthopaedic treatments — 1: the spine. Physiotherapy 1983; 69 (3): 76–7

41.

Scott JJ, Pruce SP, Wilson DJ. Orthopaedic treatments — 2: the upper and lower limbs. Physiotherapy 1983; 69 (3): 78–80

42.

Carriere B. The Swiss ball: theory, basic exercises and clinical applications. Berlin: Springer, 1998

43.

Carriere B. The Swiss ball. Physiotherapy 1999; 83 (10): 552–61

44.

Cotton T. Low back pain: does its management differ between athletes and non-athletes? Zurich: SchweizerischerSportmedizin Kongress, 2005

45.

Vezina MJ, Hubley-Kozey CL. Muscle activation in therapeutic exercises to improve trunk stability. Arch PhysMed Rehabil 2000; 81 (10): 1370–9

46.

Andersson EA, Ma Z, Thorstensson A. Relative EMG levels in training exercises for abdominal and hip flexor muscles. Scand J Rehabil Med 1998; 30 (3): 175–83

47.

Sahrmann S. The Shirley Sahrmann exercise series 1. St Louis (MO): Videoscope, 1991

48.

Davidson KL, Hubley-Kozey CL. Trunk muscle responses to demands of an exercise progression to improve dynamicspinal stability. Arch Phys Med Rehabil 2005; 86 (2): 216–23

49.

Jackson CP, Brown MD. Analysis of current approaches and a practical guide to prescription of exercise. Clin Orthop Relat Res 1983; (179): 46–54

50.

McGill SM. Low back exercises: evidence for improving exercise regimens. Phys Ther 1998; 78 (7): 754–65

51.

Cresswell AG. Responses of intra-abdominal pressure and abdominal muscle activity during dynamic trunkloading in man.Eur J Appl Physiol Occup Physiol 1993; 66 (4): 315–20

52.

Hodges PW, Richardson CA. Contraction of the abdominal muscles associated with movement of the lower limb. PhysTher 1997; 77 (2): 132–42

53.

Hodges PW, Richardson CA. Feedforward contraction of transversus abdominis is not influenced by the directionof arm movement. Exp Brain Res 1997; 114 (2): 362–70

54.

Cordo PJ, Nashner LM. Properties of postural adjustments associated with rapid arm movements. J Neurophysiol 1982; 47 (2): 287–302

55.

Zattara M, Bouisset S. Chronometric analysis of the posturo- kinetic programming of voluntary movement. J MotBehav 1986; 18 (2): 215–23

56.

Morrissey MC, Harman EA, Johnson MJ. Resistance training modes: specificity and effectiveness. Med SciSports Exerc 1995; 27 (5): 648–60

57.

Behm DG, Sale DG. Velocity specificity of resistance training. Sports Med 1993; 15 (6): 374–88

58.

Willardson J. Regarding 'The effectiveness of resistance exercises performed on unstable equipment'. Response.Strength Cond J 2005; 27 (4): 11–3

59.

Staron RS, Karapondo DL, Kraemer WJ, et al. Skeletal muscle adaptations during early phase of heavy-resistancetraining inmen and women. J Appl Physiol 1994; 76: 1247–55

60.

Panjabi MM. Clinical spinal instability and low back pain. J Electromyogr Kinesiol 2003; 13 (4): 371–9

61.

Kankaanpaa M, Taimela S, Laaksonen D, et al. Back and hip extensor fatigability in chronic low back pain patients and controls. Arch Phys Med Rehabil 1998; 79 (4): 412–7

62.

Hodges PW, Richardson CA. Inefficient muscular stabilization of the lumbar spine associated with low back pain: amotor control evaluation of transversus abdominis. Spine 1996; 21 (22): 2640–50

63.

Fritz J, Whitman JM, Flynn TW, et al. Clinical factors related to the failure of individuals with low back pain toimprove with a spinal manipulation. Phys Ther 2004; 84(Feb): 173–90

64.

Robinson R. The new back school prescription: stabilisation training, part I: occupational medicine. State Art Rev 1992;7: 17–31

65.

Jeng S. Lumbar spine stabilisation exercise. Hong Kong J Sport Med Sports Sci 1999; 8: 59–64

66.

Beckman SM, Buchanan TS. Ankle inversion injury and hypermobility: effect on hip and ankle muscle electromyographyonset latency. Arch Phys Med Rehabil 1995; 76(12): 1138–43

67.

Devita P, Hunter PB, Skelly WA. Effects of a functional knee brace on the biomechanics of running. Med Sci SportsExerc 1992; 24 (7): 797–806

68.

Marshall P, Murphy B. The validity and reliability of surface EMG to assess the neuromuscular response of the abdominalmuscles to rapid limb movement. J ElectromyogrKinesiol 2003; 13 (5): 477–89

69.

Hodges PW, Richardson CA. Relationship between limb movement speed and associated contraction of the trunkmuscles. Ergonomics 1997; 40 (11): 1220–30

70.

Check P. Swissball exercises for swimming, soccer and basketball. Sports Coach 1999; 21: 12–3

71.

Fuller T. A ball of fun: programs using 'Swiss balls' can help junior participation at your facility. Tennis Industry 2002;30: 48–9

72.

Saal JA, Saal JS. Nonoperative treatment of herniated lumbar intervertebral disc with radiculopathy: an outcomestudy. Spine 1989; 14 (4): 431–7

73.

Comerford MJ, Mottram SL. Movement and stability dysfunction: contemporary developments. Man Ther 2001; 6 (1): 15–26

74.

Koes BW, Bouter LM, Beckerman H, et al. Physiotherapy exercises and back pain: a blinded review. BMJ 1991; 302 (6792): 1572–6

75.

Liemohn P, Baumgartner TA, Gagnon LH. Measuring core stability. J Strength Cond Res 2005; v19 (3): 583–6

76.

Urqhart DM, Hodges PW. Differential activity of regions of transversus abdominis during trunk rotation. Eur Spin J 2005; 14 (4): 393–400

77.

Cholewicki J, McGill SM. Mechanical stability of the in vivo lumbar spine: implications for injury and chroniclow back pain. Clin Biomech (Bristol, Avon) 1996; 11 (1):1–15

78.

McGill SM. Electromyographic activity of the abdominal and low back musculature during the generationof isometric and dynamic axial trunk torque: implicationsfor lumbar mechanics. J Orthop Res 1991; 9 (1): 91–103

79.

Roetert PE. 3D balance and core stability. In: Foran B, editor. High-performance sports conditioning: moderntraining for ultimate athletic development. Champaign(IL): Human Kinetics, 2001

80.

Jeffreys I. Developing a progressive core stability program. Strength Cond J 2002; 24 (5): 65–6

81.

Johnson H. Stressful motion: golfers at risk for low back pain. Sports Med Update 1999; 14: 4–5

82.

Kerrigan DC, Todd MK, Della Croce U. Gender differences in joint biomechanics during walking: normativestudy in young adults. AmJ Phys Med Rehabil 1998; 77 (1):2–7

83.

Nadler SF, Malanga GA, DePrince M, et al. The relationship between lower extremity injury, low back pain, and hip muscle strength in male and female collegiate athletes. Clin J Sport Med 2000; 10 (2): 89–97

84.

Nadler SF, WuK D, Galski T, et al. Low back pain in college athletes: a prospective study correlating lower extremityoveruse or acquired ligamentous laxity with low back pain. Spine 1998; 23 (7): 828–33

85.

McGill S. Stability: from biomechanical concept to chiropractic practice. J Can Chiropr Assoc 1999; 43: 75–88

86.

Ball T, Comerford MJ, Mottram SL. Performance stability: a new system for providing stability and control for movement and performance [online]. Available from URL: http://www.performance-stability.com/documents/TheCoacharticle_000.pdf [Accessed 2008 Sep 19]

87.

Hasegawa I. Using the overhead squat for core development. NSCA Perform Train J 2004; 3 (6): 19–21

88.

Scibek J, Guskiewicz KM, Prentice WE, et al. The effects of core stabilisation training on functional performance in swimming [abstract]. NATA Annual Meeting — Free Communications; 1999 Jun 17-18;Kansas City (MO)

89.

Cusi M, Juska-Butel CJ, Garlick D, et al. Lumbopelvic stability and injury profile in rugby union players. NZ J Sports Med 2001; 29: 14–8
Acknowledgements
The authors would like to thank the English Institute of Sport and University of Teesside for their support. No sources of funding were received in the preparation of this article and the authors have no conflicts of interest directly relevant to its contents.
About this article
Cite this article
Hibbs, A.E., Thompson, K.G., French, D. et al. Optimizing Performance by Improving Core Stability and Core Strength. Sports Med 38, 995–1008 (2008). https://doi.org/10.2165/00007256-200838120-00004
Keywords
Lower Back Pain

Maximal Voluntary Contraction

Rectus Abdominis

Core Stability

Core Strength