Abstract
Sports and physical activity are transforming, and being transformed by, the societies in which they are practised. From the perspectives of both competitive and non-competitive sports, the complexity of their integration into today's society has led to neither sports federations nor governments being able to manage the safety problem alone. In other words, these agencies, whilst promoting sport and physical activity, deliver policy and practices in an uncoordinated way that largely ignores the need for a concurrent overall policy for sports safety.
This article reviews and analyses the possibility of developing an overall sports safety policy from a global viewpoint. Firstly, we describe the role of sports in today's societies and the context within which much sport is delivered. We then discuss global issues related to injury prevention and safety in sports, with practical relevance to this important sector, including an analysis of critical policy issues necessary for the future development of the area and significant safety gains for all. We argue that there is a need to establish the sports injury problem as a critical component of general global health policy agendas, and to introduce sports safety as a mandatory component of all sustainable sports organizations.
We conclude that the establishment of an explicit intersection between science and policy making is necessary for the future development of sports and the necessary safety gains required for all participants around the world. The Safe Sports International safety promotion programme is outlined as an example of an international organization active within this arena.
This is a preview of subscription content, log in to check access.
Access options
Buy single article
Instant access to the full article PDF.
US$ 49.95
Tax calculation will be finalised during checkout.
Subscribe to journal
Immediate online access to all issues from 2019. Subscription will auto renew annually.
US$ 259
Tax calculation will be finalised during checkout.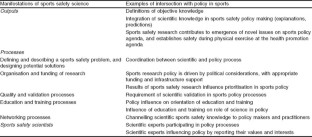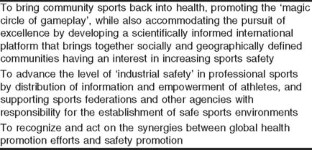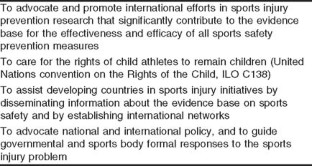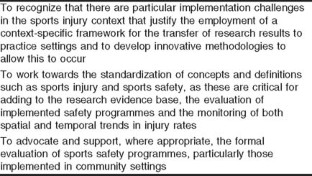 References
1.

Burdette HL, Whitaker RC. Resurrecting free play in young children: looking beyond fitness and fatness to attention, affiliation, and affect. Arch Pediatr Adolesc Med 2005 Jan; 159 (1):46–50

2.

Finch C, Owen N, Price R. Current injury or disability as a barrier to being more physically active. Med Sci Sports Exerc 2001; 33 (5): 778–82

3.

Institute of Medicine (IOM).Preventing childhood obesity:health in the balance. Washington, DC: National Academies Press, 2005

4.

Pellegrini AD, Smith PK. Physical activity play: the nature and function of a neglected aspect of play. Child Dev 1998; 69: 577–98

5.

Alpert BS, Wilmore JH. Physical activity and blood pressure in adolescents. Pediatr Exerc Sci 1994; 6: 381–405

6.

Fox KR. Childhood obesity and the role of physical activity. J Royal Soc Health 2003; 124: 34–9

7.

Murphy S. The cheers and the tears: a healthy alternative to the dark side of youth sports today. San Francisco (CA): RJossey Bass Publishers, 1999

8.

Sahlins M. Stone age economics. Chicago (IL): Aldine-Ather-ton, 1972

9.

Huizinga J. Homo Ludens: a study of the play element in culture. Boston (MA): Beacon Press, 1950

10.

Apter MJ. A structural-phenomenology of play. In: Kerr JH, Apter MJ, editors. Adult play: a reversal theory approach. Amsterdam: Swets and Zietlinger, 1991: 15

11.

Keating JW. Sportsmanship as a moral category. In: Morgan WJ, Meier KV, editors. Philosophic inquiry in sports. Champaign (IL): Human Kinetics Press, 1995: 144–51

12.

Gratton C, Taylor P. Economics of sport and recreation.London: E and FN Spon, 2000

13.

European Commission. The European model of sport: consultation document of DG X. Brussels: European Commission. 1999

14.

WHO. Safety and safety promotion: conceptual and operational aspects. Québec (QC): WHO, 1998

15.

Finch C, McGrath A. SportSafe Australia: a national sports safety framework. A report prepared for the Australian Sports Sports Commission, 1997

16.

Lurie Y. The ontology of sports injuries and professional medical ethics. In: Loland S, Skirstad B, Waddinton I, editors. Pain and injury in sport. London: Routledge, 2006: 200-10

17.

Orchard W, Newman D, Stretch R, et al. Methods for injury surveillance in international cricket. Br J Sports Med Apr 2005; 39: 22

18.

Fuller CW, Ekstrand J, Junge A, et al. Consensus statement on injury definitions and data collection procedures in studies of football (soccer) injuries. Br J Sports Med 2006 Mar; 40 (3): 193–201

19.

Finch C. An overview of some definitional issues for sports injury surveillance. Sports Med 1997; 24 (3): 157–63

20.

Roderick M, Waddington I, Parker G. Playing hurt: managing injuries in English professional football. Int Review Sociology Sport 2000; 35: 165–80

21.

Hawkins RD, Fuller CW. A prospective epidemiological study of injuries in four English professional football clubs. Br J Sports Med 1999 Jun; 33 (3): 196–203

22.

Boden BP. Direct catastrophic injury in sports. J Am Acad Orthop Surg 2005 Nov; 13 (7): 445–54

23.

Robinson P, White LM. The biomechanics and imaging of soccer injuries. Semin Musculoskelet Radiol 2005 Dec; 9 (4): 397–420

24.

Turner AP, Barlow JH, Heathcote-Elliott C. Long term health impact of playing professional football in the United Kingdom. Br J Sports Med 2000 Oct; 34 (5): 332–6

25.

Nicholl JP, Coleman P, Brazier JE. Health and healthcare costs and benefits of exercise. PharmacoEconomics 1994; 5: 109–22

26.

Hagberg LA, Lindholm L. Cost-effectiveness of health care based interventions aimed at improving physical activity. Scand J Public Health. 2006; 34 (6): 641–53

27.

Lindqvist KS, Timpka T, Bjurulf P. Injuries during leisure physical activity in a Swedish municipality. Scand J Soc Med 1996 Dec; 24 (4): 282–92

28.

Schneider S, Seither B, Tonges S, et al. Sports injuries: population based representative data on incidence, diagnosis, sequelae, and high risk groups. Br J Sports Med 2006 Apr; 40 (4):334–9

29.

Goulet C, Hamel D. A population-based study on sport and recreational activity injuries in Qúebec in 2004 [abstract].Safety 2006: 8th World Conference on Injury Prevention and Safety Promotion; 2006 Apr 2–5; Durban

30.

Conn JM, Annest JL, Gilchrist J. Sports and recreation related injury episodes in the US population, 1997-99. Inj Prev 2003 Jun; 9 (2): 117–23

31.

Finch C, Cassell E. The public health impact of injury during sport and active recreation. J Sci Med Sport 2006 Dec; 9 (6): 490–7

32.

Nilsen P, Hudson DS, Kullberg A, et al. Making sense of safety. Inj Prev 2004 Apr; 10 (2): 71–3

33.

Bringer JD, Brackenridge CH, Johnston LH. The name of the game: a review of sexual exploitation of females in sport. Curr Womens Health Rep 2001 Dec; 1 (3): 225–31

34.

Demorest RA, Landry GL. Prevention of pediatric sports injuries. Curr Sports Med Rep 2003 Dec; 2 (6): 337–43

35.

Cassas KJ, Cassettari-Wayhs A. Childhood and adolescent sports-related overuse injuries. Am Fam Physician 2006 Mar 15; 73 (6): 1014–22

36.

Dollard MD, Pontell D, Hallivis R. Preconditioning principles for preventing sports injuries in adolescents and children. Clin Podiatr Med Surg 2006 Jan; 23 (1): 191–207

37.

Leglise M. The protection of young people involved in high level sport. Strasbourg: Committee for the Development of Sports, Council of Europe, 1997

38.

Ryan J. Little girls in pretty boxes: the making of and breaking of elite gymnasts and figure skaters. New York: Doubleday 1995

39.

Donnely P. Child labour, sport labour: applying child labour laws to sport. Int Rev Sociology Sport 1997; 32: 389–406

40.

International Labour Organisation (ILO). C138 Minimum Age Convention, 1973 [online]. Available from URL: http://www.ilo.org/ilolex/english/convdisp1.htm[Accessed 2008 Jul 25]

41.

David P. Human rights in youth sports. A critical review of children's rights in competitive sports. New York: Routledge, 2004

42.

Sport England, NSPCC. Strategy for safeguarding children and young people in sport [online]. Available from URL: http://http://www.sportengland.org/child__protection__cpsu_strat_2006_to2012_pdf.pdf [Accessed 2008 25 Jul]

43.

Regalado SO. Latin players on the cheap: professional baseball recruitment in Latin America and the neo-colonist tradition. Indiana J Global Legal Stud 2000; 8: 9–20

44.

Breton M, Villegas JL. Away games: the life and time of Latin ball. Albuquerque (NM): University of New Mexico Press, 1999

45.

Guilianotti R. Built in by the two Valeras: the rise and fall of football culture and national identity in Uruguay. Cult Sport Soc 1999; 2: 134–54

46.

United Nations. General Assembly. Resolution 58/5. Sports as a means to promote education, health, development, and peace. New York: United Nations, 2003

47.

Guilianotti R, Robertson R. The globalization of football: a study in the glocalization of the 'serious life.' Br J Sociology 2004; 55: 545–68

48.

Timpka T, Ekstrand J, Svanstrom L. From sports injury prevention to safety promotion in sports. Sports Med. 2006; 36 (9): 733–45

49.

Finch C. A new framework for research leading to sports injury prevention. J Sci Med Sport 2006; 9 (1-2): 3–9

50.

Eime R, Owen N, Finch C. Protective eyewear promotion:applying principles of behaviour change in the design of a squash injury prevention programme. Sports Med 2004; 34 (10): 629–38

51.

Michener JA. Sports in America. New York: Random House, 1976

52.

Dunning E. The dynamics of sports consumption. In: Sport matters: sociological studies of sport, violence, and civilization. London: Routledge, 1999: 106–29

53.

Manzenreiter W, Horne J. Public policy, sports investments, and regional development initiatives in Japan. In: Nauright J, Schimmel KS, editors. The political economy of sports. New York: Palgrave MacMillan, 2005: 152–82

54.

Walsh AJ, Guilianotti R. This sporting mammon: a normative critique of the commodification of sport. J Philosophy Sport 2001; 28: 53–77

55.

Yammine K. A policy for sports injury prevention in Lebanon [abstract]. Safety 2006: 8th World Conference on Injury Prevention and Safety Promotion; 2006 Apr 2–5; Durban

56.

Bahr R, Krosshaug T. Understanding injury mechanisms: a key component of preventing injuries in sport. Br J Sports Med 2005; 39: 324–9

57.

van Mechelen W. To count or not to count sports injuries? What is the question? Br J Sports Med 1998; 32: 297–8

58.

Jackson S, Perkins F, Khandor E, et al. Integrated health promotion strategies: a contribution to tackling current and future heath challenges. Health Promot Int 2006; 21 Suppl. 1: 75–83

59.

Allison L. Sport and Politics. In: Allison L, editor. The politics of sport. Manchester: Manchester University Press, 1986: 17–21

60.

Régnier G, Sicard C, Goulet C. Economic impact of a regulation imposing full-face protectors on adult recreational hockey players. Int J Consumer Safety 1995 2: 191–207

61.

Oliver TR, Paul-Shaheen P. Translating ideas into actions:entrepreneurial leadership in state health care reforms. Health Polit Policy Law 1997 22: 721–88

62.

Morone JA. Enemies of the people: the moral dimensions to public health. Health Polit Policy Law 1997; 22: 993–1020

63.

Young K. Violence, risk and liability in male sports culture. Sociology Sports J 1993; 10: 373–96

64.

Boufous S, Finch C, Bauman A. Parental safety concerns: a barrier to sport and physical activity in children? Aust N Z J Public Health 2004; 28 (5): 482–6

65.

Schneider A, Ingram H. Social construction of target populations: implications for politics and policy. Am Polit Sci Rev 1993; 87: 334–47

66.

Van den Hove S. A rationale for science-policy interfaces. Futures 2007; 39: 807–26

67.

Timpka T, Lindqvist K. Evidence based prevention of acute injuries during physical exercise in a WHO safe community. Br J Sports Med 2001 Feb; 35 (1): 20–7

68.

Regnier G, Goulet C. The Quebec Sports Safety Board: a governmental agency dedicated to the prevention of sports and recreational injuries. Inj Prev 1995 Sep; 1 (3): 141–5

69.

Oliver TR. The politics of public health policy. Annu Rev Public Health. 2006; 27: 195–233

70.

Grierson T, van Dijk MW, Dozois E, et al. Using the Internet to build community capacity for healthy public policy. Health Promot Pract. 2006 Jan; 7 (1): 13–22

71.

Irestig M, Hallberg N, Eriksson H, et al. Peer-to-peer computing in health-promoting voluntary organizations: a system design analysis. J Med Syst 2005 Oct; 29 (5): 425–40

72.

Funtowicz S, Ravetz J. Science for the post-normal age. Futures 1993; 25 (7): 735–55

73.

Kingdon JW. Agendas, alternatives, and public policies. Boston (MA): Little & Brown, 1984
Acknowledgements
The Board of Safe Sports International also includes Professor JoonPil Cho, Ajou University, South Korea (representing Asia), and Professor Leif Svanström, Karolinska Institutet, Sweden (representing the Safe Communities movement). T. Timpka is supported by a research grant from Linköping University, and C. Finch is supported by a National Health and Medical Research Council Principal Researcher Fellowship from the Government of Australia. The authors have no conflicts of interest that are directly relevant to the content of this article.
About this article
Cite this article
Timpka, T., Finch, C.F., Goulet, C. et al. Meeting the Global Demand of Sports Safety. Sports Med 38, 795–805 (2008). https://doi.org/10.2165/00007256-200838100-00001
Keywords
Injury Prevention

Sport Injury

Competitive Sport

Safety Policy

Safety Promotion