Abstract
Overhead athletes require a delicate balance of shoulder mobility and stability in order to meet the functional demands of their respective sport. Altered shoulder mobility has been reported in overhead athletes and is thought to develop secondary to adaptive structural changes to the joint resulting from the extreme physiological demands of overhead activity. Researchers have speculated as to whether these structural adaptations compromise shoulder stability, thus exposing the overhead athlete to shoulder injury. Debate continues as to whether these altered mobility patterns arise from soft-tissue or osseous adaptations within and around the shoulder. Researchers have used quantitative techniques in an attempt to better characterize these structural adaptations in the shoulders of overhead athletes. Throwing athletes have been shown to display altered rotational range of motion (ROM) patterns in the dominant shoulder that favour increased external rotation and limited internal rotation ROM. Throwers also show a loss of horizontal or cross-body adduction in the throwing shoulder when compared with the non-throwing shoulder. This posterior shoulder immobility in the throwing shoulder is thought by some researchers to be associated with reactive scarring or contracture of the periscapular soft-tissue structures (e.g. posterior capsule and/or cuff musculature); however, evidence of reactive scarring or contractures of the posterior-inferior capsule or cuff musculature from anatomic or noninvasive imaging studies is lacking. Conversely, translational ROM (laxity) has been consistently shown to be symmetric between dominant and non-dominant shoulders of overhead athletes.
From a skeletal perspective, throwing shoulders are shown to have more humeral retroversion when compared with the non-throwing shoulder. Alterations in humeral retroversion are thought to develop over time in young pre-adolescent throwers when the proximal humeral epiphysis is not yet completely fused. Even though the evidence is inconclusive at the present time, there is more compelling evidence that leads us to believe that altered shoulder mobility in the overhead-throwing athlete is more strongly associated with adaptive changes in proximal humeral anatomy (i.e. retroversion) than to structural changes in the articular and periarticular soft tissue structures. In addition, this retroversion is thought to account for the observed shift in the arc of rotational ROM in overhead athletes. However, in some athletes, capsulo-ligamentous adaptations such as anterior-inferior stretching or posterior-inferior contracture may become superimposed upon the osseous changes. This may ultimately lead to pathological manifestations such as secondary impingement, type II superior labrum from anterior to posterior (SLAP) lesions and/or internal (glenoid) impingement.
Overuse injuries in the overhead athlete are a common and perplexing clinical problem in sports medicine and, therefore, it is imperative for sports medicine clinicians to have a thorough understanding of the short- and long-term effects of overhead activity on the shoulder complex. It is our intention that the information presented will serve as a guide for clinicians who treat the shoulders of overhead athletes.
Access options
Buy single article
Instant access to the full article PDF.
US$ 49.95
Tax calculation will be finalised during checkout.
Subscribe to journal
Immediate online access to all issues from 2019. Subscription will auto renew annually.
US$ 259
Tax calculation will be finalised during checkout.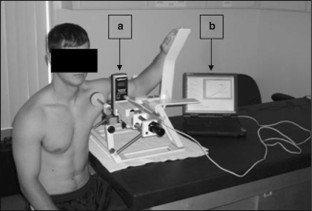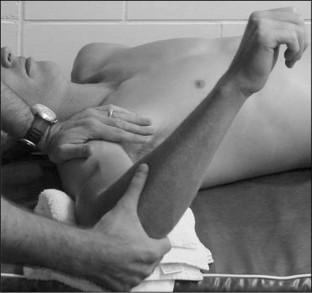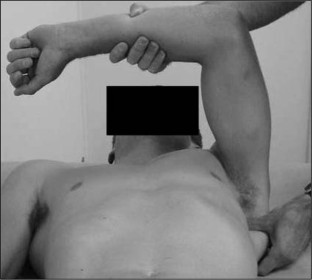 Notes
1.

The use of trade names is for product identification purposes only and does not imply endorsement.
References
1.

Bigliani LU, Codd TP, Connor PM, et al. Shoulder motion and laxity in the professional baseball player. Am J Sports Med 1997; 25 (5): 609–13

2.

Crockett HC, Gross LB, Wilk K, et al. Osseous adaptation and range of motion at the glenohumeral joint in professional baseball players. Am J Sports Med 2002; 30 (1): 20–6

3.

Borsa PA, Dover GC, Wilk KE, et al. Glenohumeral range of motion and stiffness in professional baseball pitchers. Med Sci Sports Exerc 2006; 38 (1): 21–6

4.

Borsa PA, Wilk KE, Jacobson JA, et al. Correlation of range of motion and glenohumeral translation in professional baseball pitchers. Am J Sports Med 2005; 33 (9): 1392–9

5.

Brown LP, Niehues SL, Harrah A, et al. Upper extremity range of motion and isokinetic strength of the internal and external rotators in major league baseball players. Am J Sports Med 1988; 16 (6): 577–85

6.

Downar JM, Sauers EL, Mourtacos SL. Chronic adaptations in the throwing shoulder of professional baseball players. J Athl Train 2002; 37 (2): S17–8

7.

Ellenbecker TS, Roetert EP, Bailie DS, et al. Glenohumeral joint total rotation range of motion in elite tennis players and baseball pitchers. Med Sci Sports Exerc 2002; 34 (12): 2052–6

8.

Ellenbecker TS, Mattalino AJ, Elam E, et al. Quantification of anterior translation of the humeral head in the throwing shoulder. Am J Sports Med 2000; 28 (2): 161–7

9.

Myers JB, Laudner KG, Pasquale MR, et al. Glenohumeral range of motion deficits and posterior shoulder tightness in throwers with pathologic internal impingement. Am J Sports Med 2006; 34 (3): 385–91

10.

Osbahr DC, Cannon DL, Speer KP. Retroversion of the humerus in the throwing shoulder of college baseball pitchers. Am J Sports Med 2002; 30 (3): 347–53

11.

Reagan KM, Meister K, Horodyski MB, et al. Humeral retroversion and its relationship to glenohumeral rotation in the shoulder of college baseball players. Am J Sports Med 2002; 30 (3): 354–60

12.

Ellenbecker TS, Roetert EP, Piorkowski PA, et al. Glenohumeral joint internal and external rotation range of motion in elite junior tennis players. J Orthop Sports Phys Ther 1996; 24 (6): 336–41

13.

Kibler WB, Chandler TJ, Livingston BP, et al. Shoulder range of motion in elite tennis players: effect of age and years of tournament play. Am J Sports Med 1996; 24 (3): 279–85

14.

Pieper H-G. Humeral torsion in the throwing arm of handball players. Am J Sports Med 1998; 26 (2): 247–53

15.

Witwer A, Sauers E. Clinical measures of shoulder mobility in the collegiate water polo player. J Sport Rehabil 2006; 15: 45–57

16.

Bak K, Magnusson SP. Shoulder strength and range of motion in symptomatic and pain-free elite swimmers. Am J Sports Med 1997; 25 (4): 454–9

17.

Borsa PA, Scibek JS, Jacobson JA, et al. Sonographic stress Ormeasurement of glenohumeral joint laxity in collegiate swimmers and age-matched controls. Am J Sports Med 2005; 33 (7): 1077–84

18.

Pink MM, Tibone JE. The painful shoulder in the swimming athlete. Orthop Clin North Am 2000; 31 (2): 247–61

19.

Weldon III EJ, Richardson AB. Upper extremity overuse injuries in swimming: a discussion of swimmer's shoulder. Clin Sports Med 2001; 20 (3): 423–38

20.

Meister K. Injuries to the shoulder in the throwing athlete. Part one: Biomechanics/pathophysiology/classification of injury. Am J Sports Med 2000; 28 (2): 265–75

21.

Wilk KE, Meister K, Andrews JR. Current concepts in the rehabilitation of the overhead throwing athlete. Am J Sports Med 2002; 30 (1): 136–51

22.

Barber FA, Morgan CD, Burkhart SS, et al. Current controversies: point counterpoint. Labrum/biceps/cuff dysfunction in the throwing athlete. Arthroscopy 1999; 15 (8): 852–7

23.

Burkhart SS, Morgan CD, Kibler WB. Shoulder injuries in overhead athletes: the 'dead arm' revisited. Clin Sports Med 2000; 19 (1): 125–58

24.

Burkhart SS, Morgan CD, Kibler WB. The disabled throwing shoulder: spectrum of pathology, part I: pathoanatomy and biomechanics. Arthroscopy 2003; 19 (4): 404–20

25.

Jobe CM, Pink MM, Jobe FW, et al. Anterior shoulder instability, impingement, and rotator cuff tear: theories and concepts. In: Jobe FW, editor. Operative techniques in upper extremity sports injuries. St Louis (MO): Mosby, 1996: 164–76

26.

Kvitne RS, Jobe FW. The diagnosis and treatment of anterior instability in the throwing athlete. Clin Orthop 1993; 291: 107–23

27.

Zemek MJ. Comparison of glenohumeral joint laxity in elite and recreational swimmers. Clin J Sport Med 1996; 6 (1): 40–7

28.

DiGiovine NM, Jobe FW, Pink M, et al. An electromyographic analysis of the upper extremity in pitching. J Shoulder Elbow Surg 1992; 1: 15–25

29.

Fleisig GS, Escamilla RF, Andrews JR, et al. Kinematic and kinetic comparison between baseball pitching and football passing. J Appl Biomech 1996; 12: 207–24

30.

Wilk KE, Arrigo C. Current concepts in the rehabilitation of the athletic shoulder. J Orthop Sports Phys Ther 1993; 18 (1): 365–78

31.

Allegrucci M, Whitney SL, Irrgang JJ. Clinical implications of secondary impingement of the shoulder in freestyle swimmers. J Orthop Sports Phys Ther 1994; 20 (6): 307–18

32.

Sauers EL. Theories on throwing injuries diverge from book of Jobe. Biomechanics 2001; 8 (11): 61–6

33.

Richardson AB, Jobe FW, Collins HR. The shoulder in competitive swimming. Am J Sports Med 1980; 8 (3): 159–63

34.

McMaster WC, Troup J. A survey of interfering shoulder pain in United States competitive swimmers. Am J Sports Med 1993; 21 (1): 67–70

35.

Kisner C, Colby LA. Therapeutic exercise: foundations and techniques. 4th ed. Philadelphia (PA): F.A. Davis, 1990

36.

Matsen FA, Fu FH, Hawkins RJ, editors. The shoulder: a balance of mobility and stability. Park Ridge (IL): American Academy of Orthopaedic Surgeons, 1992

37.

Borsa PA, Sauers EL. In vivo assessment of AP laxity in healthy shoulders using an instrumented arthrometer. J Sport Rehab 1999; 8: 157–70

38.

McFarland EG, Torpey BM, Curl LA. Evaluation of shoulder laxity. Sports Med 1996; 22 (4): 264–72

39.

Harryman II DT, Sidles JA, Clark JM, et al. Translation of the humeral head on the glenoid with passive glenohumeral motion. J Bone Joint Surg Am 1990; 72 (9): 1334–43

40.

Wuelker N, Schmotzer H, Thren K, et al. Translation of the glenohumeral joint with simulated active elevation. Clin Orthop 1994; 309: 193–200

41.

Baeyens JP, Van Roy P, De Schepper A, et al. Glenohumeral joint kinematics related to minor anterior instability of the shoulder at the end of the late preparatory phase of throwing. Clin Biomech (Bristol, Avon) 2001; 16 (9): 752–7

42.

Downar JM, Sauers EL. Clinical measures of shoulder mobility in the professional baseball player. J Athl Train 2005; 40 (1): 23–9

43.

Borsa PA, Timmons MK, Sauers EL. Scapular positioning patterns during humeral elevation in unimpaired shoulders. J Athl Train 2003; 38 (1): 12–7

44.

Borstad JD, Ludewig PM. Comparison of scapular kinematics between elevation and lowering of the arm in the scapular plane. Clin Biomech (Bristol, Avon) 2002; 17 (9-10): 650–9

45.

De Groot JH, Van Woensel W, Van der Helm FC. Effect of different arm loads on the position of the scapula in abduction postures. Clin Biomech (Bristol, Avon) 1999; 14 (5): 309–14

46.

Ebaugh DD, McClure PW, Karduna AR. Three-dimensional scapulothoracic motion during active and passive arm elevation. Clin Biomech (Bristol, Avon) 2005; 20 (7): 700–9

47.

Fung M, Kato S, Barrance PJ, et al. Scapular and clavicular kinematics during humeral elevation: a study with cadavers. J Shoulder Elbow Surg 2001; 10 (3): 278–85

48.

Johnson MP, McClure PW, Karduna AR. New method to assess scapular upward rotation in subjects with shoulder pathology. J Orthop Sports Phys Ther 2001; 31 (2): 81–9

49.

Karduna AR, McClure PW, Michener LA. Scapular kinematics: effects of altering the Euler angle sequence of rotations. J Biomech 2000; 33 (9): 1063–8

50.

Karduna AR, McClure PW, Michener LA, et al. Dynamic measurements of three dimensional scapular kinematics: a validation study. J Biomech Eng 2001; 123 (2): 184–90

51.

Kibler WB. The role of the scapula in athletic shoulder function. Am J Sports Med 1998; 26 (2): 325–37

52.

Ludewig PM, Cook TM, Nawoczenski DA. Three-dimensional scapular orientation and muscle activity at selected positions of humeral elevation. J Orthop Sports Phys Ther 1996; 24 (2): 57–65

53.

McClure PW, Michener LA, Sennett BJ, et al. Direct 3-dimensional measurement of scapular kinematics during dynamic movements in vivo. J Shoulder Elbow Surg 2001; 10: 269–77

54.

McQuade KJ, Dawson J, Smidt GL. Scapulothoracic muscle fatigue associated with alterations in scapulohumeral rhythm kinematics during maximum resistive shoulder elevation. J Orthop Sports Phys Ther 1998; 28 (2): 74–80

55.

McQuade KJ, Hwa Wei S, Smidt GL. Effects of local muscle fatigue on three-dimensional scapulohumeral rhythm. Clin Biomech (Bristol, Avon) 1995; 10 (3): 144–8

56.

McQuade KJ, Smidt GL. Dynamic scapulohumeral rhythm: the effects of external resistance during elevation of the arm in the scapular plane. J Orthop Sports Phys Ther 1998; 27 (2): 125–33

57.

Meskers CG, Vermeulen HM, de Groot JH, et al. 3D shoulder position measurements using a six-degree-of-freedom electromagnetic tracking device. Clin Biomech (Bristol, Avon) 1998; 13 (4-5): 280–92

58.

Myers JB, Laudner KG, Pasquale MR, et al. Scapular position and orientation in throwing athletes. Am J Sports Med 2005; 33 (2): 263–71

59.

Paine RM, Voight M. The role of the scapula. J Orthop Sports Phys Ther 1993; 18 (1): 386–91

60.

Paletta Jr GA, Warner JJ, Warren RF, et al. Shoulder kinematics with two-plane x-ray evaluation in patients with anterior instability or rotator cuff tearing. J Shoulder Elbow Surg 1997; 6 (6): 516–27

61.

van der Helm FC, Pronk GM. Three-dimensional recording and description of motions of the shoulder mechanism. J Biomech Eng 1995; 117 (1): 27–40

62.

Inman VT, Dec JB, Saunder M, et al. Observations on the function of the shoulder joint. J Bone Joint Surg Am 1944; XXVI (1): 1–30

63.

Wu G, van der Helm FC, Veeger HE, et al. ISB recommendation on definitions of joint coordinate systems of various joints for the reporting of human joint motion, part II: shoulder, elbow, wrist and hand. J Biomech 2005; 38 (5): 981–92

64.

Hebert LJ, Moffet H, McFadyen BJ, et al. Scapular behavior in shoulder impingement syndrome. Arch Phys Med Rehabil 2002; 83 (1): 60–9

65.

Mourtacos S, Downar JM, Sauers EL. Adolescent baseball players exhibit differences in shoulder mobility between the throwing and non-throwing shoulder and between divisions of play [abstract]. J Athl Train 2003; 38 (2): S72

66.

Soslowsky LJ, Malicky DM, Blasier RB. Active and passive factors in inferior glenohumeral stabilization: a biomechanical model. J Shoulder Elbow Surg 1997; 6 (4): 371–9

67.

Dillman CJ, Fleisig GS, Andrews JR. Biomechanics of pitching with emphasis upon shoulder kinematics. J Orthop Sports PhysTher 1993; 18 (2): 402–8

68.

Fleisig GS, Barrentine SW, Zheng N, et al. Kinematic and kinetic comparison of baseball pitching among various levels of development. J Biomech 1999; 32 (12): 1371–5

69.

Lippitt S, Matsen F. Mechanisms of glenohumeral joint stability. Clin Orthop 1993; 291: 20–8

70.

Wuelker N, Korell M, Thren K. Dynamic glenohumeral joint stability. J Shoulder Elbow Surg 1998; 7 (1): 43–52

71.

Bigliani LU, Kelkar R, Flatow EL, et al. Glenohumeral stability: biomechanical properties of passive and active stabilizers. Clin Orthop 1996; 330: 13–30

72.

Saha AK. Dynamic stability of the glenohumeral joint. Acta Orthop Scand 1971; 42 (6): 491–505

73.

Warner JP. The gross anatomy of the joint surfaces, ligaments, labrum, and capsule. In: Matsen FA, Fu FH, Hawkins RJ, editors. The shoulder: a balance of mobility and stability. Rosemont (IL): American Academy of Orthopaedic Surgeons, 1993: 7–27

74.

Howell SM, Galinat BJ. The glenoid-labral socket: a con strained articular surface. Clin Orthop 1989; 243: 122–5

75.

Pagnani MJ, Deng XH, Warren RF, et al. Effect of lesions of the superior portion of the glenoid labrum on glenohumeral translation. J Bone Joint Surg Am 1995; 77 (7): 1003–10

76.

Turkel SJ, Panio MW, Marshall JL, et al. Stabilizing mechanisms preventing anterior dislocation of the glenohumeral joint. J Bone Joint Surg Am 1981; 63 (8): 1208–17

77.

Friedman RJ. Glenohumeral capsulorrhaphy. In: Matsen FA, Fu FH, Hawkins RJ, editors. The shoulder: a balance of mobility and stability. Rosemont (IL): American Academy of Orthopaedic Surgeons, 1993: 445–58

78.

O'Brien SJ, Schwartz RS, Warren RF, et al. Capsular restraints to anterior-posterior motion of the abducted shoulder: a biomechanical study. J Shoulder Elbow Surg 1995; 4 (4): 298–308

79.

Lew WD, Lewis JL, Craig EV. Stabilization by capsule, ligaments, and labrum: stability at the extremes of motion. In: Matsen FA, Fu FH, Hawkins RJ, editors. The shoulder: a balance of mobility and stability. Rosemont (IL): American Academy of Orthopaedic Surgeons, 1993: 69–90

80.

Borsa PA, Sauers EL, Helring DE. Glenohumeral stiffness response between men and women for anterior, posterior, and inferior translation. J Athl Train 2002; 37 (3): 240–5

81.

McQuade KJ, Shelley I, Cvitkovic J. Patterns of stiffness during clinical examination of the glenohumeral joint. Clin Biomech (Bristol, Avon) 1999; 14 (9): 620–7

82.

McNair PJ, Wood GA, Marshall RN. Stiffness of the hamstring muscles and its relationship to function in anterior cruciate ligament deficient individuals. Clin Biomech (Bristol, Avon) 1992; 7: 131–7

83.

Wright V. Stiffness: a review of its measurement and physiological importance. Physiotherapy 1973; 59 (4): 107–11

84.

Speer KP, Garrett WE. Muscular control of motion and stability about the pectoral girdle. In: Matsen FA, Fu FH, Hawkins RJ, editors. The shoulder: a balance of mobility and stability. Rosemont (IL): American Academy of Orthopaedic Surgeons, 1993: 159–72

85.

O'Driscoll SW. Atraumatic instability: pathology and pathogenesis. In: Matsen FA, Fu FH, Hawkins RJ, editors. The shoulder: a balance of mobility and stability. Rosemont (IL): American Academy of Orthopaedic Surgeons, 1993: 305–16

86.

Oatis CA. Kinesiology: the mechanics and pathomechanics of human movement. Philadelphia (PA): Lippincott, Williams & Wilkins, 2004

87.

Bull ML, Vitti M, De Freitas V. Electromyographic study of the trapezius (pars superior) and serratus anterior (pars inferior) muscles in free movements of the shoulder. Electromyogr Clin Neurophysiol 1989; 29 (2): 119–25

88.

Jobe FW, Kvitne RS, Giangarra CE. Shoulder pain in the overhand or throwing athlete: the relationship of anterior instability and rotator cuff impingement. Orthop Rev 1989; 18 (9): 963–75

89.

Pink M, Jobe FW. Shoulder injuries in athletes. Clin Manage 1991; 11 (6): 39–47

90.

Jobe FW, Giangarra CE, Kvitne RS, et al. Anterior capsulolabral reconstruction of the shoulder in athletes in overhand sports. Am J Sports Med 1991; 19 (5): 428–34

91.

Tibone JE, Jobe FW, Kerlan RK, et al. Shoulder impingement syndrome in athletes treated by an anterior acromioplasty. Clin Orthop 1985; 198: 134–40

92.

Jobe CM. Posterior superior glenoid impingement: expanded spectrum. Arthroscopy 1995; 11 (5): 530–6

93.

Walch G, Boileau P, Noel E, et al. Impingement of the deep surface of the supraspinatus tendon on the posterosuperior glenoid rim: an arthroscopic study. J Shoulder Elbow Surg 1992; 1 (5): 238–45

94.

Wilk KE, Arrigo CA, Andrews JR. Current concepts: the stabilizing structures of the glenohumeral joint. J Orthop Sports Phys Ther 1997; 25 (6): 364–79

95.

Malicky DM, Kuhn JE, Frisancho JC, et al. Nonrecoverable strain fields of the anteroinferior glenohumearl capsule under subluxation. J Shoulder Elbow Surg 2002; 11: 529–40

96.

Stefko JM, Tibone JE, Cawley PW, et al. Strain of the anterior band of the inferior glenohumeral ligament during capsule failure. J Shoulder Elbow Surg 1997; 6 (5): 473–9

97.

Jobe CM. Superior glenoid impingement. Orthop Clin North Am 1997; 28 (2): 137–43

98.

Cavallo RJ, Speer KP. Shoulder instability and impingement in throwing athletes. Med Sci Sports Exerc 1998; 30 (4 Suppl.): S18–25

99.

Grossman MG, Tibone JE, McGarry MH, et al. A cadaveric model of the throwing shoulder: a possible etiology of superior labrum anterior-to-posterior lesions. J Bone Joint Surg Am 2005; 87 (4): 824–31

100.

Warner JJ, Micheli LJ, Arslanian LE, et al. Patterns of flexibility, laxity, and strength in normal shoulders and shoulders with instability and impingement. Am J Sports Med 1990; 18 (4): 366–75

101.

Mihata T, Lee Y, McGarry MH, et al. Excessive humeral external rotation results in increased shoulder laxity. Am J Sports Med 2004; 32 (5): 1278–85

102.

Levy AS, Lintner S, Kenter K, et al. Intra- and interobserver reproducibility of the shoulder laxity examination. Am J Sports Med 1999; 27 (4): 460–3

103.

Lintner SA, Levy A, Kenter K, et al. Glenohumeral translation in the asymptomatic athlete's shoulder and its relationship to other clinically measurable anthropometric variables. Am J Sports Med 1996; 24 (6): 716–20

104.

Borsa PA, Jacobson JA, Scibek JS, et al. Comparison of dynamic sonography to stress radiography for assessing glenohumeral laxity in asymptomatic shoulders. Am J Sports Med 2005; 33 (5): 734–41

105.

Crawford SD, Sauers EL. Glenohumeral joint laxity and stiff ness in the functional throwing position of high school baseball pitchers. J Athl Train 2006; 41 (1): 52–9

106.

Sethi PM, Tibone JE, Lee TQ. Quantitative assessment of glenohumeral translation in baseball players: a comparison ofpitchers versus nonpitching athletes. Am J Sports Med 2004; 32 (7): 1711–5

107.

Howell SM, Galinat BJ, Renzi AJ, et al. Normal and abnormal mechanics of the glenohumeral joint in the horizontal plane. J Bone Joint Surg Am 1988; 70 (2): 227–32

108.

Golhlke F, Essigkrug B, Schmitz F. The pattern of the collagen fiber bundles of the capsule of the glenohumeral joint. J Shoulder Elbow Surg 1994; 3: 111–28

109.

Culham E, Peat M. Functional anatomy of the shoulder complex. J Orthop Sports Phys Ther 1993; 18 (1): 342–50

110.

Tyler TF, Nicholas SJ, Roy T, et al. Quantification of posterior capsule tightness and motion loss in patients with shoulder impingement. Am J Sports Med 2000; 28 (5): 668–73

111.

Tyler TF, Roy T, Nicholas SJ, et al. Reliability and validity of a new method of measuring posterior shoulder tightness. J Orthop Sports Phys Ther 1999; 29 (5): 262–9

112.

Pappas AM, Zawacki RM, McCarthy CF. Rehabilitation of the pitching shoulder. Am J Sports Med 1985; 13 (4): 223–35

113.

Tibone JE, McMahon PJ, Shrader TA, et al. Glenohumeral joint translation after arthroscopic, nonablative, thermal capsuloplasty with a laser. Am J Sports Med 1998; 26 (4): 495–8

114.

Burkhart SS, Morgan CD. The peel-back mechanism: its role in producing and extending posterior type II SLAP lesions and its effect on SLAP repair rehabilitation. Arthroscopy 1998; 14 (6): 637–40

115.

Morgan CD, Burkhart SS, Palmeri M, et al. Type II SLAP lesions: three subtypes and their relationships to superior instability and rotator cuff tears. Arthroscopy 1998; 14 (6): 553–65

116.

Burkhart SS, Morgan CD, Kibler WB. The disabled throwing shoulder: spectrum of pathology, part II: evaluation and treatment of SLAP lesions in throwers. Arthroscopy 2003; 19 (5): 531–9

117.

Sauers EL, Koh JL, Keuter G. Scapular and glenohumeral motion in professional baseball players: effects of position and arm dominance. Arthroscopy Association of North America Annual Meeting; 2004 Apr 22–25; Orlando (FL)

118.

Laudner KG, Stanek JM, Meister K. The relationship of periscapular strength on scapular upward rotation in professional baseball pitchers. J Sport Rehabil. In press

119.

Anderson K, Deng XH, Johnson T, et al. Biomechanical analysis of a posterior capsular contracture of the shoulder. American Orthopaedic Society for Sports Medicine, 27th Annual Meeting; 2001 Jun 28-Jul 1; Keystone (CO)

120.

Warner JJ, Boardman DN. Anatomy, biomechanics, and pathophysiology of glenohumeral instability In: Warren RF, Craig EV, Altchek DW, editors. The unstable shoulder. Philadelphia (PA): Lippincott-Raven, 1999: 51–76

121.

Burkhart SS, Morgan CD, Kibler WB. The disabled throwing shoulder: spectrum of pathology, part III: the SICK scapula, scapular dyskinesis, the kinetic chain, and rehabilitation. Arthroscopy 2003; 19 (6): 641–61

122.

Laudner KG, Myers JB, Pasquale MR, et al. Scapular dysfunction in throwers with pathologic internal impingement. J Orthop Sports Phys Ther 2006; 36 (7): 485–94

123.

Ludewig PM, Cook TM. Alterations in shoulder kinematics and associated muscle activity in people with symptoms of shoulder impingement. Phys Ther 2000; 80 (3): 276–91

124.

Kibler WB, Uhl TL, Maddux JWQ, et al. Qualitative clinical evaluation of scapular dysfunction: a reliability study. J Shoulder Elbow Surg 2003; 11: 550–6

125.

Warner JJ, Micheli LJ, Arslanian LE, et al. Scapulothoracic motion in normal shoulders and shoulders with glenohumeral instability and impingement syndrome: a study using Moire topographic analysis. Clin Orthop 1992; 285: 191–9

126.

Ludewig PM, Cook TM. The effect of head position on scapular orientation and muscle activity during shoulder elevation. J Occup Rehabil 1996; 6 (3): 147–58

127.

Kebaetse M, McClure P, Pratt NA. Thoracic position effect on shoulder range of motion, strength, and three-dimensional scapular kinematics. Arch Phys Med Rehabil 1999; 80 (8): 945–50

128.

Kendall F, McCreary E, Provance P, et al. Muscles: testing and function with posture and pain. 5th ed. Baltimore (MD): Lippincott Williams & Wilkins, 2005

129.

Michener LA, McClure PW, Karduna AR. Anatomical and biomechanical mechanisms of subacromial impingement syndrome. Clin Biomech (Bristol, Avon) 2003; 18 (5): 369–79
About this article
Cite this article
Borsa, P.A., Laudner, K.G. & Sauers, E.L. Mobility and Stability Adaptations in the Shoulder of the Overhead Athlete. Sports Med 38, 17–36 (2008). https://doi.org/10.2165/00007256-200838010-00003
Keywords
Posterior Shoulder

Baseball Pitcher

Overhead Athlete

Upward Rotation

Scapular Dyskinesis