Abstract
Muscular injury is one of the major problems facing today's athletes, both recreational and professional. Injuries to skeletal muscle represent >30% of the injuries seen in sports medicine clinics. As a result, it is imperative to utilise the most effective means to aid in deterring these injuries. However, there are conflicting opinions regarding methods of reducing muscular injury through warm-up and stretching techniques.
Therefore, the purpose of this article is to examine the potential of a warm-up and/or stretching routine in deterring muscular injury during physical activity. The article examines a variety of studies regarding warm-up, stretching and muscular injury. The article also provides a definition of warm-up and stretching to provide clarity on this topic. Many of the differences within previous research were due to conflicting definitions. We also address this issue by examining research on muscular injury and physical adaptations to muscular injury and training.
This article provides contradictory evidence to conclusions that have been drawn in previous review articles, which determined that warm-up and/or stretching protocols did not deter injury. The research included here conveys that certain techniques and protocols have shown a positive outcome on deterring injuries. As a result, a warm-up and stretching protocol should be implemented prior to physical activity. The routine should allow the stretching protocol to occur within the 15 minutes immediately prior to the activity in order to receive the most benefit. In addition, current information regarding improvements in flexibility is reviewed.
Access options
Buy single article
Instant access to the full article PDF.
USD 49.95
Price excludes VAT (USA)
Tax calculation will be finalised during checkout.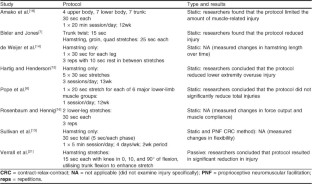 References
Garrett Jr WE. Muscle strain injuries: clinical and basic aspects. Med Sci Sports Exerc 1990; 22 (4): 436–43

Kirkendall DT, Garrett Jr WE. Clinical perspectives regarding eccentric muscle injury. Clin Orthop Relat Res 2002; 403Suppl.: S81–9

Shellock FG, Prentice WE. Warming-up and stretching for improved physical performance and prevention of sports-relatedinjuries. Sports Med 1985; 2 (4): 267–79

Safran MR, Seaber AV, Garrett Jr WE. Warm-up and muscular injury prevention: an update. Sports Med 1989; 8 (4): 239–50

Bishop D. Performance changes following active warm up and how to structure the warm up. Sports Med 2003; 33 (7): 483–98

Pope RP, Herbert RD, Kirwan JD, et al. A randomized trial of preexercise stretching for prevention of lower-limb injury. Med Sci Sports Exerc 2000; 32 (2): 271–7

Bixler B, Jones RL. High-school football injuries: effects of a post-halftime warm-up and stretching routine. Fam Pract Res J 1992; 12 (2): 131–9

Safran MR, Garrett Jr WE, Seaber AV, et al. The role of warm-up in muscular injury prevention. Am J Sports Med 1988; 16 (2): 123–9

Faigenbaum AD, Bellucci M, Bernieri A, et al. Acute effects of different warm-up protocols on fitness performance in children. J Strength Cond Res 2005; 19 (2): 376–81

McKardle WD, Katch FI, Katch VL. Exercise physiology: energy, nutrition, and human performance. 3rd ed. Philadelphia (PA): Lea & Febiger, 1991

Agre JC. Hamstring injuries proposed aetiological factors, prevention, and treatment. Sports Med 1985; 2 (1): 21–33

Magnusson SP, Larsson AB, Kjaer M. Passive energy absorption by human muscle-tendon unit is unaffected by increase in intramuscular temperature. J Appl Physiol 2000; 88: 1215–20

Sullivan MK, Dejulia JJ, Worrell TW. Effect of pelvic position and stretching method on hamstring muscle flexibility. Med Sci Sports Exerc 1992; 24 (12): 1383–9

De Weijer VC, Gorniak GC, Shamus E. The effect of static stretch and warm-up exercise on hamstring length over the course of 24 hours. J Orthop Sports Phys Ther 2003; 33 (12): 727–33

Hartig DE, Henderson JM. Increasing hamstring flexibility decreases lower extremity overuse injuries in military basic trainees. Am J Sports Med 1999; 27 (2): 173–6

Rosenbaum D, Hennig EM. The influence of stretching and warm-up exercises on achilles tendon reflex activity. J Sports Sci 1995; 13 (6): 481–90

Reid DA, McNair PJ. Passive force, angle, and stiffness changes after stretching of hamstring muscles. Med Sci Sports Exerc 2004; 36 (11): 1944–8

Amako M, Oda T, Masuoka K, et al. Effect of static stretching on prevention of injuries for military recruits. Mil Med 2003; 168 (6): 442–6

Kreighbaum E, Barthels KM. Biomechanics: a qualitative approach for studying human movement. 4th ed. Boston (MA): Allyn and Bacon, 1996

Weerapong P, Hume PA, Kolt GS. Stretching: mechanisms and benefits for sport performance and injury prevention. Phys Ther Rev 2004; 9 (4): 189–206

Verrall GM, Slavotinek JP, Barnes PG. The effect of sports specific training on reducing the incidence of hamstring injuries in professional Australian Rules football players. Br J Sports Med 2005; 39 (6): 363–8

Taylor DC, Brooks DE, Ryan JB. Viscoelastic characteristics of muscle: passive stretching versus muscular contractions. Med Sci Sports Exerc 1997; 29 (12): 1619–24

Church JB, Wiggins MS, Moode EM, et al. Effect of warm-up and flexibility treatments on vertical jump performance. J Strength Cond Res 2001; 15 (3): 332–6

Morgan DL, Allen DG. Early events in stretch-induced muscle damage. J Appl Physiol 1999; 87 (6): 2007–15

Lieber RL, Friden J. Mechanisms of muscle injury after eccentric contraction. J Sci Med Sport 1999; 2 (3): 253–65

Mair SD, Seaber AV, Glisson RR, et al. The role of fatigue in susceptibility to acute muscle strain injury. Am J Sports Med 1996; 24 (2): 137–43

Proske U, Morgan DL, Brockett CL, et al. Identifying athletes at risk of hamstring strains and how to protect them. Clin Exper Pharmacol Physiol 2004; 31 (8): 546–50

Armstrong RB. Initial events in exercise-induced muscular injury. Med Sci Sports Exerc 1990; 22 (4): 429–35

Reisman S, Walsh LD, Proske U. Warm-up stretches reduce sensations of stiffness and soreness after eccentric exercise. Med Sci Sports Exerc 2005; 37 (6): 929–36

Magnusson SP. Passive properties of human skeletal muscle during stretch maneuvers: a review. Scand J Med Sci Sports 1998; 8: 65–77

McHugh MP, Magnusson SP, Gleim GW, et al. Viscoelastic stress relaxation in human skeletal muscle. Med Sci Sports Exerc 1992; 24 (12): 1375–82

Garrett Jr WE. Muscle strain injuries. Am J Sports Med 1996; 24 (6): S2–S8

Halbertsma JP, van Bolhuis AI, Goeken LN. Effect of passive muscle stiffness of short hamstrings. Arch Phys Med Rehabil 1996; 77: 688–92

Halbertsma JP, Mulder I, Goeken LN, et al. Repeated passive stretching: acute effect on the passive muscle moment and extensibility of short hamstrings. Arch Phys Med Rehabil 1999; 80: 407–14

Magnusson SP, Simonsen EB, Aagaard P, et al. A mechanism for altered flexibility in human skeletal muscle. J Physiol 1996; 497 (1): 291–8

Jones BH, Cowan DN, Tomlinson JP, et al. Epidemiology of injuries associated with physical training among young men in the army. Med Sci Sports Exerc 1993; 25 (2): 197–203

Herbert RD, Gabriel M. Effects of stretching before and after exercising on muscle soreness and risk of injury: systematic review. BMJ 2002; 325 (7362): 468

Pope RP, Herbert RD, Kirwan JD. Effects of ankle dorsiflexion range and pre-exercise calf muscle stretching on injury risk in army recruits. Aust J Physiother 1998; 44 (3): 165–77

Brockett CL, Morgan DL, Proske U. Human hamstring muscles adapt to eccentric exercise by changing optimum length. Med Sci Sports Exerc 2001; 33 (5): 783–90

Hart L. Effect of stretching on sport injury risk: a review. Clin J Sport Med 2005; 15 (2): 113
Acknowledgements
There was no grant support for this work. There is no conflict of interest. The authors would like to thank Dr LaJuan Hutchinson for helpful comments and discussion about the manuscript.
About this article
Cite this article
Woods, K., Bishop, P. & Jones, E. Warm-Up and Stretching in the Prevention of Muscular Injury. Sports Med 37, 1089–1099 (2007). https://doi.org/10.2165/00007256-200737120-00006
Published:

Issue Date:

DOI: https://doi.org/10.2165/00007256-200737120-00006
Keywords
Muscle Injury

Muscle Temperature

Muscle Strain

Hamstring Injury

Static Stretch