Abstract
Although the concept of maximal oxygen uptake (V̇O2max) was conceived as early as 1923, the criteria used to establish whether a true V̇O2max has been attained have been heavily criticised. Consequently, an improvement in the methodology of the existing criteria, or development of new criteria, is required. In order to be valid across experimental studies, new or improved criteria need to be independent of exercise modality, test protocol and subject characteristics. One procedure that has shown potential for yielding valid V̇O2max criteria is the verification phase, which consists of a supramaximal constant speed run to exhaustion performed after the incremental phase of a V̇O2max test. A peak oxygen uptake (V̇O2peak) in the verification phase that is similar (within the tolerance of measurement error, e.g. within 2%) to the V̇O2max value attained in the incremental phase would indicate that a true V̇O2max has been elicited. Verification of the maximal heart rate would also indicate that a subject has given a maximum effort. Although the validity of the present methodology for identifying an oxygen uptake (V̇O2) plateau is questionable, a V̇O2 plateau criterion based on the individual slope of the V̇O2-work-rate relationship should improve its validity. This approach also allows determination of the 'total VO2 plateau', which is in contrast to currently used V̇O2 plateau criteria that are based on the difference in V̇O2max between only two test stages or V̇O2max data points. The ratings of perceived exertion scale has been criticised for being a one-dimensional measure of physical effort and V̇O2max criteria based on a multidimensional psychophysiological approach should increase validity. Visual analogue scales can be used to assess aspects such as muscular pain, determination and overall perceived effort. Furthermore, they are easy to complete and have demonstrated good reliability and validity in clinical and health settings. Future research should explore these and other potential approaches to developing new or improved V̇O2max criteria, so that, ultimately, a standardised set of V̇O2max criteria can be established. At present, however, the greatest challenge is identifying V̇O2max criteria that remain valid across studies.
This is a preview of subscription content,
to check access.
Access this article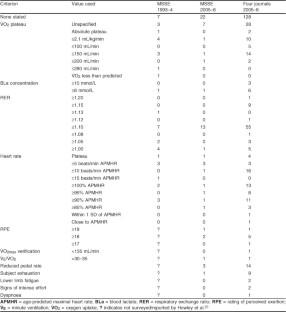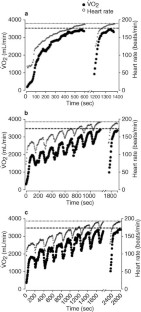 References
Hill AV, Lupton H. Muscular exercise, lactic acid, and the supply and utilization of oxygen. Q J Med 1923; 16: 135–71

Buchfuhrer MJ, Hansen JE, Robinson TE, et al. Optimizing the exercise protocol for cardiopulmonary assessment. J Appl Physiol 1983; 55: 1558–64

Robergs RA, Burnett AF. Methods used to process data from indirect calorimetry and their application to V̇O2max. J Exerc Physiol 2003; 6: 44–57

Taylor HL, Buskirk E, Henschel A. Maximal oxygen intake as an objective measure of cardio-respiratory performance. J Appl Physiol 1955; 8: 73–80

Howley ET, Bassett Jr DR, Welch HG. Criteria for maximal oxygen uptake: review and commentary. Med Sci Sports Exerc 1995; 27: 1292–301

Day JR, Rossiter HB, Coats EM, et al. The maximally attainable V? O2 during exercise in humans: the peak vs maximum issue. J Appl Physiol 2003; 95: 1901–7

Duncan GE, Howley ET, Johnson BN. Applicability of V̇O2max criteria: discontinuous versus continuous protocols. Med Sci Sports Exerc 1997; 29: 273–8

Astrand PO. Experimental studies of physical working capacity in relation to sex and age. Copenhagen: Ejnar Munksgaard, 1952

Issekutz B, Birkhead NC, Rodahl K. Use of the respiratory quotients in assessment of aerobic work capacity. J Appl Physiol 1962; 17: 47–50

Cumming GR, Borysyk LM. Criteria for maximum oxygen uptake in men over 40 in a population survey. Med Sci Sports 1972; 4: 18–22

Midgley AW, McNaughton LR, Carroll S. Verification phase as a useful tool in the determination of the maximal oxygen uptake of runners. Appl Physiol Nutr Metab 2006; 31: 541–8

Stachenfeld NS, Eskenazi M, Gleim GW, et al. Predictive accuracy of criteria used to assess maximal oxygen consumption. Am Heart J 1992; 123: 922–5

Meyer T, Scharhag J, Kindermann W. Peak oxygen uptake: myth and truth about an internationally accepted reference value. Z Kardiol 2005; 94: 255–64

Katch VL, Sady SS, Freedson P. Biological variability in maximum aerobic power. Med Sci Sports Exerc 1982; 14: 21–5

Londeree BR. Influence of age and other factors on maximal heart rate. J Cardiac Rehabil 1984; 4: 44–9

Medbo JI, Sejersted OM. Acid-base and electrolyte balance after exhausting exercise in endurance-trained and sprint trained subjects. Acta Physiol Scand 1985; 125: 97–109

Meyer T, Welter JP, Scharhag J, et al. Maximal oxygen uptake during field running does not exceed that measured during treadmill exercise. Eur J Appl Physiol 2003; 88: 387–9

Hoffman RL. Effect of training at the ventilatory threshold on the ventilatory threshold and performance in trained distance runners. J Strength Cond Res 1999; 13: 118–23

Borg GA. Perceived exertion. Exerc Sport Sci Rev 1974; 2: 131–53

Hutchinson JC, Tenenbaum G. Perceived effort: can it be considered gestalt? Psychol Sport Exerc 2006; 7: 463–76

Hardy CJ, Rejeski WJ. Not what, but how one feels: the measurement of affect during exercise. J Sport Exerc Psychol 1989; 11: 304–17

McAuley E, Courneya KS. The subjective exercise experience scale (SEES): development and preliminary validation. J Sport Exerc Psychol 1994; 16: 163–77

Parfitt G, Markland D, Holmes C. Responses to physical exertion and psychological affect in the early stages of exercise. Percept Mot Skills 1994; 80: 259–66

Rosenberg S. Objectivity in psychology and philosophy. Am Psychol 1980; 35: 219–22

Burgomaster KA, Heigenhauser GJ, Gibala MJ. Effect of shortterm sprint interval training on human skeletal muscle carbohydrate metabolism during exercise and time-trial performance. J Appl Physiol 2006; 100: 2041–7

Basset FA, Chouinard R, Boulay MR. Training profile counts for time-to-exhaustion performance. Can J Appl Physiol 2003; 28: 654–66

Thoden JS, MacDougall JD, Wilson BA. Testing aerobic power. Ithaca (NY): Mouvement Publications Inc., 1982

Thoden JS. Testing aerobic power. In: MacDougall JD, Wenger HA, Green HJ, editors. Physiological testing of the high performance athlete. 2nd ed. Champaign (IL): Human Kinetics, 1991: 107–73

Rossiter HB, Kowalchuk JM, Whipp BJ. A test to establish maximum O2 uptake despite no plateau in the O2 uptake response to ramp incremental exercise. J Appl Physiol 2006; 100: 764–70

Midgley AW, McNaughton LR, Carroll S. Time at V̇O2max during intermittent treadmill running: test protocol dependent or methodological artefact? Int J Sports Med. Epub 2007 May 11

Morgan DW, Baldini FD, Martin PE, et al. Ten kilometer performance and predicted velocity at V̇O2max among well trained male runners. Med Sci Sports Exerc 1989; 21: 78–83

Wingo JE, Lafrenz AJ, Ganio MS, et al. Cardiovascular drift is related to reduced maximal oxygen uptake during heat stress. Med Sci Sports Exerc 2005; 37: 248–55

Saitoh M, Matsunaga A, Kamiya K, et al. Comparison of cardiovascular responses between upright and recumbent cycle ergometers in healthy young volunteers performing low-intensity exercise: assessment of reliability of the oxygen uptake calculated by using the ACSM metabolic equation. Arch PhysMed Rehabil 2005; 86: 1024–9

Wyndham CH, Strydom NB, Maritz JS, et al. Maximum oxygen intake and maximum heart rate during strenuous work. J Appl Physiol 1959; 14: 927–36

Nyenhuis DL, Stern RA, Yamamoto C, et al. Standardization and validation of the visual analogue mood scales. Clin Neuropsychol 1997; 11: 407–15

Ueda T, Nabetani T, Teramoto K. Differential perceived exertion measured using a new visual analogue scale during pedaling and running. J Physiol Anthropol 2006; 25: 171–7

Noble BJ, Robertson RJ. Perceived exertion. Champaign (IL): Human Kinetics, 1996

Tenenbaum G, Hall HK, Calcagnini N, et al. Coping with physical exertion and negative feedback under competitive and self-standard conditions. J Appl Soc Psychol 2001; 31: 1582–626

Schabort EJ, Killian SC, St Clair Gibson A, et al. Prediction of triathlon race time from laboratory testing in national triathletes. Med Sci Sports Exerc 2000; 32: 844–9

Noakes TD, Myburgh KH, Schall R. Peak treadmill running velocity during the V̇O2max test predicts running performance. J Sports Sci 1990; 8: 35–45
Acknowledgements
No sources of funding were used to assist in the preparation of this article. The authors have no conflicts of interest that are directly relevant to the content of this article.
About this article
Cite this article
Midgley, A.W., McNaughton, L.R., Polman, R. et al. Criteria for Determination of Maximal Oxygen Uptake. Sports Med 37, 1019–1028 (2007). https://doi.org/10.2165/00007256-200737120-00002
Published:

Issue Date:

DOI: https://doi.org/10.2165/00007256-200737120-00002
Keywords