Abstract
As a result of the inefficiency of metabolic transfer, >75% of the energy that is generated by skeletal muscle substrate oxidation is liberated as heat. During exercise, several powerful physiological mechanisms of heat loss are activated to prevent an excessive rise in body core temperature. However, a hot and humid environment can significantly add to the challenge that physical exercise imposes on the human thermoregulatory system, as heat exchange between body and environment is substantially impaired under these conditions. This can lead to serious performance decrements and an increased risk of developing heat illness. Fortunately, there are a number of strategies that athletes can use to prevent and/or reduce the dangers that are associated with exercise in the heat. In this regard, heat acclimatisation and nutritional intervention seem to be most effective. During heat acclimatisation, the temperature thresholds for both cutaneous vasodilation and the onset of sweating are lowered, which, in combination with plasma volume expansion, improve cardiovascular stability. Effective nutritional interventions include the optimisation of hydration status by the use of fluid replacement beverages. The latter should contain moderate amounts of glucose and sodium, which improve both water absorption and retention.
Access options
Buy single article
Instant access to the full article PDF.
US$ 49.95
Tax calculation will be finalised during checkout.
Subscribe to journal
Immediate online access to all issues from 2019. Subscription will auto renew annually.
US$ 259
Tax calculation will be finalised during checkout.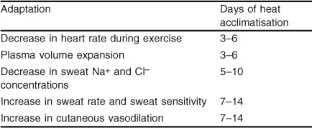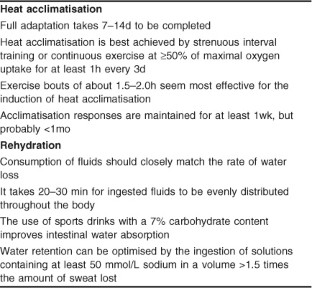 References
1.

Guyton AC, Hall JE. Textbook of medical physiology. Philadelphia (PA): Saunders Company, 1996

2.

Nadel ER. Temperature regulation and hyperthermia during exercise. Clin Chest Med 1984; 5: 13–20

3.

Cheuvront SN, Haymes EM. Thermoregulation and marathon running. Sports Med 2001; 31: 743–62

4.

Brooks GA, Fahey TD, White TP. Exercise physiology: human bioenergetics and its applications. Mountain View (CA): Mayfield Publishing Company, 1996

5.

Gleeson M. Temperature regulation during exercise. Int J Sports Med 1998; 19: 96–9

6.

Cooper KE. Some historical perspectives on thermoregulation. J Appl Physiol 2002; 92: 1717–24

7.

Boulant JA. Hypothalamic neurons regulating body temperature. In: Fregly MJ, Blatteis CM, editors. Handbook of physibody New York: Oxford Press, 1996: 105–26

8.

Boulant JA. Role of the preoptic-anterior hypothalamus in thermoregulation and fever. Clin Infect Dis 2000; 31 Suppl. 5: S157–61

9.

Benzinger TH. Heat regulation: homeostasis of central temperature in man. Physiol Rev 1969; 49: 671–759

10.

Cheung SS, McLellan TM, Tenaglia S. The thermophysiology of uncompensable heat stress. Sports Med 2000; 29: 329–59

11.

Kellogg DL, Johnson JM, Kosiba WA. Control of internal temperature threshold for active cutaneous vasodilation by dynamic exercise. J Appl Physiol 1991; 71: 2476–82

12.

Kenney WL, Johnson JM. Control of skin blood flow during exercise. Med Sci Sports Exerc 1992; 24: 303–12

13.

Kellogg DL, Johnson JM, Kenney WL, et al. Mechanisms of control of skin blood flow during prolonged exercise in humans. Am J Physiol 1993; 265: H562–8

14.

Kellogg DL, Pérgola PE, Kosiba WA, et al. Cutaneous active vasodilation in humans is mediated by cholinergic nerve cotransmission. Circ Res 1995; 77: 1222–8

15.

Kellogg DL, Johnson JM, Kosiba WA. Competition between cutaneous active vasoconstriction and active vasodilation during exercise in humans. Am J Physiol 1991; 261: H1184–9

16.

Kellogg DL, Johnson JM, Kosiba WA. Baroreflex control of the quires the ingestion of 200–300mL of fluid every cutaneous active vasodilator system in humans. Circ Res 1990; 66: 1420–6

17.

Mack GW, Nishiyasu T, Shi X. Baroreceptor modulation of cutaneous vasodilator and sudomotor responses to thermal stress in humans. J Physiol 1995; 483: 537–47

18.

Crandall CG, Johnson JM, Kosiba WA, et al. Baroreceptor control of the cutaneous active vasodilator sytem. J Appl Physiol 1996; 81: 2192–8

19.

Mack GW, Cordero D, Peters J. Baroreceptor modulation of active cutaneous vasodilation during dynamic exercise in humans. J Appl Physiol 2001; 90: 1464–73

20.

Allan JR, Wilson CG. Influence of acclimatization on sweat sodium concentration. J Appl Physiol 1971; 30: 708–12

21.

Sawka MN, Montain SJ. Fluid and electrolyte supplementation for exercise heat stress. Am J Clin Nutr 2000; 72: S564–72

22.

Yaqub B, Al Deeb S. Heat strokes: aetiopathogenesis, neurological characteristics, treatment and outcome. J Neurol Sci 1998; 156: 144–51

23.

Sawka MN. Physiological consequences of hypohydration: exercise performance and thermoregulation. Med Sci Sports Ex 1992; 24: 657–70

24.

Sawka MN, Young AJ, Francesconi RP, et al. Thermoregulatory and blood responses during exercise at graded hypohydration levels. J Appl Physiol 1985; 59: 1394–1440

25.

Fortney SM, Wenger CB, Bove JR, et al. Effect of hyperosmolality on control of blood flow and sweating. J Appl Physiol 1984; 57: 1688–95

26.

Takamata A, Nagashima K, Nose H, et al. Osmoregulatory inhibition of thermally induced cutaneous vasodilation in passively heated humans. Am J Physiol 1997; 273: R197–204

27.

Silva NL, Boulant JA. Effects of osmotic pressure, glucose and temperature on neurons in preoptic tissue slices. Am J Physiol 1984; 247: R335–45

28.

Nakashima T, Hori T, Kiyohara T, et al. Osmosensitivity of preoptic thermosensitive neurons in hypothalamic slices in vitro. Eur J Physiol 1985; 405: 112–7

29.

Talbot HT. Heat cramps. Medicine 1935; 14: 323–76

30.

Schwellnus MP, Derman EW, Noakes TD. Aetiology of skeletal muscle 'cramps' during exercise: a novel hypothesis. J Sports Sci 1997; 15: 277–85

31.

Noakes TD. Fluid and electrolyte disturbances in heat illness. Int J Sports Med 1998; 19: S146–9

32.

Holtzhausen LM, Noakes TD, Kroning B, et al. Clinical and biochemical characteristics of collapsed ultramarathon runners. Med Sci Sports Exerc 1994; 26: 1095–101

33.

Bouchama A, Knochel JP. Heat stroke. N Engl J Med 2002; 346: 1978–88

34.

Hales JRS. Hyperthermia and heat illness. Pathophysiological implications for avoidance and treatment. Ann NY Acad Sci 1997; 813: 534–44

35.

Hall DM, Baumgardner KR, Oberley TD, et al. Splanchnic tissues undergo hypoxic stress during whole body hyperthermia. Am J Physiol Gastroistest Liver Physiol 1999; 276: G1195–203

36.

Hall DM, Buettner GR, Oberley LW, et al. Mechanisms of circulatory and intestinal barrier dysfunction during whole body hyperthermia. Am J Physiol Heart Circ Physiol 2001; 280: H509–21

37.

Gonzalez-Alonso J, Teller C, Andersen SL, et al. Influence of body temperature on the development of fatigue during prolonged exercise in the heat. Am J Physiol 1999; 86: 1032–9

38.

Cheung SS, Sleivert GG. Multiple triggers for hyperthermic fatigue and exhaustion. Exerc Sport Sci Rev 2004; 32: 100–6

39.

Daanen HA, van Es EM, de Graaf JL. Heat strain and gross efficiency during endurance exercise after lower, upper or wholebody precooling in the heat. Int J Sports Med 2005; 26: 1–10

40.

Marino FE. Methods, advantages, and limitations of body cooling for exercise performance. Br J Sports Med 2002; 36: 89–94

41.

Sawka MN, Montain SJ, Latzka WA. Hydration effects on thermoregulation and performance in the heat. Comp Biochem Physiol 2001; 128: 679–90

42.

Lyons TP, Riedesel ML, Meuli LE, et al. Effects of glycerol-induced hyperhydration prior to exercise in the heat on sweating and core temperature. Med Sci Sports Exerc 1990; 22: 477–83

43.

Montner P, Stark DM, Riedesel ML, et al. Pre-exercise glycerol hydration improves cycling endurance time. Int J Sports Med 1996; 17: 27–33

44.

Latzka WA, Sawka MN, Montain SJ. Hyperhydration: tolerance and cardiovascular effects during uncompensable exercise heat stress. J Appl Physiol 1998; 84: 1858–63

45.

Maughan RJ, Shirreffs SM. Exercise in the heat: challenges and opportunities. J Sports Sci 2004; 22: 917–27

46.

Gavin TP. Clothing and thermoregulation during exercise. Sports Med 2003; 33: 941–7

47.

Armstrong LE, Maresh CM. The induction and decay of heat acclimatisation in trained athletes. Sports Med 1991; 12: 302–12

48.

Nielsen B, Hales JRS, Strange S, et al. Human circulatory and thermoregulatory adaptations with heat acclimatisation and exercise in a hot dry environment. J Physiol 1993; 460: 467–85

49.

Patterson MJ, Stocks JM, Taylor NAS. Sustained and generalized extracellular fluid expansion following heat acclimatisation. J Physiol 2004; 559: 327–34

50.

Armstrong LE, Hubbard RW, Askew EW, et al. Responses to moderate and low sodium diets during exercise-heat acclimation. Int J Sport Nutr 1993; 3: 207–21

51.

Luetkemeier MJ. Dietary sodium intake and changes in plasma volume during short-term exercise training. Int J Sports Med Sci 1997; 15: 277–85

52.

Luetkemeier MJ, Flowers KM, Lamb DR. Spironolactone administration and training-induced hypervolemia. Int J Sports Med 1994; 15: 295–300

53.

Convertino VA, Mack GW, Nadel ER. Elevated central venous pressure: a consequence of exercise-training induced hypervolemia? Am J Physiol 1991; 260: R273–7

54.

Yamazaki F, Hamasaki K. Heat acclimatisation increases skin vasodilation and sweating but not cardiac baroreflex responses in heat-stressed humans. J Appl Physiol 2003; 95: 1567–74

55.

Pandolf KB. Time course of heat acclimation and its decay. Int J Sports Med 1998; 19: S157–60

56.

Fein LW, Haymes EM, Buskirk ER. Effects of daily and intermittent exposure on heat acclimation of women. Int J Biomet 1975; 19: 41–52

57.

Lind AR, Bass DE. Optimal exposure time for development of heat acclimation. Fed Proc 1963; 22: 704–8

58.

Gisolfi CV, Summers RD, Schedl HP, et al. Effect of sodium concentration in a carbohydrate-electrolyte solution on intestinal absorption. Med Sci Sports Exerc 1995; 27: 1414–20

59.

Gisolfi CV, Duchman SM. Guidelines for optimal replacement beverages for different athletic events. Med Sci Sports Exerc 1992; 24: 679–87

60.

Brouns F. Gastric emptying as a regulatory factor in fluid uptake. Int J Sports Med 1998; 19: S125–8

61.

Vist GE, Maughan RJ. The effect of osmolality and carbohydrate content on the rate of gastric emptying of liquids in man. J Physiol 1995; 486: 523–31

62.

Leiper JB. Intestinal water absorption: implications for the formulation of rehydration solutions. Int J Sports Med 1998; 19: S129–32

63.

Murray R. The effects of consuming carbohydrate-electrolyte beverages on gastric emptying and fluid absorption during and following exercise. Sports Med 1987; 4: 322–51

64.

Madara JL, Pappenheimer JR. Structural basis for physiological regulation of paracellular pathways in intestinal epithelia. J Membrane Biol 1987; 100: 149–64

65.

Pappenheimer JR. Paracellular intestinal absorption of glucose, creatinine, and mannitol in normal animals: relation to body size. Am J Physiol 1990; 259: G290–9

66.

Maughan RJ, Leiper JB. Effects of sodium content of ingested fluids on post-exercise rehydration in man. Eur J Appl Physiol 1995; 71: 311–9

67.

Shirreffs SM, Taylor AJ, Leiper JB, et al. Post-exercise rehydration in man: effect of volume consumed and drink sodium content. Med Sci Sports Exerc 1996; 28: 1260–71

68.

Convertino VA, Armstrong LE, Coyle EF, et al. American College of Sports Medicine position stand: exercise and fluid replacement. Med Sci Sports Exerc 1996; 28: i–vi

69.

Casa DJ, Armstrong LE, Hillman SK, et al. National athletic trainers' association position statement: fluid replacement for athletes. J Athl Train 2000; 35: 212–24

70.

Maughan RJ, Leiper JB, Vist GE. Gastric emptying and fluid availability after ingestion of glucose and soy protein hydrolysate solutions in man. Exp Physiol 2003; 89: 101–8

71.

Coyle EF. Fluid and fuel intake during exercise. J Sports Sci 2004; 22: 39–55

72.

Murray R. Rehydration strategies: balancing substrate, fluid, and electrolyte provision. Int J Sports Med 1998; 19: S133–5

73.

Shi X, Summers RW, Schedl HP, et al. Effects of carbohydrate type and concentration and solution osmolality on water absorption. Med Sci Sports Exerc 1995; 27: 1607–15

74.

Leiper JB, Brouns F, Maughan RJ. Effects of variation in the type of carbohydrate on absortion from hypotonic carbohydrate electrolyte solutions (CES) in the human jejunal perfusion model. J Physiol 1996; 495: 128

75.

Shirreffs SM, Maughan RJ. Volume repletion after exercise-induced volume depletion in humans: replacement of water and sodium losses. Am J Physiol 1998; 274: F868–75

76.

Maughan RJ, Shirreffs SM. Recovery from prolonged exercise: restoration of water and electrolyte balance. J Sports Sci 1997; 15: 297–303

77.

Armstrong LE. Hydration assessment techniques. Nutr Rev 2005; 63: S40–54
Acknowledgements
No funding was received in the preparation of this article. The author has no potential conflicts of interest directly releveant to the contents of this article
About this article
Cite this article
Wendt, D., van Loon, L.J. & Marken Lichtenbelt, W.D. Thermoregulation during Exercise in the Heat. Sports Med 37, 669–682 (2007). https://doi.org/10.2165/00007256-200737080-00002
Keywords
Body Core Temperature

Sweat Rate

Heat Stroke

Lower Body Negative Pressure

Heat Acclimatisation