Abstract
Many components of the immune system exhibit adverse change after marathon-type exertion. These immune changes occur in several compartments of the immune system and body (e.g. the skin, upper respiratory tract mucosal tissue, lung, peritoneal cavity, blood and muscle). Of all immune cells, natural killer (NK) cells, neutrophils and macrophages (of the innate immune system) exhibit the greatest changes in response to marathon competition, both in terms of numbers and function. Many mechanisms appear to be involved, including exercise-induced changes in stress hormone and cytokine concentrations, body temperature changes, increases in blood flow and dehydration. During this 'open window' of immune dysfunction (which may last between 3 and 72 hours, depending on the immune measure), viruses and bacteria may gain a foothold, increasing the risk of subclinical and clinical infection. Of the various nutritional and pharmacological countermeasures to marathon-induced immune perturbations that have been evaluated thus far, ingestion of carbohydrate beverages during intense and prolonged exercise has emerged as the most effective. However, carbohydrate ingestion during a marathon attenuates increases in plasma cytokines and stress hormones, but is largely ineffective against changes in other immune components including suppression of NK and T-cell function, and salivary IgA output. Other countermeasures, such as glutamine, antioxidant supplements and ibuprofen, have had disappointing results and thus the search for companion agents to carbohydrate continues.
Access options
Buy single article
Instant access to the full article PDF.
US$ 49.95
Tax calculation will be finalised during checkout.
Subscribe to journal
Immediate online access to all issues from 2019. Subscription will auto renew annually.
US$ 259
Tax calculation will be finalised during checkout.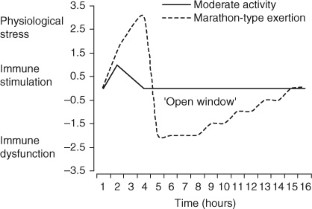 References
1.

Larrabee RC. Leucocytosis after violent exercise. J Med Res 1902; 7: 76–82

2.

Nieman DC. Immune response to heavy exertion. J Appl Physiol 1997; 82: 1385–94

3.

Nieman DC. Special feature for the Olympics: effects of exercise on the immune system. Exercise effects on systemic immunity. Immunol Cell Biol 2000; 78: 496–501

4.

Nieman DC, Buckley KS, Henson DA, et al. Immune function in marathon runners versus sedentary controls. Med Sci Sports Exerc 1995; 27: 986–92

5.

Nieman DC, Nehlsen-Cannarella SL, Fagoaga OR, et al. Immune function in female elite rowers and non-athletes. Br J Sports Med 2000; 34: 181–7

6.

Nieman DC. Is infection risk linked to exercise workload? Med Sci Sports Exerc 2000; 32 Suppl. 7: 5406–11

7.

Nieman DC, Johanssen LM, Lee JW, et al. Infectious episodes in runners before and after the Los Angeles Marathon. J Sports Med Phys Fitness 1990; 30: 316–28

8.

Nieman DC, Henson DA, Dumke CL, et al. Relationship between salivary IgA secretion and upper respiratory tract infeetion following a 160-km race. J Sports Med Phys Fitness 2006; 46: 158–62

9.

Konig D, Grathwohl D, Weinstock C, et al. Upper respiratory tract infection in athletes: influence of lifestyle, type of sport, training effort, and immunostimulant intake. Exerc Bummod Rev 2000; 6: 102–20

10.

Nieman DC, Bishop NC. Nutritional strategies to counter stress to the immune system in athletes, with special reference to football. J Sports Sci 2006; 24: 763–72
Acknowledgements
The author has indicated that he has no affiliation or financial interest in any organisation(s) that may have a direct interest in the subject matter of this article.
About this article
Cite this article
Nieman, D.C. Marathon Training and Immune Function. Sports Med 37, 412–415 (2007). https://doi.org/10.2165/00007256-200737040-00036
Keywords
Natural Killer Cell

Endurance Athlete

Marathon Runner

Bovine Colostrum

Body Temperature Change