Abstract
This article reviews causes of marathon collapse related to physical exhaustion, heat exhaustion and dehydration. During severe exercise-heat stress (high skin and core temperatures), cardiac output can decrease below levels observed during exercise in temperate conditions. This reduced cardiac output and vasodilated skin and muscle can make it difficult to sustain blood pressure and perhaps cerebral blood flow. Dehydration can accentuate this cardiovascular strain. In contrast, excessive heat loss to the environment during cold weather may result in hypothermic collapse. Other factors contributing to post-race collapse might include reduced skeletal muscle pump activity and dehydration and prior heat stress mediated changes in cerebrovascular responses to orthostatic challenges.
Access options
Buy single article
Instant access to the full article PDF.
US$ 49.95
Tax calculation will be finalised during checkout.
Subscribe to journal
Immediate online access to all issues from 2019. Subscription will auto renew annually.
US$ 259
Tax calculation will be finalised during checkout.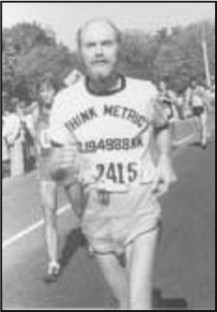 References
1.

Levine BD, Thompson PD. Marathon maladies. N Engl J Med 2005 Apr 14; 352 (15): 1516–8

2.

Roberts WO. A 12-year profile of medical injury and illness for the Twin Cities Marathon. Med Sci Sports Exerc 2000; 32: 1549–55

3.

Holtzhausen L-M, Noakes TD, Kroning B, et al. Clinical and biochemical charachteristics of collapsed uluamarathon runners. Med Sci Sports Exerc 1994; 26: 1095–101

4.

Carter R III, Cheuvront SN, Vernieuw CR, et al. Hypohydration and prior heat-stress exacerbates decreases in cerebral blood flow velocity during standing. J Appl Physiol 2006 Dec; 101 (6): 1744–50

5.

Sawka MN, Young A. Physiological systems and their responses to conditions of heat and cold. In: Tipton C, editor. American College of Sports Medicine's advanced exercise physiology. Philadelphia (PA): Lippincott Williams and Wiltons, 2006: 535–63

6.

Sandell RC, Pascoe MD, Noakes TD. Factors associated with collapseduring and after uluamarathon footraces: a preliminary study. Phys Sportsmed 1988; 16: 86–94

7.

Pugh LGCE, Corbett JL, Johnson RH. Rectal temperatures, weight losses, and sweat rates in marathon running. J Appl Physiol 1967; 23 (3): 347–52

8.

Maron MB, Wagner JA, Horvath SM. Thermoregulatory responses during competitive marathon running. J Appl Physiol 1977; 42: 909–14

9.

Maughan RJ. Thermoregulation in marathon competition at low ambient temperature. Int J Sports Med 1985; 6: 15–9

10.

Cheuvront SN, Haymes EM. Thermoregulafion and marathon running: biological and environmental influences. Sports Med 2001; 31 (10): 743–62
Acknowledgements
The authors wish to thank Samuel N. Cheuvront for his editorial assistance. The views, opinions and/or findings contained in this report are those of the authors and should not be construed as an official Department of the Army position, policy or decision unless so designated by other official documentation. The authors have indicated that they have no affiliation or financial interest in any organisation(s) that may have a direct interest in the subject matter of this article.
About this article
Cite this article
Kenefick, R.W., Sawka, M.N. Heat Exhaustion and Dehydration as Causes of Marathon Collapse. Sports Med 37, 378–381 (2007). https://doi.org/10.2165/00007256-200737040-00027
Keywords
Heat Stress

Core Temperature

Cerebral Blood Flow Velocity

Heat Acclimatisation

Heat Strain