Abstract
The primary purpose of this review is to relate a universal strategy for replacing fluids to optimise marathon performance. A secondary purpose is to examine common 'matters of debate' that may modify fluid needs to include the importance of realistic convective air flow, metabolic water production and waters of association with glycogen. The metabolic demands of marathon running can result in substantial sweat losses and levels of dehydration consistent with compromised endurance performance. Recommendations are provided to individualise fluid intakes with the goal of preventing excessive dehydration (>2% body mass) as well as weight gain. The minor importance of 'matters of debate' to fluid replacement is also discussed.
This is a preview of subscription content,
to check access.
Access this article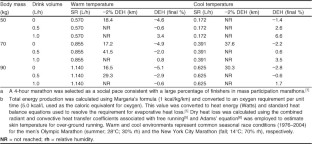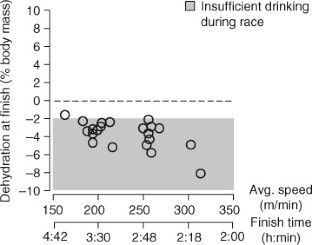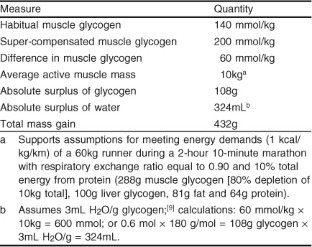 Similar content being viewed by others
References
Cheuvront SN, Haynnes EM. Thermoregulafion and marathon running: biological and environmental influences. Sports Med 2001; 31: 743–62

Costill DL. Sweating: its composition and effects on body fluids. Ann N Y Acad Sci 1977; 301: 160–74

Casa DJ, Clarkson PM, Roberts WO. American College of Sports Medicine roundtable on hydration and physical activity: consensus statements. Curr Sports Med Rep 2005; 4: 115–27

Convertion VA, Armstrong LE, Coyle EF, et al. American College of Sports Medicine position stand: exercise and fluid replacement. Med Sci Sports Exerc 1996; 28: i–vii

Gagge AP, Gonzalez RR. Mechanisms of heat exchange: biophysics and physiology. In: Fregly MJ, Blatteis CM, editors. Handbook of physiology. New York: Oxford University Press, 1996: 45–84

Adams WC. Influence of exercise mode and selected ambient conditions on skin temperature. Ann N Y Acad Sci 1977; 301: 110–27

Noakes T. Fluid replacement during marathon running. Clin J Sport Med 2003; 13: 309–18

Adams WC, Mack GW, Langhans GW, et al. Effects of varied air velocity on sweating and evaporative rates during exercise. J Appl Physiol 1992; 73: 2668–74

Sherman WM, Plyley MJ, Sharp RL, et al. Muscle glycogen storage and its relationship with water. Int J Sports Med 1982; 3: 224

Channareddy S, Jose SS, Lanes N. Ethanol binding to a model carbohydrate, glycogen. Biochem Pharmacol 1996; 52: 1911–4
Acknowledgements
The authors would like to thank Daniel A. Goodman (MS), Matthew R. Ely (MS) and Sergeant Erik B. Lloyd for technical assistance in preparing this manuscript. The authors also thank Robert W. Kenefick (PhD) for reviewing this manuscript. The view, opinions and/or findings contained in this report are those of the authors and should not be construed as an official Department of the Army position, or decision, unless so designated by other official documentation. The authors have indicated that they have no affiliation or financial interest in any organisation(s) that may have a direct interest in the subject matter of this article.
About this article
Cite this article
Cheuvront, S.N., Montain, S.J. & Sawka, M.N. Fluid Replacement and Performance During the Marathon. Sports Med 37, 353–357 (2007). https://doi.org/10.2165/00007256-200737040-00020
Published:

Issue Date:

DOI: https://doi.org/10.2165/00007256-200737040-00020
Keywords