Abstract
Running performance depends on maximal oxygen uptake (V̇O2max), the ability to sustain a high percentage of V̇O2max for an extended period of time and running economy. Running economy has been studied relatively less than the other factors. Running economy, measured as steady state oxygen uptake V̇O2) at intensities below the ventilatory threshold is the standard method. Extrapolation to a common running speed (268 m/min) or as the V̇O2 required to run a kilometer is the standard method of assessment. Individuals of East African origin may be systematically more economical, although a smaller body size and a thinner lower leg may be the primary factors. Strategies for improving running economy remain to be developed, although it appears that high intensity running may be a common element acting to improve economy.
Access options
Buy single article
Instant access to the full article PDF.
USD 49.95
Price excludes VAT (USA)
Tax calculation will be finalised during checkout.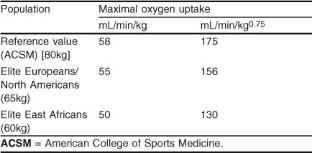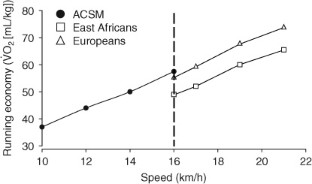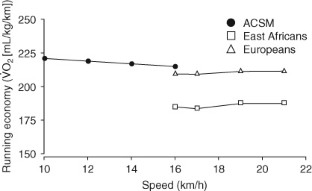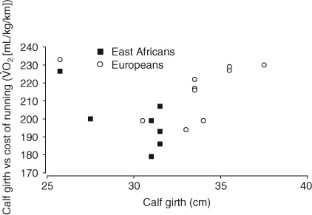 References
Joyner MJ. Modeling optimal marathon performance on the basis of physiological factors. J Appl Physiol 1991; 71: 683–7

Pollock ML. Submaximal and maximal working capacity of elite distance runners: cardiorespiratory aspects. Ann N Y Acad Sci 1976; 301: 310.22

Costill DL, Thomason H, Roberts E. Fractional utilization ofthe aerobic capacity during distance running. Med Sci Sports 1973; 5: 248–52

Conley DL, Krahenbuhl GS, Burkett LN. Training for aerobic capacity and running economy. Phys Sponsored 1981; 9: 107–15

Lucia A, Esteve-Lanao J, Olivan J, et al. Physiological characteristics of the best Eritrean runners: exceptional running economy. Appl Physiol Nutr Metab 2006; 31: 530–00

Saunders PU, Pyne DB, Telford RD, et al. Factors affecting running economy in mined distance runners. Sports Med 2004; 34: 465–85

Salon B, Larsen H, Terrados N, et al. Aerobic exercise capacity at sea level and at altitude in Kenyan boys, junior and senior runners compared to Scandinavian runners. Scand J Med Sci Sports 1995; 5: 209–21

Lucia A, Hoyos J, Perez M, et al. Inverse relationship between V̇O2max and economy/efficiency in world-class cyclists. Med Sci Sports Exerc 2002; 34: 2079–84

Royer TD, Martin PE. Manipulations of leg mass and moment of inertia: effects on energy cost of walking. Med Sci Sports Exerc 2005; 37: 649–56

Billat VL, Flechet B, Petit B, et al. Interval training at V̇O2max: effects on aerobic performance and overtraining markers. Med Sci Sports Exerc 1999; 31: 156–63
Acknowledgements
The authors have indicated that they have no affiliation or financial interest in any organisation(s) that may have a direct interest in the subject matter of this article.
About this article
Cite this article
Foster, C., Lucia, A. Running Economy. Sports Med 37, 316–319 (2007). https://doi.org/10.2165/00007256-200737040-00011
Published:

Issue Date:

DOI: https://doi.org/10.2165/00007256-200737040-00011
Keywords
Ventilatory Threshold

Marathon Runner

High Intensity Training

Altitude Training

Plyometric Training